11.16.10
Taking Sides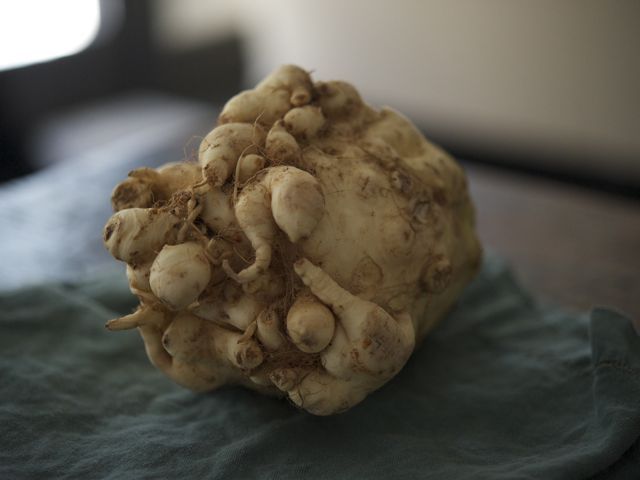 Here come the holidays and, with them, your family. Bickering, sibling rivalry, old grudges and the rapid backslide into childhood habits are mitigated by unconditional love and unlimited quantities of sugar and fat. Both my parents are dead, so I have absolutely no chance of recreating that perfect Rockwellian moment. Because I went to college so far from home, I have been glomming onto other people's Thanksgiving celebrations since I was 17 anyway. Now I am a part of G's family, and this year, along with his chef-in-training sister, I am responsible for the turkey. His mother has passed the torch. It's a big responsibility, but not one that can totally distract from the issue of side dishes. I suppose there are some families out there who are wildly experimental with their Thanksgiving menu, trying that mole sauce with the turkey one year, stirring coconut milk and chiles into their sweet potatoes, maybe even passing a post-prandial doobie. But it seems that, for the most part, people really like to stick with TRADITION, even if it means that repellent green bean casserole topped with canned onions. Or having both sweet potatoes
and
mashed potatoes. The root vegetable is really very popular at this meal, and rightly so. Its earthy sweetness is the essence of comfort food. Try making
these sweet and spicy garnet yams
(no marshmallows,
please
), cubed and blitzed in the oven along with some pancetta, while the turkey is being carved. And keep reading to discover the very best mashed potatoes ever. Trust me on this.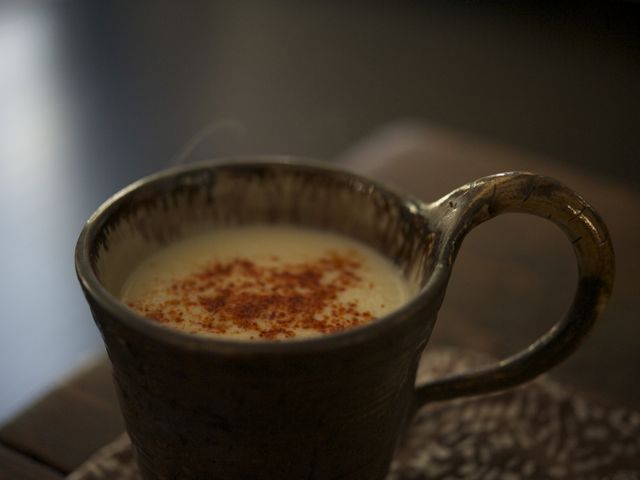 You know how everyone likes to root around in the kitchen while the cooking is going on, or they're out in front of the game scarfing down appetite-ruining portions of cheese and industrial dips? Maybe this year you'd like to whizz up a batch of celeriac soup—rich and creamy, yes, but a real vegetable and not so prone to clog the arteries. There's
this recipe
, but you could also make a lighter variation, boiling a peeled and cubed root or two until tender, then pureeing it with some buttermilk and a couple of tablespoons of cream cheese, and thinning it with a little of the boiling water as needed. Garnish with some toasted pepitas or chopped walnuts for crunch, and sprinkle with a generous dash of cayenne, spicy pimentón or aleppo pepper, as above. If that's not love, I don't know what is.
But back to the potatoes. Exactly why are they so good? I think it has to do with the fact that you wrap them in foil and bake them, rather than boiling them. They are much drier and sweeter. I've also posted a recipe for a delicious sherry-spiked gravy that has nothing to do with roasting a turkey, so you can make it any time. Mashed potatoes and gravy. Who said you can't go home again?
Mashed Potatoes & Gravy
serves 4-6
— 2 pounds

russet potatoes

— 1 cup

organic whole milk

— 1/2 stick

unsalted butter

— 1 teaspoon

sea salt

— 1/4 teaspoon

ground white pepper

— 2 slices

bacon, chopped

— 1 cup

chopped mushrooms (shiitakes are good)

— 1 cup

shallots, chopped

— 1

clove garlic, peeled and smashed

— 1 sprig

fresh thyme

— 1 heaping tablespoon

flour (gluten-free is fine)

— 1/4 cup

dry red wine

— 1 1/2 cups

homemade chicken stock (or any defatted meat/poultry/veg stock)

— 2 tablespoons

dry sherry
Preheat oven to 425°F.

Wrap each potato in foil, then prick several times with a fork. Bake until tender, about 60-75 minutes.

Heat milk, butter, salt and white pepper in a large, heavy saucepan over moderate heat until butter is melted. Meanwhile, unwrap potatoes and slip off skins with a knife (protect your hands!). Discard skins. With a ricer, force hot potatoes into the pan of hot milk and stir until well combined. Taste and add more salt or pepper, as needed.

For the gravy:

Sauté bacon in large saucepan over medium heat until crisp. Increase heat to medium-high. Add mushrooms, shallots, garlic and thyme and sauté until tender, about 5 minutes. Reduce heat, add flour and stir briefly. Add wine, scraping bottom of pan. Stir in chicken stock. Simmer, stirring occasionally, until gravy thickens, about 10 minutes.

Remove from heat, cool slightly, and then puree in food processor until very smooth. If you're feeling butch, push it through a fine strainer (or not).Transfer back to saucepan and warm over medium heat. Stir in sherry. Taste and adjust seasoning, as needed.

Download Recipe