4.30.10
Cheese Wiz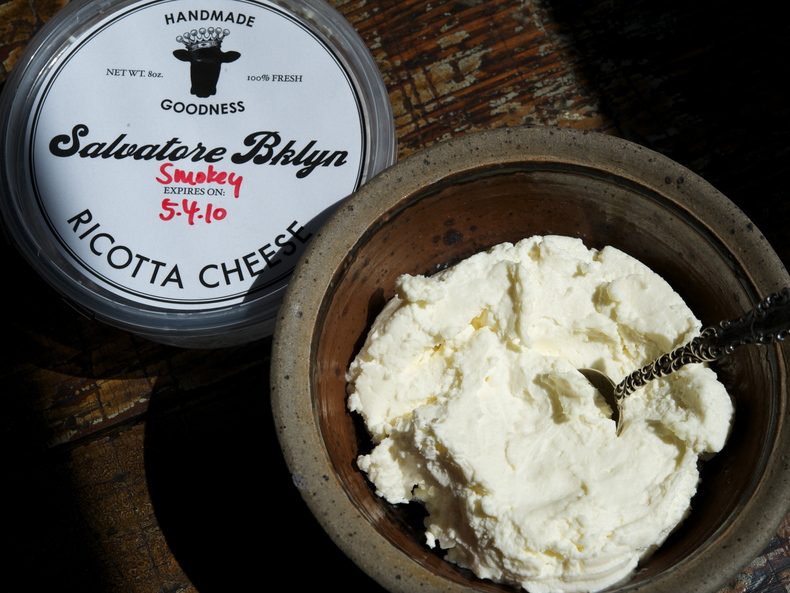 You know how biscotti means "twice cooked" in Italian? Well, ricotta means "re-cooked." I never knew why until I decided to investigate this wonderful light cheese. We associate it with Italian cooking but it's also traditional around Hanukkah, used to stuff blintzes or in cheesecake. It turns turns out that ricotta is made from whey, the low-fat and nutritious liquid that is a by-product of cheese production. Once cheese is made from the curds, a second cooking of the whey results in ricotta. I've actually perused quite a few recipes for ricotta, and hardly any mention this. They all call for making it with whole milk, some even adding cream, but this is not the traditional way and results in something quite a bit richer, albeit delicious, that is more along the line of farmer's cheese or fromage blanc. Splitting hairs, you say. And you may be right. If you're not making fresh cheese you probably won't have whey availalbe, so go ahead and make your rich and delicious ricotta from whole milk. (Try the recipe below.) Or buy the sinful version from Salvatore Brooklyn. They also have a smoked one that will make your toes curl under.
This delicacy emerges from the kitchen of Lunetta in Boerum Hill, Brooklyn. Betsy Devine and Rachel Mark learned the craft in Tuscany from Salvatore Farina, who makes it for his wine bar in San Gimignano. Although his original recipe uses only whey, their version of it mixes in local cow's milk (aha!) and is curdled with lemon juice, then drained for a few hours. It has an extraordinary creaminess, with a hint of salt and acidity that enhance its sweetness. The smoked version is infused with deep, dark notes—something else I could eat by the great heaping spoonful, if I were to stoop so low.

In Manhattan, you can find Salvatore Ricotta at Anne Saxelby in the Essex Street Market. In Brooklyn, it's carried at Stinky Bklyn in Carroll Gardens and Marlow & Sons in Williamsburg. At a loss for how to use ricotta? Here are a few suggestions:

Spread on toast, drizzled with honey and sprinkled with toasted almonds
Wth figs (and more honey and toasted hazelnuts)
Scrambled with eggs and kale
As ravioli filling, or baked into lasagne, or stirred into spaghetti with dandelion greens
Sweetened and stuffed into cannoli or blintzes
Baked into a cheesecake or Roman budino
Smeared on grilled, garlic-rubbed bread and piled high with sautéed chard
Stirred into polenta (especially good with the smoked kind)
Fresh Ricotta
makes about 2 cups
— 2 quarts

organic whole milk

— 1 cup

organic heavy cream

— 1/2 teaspoon

sea salt

— 3 tablespoons

fresh lemon juice
Line a large sieve or colander with a layer of heavy-duty (fine mesh) cheesecloth and place it over a large bowl. You can also use a light cotton dish towel for this.


In a heavy 6-quart pot, slowly bring milk, cream and salt to a rolling boil over moderate heat, stirring occasionally to prevent scorching. Add lemon juice, then reduce heat to low and simmer, stirring constantly, until the mixture curdles, about 2 minutes.


Pour the mixture into the lined sieve and let it drain for 1 hour or as long as you like until it achieves your desired consistency. Discard the liquid and chill the ricotta, covered. It will keep in the refrigerator for about 2 days.



Download Recipe