5.2.10
Ramping Up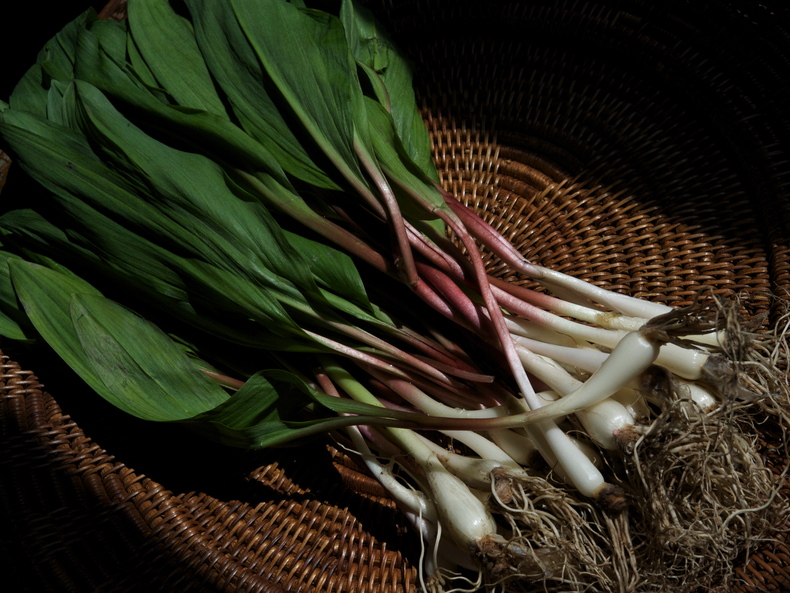 So remember that incredible lo mein with ramps and trout roe I mentioned eating at Momofuku Ssam Bar
last week
? I just couldn't wait to have it again—and I wanted you to be able to try it at home while ramps are still in season—so I made my own version of it. For those of you asking
what is a ramp?,
it's a wild leek that is foraged at this time of year. Whole Foods carries them in some locations, but they're all over the farmers markets right now. And enthusiastic locavores are charging about the countryside on a rampage, filling their reusable cloth bags with them by the armload. With a flavor somewhere between scallion and garlic, they've got a slim white bulb at the end of a stalk that's often a bit purple, and flat leaves that are a brilliant green. You can eat these leaves, too, sauteed with oil in a hot pan. Rich in selenium and sulfur, the ramp has been the subject of intense study in the areas of cancer prevention and treatment. But, really, it's just plain delicious, and goes so well with the other foraged delicacies of spring: fiddleheads, morels and asparagus.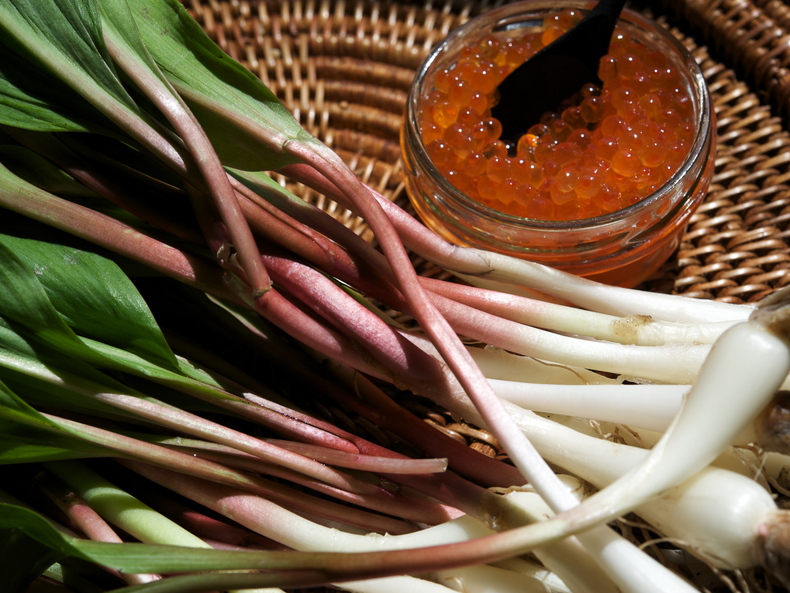 For this adapted recipe, it's pretty key to use a fresh pasta that's chewy and is more or less the same thickness as your skinniest ramps. I happened to come across a fresh pasta in the freezer section of the Italian grocery in the Chelsea Market that bore a strong resemblance to David Chang's homemade lo mein noodles. Called fusilli di gragnano, they are slightly twisted (much less than regular fusilli):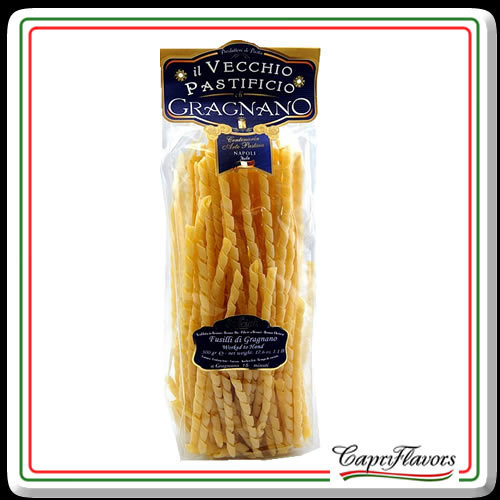 If you want to be really obsessive about it, you can order the dried kind
here
. But if you can't find the fresh or dried kind, or something similar, then dried bucatini or even fresh fettucine would be just fine. The trout roe and salty butter create a deliciously simple sauce that will have you licking the bowl.
Pasta with Ramps & Roe (à la Momofuku)
serves 2
— 2 tablespoons

organic salted butter

— 1/2 pound

fresh handcut fusilli di gragnano, or similar pasta

— 2-3 dozen

very skinny ramps, bulbs and stems only, cleaned

— 2 tablespoons

trout roe
Set a pot of water to boil for the pasta.


Melt butter in a sautee pan over medium heat, and cook ramps until tender.


Throw the pasta in boiling salted water and cook until al dente. Drain and combine in a medium bowl with ramps and butter. Stir in trout roe. Add another knob of butter if you're feeling decadent. Devour with a glass of icy white wine.



Download Recipe