4.12.10
Spring Dinner Party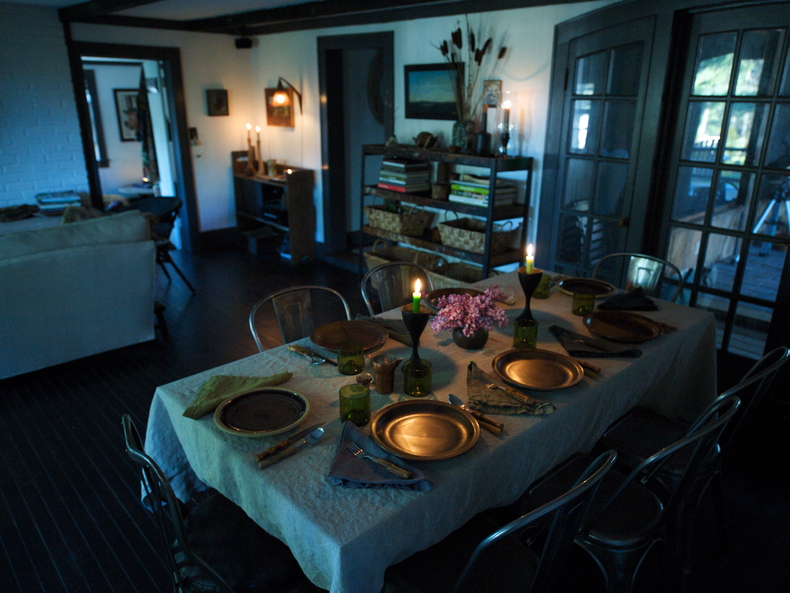 It's so wonderful to be able to celebrate with friends. Nothing makes me happier than sitting down to a delicious meal with a group of pals in high spirits. If I have made the meal, so much the better. It's a way for me to express my love, to share a little bit of myself. We had three weekend guests at our tiny cottage, and two more drove over from Stone Ridge for the evening. Because Stephanie is still watching her fat intake (like a hawk), I had to come up with a menu that was virtually fat-free yet could still satisfy all these gourmands. I don't think anyone left the table feeling deprived.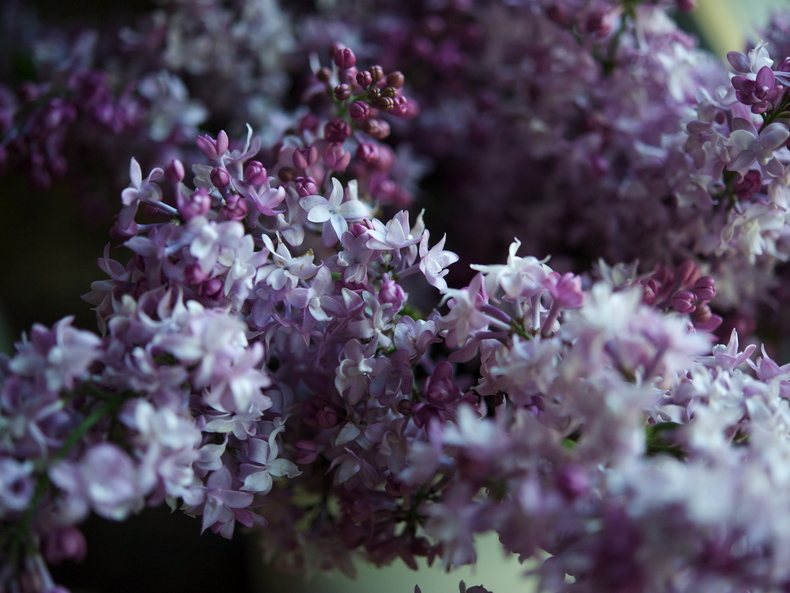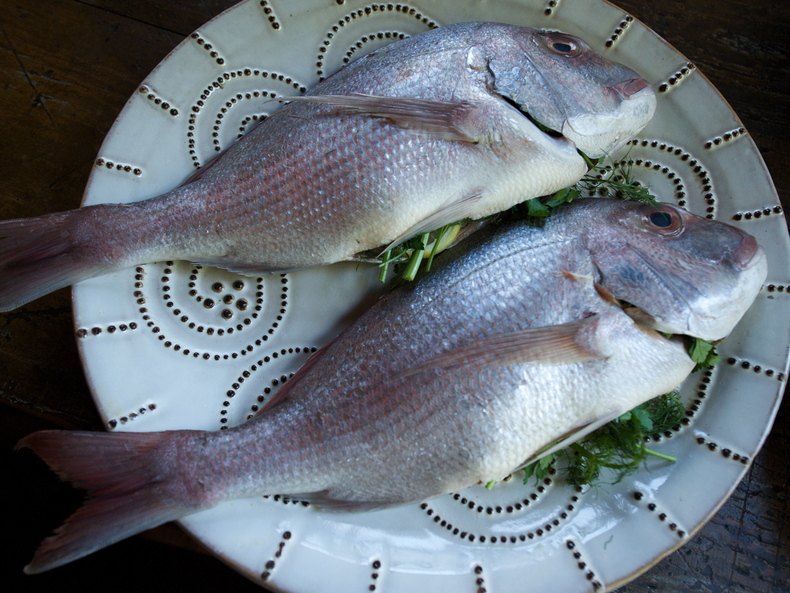 You get so used to the richness of cooking with butter, oil, bacon and cheese—not to mention the unctuous mouth-feel—that you can sometimes lose track of how easy it is to be sated by other flavors and textures. Something doesn't have to be fried to be crispy; it doesn't have to be laden with fat to be creamy. I'm going to give you the recipes to make the entire dinner, but do try any one of them on their own.

When guests arrived, they were offered a glass of fresh citrus juice (grapefruit, orange, lemon, lime, tangerine)—perfect mixed with tequila or bourbon or prosecco, a splash of orange bitters and a sprig of fresh mint.The first course was cream of asparagus soup, with stock made from the woody bottoms, enriched only with a bit of lowfat buttermilk. Next was whole dorade (pink snapper) stuffed with lemon, fennel and parsley and roasted under a salt crust. A dramatic but super-simple preparation that you really must try. (I am going to attempt it with a chicken next.) This was accompanied by gremolata, a finely chopped mix of parsley, garlic, lemon zest and capers, bound with very litle olive oil; grilled polenta flavored with saffron and green peppercorns; and fresh peas and snowpeas tossed with preserved lemon and mint.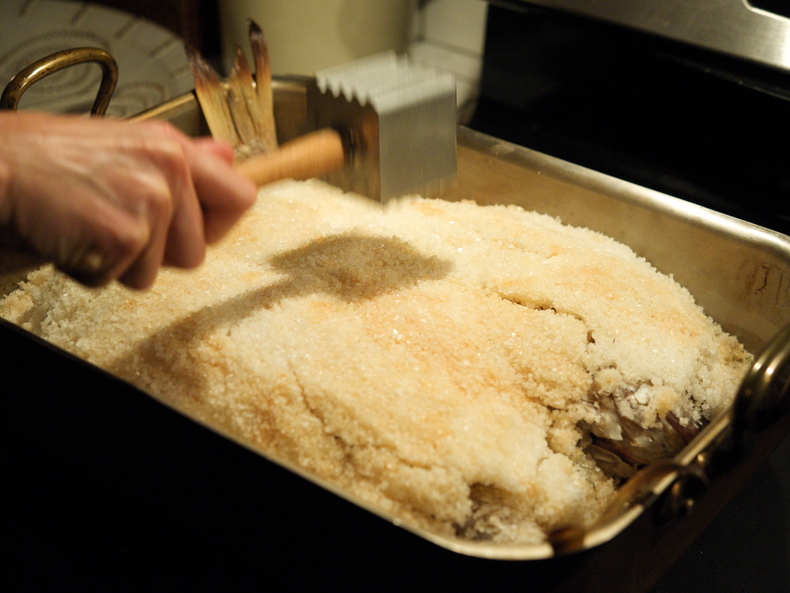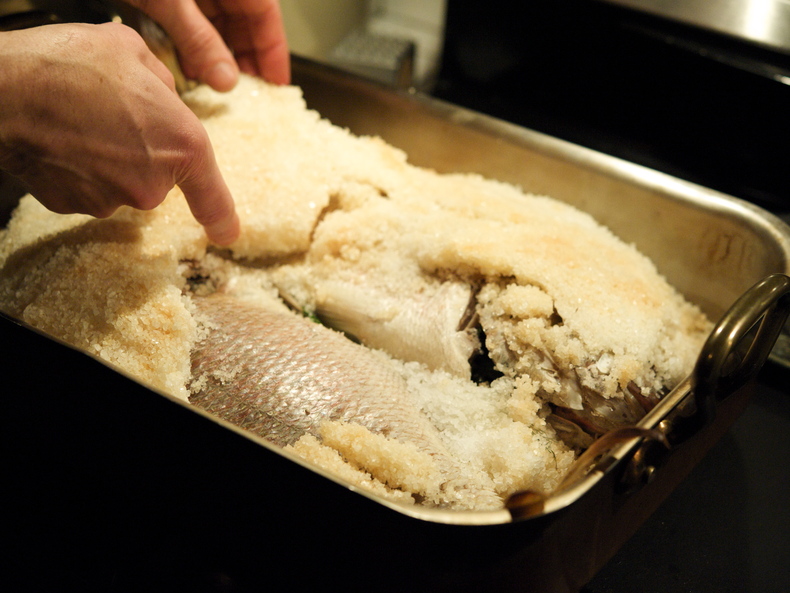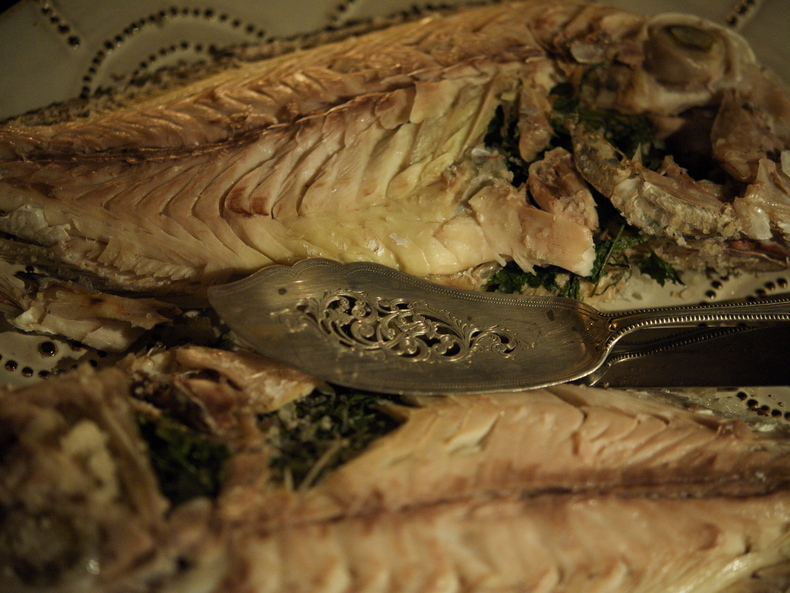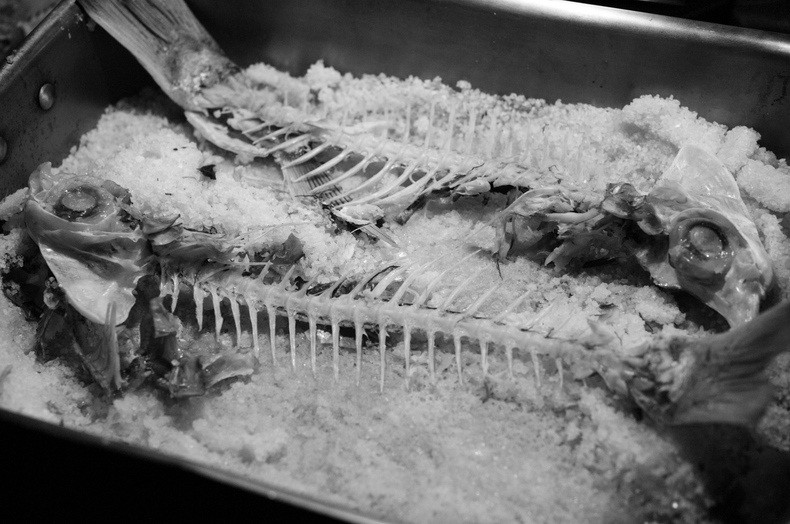 Dessert was a variation on the
classic Pavlova
, topped with butterless lemon curd and drizzled with a seasonal sauce of rhubarb, grapefuit and vanilla. I think this was missing the textural addition of some fresh berries, so consider adding some red raspberries or even a colorful sprinkling of pomegranate seeds. I would be lying if I said I wasn't cooking most of the day, but it was relaxed and very enjoyable. Afterwards, the limoncello and Poire Williams came out but there wasn't much interest. Must have been all that delicious pinot grigio consumed with our meal...
Spring Asparagus Soup
serves 6
— 6 cups

water

— 3 bunches

asparagus

— 1/2

yellow onion, cut into 1" wedges

— 1 leek

white & light green parts sliced

— 2 cloves

garlic, peeled and smashed

— 1 tablespoon

fresh lemon juice

— 6-7 sprigs

fresh thyme

— 3-4 sprigs

parsley

— 10

whole green peppercorns

— 2 tablespoons

butter

— 2 tablespoons

olive oil

— 1 cup

yellow onion, sliced

— 2 cups

sliced leeks (white & light green only)

— 3 cloves

garlic, peeled and smashed

— 3/4 teaspoon

fresh thyme leaves

— 2 tablespoons

fresh parsley leaves, coarsely chopped

— 2 teaspoons

yellow mustard seed

— 2 teaspoons

coriander seed

— 2 teaspoons

fine sea salt, or to taste

— 1/2 cup

dry white wine

— 3-4 cups

asparagus stock

— 1 cup

buttermilk (low-fat is OK, I guess)

— 6 tablespoons

soft goat cheese, crumbled
Make the asparagus stock by bringing the water to a boil in a large pot. Break or cut off the bottom 3" of each asparagus stalk. Set aside the upper portion of the stalks. Put the bottom portion of the stalks in the boiling water and add the next 7 ingredients. Simmer, covered, for 1 hour. Strain, discarding solids, and set aside.


Slice the reserved asparagus into 2" pieces (about 5-6 cups). Melt the butter and oil together in a Dutch oven over medium-low heat. Toss asparagus into the pot along with the leeks, onion, garlic, herbs and spices. Cover with a lid, reduce the heat to low and sweat at a very low simmer for about 45 minutes or until the asparagus is very soft.


Remove the lid, increase the heat to medium-low and add half the wine. Reduce until the wine is completely gone. Add the rest of the wine and reduce again.


Combine the asparagus with the stock and puree (in batches, if necessary) in a blender or food processor. Press through a sieve, if you like, and return to pot. Reheat, stirring in the buttermilk. Adjust seasoning, adding more salt, freshly ground black pepper and/or lemon juice as needed.


To serve, ladle into bowls and top with 1 tablespoon of crumbled goat cheese.



Download Recipe
Fish Baked in a Salt Crust
serves 8
— 6 lbs (1 or 2)

whole firm white fish; dorade or sea bass work well

— 1

whole lemon, thinly sliced

— 6 sprigs

fresh parsley

— 4

fennel fronds

— 6 lbs

coarse sea salt

— 3

egg whites
Have your fishmonger clean the fish, leaving the head and tail intact and the scales on. This helps prevent the salt from seeping into the flesh.


Preheat oven to 450 F.


Loosely stuff fish cavity with lemon slices, parsley and fennel.


Combine egg whites and sea salt in a bowl and mix well. This will not create a goopy paste but will help to bind the salt a bit.


Spread 1/3 of the salt on the bottom of a large roasting pan. Lay the fish on top. Pour remaining salt over the fish, mounding it up and covering the fish completely (the tail can remain exposed).Bake 40-45 minutes. Remove from oven and let rest 10 minutes.


Crack open the crust with a small hammer or the heavy handle of a knife. Remove and discard the crust. With your fingers (careful!) or a pair of tongs, gently peel back and pull off the skin. Filet the top half of the fish. Pull the spine out and filet the bottom half, remembering to remove the skin from the bottom.


Serve fish with gremolata, lemon wedges, a pitcher of extra-virgin olive oil to drizzle on top and Maldon sea salt.



Download Recipe
Gremolata
makes about 1 cup
— 1 cup

finely chopped parsley

— 2 cloves

garlic, minced

—

finely grated zest of 2 lemons

— 1 tablespoon

capers, chopped

— 2 tablespoons

extra-virgin olive oil

—

sea salt & freshly ground black pepper, to taste
Stir all ingredients together. Keep chilled, but serve at room temperature.



Download Recipe
Grilled Polenta
serves 8
— 2 cups

buttermilk (lowfat is OK)

— 2 cups

defatted chicken stock

— 1 teaspoon

coarse sea salt

— large pinch

saffron

— 1 cup

polenta

— 1 tablespoon

green peppercorns, crushed

— 1/2 cup

grated parmesan

— 1 tablespoon

extra-virgin olive oil
Bring the milk, stock and salt to a boil. Stir in saffron. Slowly whisk in polenta. Turn heat to low and cook for about 20 minutes, whisking often, until polenta is smooth and creamy and no uncooked taste remains. Stir in peppercorns and parmesan. Spread the polenta in a 9"x9" baking dish and set aside to cool.


When the polenta is quite firm, use a 3" round cookie cutter to cut out circles. Heat oil in a heavy skillet over medium-high heat. Add polenta rounds and cook until browned and crusty on one side, about 2 minutes, then flip and cook the other side another few minutes.



Download Recipe
Peas with Preserved Lemon & Mint
serves 8
— 3 cups

English peas, shelled

— 3 cups

snow peas, stemmed

— 2 tablespoons

chopped preserved lemon rind

— 3 tablespoons

fresh mint chiffonade (fold a stack of mint leaves into quarters and thinly slice)

—

fine sea salt, as needed
Bring a large pot of salted water to the boil and blanch both kinds of peas together for about 3-5 minutes. Drain and toss with remaining ingredients.



Download Recipe
Lemon Curd (Lowfat Version)
about 2 generous cups
Place strained lemon juice and sugar in a small saucepan. Heat on low and stir until sugar has dissolved.


Place cornstarch in a small bowl and whisk in a few tablespoons of the lemon syrup. Then stir back into saucepan.


Lightly beat eggs in a medium bowl.


Remove lemon syrup from heat and pour slowly into beaten egg while stirring the mixture with a whisk. Continue to whisk by hand for one minute.


Return mixture to saucepan; add lemon zest, and heat on low, stirring with a wooden spoon until it thickens, about five minutes.


Remove from heat. Transfer to a container, cover surface with saran (to prevent a skin from forming), and refrigerate.



Download Recipe
Rhubarb-Grapefruit Syrup
— 1 pound

rhubarb, cut into 1/2" pieces

— 3/4 cup

organic cane sugar

— 1/2 cup

fresh grapefruit juice

— 1 tablespoon

cornstarch

— 2 tablespoons

grapefruit zest

— 1/4 teaspoon

vanilla extract
Place the rhubarb, sugar and grapefruit juice in a pot over medium heat. Simmer until the rhubarb is soft and then mash it as much as possible.


Pass the mixture through a fine-mesh sieve into a bowl, pressing on solids with the back of a spoon to extract as much juice as possible. Return to pot over medium heat and whisk in cornstarch. Simmer to reduce and thicken. Stir in vanilla and zest. Chill.


In addition to being delicious with the Pavlova, you could also spoon this over ice cream or angel food cake. Try putting a couple of tablespoons in a tall glass with ice and filling with club soda (or prosecco)!



Download Recipe