4.13.10
Shop Talk: Bouchon Bakery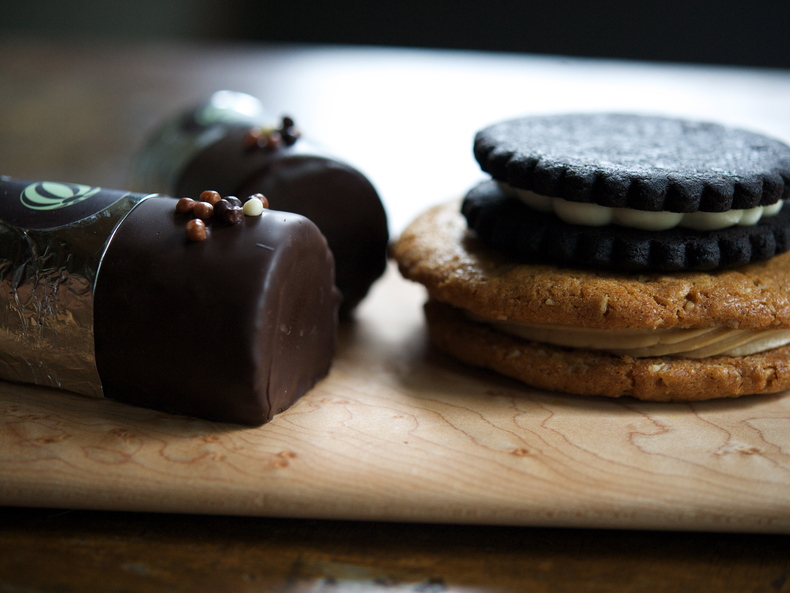 G did a bad thing. He went to
Bouchon Bakery
in the Time Warner Center and came home with all these goodies. I mean
baddies
! He claimed they were for our guests but a few crumbs fell into our mouths as well. Do you love Thomas Keller? (If you don't know who I'm talking about, Rip Van Winkle, you can read his bio on the Bouchon Bakery website.) I had an incredible lunch at the French Laundry in the spring of 2001 and even went into the kitchen to have Thomas sign a copy of his recently published cookbook of the same name. It was immaculate in there and quiet as a tomb. But the food that came out was hardly demure. For such a serious chef, he loves his little food puns: oysters and pearls (tapioca); coffee and doughnuts (cappuccino semifreddo), etc. He opened Bouchon Bakery right outside Per Se—his magnum opus where I have dined in splendor overlooking Central Park—so that it could provide bread for the restaurant and also "add an additional layer of cafe life to the surrounding area." So thoughtful. There, you can grab and go, perch on a stool, or get a real table at which to enjoy light fare, including soups and sandwiches, quiche, wonderful breads and all manner of sweets. I once had a huge coconut-dusted doughnut stuffed with passionfruit curd that nearly did me in. They even bake dog treats for New York's most pampered canines. My personal favorite from the selection shown above happens to be the frisbee-sized Nutter Butter. It's unwise to eat more than a quarter of this creamy, peanutty travesty at a time. I've even posted the bakery's recipe for it should you be reckless enough to want to try this at home.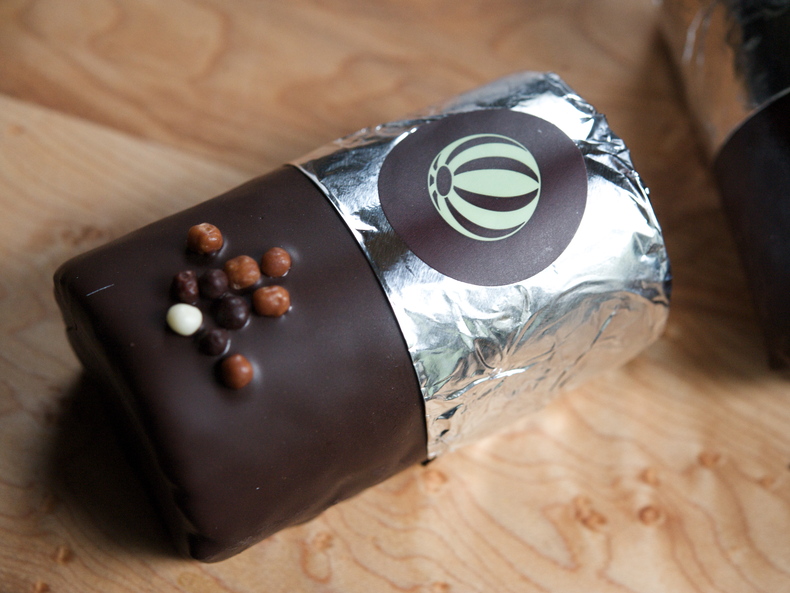 In my opinion, this "HoHo" is the most authentic of Bouchon Bakery's various takes on classic American treats. Of course they also do French stuff like ethereal croissants, melt-in-your-mouth eclairs and decadent pain au raisin. The HoHo is quality dark chocolate cake and yes, it's real buttercream, but it kind of all mushes together in your mouth just like the original. Not saying that's a bad thing.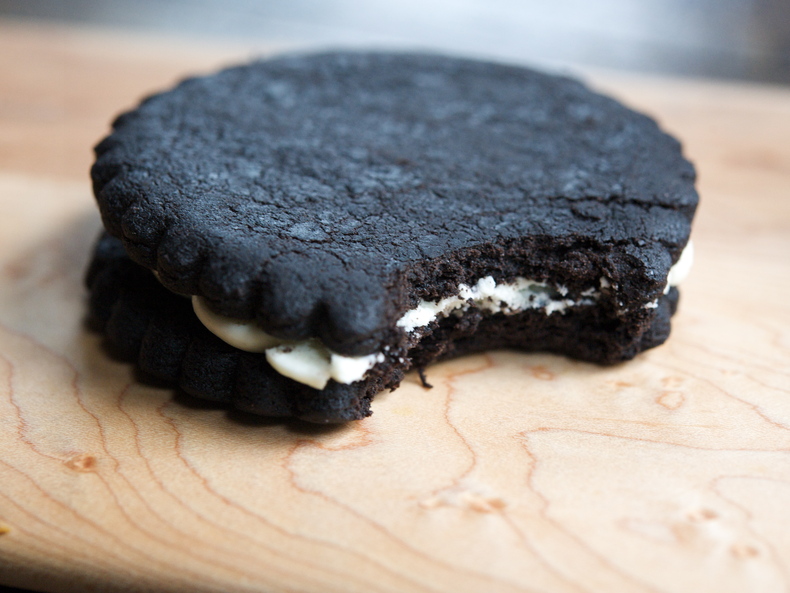 Others seemed to prefer Thomas Keller's Oreo—cleverly called the TKO. (Perhaps for its roundhouse effect on your diet?!) Chocolate sablé dough and white chocolate buttercream elevate this beyond Nabisco's wildest dreams. It, too, is enormous and (almost) too rich for my blood.If you don't live near the Time Warner Center or either of the other Bouchon Bakery locations (Yountville, CA and Las Vegas), you've got only one recourse: Run out and buy the best butter you can find (or whip up
your own
), roll up your sleeves and get to work.
Bouchon Bakery Nutter Butters
makes 24 large cookies
2 cups all-purpose flour2 teaspoons baking powder4 teaspoons baking soda1 pound (4 sticks) butter, at room temperature2/3 cup creamy peanut butter, preferably Skippy1 cup granulated sugar1 cup firmly packed light brown sugar2 large eggs1½ teaspoons vanilla extract1/3 cup coarsely chopped peanuts2½ cups quick-cooking oats
Filling
¼ pound (1 stick) butter, at room temperature½ cup creamy peanut butter, preferably Skippy1 2/3 cups confectioners' sugar.
Cookie dough:
Preheat oven to 350 degrees. In a bowl, mix together the flour, baking powder and baking soda; set aside. Using a mixer with a paddle attachment, cream together the butter and peanut butter. Add sugars and beat at medium speed for 4 minutes, scraping down bowl twice.
At low speed, add eggs and vanilla. Add flour mixture and beat at low speed until well mixed, frequently scraping down bowl. Add peanuts and oats, and mix well.Using an ice cream scoop 2 inches in diameter, place balls of dough on parchment-lined baking sheets at least three inches apart. Bake until cookies have spread and turned very light golden brown, about 10 minutes. Remove from oven and set aside to cool and firm up, 5 to 10 minutes. Transfer to a rack to cool completely before filling.
Filling:
Using an electric mixer, cream together the butter, peanut butter and confectioners' sugar until very smooth.
To assemble cookies, spread a thin layer (about 1/8 inch) on underside of a cookie. Sandwich with another cookie. Repeat.
Thomas Keller's Oreos (TKOS)
makes 24 large cookies
1 ½ cups plus 3 tablespoons all purpose flour3/4 cup sugar3/4 cup plus 1 Tbsp unsweetened cocoa powder½ teaspoon baking soda1 ½ teaspoons salt15 tablespoons unsalted butter, cut into 3/4" cubes, at room temperature½ cup heavy cream8 oz. white chocolate, chopped
Filling:
In a small pan, bring the cream to a boil. Remove from heat and add the white chocolate. Let stand for 1 minute, then whisk to melt the chocolate until smooth. Transfer to a small bowl, and let stand for 6 hours to thicken up.
Cookies:
In a large mixing bowl, combine the flour, sugar, cocoa, baking soda, and salt, and mix on low speed. With the mixer running, add the butter, a piece at a time. The mixture will be dry and sandy at first, but over 2 minutes will form pebble-sized pieces that start to cling together. Stop the mixer and transfer the dough to your board.Preheat oven to 350F.Separate dough into 2 pieces. Roll each piece of dough between 2 pieces of plastic wrap or parchment paper to 1/8" inch thick. Using a fluted cutter, cut into rounds. Scraps can be pieced together and rolled out again. Place 1/2" apart on baking sheets lined with Silpats or parchment paper.Bake for 12-15 minutes, rotating halfway through baking. Remove and cool in the pan for 5 minutes, then use a spatula to transfer cookies to a cooling rack. Cool completely.To Assemble: Lightly whip the white chocolate cream to aerate and fluff up. Transfer filling to a pastry bag fitted with a 1/4" plain tip. Pipe about 1 1/2 teaspoons in the center of half the cookies. Top with another cookie to sandwich. Gently press down until the cream comes to the edges.Cookies can be stored loosely covered for up to 3 days. Loosely cover.