3.5.10
Jewel of India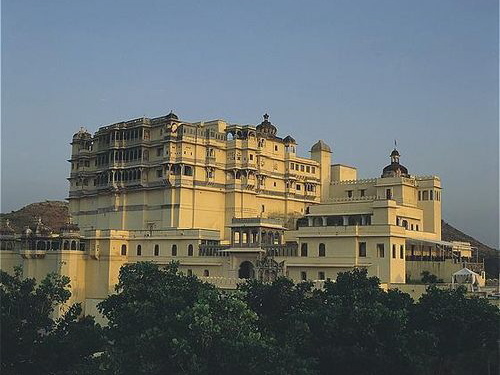 After spending the first part of our honeymoon traveling in southern India with our dear friends Scott and Lisa, G and I made our way to Rajasthan for what would be three of the best weeks of my life. Among the many spectacular hotels we were privileged to visit was this incredible 18th-century palace in the araval hills outside Udaipur. It is not the immediate go-to hotel in Udaipur; most people head for the Oberoi Lake Palace. But G somehow managed to snuffle this one out (like the truffle hound he is) and it was absolutely stunning. Devi Garh has only 39 suites, and they all feature local marbles and semi-precious stones. Our room was appointed with lapis lazuli—enormous sleek, azure slabs of it. There was a gorgeous pool and a wonderful spa where we were oiled up and rubbed down. Other features included little outdoor sitting rooms; a bar with chaises longues piled with brilliant silk pillows where you could have drinks at night by the light of these amazing wire baskets that held small, glowing fires; and secret courtyards, including one with a swing hanging from a jacaranda-like tree. And at the end of each of the two magical days we spent at Devi Garh, there was dinner.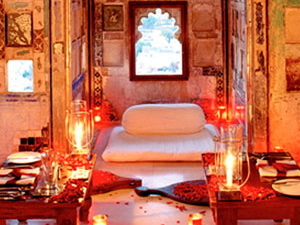 One night we dined alone (except for a musical duo to serenade us, tucked discreetly out of sight) in a high turret that contained a small alcove covered in the original mirrored tiles, reflecting back dozens of flickering candles in their cracked surfaces (see above). I wore a long red silk caftan and jeweled earrings G had bought me in Mumbai. We felt like royalty. But it was the next night, when we ate in the dining room below, that I had one of the most memorable dishes ever.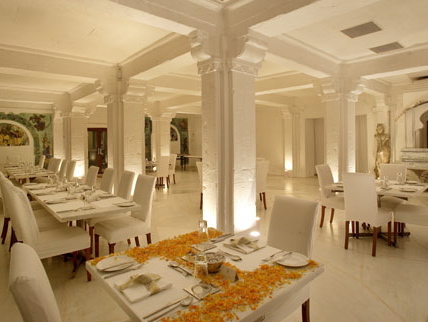 The room really was as pristine as it looks here, though our table was not covered in marigold petals. When the waiter brought out my order of paneer in tomato curry, its deep red color made a stark contrast to the whiteness of the cloth. It's a common enough dish in northern India, I suppose, typical of Kashmiri cuisine, but the depth of flavor was astounding: smoky, fruity, intensely rich. The paneer was like bits of cloud, creamy and yet utterly weightless. I'll never forget that journey, that hotel, that meal. Upon returning home, I found a recipe for a similar dish in
Mangoes and Curry Leaves
, Jeffrey Alford and Naomi Duguid's excellent book of South Asian cuisine. With its breathtaking photographs and fascinating anecdotes, it's one for your collection. I've made this simmered paneer a couple of times now, and it's truly transporting. A fragrant, subtly spiced tomato sauce bathes the fluffy fresh cheese. (It's worth making yourself; see the recipe
here
.) This may be as close as you or I will get to Kashmir for a while...