3.6.10
Playing Chicken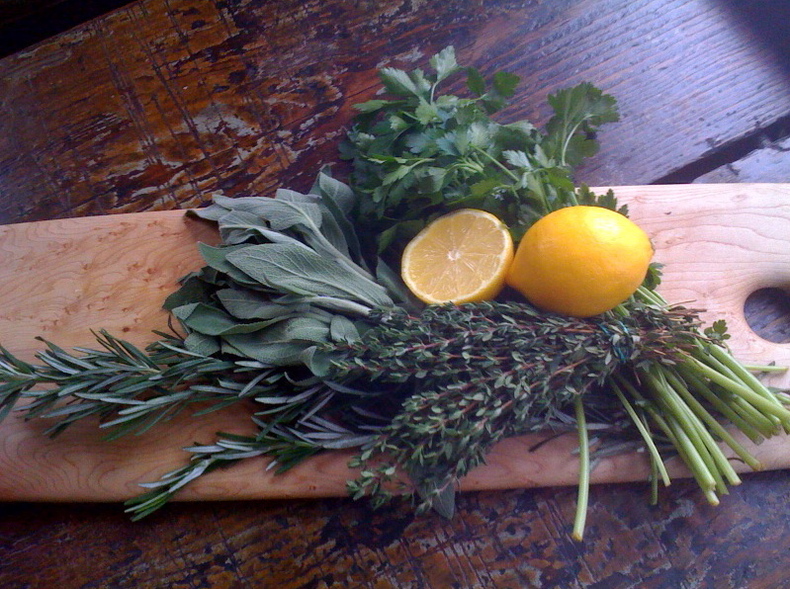 Another week gone by and, I'm pleased to say, another two of my recipes singled out by the
editors of Food52
. I still haven't actually
won
any of their contests, but lots of honorable mentions do add up. This time it was my Scarborough Fair Chicken and my Golden Rösti (made from yellow beets). I'll share the former with you first. My dear friend Marilee was recently asking me for a good roast chicken recipe, and I think this one is deliciously reliable. The name, of course, refers to the old English ditty and the herbs mentioned therein: parsley, sage, rosemary and thyme. Add some butter, lemons and shallots, and you're in serious business. The chicken you use really matters—and here I'm going to flog the organic argument once again. Despite the American propensity for enormous breasts, they're just not worth keeping our chickens in captivity in order to force-feed them the required diet of (subsidized) corn. Go for a nice free-range roaster and you'll enjoy better flavor and a freer conscience.
This recipe reflects the accumulated wisdom of many years and many sources, from my mother to Martha Stewart to Alice Waters. Roasting it on a bed of shallots is a technique swiped from my Thanksgiving turkey. I love it because you can make a delicious gravy from the juice-infused shallots; don't forget to add the sherry, it's essential to cut through the sweetness.

Scarborough Fair Chicken with Shallot Gravy
serves 4-6
— 1

4-lb free-range red cockerel, or other well-bred roaster, at room temp

— 1 dozen

shallots

— 2 tablespoons

olive oil

— 2

lemons, quartered (regular or Meyer)

— 2 sprigs each

parsley, sage, rosemary & thyme

— 4

cloves garlic, peeled and smashed

— 1 tablespoon each

parsley, sage, rosemary & thyme, finely minced

—

finely grated zest from 1 lemon (regular or Meyer)

— 4 tablespoons

unsalted butter, softened

— 1/2 cup

dry white wine

— few pinches

pimentón

— 2 tablespoons

dry sherry

—

light cream, optional
Preheat oven to 400 degrees.


Wash chicken and dry it very thoroughly, then leave it uncovered in a cool, drafty spot as you prepare the other ingredients.


Peel the shallots and cut them in half. Toss with the olive oil and a teaspoon of sea salt and line the bottom of a roasting pan with them. (Pan should be only slightly larger than the chicken.)


In a small bowl, combine the minced herbs, lemon zest and butter and mix well.


Rub the chicken cavity with salt, then stuff it with the lemons, herb sprigs and garlic. Carefully separate the skin from the chicken's breasts and thighs and smear a thin layer of the herb butter underneath the skin, covering as much surface area as possible. Generously salt the exterior of the chicken and truss it (or at least tuck the wings under).


Pour the wine over the bed of shallots, and set the chicken comfortably on top. Sprinkle the breast area with a few pinches of pimentón. Roast for about 75 minutes, basting with pan juices once or twice.


Remove the chicken from the oven, take it out of the pan and let it rest on a platter for 15 minutes so the juices can settle.


Meanwhile, pour the shallots and any pan juices into a food processor and make a smooth puree. Add the sherry, and salt and pepper to taste. If the gravy needs thinning, stir in a little chicken stock, any remaining juices from the chicken, some light cream or water.


Carve the chicken and pass the shallot gravy on the side.



Download Recipe