3.4.10
The Gray Lady, R.I.P.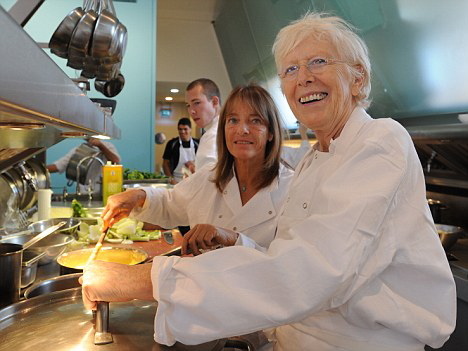 I never met her, nor dined at her restaurant, but I could tell from her food, and the joie de vivre that radiated from her face, that Rose Gray was a glutton for life. We lost another great one to cancer today. She was only 71. Co-owner and co-chef of London's River Café, opened in 1987 in a converted warehouse on the Thames, she was a self-taught cook who fell in love with the cucina rustica of Northern Italy while living in Lucca. After her friend Nell Campbell invited her to run the kitchen at Nell's, a New York hot spot in the 80s, Ms. Gray caught the bug and decided to open her own place, along with her friend Ruth Rogers (seen above), another self-taught chef.In honor of this great lady, I include here one of her pristine recipes, a classic Sicilian pasta dish comprised of just a few ingredients. It was in simplicity that she found much of the pleasure and excitement in cooking. I hope you will, too. Eat well and raise a glass to Rose.
LINGUINE, SARDINE, SAFFRONfrom River Cafe Cook Book Easyserves 4 1 pound linguine12 sardines2 garlic cloves2 tablespoons flat-leaf parsley2 dried chiles½ teaspoon saffron threadsExtra-virgin olive oil2 tablespoons pine nuts2 tablespoons raisins1 lemonFillet the sardines. Peel and finely slice the garlic. Chop the parsley and crumble the chiles. Sprinkle the saffron threads over three tablespoons of hot water and let stand for 20 minutes. Soak the raisins in warm water for 20 minutes. Cut the lemon into quarters.Heat three tablespoons of olive oil in a heavy-bottomed pan, and fry the garlic and parsley. Add the sardine fillets in one layer and fry gently for two minutes or until cooked through, spooning over the garlic and parsley. Season.In a separate frying pan, brown the pine nuts.Cook the linguine in boiling salted water until al dente, then drain and return to the pot. Drain the raisins and add to the pasta with the saffron. Toss to combine. Add the sardines and juices from the pan, and check the seasoning. Scatter over the pine nuts.Serve drizzled with extra-virgin olive oil and lemon.