10.7.09
Grape Expectations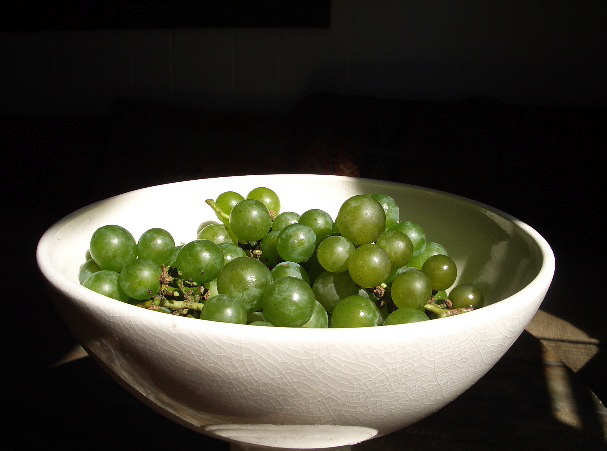 My apologies for the wordplay. I simply can't resist. The talented farmers up the road from us at River Brook Farm in Cochecton grow a few grapes and I was lucky enough to get my hands on some. These green beauties had the most amazing smell! I don't know which variety they are but they were bursting with fruity flavor, sweet and tart and juicy. I was beside myself trying to come up with a way of using them and I finally decided to make a syrupy juice that could be diluted with water. Of course, we ate quite a few of them as a snack and now that I've been clued in to the nutritional benefits of the seeds, I have taken to chewing them (not that bad) or simply swallowing them whole (less bother).
Grapes contain resveratrol, a polyphenol antioxidant that has been found to inhibit cancer, heart disease, Alzheimer's and viral infections. Recently, I read it may help to prevent fat from building up in the liver. It also makes you irresistibly sexy. (Not really. I wish.) Grape seed extract belongs to a class of free-radical-scavenging antioxidants called bioflavanoids, and is much more potent than vitamins C and E. Much of the goodness in grapes is concentrated in the skin and seeds, so bear that in mind for both eating out of hand and cooking.
Green Grape Juice Concentrate
makes about 1/2 liter
— 2 pounds

organic green grapes (this won't work with bland supermarket grapes)

— 2/3 cup

organic sugar, or 1/2 cup agave nectar

— 1/3 cup

fresh lemon juice
Remove grapes from stems and place them in a large stockpot with the sugar or agave; add water just to barely cover. Bring to a boil then reduce heat and simmer until soft, about 15 minutes.

Cool slightly before pureeing in blender or food processor, in batches if necessary.

Pour mixture through a very fine strainer or chinois, mashing down any solids as much as possible.

Stir in lemon juice and adjust sweetness. Pour into a bottle and refrigerate. I like to drink a quarter cup or so over ice diluted with plain or sparkling water.

Note: You will need to shake or stir this before using it as it will separate a bit. A cloudy appearance is normal.



Download Recipe