10.10.09
Flight of the Concords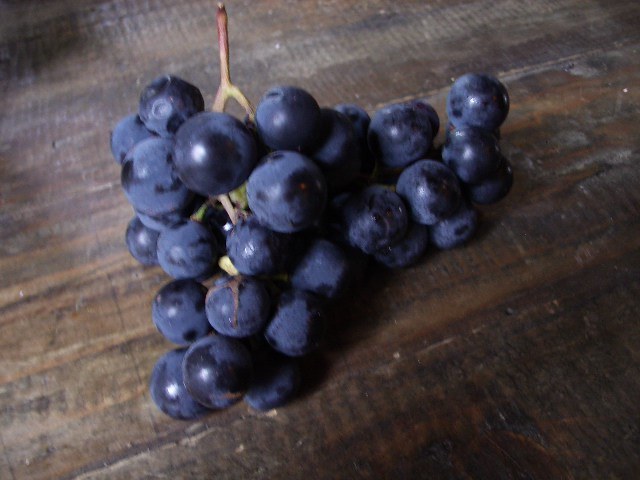 I was in the city this week (I'm taking a novel-writing workshop at the New School that meets on Monday evenings) and couldn't resist these gorgeously purple, dusky and enticingly fragrant Concord grapes I came across at the farmers market. Plus I had seen Meredith Kurtzman's recipe for sorbet in New York magazine and was dying to try it. I tweaked it a little bit because I'm always looking for good ways to justify the $30 tin of fennel pollen I bought at the Demon (aka Dean & Deluca). It was SO GOOD—mouthpuckeringly tart and yet just sweet enough, full of the grapiest grape flavor ever (like Welch's on acid), and with that essential counterpoint of salt. WOW. Not to mention all the wonderful antioxidants. You simply have to make this whenever you can get your hands on some beautiful, organic Concords.
Concord Grape Sorbet
adapted from Meredith Kurtzman
— 1 pound

Concord grapes

— 1/4 cup

sugar

—

juice of 2 lemons

— generous pinch

sea salt

— 1 teaspoon

toasted and ground fennel seeds

— 1 teaspoon

fennel pollen

— 1/3 cup

simple syrup (or honey syrup)

— 1/3 cup

water
In a large bowl, combine the grapes, sugar, lemon juice, salt, fennel seeds and fennel pollen. Mash well with an immersion blender or muddler. Cover and refrigerate overnight or for at least 6 hours.


Remove from refrigerator, and stir in simple syrup and water. Push mixture through a fine strainer or chinois into another bowl, discarding solids.


Adjust flavor with more lemon juice and/or salt if necessary.


Chill for at least 6 hours in refrigerator, then freeze in ice-cream maker according to manufacturer's instructions. Transfer to an airtight container and place in freezer to firm for a couple of hours.



Download Recipe