9.22.09
Green Goddess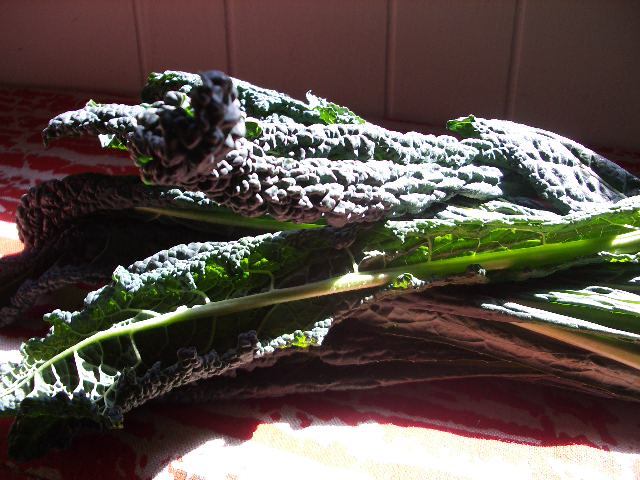 I'm wild about kale. (Too bad I'm still struggling to do it justice with my lame photography.) Especially this dark, bumpy kind, variously known as lacinato, cavolo nero, black cabbage, Tuscan or dinosaur. It's part of the brassica family, as are broccoli, collards and brussels sprouts. Highly nutritious, with antioxidant and anti-inflammatory properties, kale is high in beta carotene, vitamins K and C, and contains plenty of calcium. When chopped, it exudes sulforaphane, a chemical with powerful anti-cancer properties. Most importantly, it's delicious—in my morning juice, cooked with eggs, in bean soup, and even raw in salads.

One easy way to make kale (or almost any greens, for that matter) is to remove any thick, stringy spines, chop it roughly and then throw it into a hot pan with a little olive oil, a smashed clove of garlic or two, some sea salt and a pinch of red pepper flakes. Stir it well, put the lid on and let it cook over medium heat just until it's wilted. You don't even need any water. It's great on its own like this, or throw it into cooked pasta with some fresh ricotta; stir it into a simmering pot of cannelini beans; mix it into mashed potatoes (the Irish call this colcannon). For something a bit heartier, you can fry up some chopped chorizo or pancetta in the pan before adding the kale. It's also very tasty eaten raw, but you must be sure to get it VERY fresh.

I'm a huge fan of the amazing raw kale salad at Il Buco in Manhattan and now I make this version all the time. Mine does not have the chunky, garlicky croutons theirs does (a concession to gluten-free G), but maybe yours should...
Tuscan Kale Salad
serves 2
— 1 bunch

extremely fresh Tuscan kale (aka cavolo nero or dinosaur kale)

— 1/3 cup

pine nuts, toasted and chopped (substitute walnuts if desired)

— 1/2 cup

finely grated Parmigiano Reggiano

—

Anchovy Dressing

—

Croutons

—

For the dressing:

—

juice of 1 lemon (about 2 tablespoons)

— 1/4 teaspoon

dijon mustard

— 1 teaspoon

anchovy paste, or 3 oil-cured anchovies very finely chopped

— 1

large clove garlic, peeled and smashed

—

olive oil
Whisk together lemon, mustard, anchovy and garlic. Whisk in enough olive oil to emulsify. Add freshly ground black pepper, stir, and taste. Add salt if needed.

For the croutons:


Brush 4 thin slices of rustic country bread with a little olive oil on both sides and fry in a hot skillet until nicely browned and crunchy. Set aside.

For the salad:


Remove large ribs from kale and discard. (Or compost!) Break kale into large-bite-size pieces and place in a large salad bowl.

Remove and discard garlic clove from dressing. Toss kale with dressing. Add nuts and cheese and toss again. Serve salad with croutons.



Download Recipe