2.17.17
Healing Vibes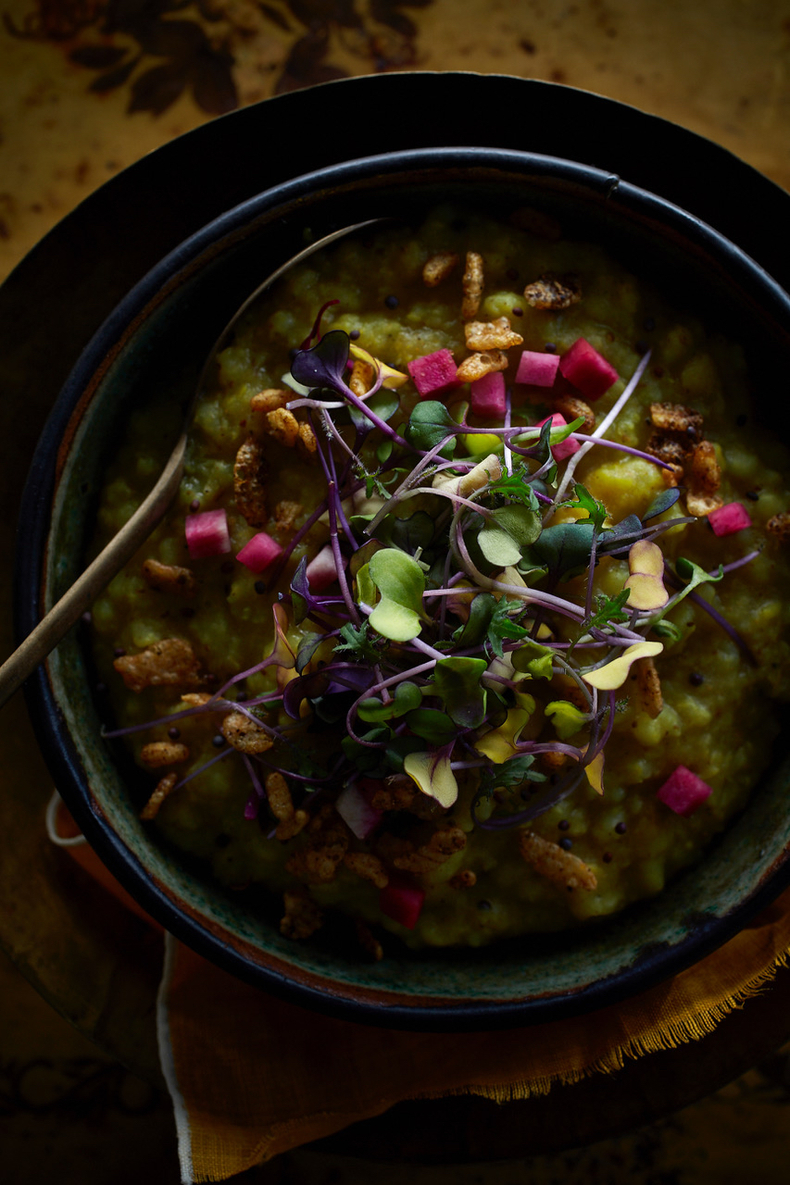 Porridge is having a moment. It's grain-based and fits into the one-bowl meal trend. And it's also supremely comforting—something we all seem to be in need of, now more than ever. (To say that porridge is "hygge," would not be a stretch.) At the Great Northern Food Hall in New York City's Grand Central, there is a Scandinavian porridge bar with all sorts of sweet and savory options. The latest addition to Jean-Georges Vongerichten's empire of restaurants at ABC Home, ABCV—self-described as "plant-based, non-GMO, sustainable, artisanal and organic whenever possible"—is serving congee, an Asian porridge, made with forbidden rice and millet. Further downtown, Good Sort, a vegan café in Chinatown, offers several kinds of congee, including a turmeric-and-coconut version topped with Champagne-poached cranberries. Porridge, a simple, easily digestible nursery favorite, is essentially a blank canvas for flavors and textures. Virtually any grain, from rice to oats to buckwheat, can be gently simmered in water, stock or milk—flavored at will with aromatics like ginger, chiles and herbs—until it breaks down into a pleasingly soft mush. What goes on top is another free-for-all: chopped toasted nuts, sprouts, infused oils, raw or cooked vegetables...
I developed a series of porridge recipes, the first of which is this kitchari, an Ayurvedic classic made with split yellow mung beans and basmati rice. I had such fun shooting with the supremely talented husband-&-wife team of Steven Randazzo and Bette Blau, who work together to create the most lush, richly textured images. They are masters of light and color, with a love of detail that really sets their work apart. We enjoy collaborating as our tastes—culinary and aesthetic—are aligned. (Remember this?) You can follow them here and on Instagram @whatbettefound.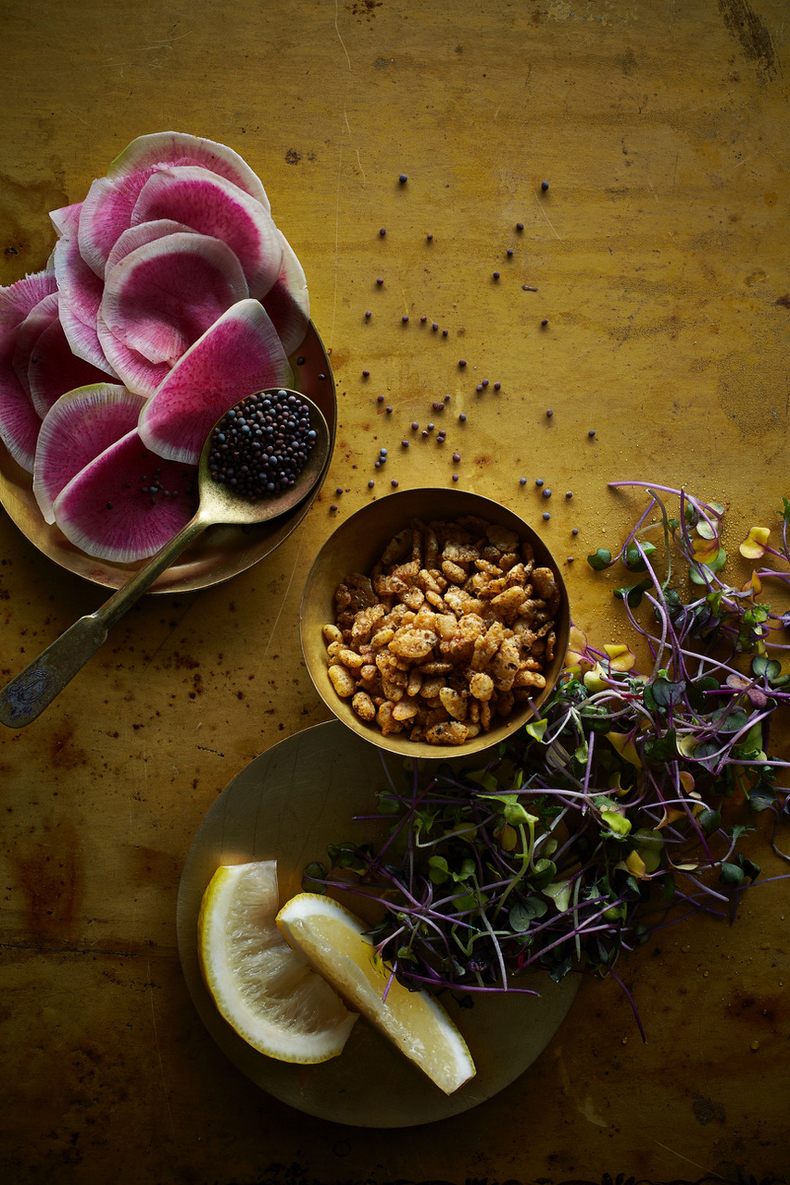 I've written about kitchari before; it's long been a staple in my kitchen, especially during the winter. Widely prescribed as the primary food in Ayurvedic cleansing therapies, it is said to detoxify the entire system while also kindling the digestive fires. East Indians turn to this fortifying and soothing dish when weakened or sick. In India, it is said that a diet of only kitchari, "the mother of natural healing," will cure all diseases within 3 weeks. (It will also make you constipated, so be sure to add additional fiber to your diet should you be inspired to attempt this.)
While you can serve a bowl of this gently spiced porridge simply garnished with a squeeze of lemon and a few sprigs of cilantro, it's also delicious with the refreshing crunch provided by shaved radishes, microgreens or sprouts and a generous handful of one of my favorite condiments, puffed rice that has been tossed with melted ghee and spices and crisped in a hot oven. This is comfort food, immigrant-style.
Kitchari (Mung Bean & Rice Porridge)
serves 3-4
— 1/4 cup

yellow moong dahl, rinsed well

— 1/2 cup

white basmati rice, rinsed well

— 5 cups

water

— 1/2 teaspoon

sea salt

— 2 teaspoons

ground cumin

— 1 teaspoon

ground turmeric

— Pinch

freshly ground black pepper

— Pinch of

asafoetida

— 1 tablespoon

ghee, or other oil

— 1 teaspoon

brown mustard seeds

— 2 tablespoons

chopped cilantro

—

Squeeze of lemon

— Spiced crispy rice

— Microgreens
Place the mung dal and rice in a medium saucepan with the water and bring to the boil. Add salt and cover. Reduce heat to the lowest setting and simmer while you prepare the spices.


Combine the cumin, turmeric, black pepper and asafoetida in a small bowl.


Heat a small sauté pan over medium-high and add the ghee, allowing it to melt. Add the mustard seeds and stir until they start to sizzle and pop, about 10 seconds. Reduce heat to medium and add the spice mixture. Cook for 30 seconds, stirring constantly so as not to burn the spices. Transfer the hot cooked spice mixture to the cooking rice and dal and mix well.


Continue to cook, stirring occasionally, until a porridge consistency is achieved, about 40 minutes or more.


Serve garnished with lemon wedges, cilantro, crispy rice and microgreens.



Download Recipe