10.12.16
Greener Pastures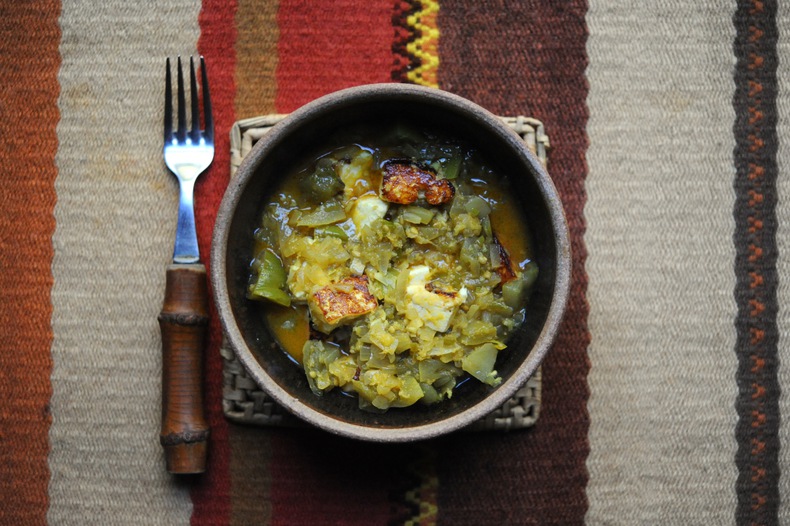 Nine years ago, I married a wonderful man. I had been married before—not once, not twice, but three times and each time I had walked down the aisle filled with hope. But I had not been ready. I had not learned the true nature of love. I had not yet ripened into the woman I was to become, the one that could open her heart and receive as much as she could give. When we found each other, everything changed. Our wedding was a beautiful nighttime celebration in front of friends and family. It was cocktails, cake and dancing in a loft in New York City. The flowers were extraordinary and Danny Meyer catered the finger food (there was even an ice cream bar). We spent our wedding night in a room overlooking Central Park at the Carlyle Hotel. It was glorious and extravagant and truly a once-in-a-lifetime experience. I know I'll never get married again. A couple of months later, we went to India for a five-week honeymoon. What a life! It seems an awfully long time ago in some ways, but our love feels very fresh and alive. And that curry? It's a memento of that trip to India—a green version of an incredible tomato curry we ate in Udaipur at this stunning hotel.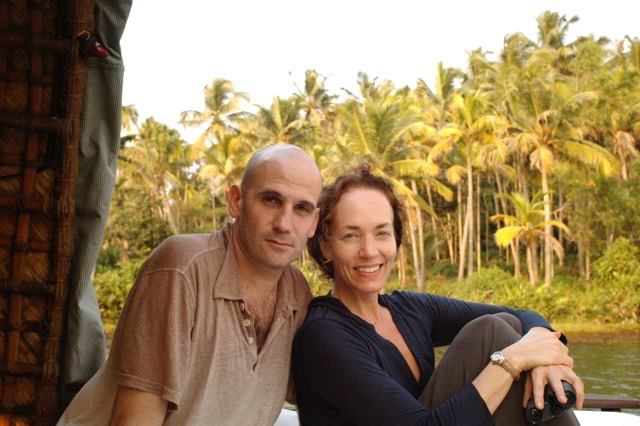 Part of our journey included several days drifting through the backwaters of Kerala on a rattan houseboat. It was wonderfully relaxing and the bird-watching was endless fun. To this day, I have not replicated the divine chicken fried in coconut oil that they cooked for us on the boat, but it remains firmly on my to-do list.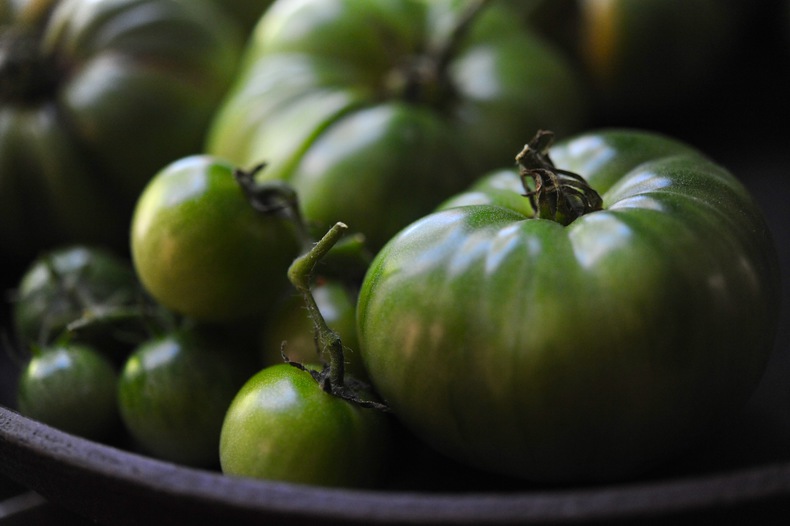 Speaking of not yet being ripe (how's that for a segue?!), impending frost means we had to bring in a load of green tomatoes this week. Turns out my husband has a green thumb and an onslaught of tomatoes from our garden is an annual tradition. In years past, I have made green tomato-&-lemon marmalade and green tomato chutney, but I thought I'd try tweaking the beloved tomato curry recipe from Jeffrey Alford and Naomi Duguid's seminal tome, Hot Sour Salty Sweet.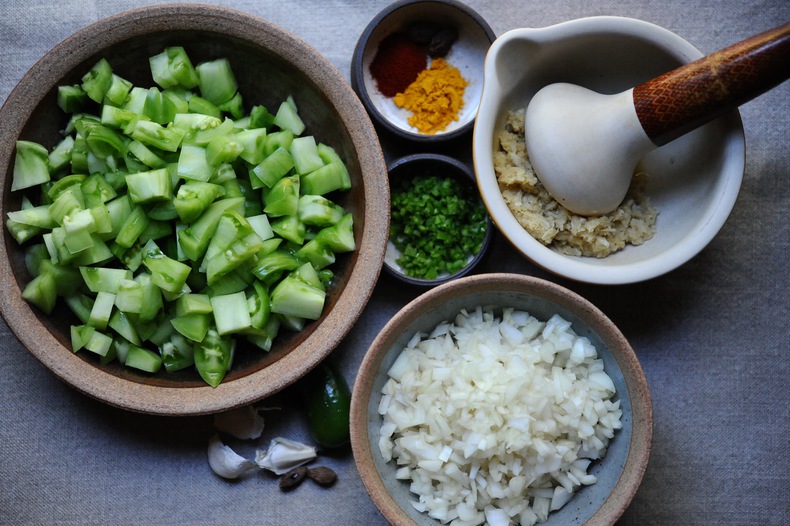 There's a bit of prep required—you have to make paneer and do some chopping—and then it's a simple, slow-cooking one-pot dish. Made with red tomatoes, this curry definitely has an intense sweetness and rich umami flavor that green tomatoes lack. However, I still recommend it with the green as their tartness mellows into a pleasing freshness. Plenty of complexity remains, thanks to the chiles, ginger-garlic paste and spices, including brown cardamom, turmeric, clove and pimentón.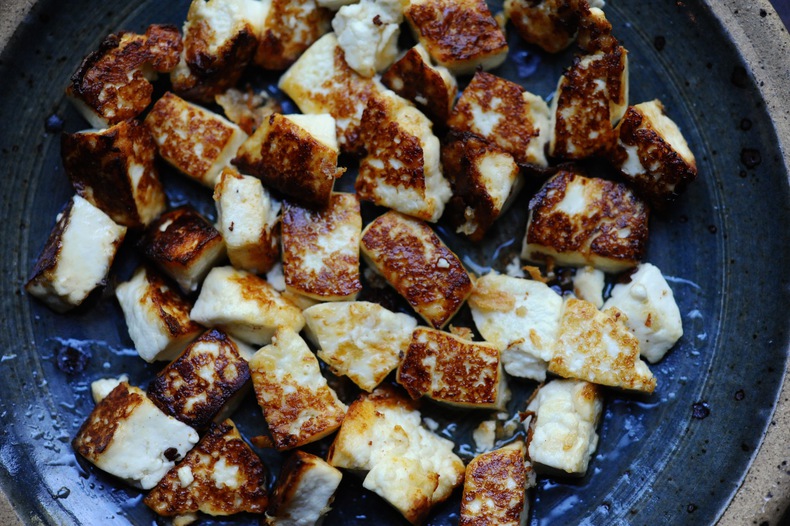 Yes, I did say making paneer. If you've never tried it, this is your chance. It's easy! And besides the fluffy fresh cheese, you're left with whey that can be turned into lovely things like sorbet, smoothies, tender biscuits and silky cocktails. (More ideas here.)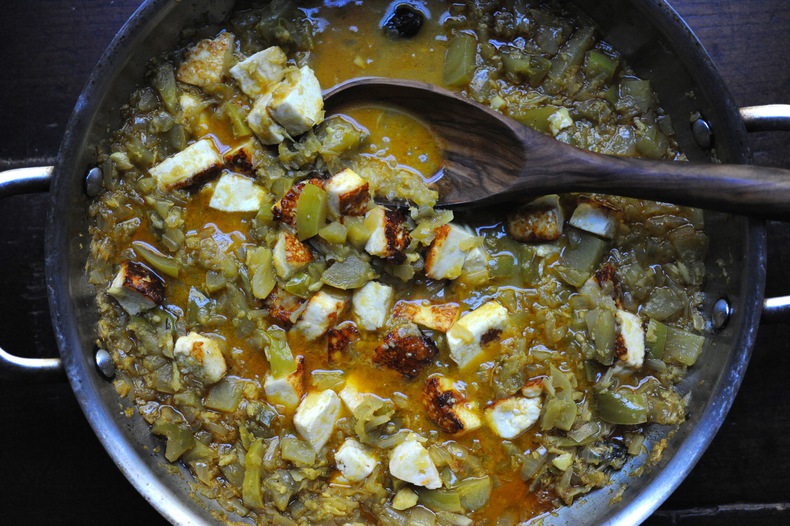 You need to stew the vegetables until the tomatoes break down into a soft, jammy consistency. The paneer gets browned separately, then added to the curry for about the last half-hour to soak up some of the flavor. If you have extra paneer, you can keep it in the fridge, tightly wrapped, for a day or so. It's really good with scrambled eggs or stuffed into any sort of wrap.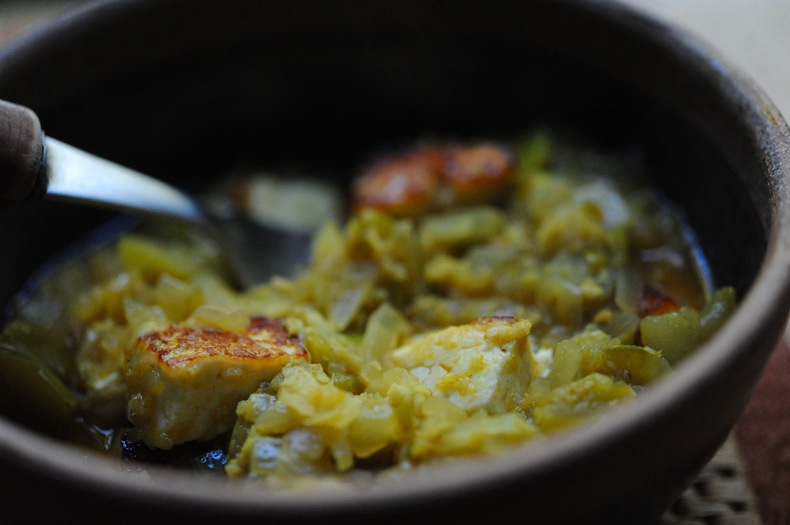 I usually serve this curry with rice—brown basmati or jasmine—but another grain like quinoa or millet would work, and it's also perfectly satisfying on its own. That's the secret to a great marriage, isn't it? Individually strong, but better together.
Here's to love, my friends, in whatever guise it comes. xo
Green Tomato Curry with Paneer
serves 6
— 2 pounds

green tomatoes

— 1 pound

fresh paneer

— 2/3 cup

ghee for frying

— 1/2 cup

roughly chopped garlic

— 3 tablespoons

peeled & roughly chopped ginger

— 3 cups

diced onion

— 3-4 cups

water

— 2 tablespoons

minced serrano chile

— 3

brown cardamom pods, smashed

— 2

cloves

— 1 teaspoon

turmeric

— 1 teaspoon

spicy pimentón

— 1 1/2 teaspoons

sea salt, or to taste
Roughly chop the tomatoes and set aside. Combine the garlic and ginger in a mortar with a pinch of salt and use the pestle to grind it into a paste.


Slice the paneer into rectangles 1/2 inch thick and about 1 by 2 inches. Place a large heavy skillet over medium heat and fill with 1/4 inch ghee. Add paneer slices without overlapping (cook in batches if necessary), turning once with a spatula, until browned on both sides. Lift out, letting ghee drain off, and place on a plate.


Measure out 1/3 cup ghee from the pan and pour into a large, heavy nonreactive saucepan. Heat over medium-high heat, then add the garlic-and-ginger paste, lower the heat to medium and stir-fry for about a minute. Add the onion and cook, stirring frequently, until very soft and lightly colored, 10-12 minutes. Add the chile, cardamon, cloves, turmeric, pimentón and salt and cook for another 2 minutes. Stir in the tomatoes, then add 3 cups water. The mixture should be very liquid; if not add more water. Bring to a boil over high heat. Lower the heat to maintain a steady simmer and cook for about an hour, stirring occasionally to prevent sticking. You may have to lower the heat halfway through the cooking as the mixture thickens.


Add the paneer to the sauce and simmer for another 30 minutes. Taste and adjust the seasoning if necessary.



Download Recipe