9.21.16
Poverty Food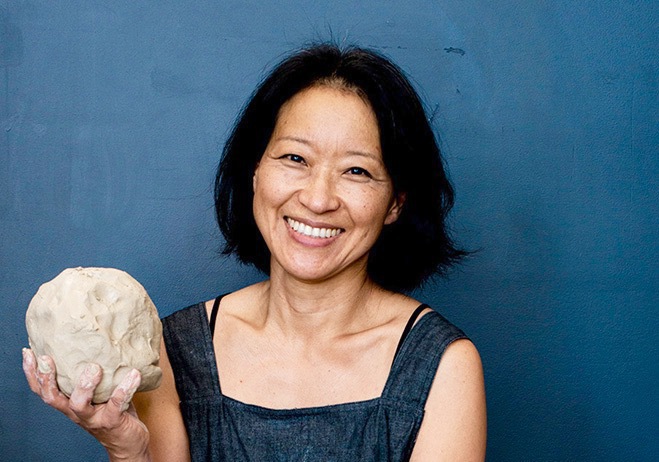 My friend Mirena Kim is such a superb creature. We met more than 20 years ago and instantly bonded over our love of food, crafts and wicked giggling. Through life's ups and downs, I have watched her handle whatever came her way with grace and humor. She has always been there for me: totally supportive, never judging. Her aesthetic is flawless; everything she makes and keeps around her is quietly beautiful and highly functional. In the last few years, she has dug deeper into her ceramics practice and the world has taken notice. (You can read more about her here and here, visit her website here, and watch this video my husband made about her.) Her bowls, platters and vases are fully integrated into my home life and will be forever. This summer, Mirena flew in from Los Angeles for a spontaneous visit and spent a few glorious days talking, hiking, swimming in the lake and teaching me to make kimchi straight from the garden.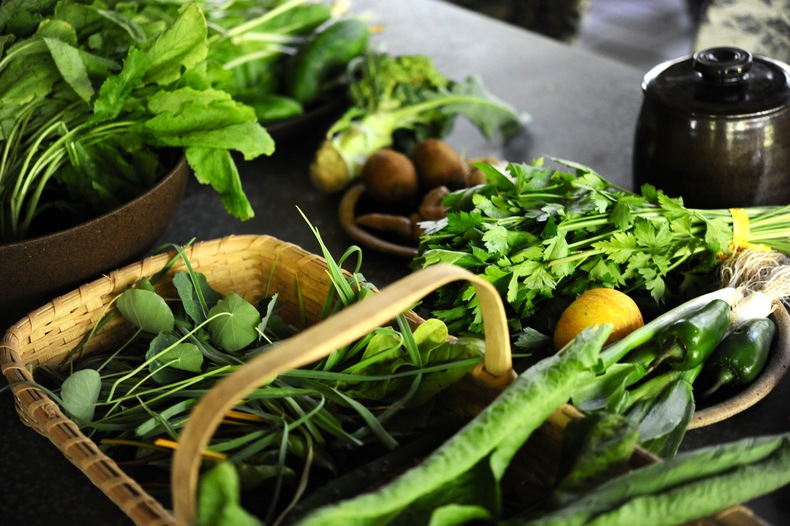 Mirena is an excellent cook, who is able to drum up delicious meals out of seemingly nothing. She knows how to make the most of things, perhaps because she had to learn to do without as a child. Born in Korea, she came to California as a small girl and faced the challenges of immigrant life. Though now fully assimilated, she retains some traces of those times, including her love of simple, traditional Korean cooking.
She wandered into my garden, which had largely collapsed from the perils of a very hot and dry August. "Let's make kimchi," she suggested, gathering handfuls of tough chard, leek greens, nasturtium leaves and knobbly cucumbers. In the fridge, she pulled out small turnips and other bits and bobs of vegetables. "The more bitter, the better," she smiled.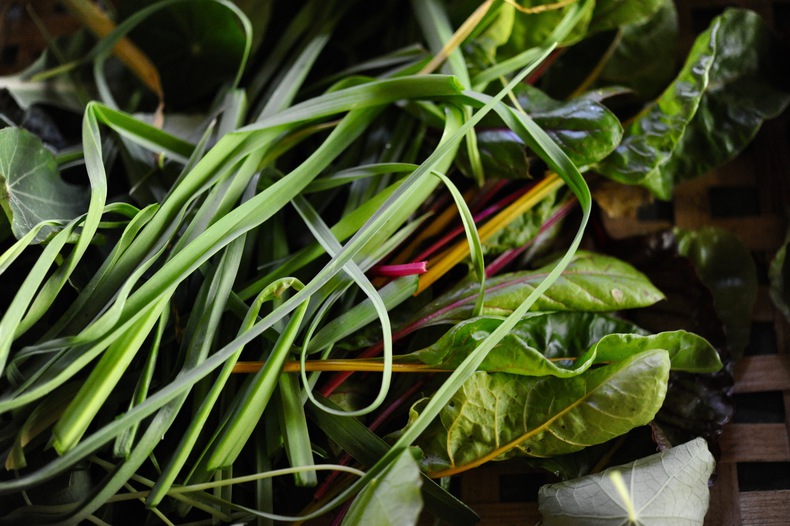 I didn't have any of the requisite Korean red pepper on hand, but thanks to Amazon Prime we were able to have it delivered the next day. (Eco-fail!) An essential ingredient in kimchi, gochugaru is coarsely ground for a texture somewhere between flakes and powder. Hot, sweet and slightly smoky, it really has no substitute.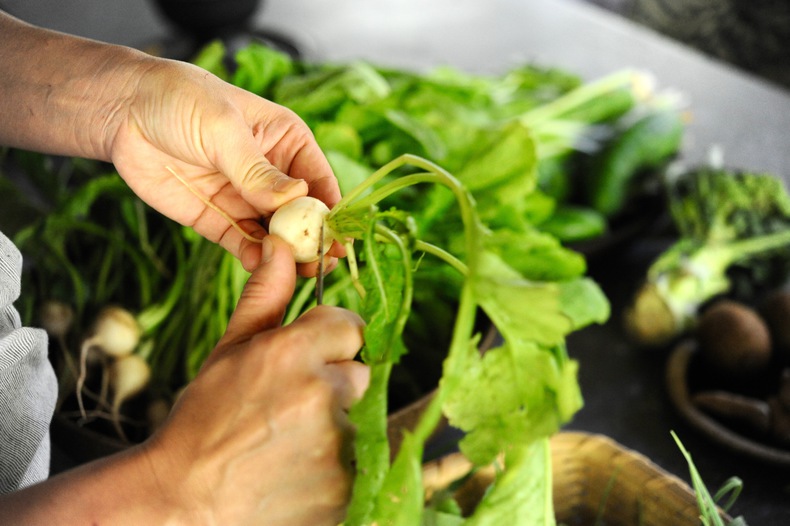 As we prepped the vegetables, Mirena told me how her grandmother would carefully scrape away only the dirty or rotten parts of vegetables, keeping even the straggly roots intact. "This is poverty food," she explained, "and nothing can go to waste." It is a miracle how spice and ferment can turn random roughage into something extraordinary.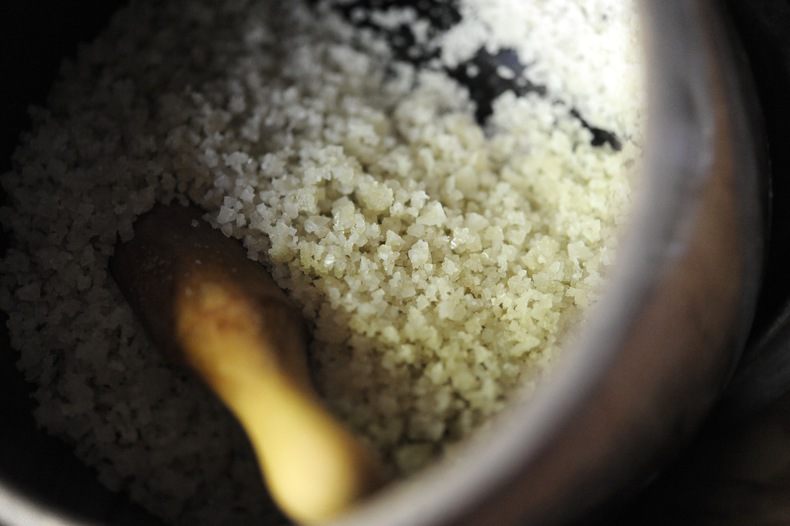 I was also out of the tiny fermented fish used to make kimchi (I had actually given all my kimchi-making supplies to a friend), but Mirena said we could just substitute a few of the Italian salt-cured anchovies I always have on hand. For coarse salt, we used some French sel gris, which I fittingly store in a lidded ceramic canister Mirena made for me many years ago.
We made kimchi without a recipe, rubbing the tough greens, vegetables and garlic with the chile, the salt and the anchovies until they broke down, softened and gave up their juices. We stuffed this fragrant mass into a couple of glass jars and left it out on the counter to ferment. Later that same day, Mirena broke it out to eat over rice for dinner. She craved the bitterness and didn't want to wait for it to mellow at all.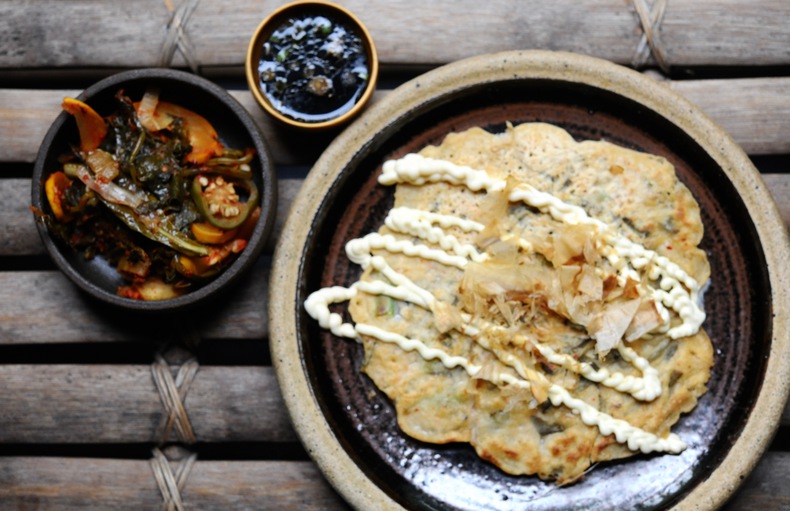 After she left—flying back to LA too soon for my taste—I let the kimchi continue to bubble on the counter for a few days. Then it went into the fridge, where I forgot about it for a while. It ripened, it evolved, it got funky. It was perfect for making kimchi pancakes.
The kimchi and some chopped scallions get stirred into a simple batter made from flour, egg and water. You drop this into a hot, well-oiled skillet and serve the results with a soy-and-sesame-oil dipping sauce. In the spirit of Japanese okonomiyaki, I also add a drizzle of Kewpie mayo and a sprinkling of dried bonito flakes.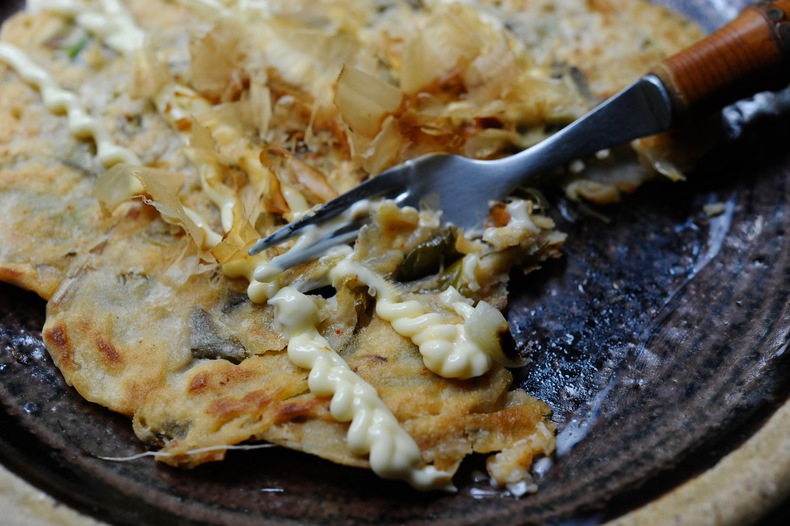 The result is a very satisfying dish: savory, crisp, filling and full of flavor. It may be poverty food but, like the best friendships, it will always leave you feeling very rich indeed.
Kimchi Pancakes
makes 3 pancakes
— 1/4 cup

soy sauce

— 2 tablespoons

rice vinegar

— 2 teaspoons

sesame oil

— 2 teaspoons

organic cane sugar

— 1

clove garlic, minced

— 1 cup

all-purpose flour (gluten-free is fine)

— 1 cup

rice flour

— 1 1/2 cups

cold water

— 1

large egg, lightly beaten

— 1 cup

kimchi, coarsely chopped

— 2-3

scallions, trimmed and cut into 1" pieces

— 1/2 teaspoon

sea salt

—

Vegetable oil for frying

—

Kewpie mayonnaise & bonito flakes for garnish, optional
Make dipping sauce by combining the soy sauce, rice vinegar, sesame oil, sugar and minced garlic in a small bowl. Set aside, stirring occasionally to dissolve the sugar.


In a large bowl, combine the flours, water and egg, and stir together. The mixture should be the consistency of pancake batter but doesn't have to be smooth. Stir in the kimchi, scallions and salt.


In a large, heavy skillet, heat 1 tablespoon oil over medium-high heat. Ladle batter into the skillet and spread it into an 8" circle. Cook until the edges turn brown and crispy, about 4 minutes. Flip the pancake, then add a bit more oil to the pan and cook for another 3-4 minutes.


Repeat with the remaining batter, adding oil as needed. Serve the pancakes hot out of the skillet. Cut into wedges or serve whole, with dipping sauce on the side. Drizzle with Kewpie mayo and top with some dried bonito flakes, if desired.



Download Recipe