4.14.16
Quaff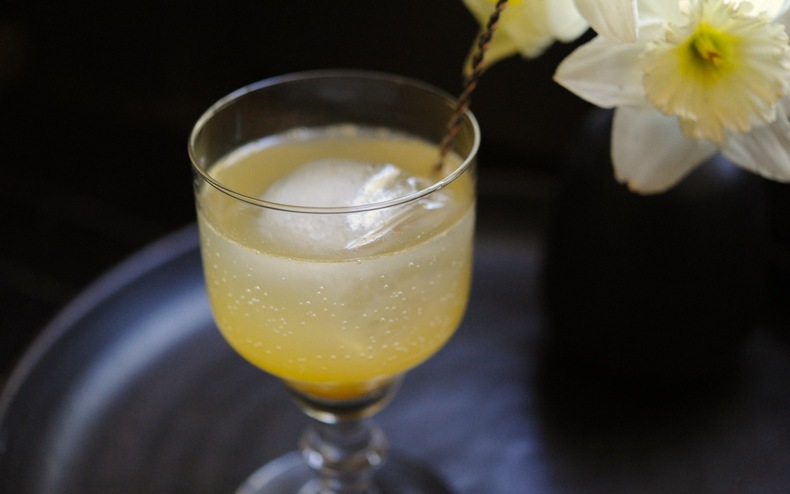 Is it spring yet? The calendar says so, but only last week there were snow flurries in these parts. Too little, too late, after an abysmally snow-free winter. Despite the cold, the season is making inroads. The red-wing blackbirds have arrived and some little yellow finches, too. More than one bear has ambled through our yard in search of birdseed. And the first hardy greens are up—garlic mustard and watercress in the wild; rhubarb, lovage and angelica in the garden. There will be nothing new from our local farms for some time, so I can't help but eyeball all that California bounty. My palate craves tender greens and bright, sunny flavors and those luscious lemons, artichokes and strawberries prove virtually irresistible.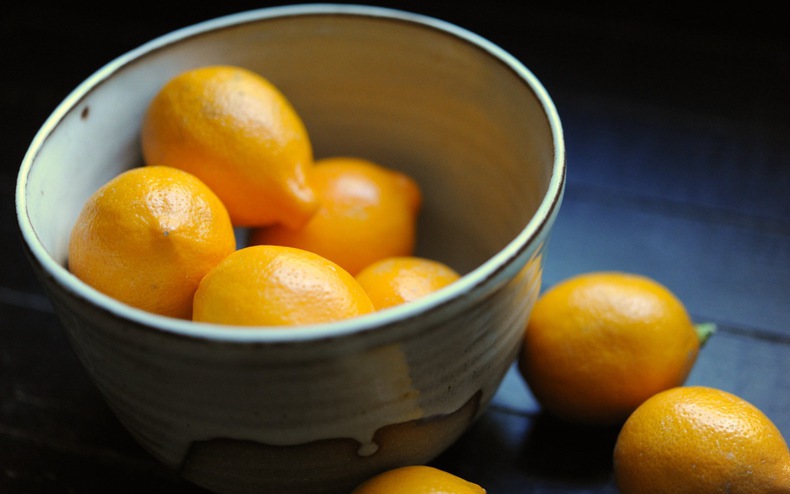 I was seduced by the vivid yellow-orange of these Meyer lemons. In the past, I have often preserved them in salt, but I've found that the sharp tang of fresh lemon is what I turn to most often. I decided to try a recipe for Meyer Lemon Shrub that caught my eye in Michael Dietsch's wonderful book. Not familiar with shrubs? Maybe you've heard them referred to as "drinking vinegars." They're an old-fashioned combination of fruit, sugar and vinegar that can be mixed into a cocktail or with sparkling water for a refreshing drink.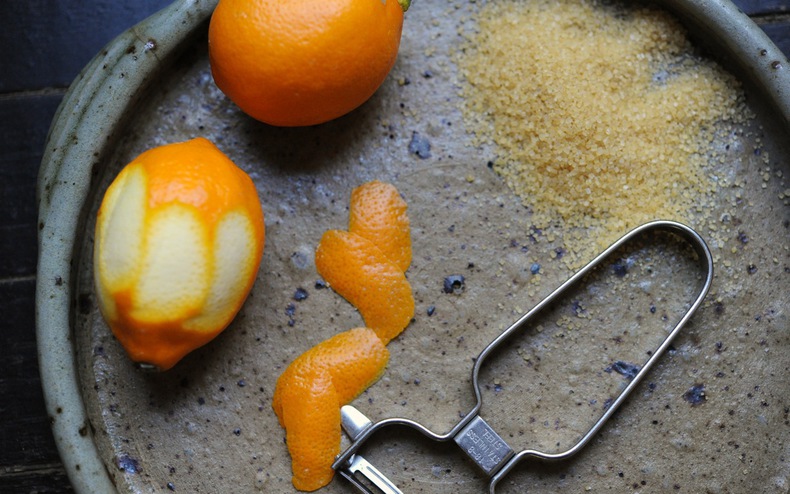 This recipe makes good use of the aromatic peel of the Meyer lemon which is much sweeter and more floral than a true lemon. A citrus native to China, the Meyer is thought to be a cross between a lemon and a mandarin or an orange. Sometimes you will see them with skin like the ones here with a decidedly orange tinge. As for the peeler, I only recently started using this one, which I am growing to like very much.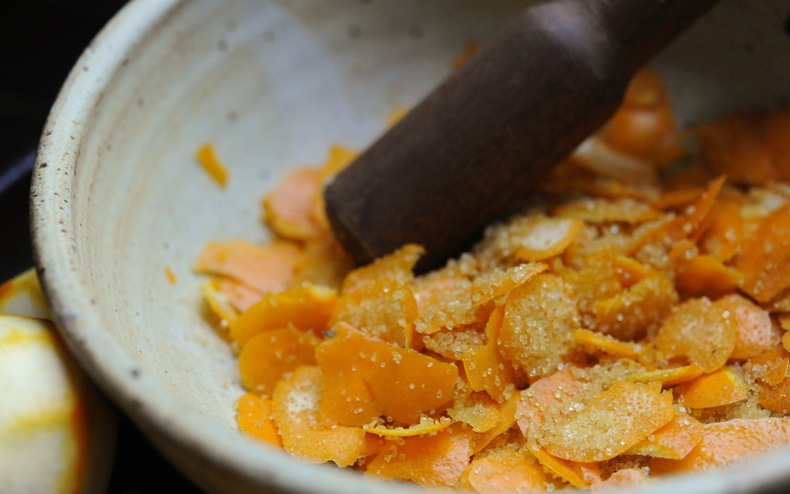 For this shrub, you build an oleo-saccharum. In preparation for opening Fish & Bicycle, a bar/cafe in Narrowsburg, NY,—and as a continuation of my ongoing education—I have been reading books on cocktails and on classic technique, of which the preparation of this citrus-sugar paste is one. Muddle citrus zest with sugar and set it aside for several hours, until the oils from the zest dissolve with sugar. What you are left with, oleo-saccharum ("oily sugar"), is a highly fragrant and flavorful elixir that is excellent as the basis for drinks both alcoholic and not. (Not to mention divine drizzled over ice cream!)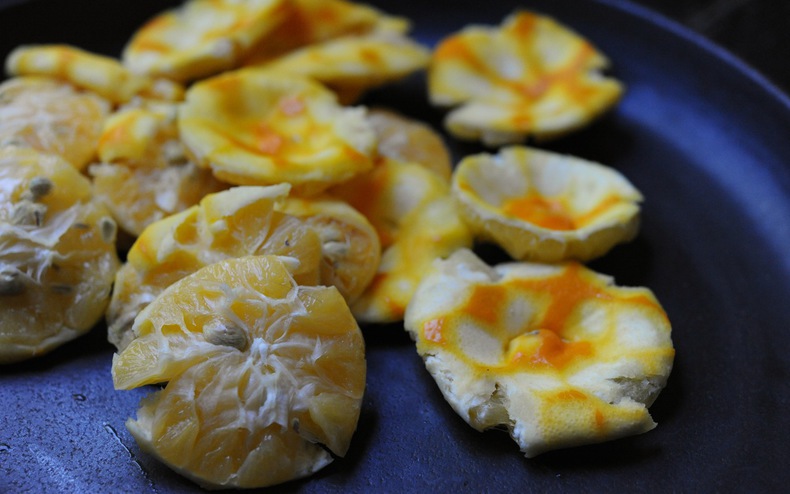 The oleo-saccharum is combined with the juice of those zested lemons plus a good amount of champagne vinegar. This gets bottled, shaken well and stored in the fridge for a couple of days so the flavors can meld and intensify.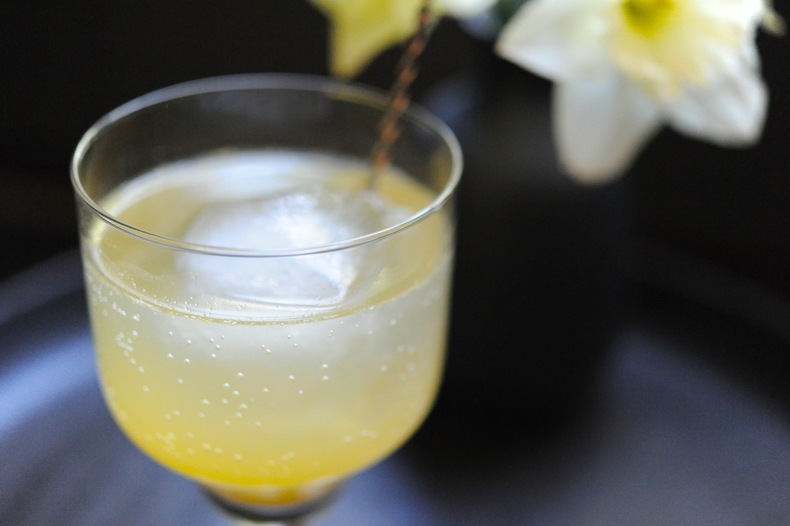 Meyer Lemon Shrub is wonderful mixed with seltzer and sipped over ice. A little gin would not go amiss in that glass. Either way, it's a beautifully balanced, sweet-tart quaff that evokes the restless desires and giddy delights of spring.
Meyer Lemon Shrub
lightly adapted from "Shrubs" by Michael Dietsch
— 7-8

Meyer lemons, should yield about 1 1/2 cups

— 1/2 cup

turbinado sugar

— 3/4 cup

champagne vinegar or rice vinegar
Remove the yellow-orange part of the Meyer lemon peels (the zest) with a vegetable peeler. Juice the lemons and reserve juice.


Build the oleo-saccharum by placing the zest in a bowl and adding the sugar. Muddle sugar and zest. (If you do not have a cocktail muddler, use a ladle or wooden spoon.) Cover the bowl with plastic wrap and leave alone for an hour, or up to 8 hours. Once the sugar has dissolved, remove the peel, leaving behind the oily sugar.


Combine the juice, oleo-saccharum and vinegar, stirring to combine.


Transfer to a jar or bottle, seal tightly and shake to further blend. Store in the fridge for 2-3 days before drinking, so the flavors can meld.



Download Recipe