7.22.15
Foreign Markets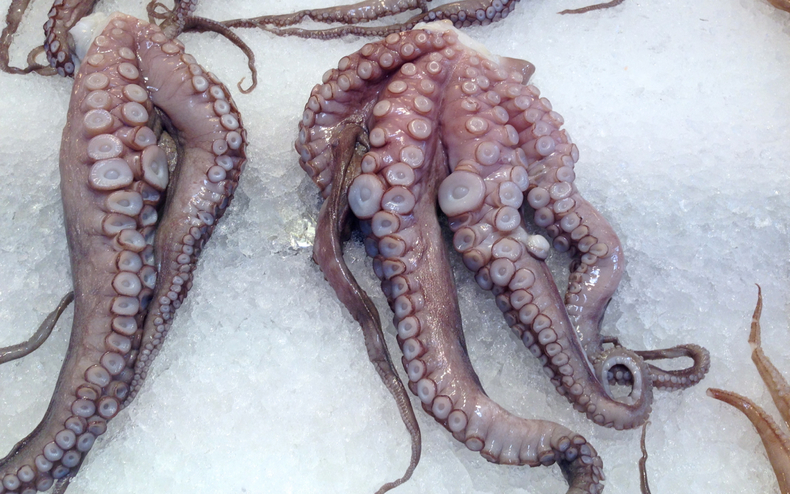 A number of you expressed dismay when I mentioned the lack of fresh seafood in Greece, so I want to let you know that I did see a lot of beautiful fish, squid and octopus glistening on ice in the central market of Athens. I like nothing better than getting lost in one of these big foreign food markets (like this one, here and here; and this one) and Varvakios Agora did not disappoint. It was sprawling, bustling with shoppers and filled with what the locals eat every day. Worlds apart from an American grocery store, there was an intimacy—between the vendors and the buyers, between the people and the food—that was beautiful to behold.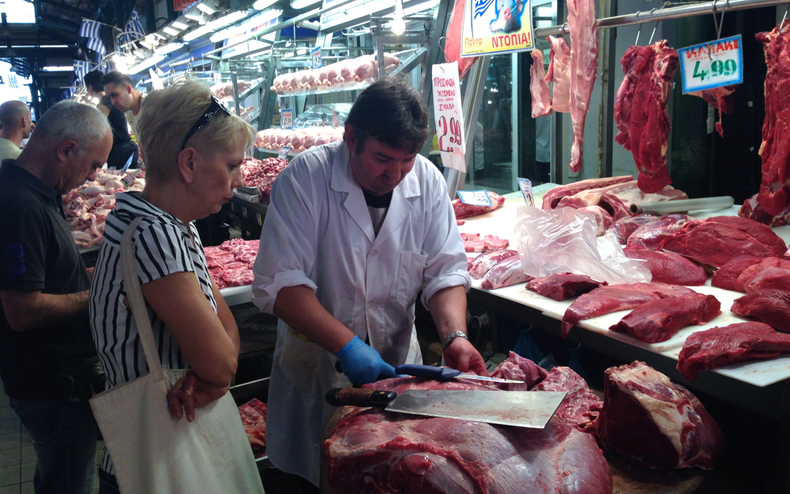 Women and their butchers, always a special relationship. In the year that I went home to Santa Cruz to care for my dying father, I cherished my weekly trip to Shoppers Corrner, in no small part because of the meat department. The butchers were so kind and solicitous, so impeccably groomed and gallant. Have you ever noticed how butchers always have the cleanest hands? (I just googled the store and they now have a website! And you can see the butchers!)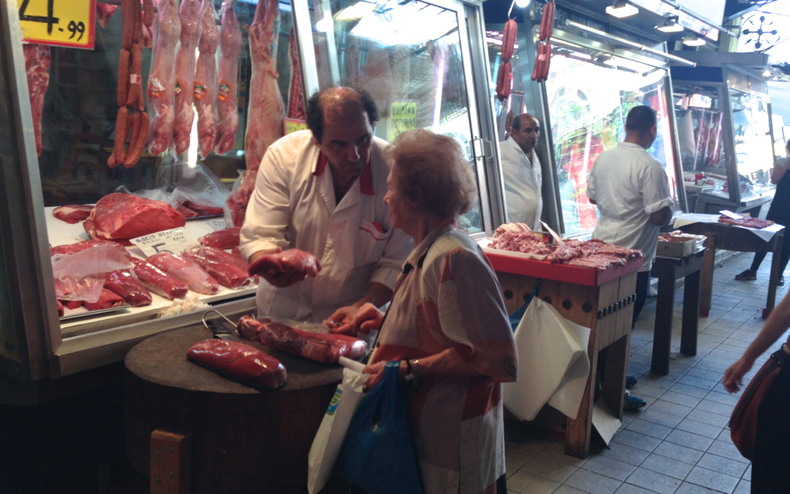 You can see how well they know each other, how he is tenderly assuring her that this meat is the right choice. And, rest assured, there was no bad smell in this hall. Despite all our sanitary regulations and packaging, everything seemed so much cleaner and here.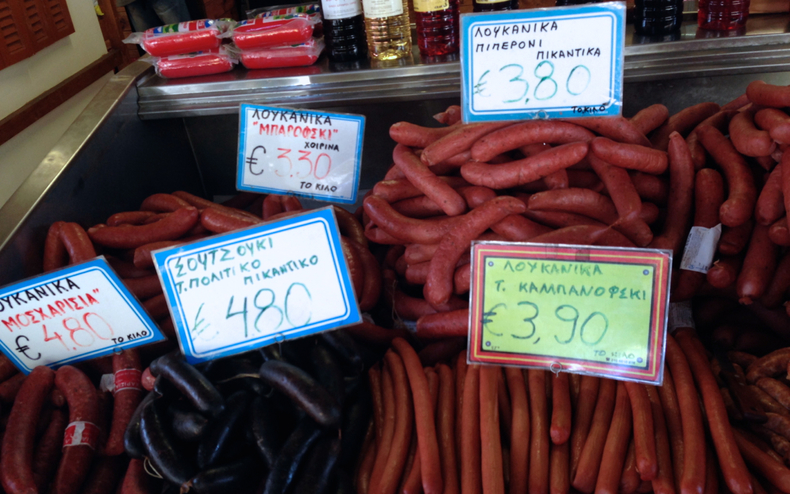 The variety of sausages, cured and smoked, was amazing. Sadly, we tasted none. Isn't that blood sausage gorgeous?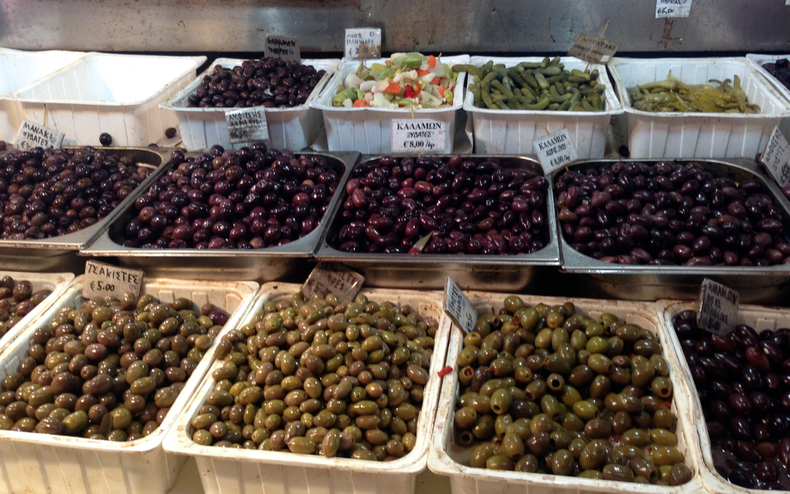 Olives, however, we ate everywhere we went. They are the perfect for whetting the appetite, ideal with a cocktail. I was recently at a friend's house for dinner and she served a bowl of those huge, meaty cracked green olives, slathered with oil. Divine.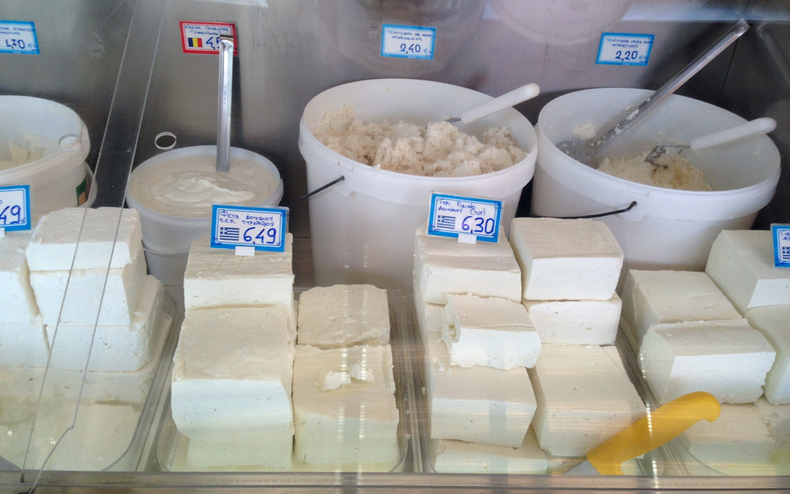 The feta was extraordinary, of course. And so many different kinds: some all sheep's milk, some a combination of sheep and cow; some in brine and some very fresh; some crumbled, others in blocks. I could eat it every day. Wait, I did eat it every day.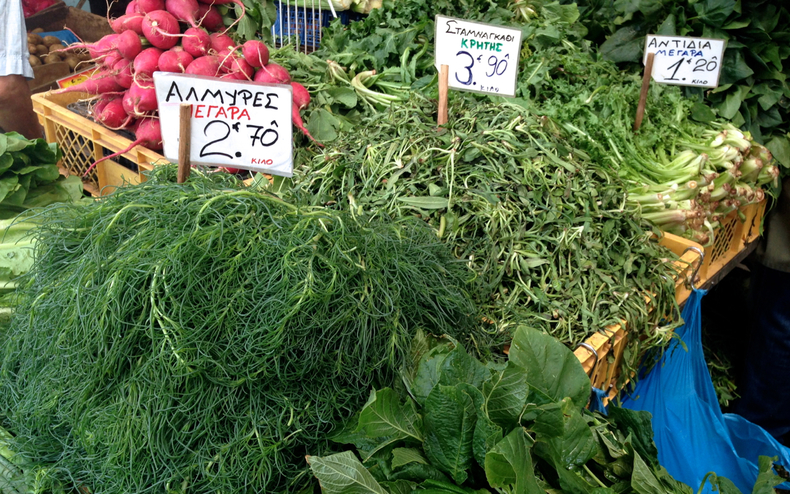 There were all sorts of crazy greens, though much like when I was in Venice, I saw very few in the restaurants. Greece is know for wild greens and herbs that are harvested in the hills and I wonder if some of these were foraged outside the city.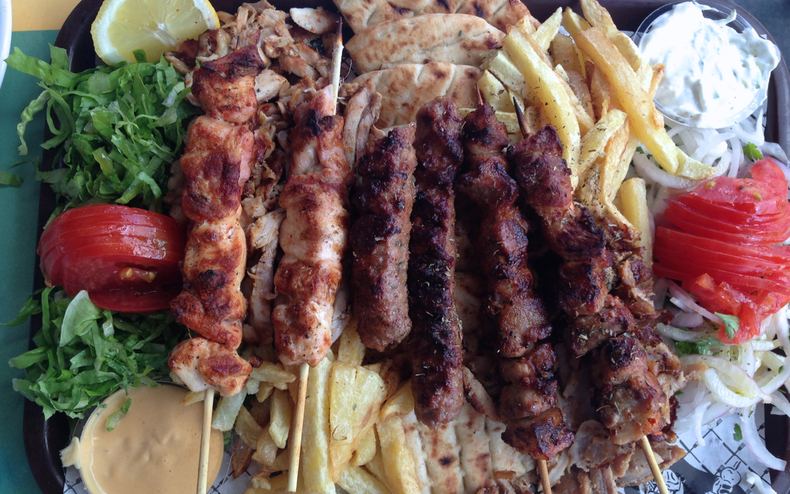 Just outside the market, we sat down at a very informal outdoor cafe for a little lunch. What arrived was this overwhelming feast. It was fresh and delicious but we only managed to make a small dent in the platter. We took the leftovers to go and passed them on to someone who looked down and out on his luck.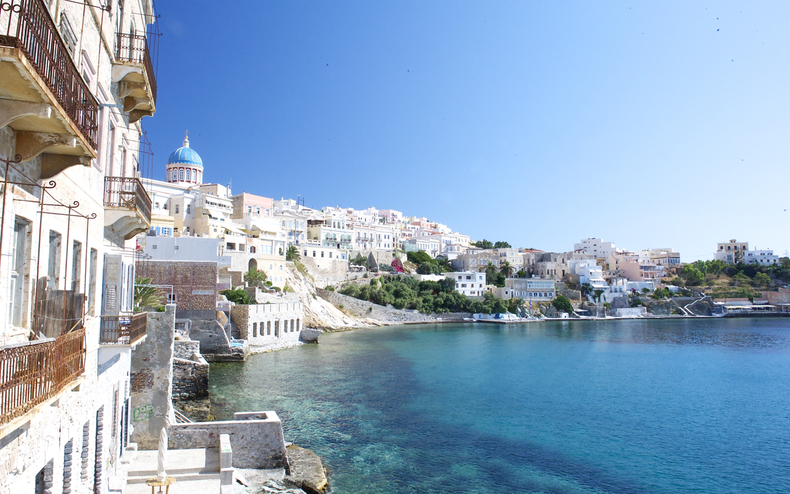 The next day we took a four-hour ferry ride to Syros, a sleepy little island next to Mykonos. We gazed upon the gloriously azure Aegean and pined for that octopus from Athens. Such is the modern world. (To get a deeper understanding of what is happening to the world's fish, listen to this fascinating segment from NPR's Fresh Air.) There may not have been fresh fish on Syros, but it was here that I discovered the wonders of mastiha, a tree resin also known as "the tears of Chios." More on that soon...
It would be remiss not to at least mention the current difficulties in Greece. If you, like me, are shockingly disinterested in politics and finance, but would like to learn more about this situation, this article does a great job laying it all out.