7.17.15
Meet Me at the Greek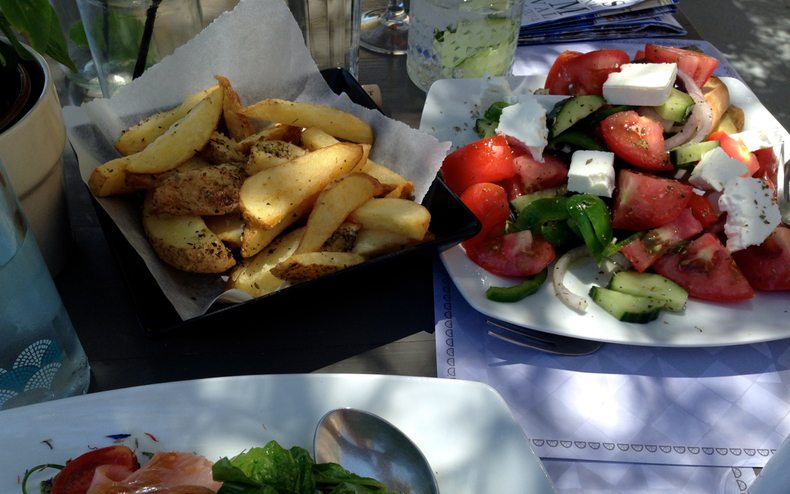 In many ways, Greece was as I had imagined it. Athens was hot and bustling, with the presence of the ancients hovering everywhere. (More about that soon.) Syros, a small island next to Mykonos, was even hotter, with quaint stone streets and sun-bleached buildings against the dazzling blue of the Aegean. What I didn't expect was an almost total lack of fresh seafood. Whether it's because tourist demand exceeds the supply, or the waters are regulated due to overfishing, we saw only frozen octopus and no fresh fish on the menus. Only once, when we were on Syros, did we enjoy wild mussels and red shrimp, which were truly wonderful. So for much of our time in Greece, we stuck to a classic that never gets old: Greek Salad.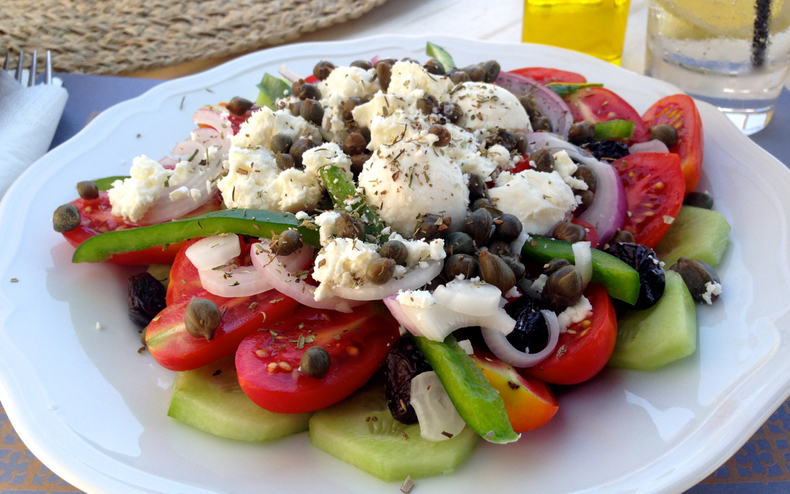 This simple composed salad is ideal summer food: refreshing, briny and crisp. Wait until tomatoes are perfectly ripe, as their sweetness is an important component in getting the balance just right. The other elements are cucumber; olives (black oil-cured or Kalamata); red or sweet onion; green pepper (gag - I don't eat this ever); and feta. Sometimes there might be a garnish of capers or a sprinkle of wild thyme. On the table would always be a carafe of fruity olive oil and maybe some red wine vinegar, though neither is truly essential. The salad makes its own juices and has a great combination of oily, salty and sweet.
The feta I ate in Greece was sublime, so soft and creamy. The authentic kind is a brined white cheese made from sheep's milk, or sometimes a combination of sheep and goat. It's worth searching for the real deal. In the salad, it's served in big chunks or scoops, not crumbled, so you break it up as you please.
My only twist? A few sprigs of fresh mint. It's not traditional, but then neither am I. Enjoy yourselves this weekend, my friends. Live it up! xo