5.17.12
Buon Appetito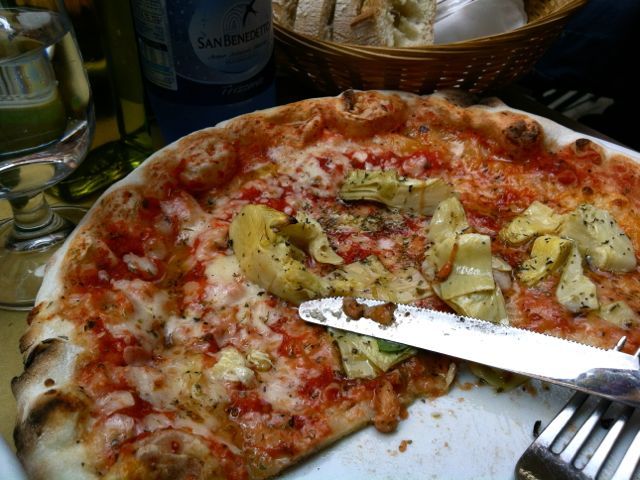 I was tempted to title this post "The Girl Who Ate Venice." I think I mentioned to you that I went on a juice fast the second we touched down at JFK. I wouldn't say we grossly overindulged, but you know that restaurant food is just that much richer, and I can't say we really denied ourselves much. Everywhere you go in Venice, people are eating gelato, and the flavors are irresistible: the deepest, most fragrant coffee; nutty pistachio; fior di latte (flower of milk) that tastes of the purest cream; fig and walnut; fresh strawberry...who could resist? I was armed with 6 pages of restaurant recommendations, culled from friends, the internet and a long-hoarded issue of Departures magazine devoted to Venice, and I feel like we barely made a dent. We didn't make it to either Da Fiore or Alle Testiere, two much-touted restaurants on everyone's lists, but we had many wonderful meals.You may have noticed that most of the Venice photos were taken by G. Despite my best intentions, I find that I get caught up in the moment when we're traveling, and have a hard time remembering to shoot. Also, when you're in a cozy little trattoria surrounded by locals, you don't really want to pull out your honking Nikon (or even your iphone) and start snapping away. That said, there's plenty of eye candy coming up.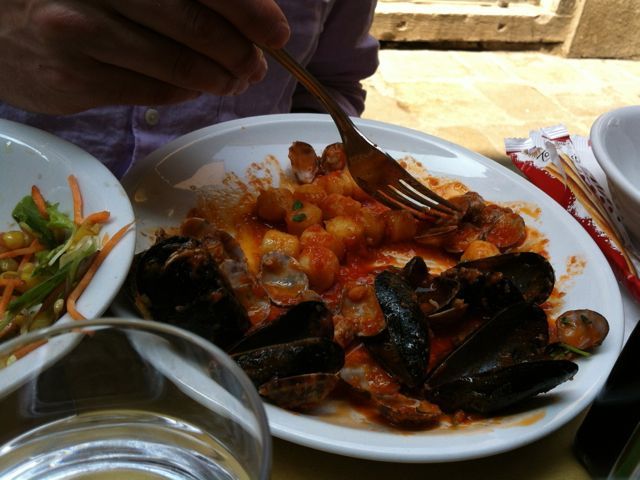 On our first day, stumbling exhausted out of the Rialto market, we simply collapsed at a sidewalk table outside a little restaurant crowded with locals (always a good sign). Artichokes were in season and everywhere at the market, so I ordered the artichoke pizza, and G had the gnocchi with mussels, which came with a rich oily tomato sauce that was to die for. Ultimately, Venice is all about the seafood and most menus feature the local specialties, like polenta with tiny shrimp, risotto with langoustines, cuttlefish braised in its ink,
fritto misto
, and pasta with clams or mussels or spider crab.That night, we met up with friends for dinner at
Harry's Dolci
in the Giudecca, where you can dine outside right along the canal, looking at the sparkling lights of Venice across the way. I passed on the classic Bellini and had a whiskey sour which was perfection. Then I dug into a big plate of their renowned
pasticcio
(pastiche), essentially a deconstructed lasagna that is a glorious mess of pasta and bechamel and cheese and a few unimportant vegetables.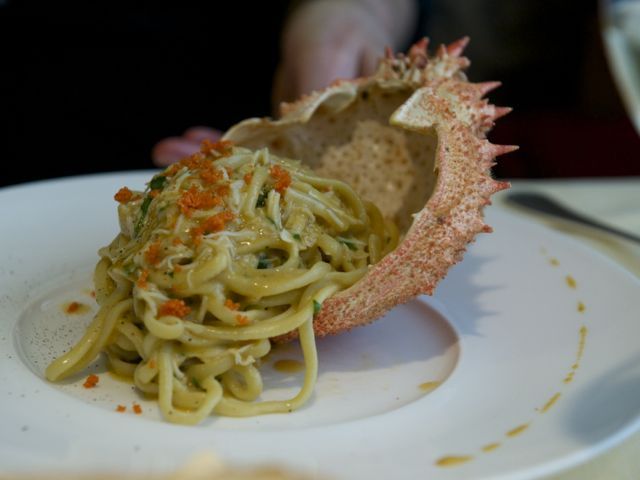 The next day, after we'd gotten our bearings a bit, we had lunch at
Al Covo
, a sweet restaurant owned by an Italian man and his American wife. It's friendly to tourists without seeming inauthentic, and it has a very seasonal approach to traditional Venetian food. The restaurant is calm and lovely, and a fresh breeze came through the curtained windows. I had a wonderful lemony pasta with the meat and roe of the impressive spider crab from Venice's lagoon.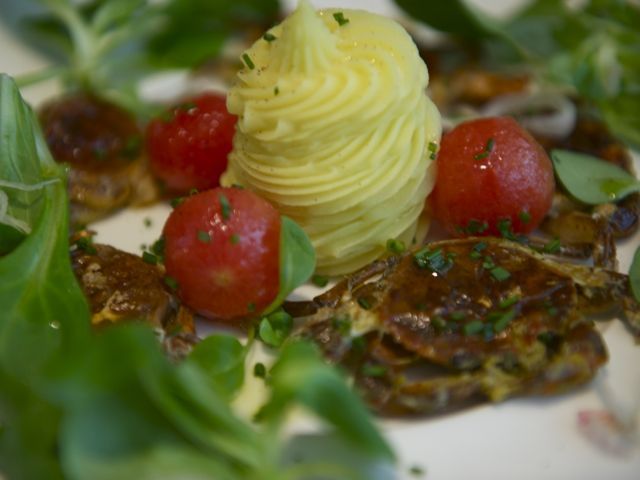 G had the iconic moeche on the very last day they were available during their short season. In a technique that goes back to the 1500s, these tiny crabs are "matured" in wooden crates in the internal waters of the lagoon until their shells soften. They were lightly grilled and served without salt, as they maintain their own naturally perfect sea-salt flavor. It came accompanied with a salad of valeriana, which seemed to be some sort of mâche.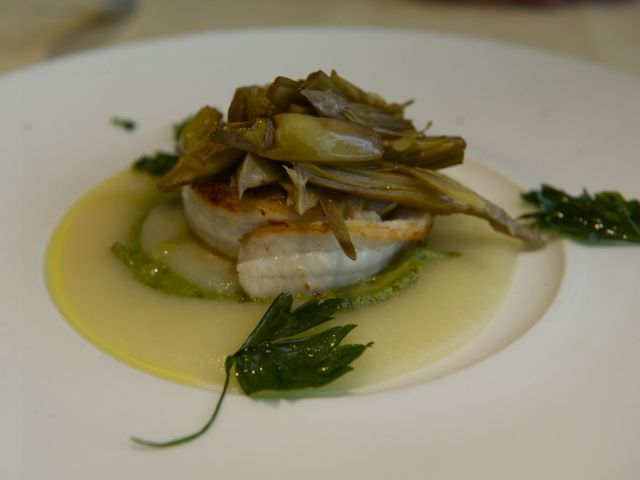 Next I had a delicate filet of sole with more of those tender artichokes, atop a thin puddle of celery root puree and garnished with some fried parsley.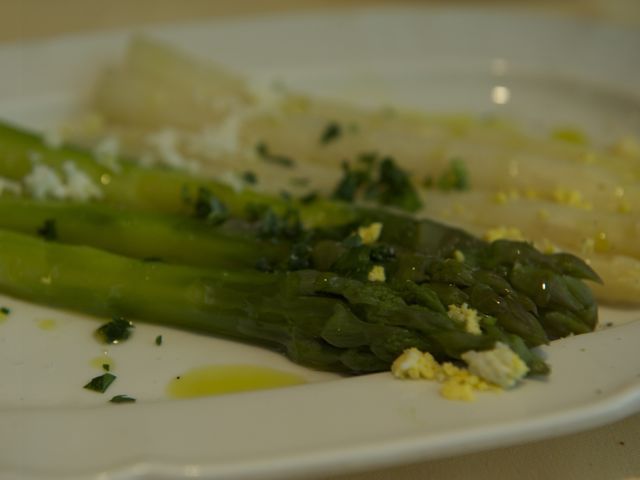 And we couldn't resist ordering some of those delectable asparagus we'd seen at the market. Drizzled with pungent olive oil and a bit of egg mimosa, they did not disappoint.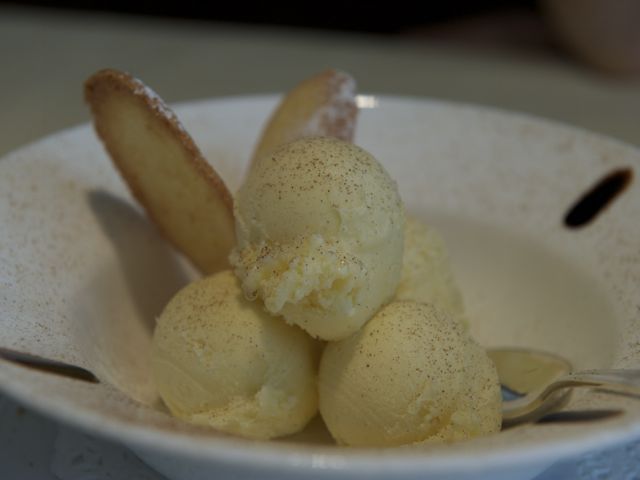 Dessert was a few scoops of vanilla gelato kicked into the stratosphere with a light dusting of licorice powder and a couple of slicks of licorice syrup. Who knew this would be such an intensely compelling flavor combination? And those crunchy butter biscuits were not simply gratuitous.So, as you can see, we ate well. But to be perfectly honest with you, while there is no shortage of classic, well-executed food in Venice, the only real epiphany I had was realizing how spoiled we are in New York. There is no
David Chang
in Venice. Many of the seafood preparations I've had from Dave Pasternak's
Il Pesce
at Eataly surpass anything from the lagoon. And, perhaps most surprisingly given all the beautiful produce we saw at the Rialto market—the artichokes, the radicchio, the green cauliflower, the
agretti
, the pristine lettuces—there is scarcely a vegetable on any restaurant menu. And this, for a vegivore like me, makes for tough going. With some planning and a little luck, you are not going to have a bad meal here, but it's really more about the wine (oh, those
amarones
), the ambience, the vistas, the history, the sheer Veniceness of the place.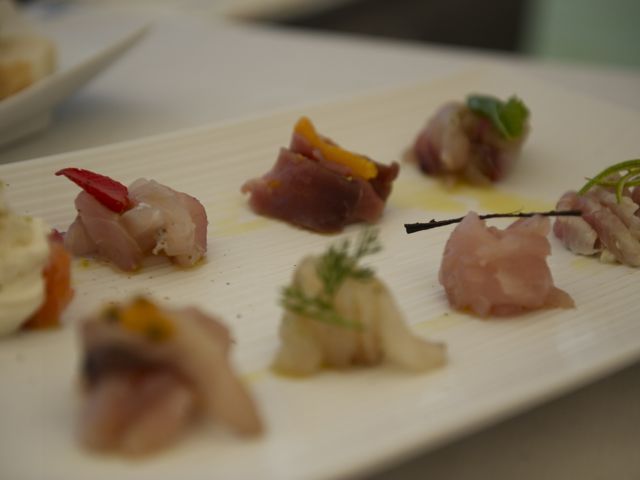 That said, we did enjoy some special places. The
Fondamenta delle Zattere
runs the length of the south side of the Dorsoduro neighborhood where we were staying, along the Giudecca Canal. It's a popular spot to stroll, with some fascinating buildings, including the
Ospedale degli Incurabili
, where 16th century syphilitics were housed to live out their lunatic lives. Some of our friends stayed in a sweet little hotel there,
La Calcina
and
Ristorante Riviera
is right nearby. G and I had a lazy lunch there, involving a seemingly bottomless bottle of sparkling rosé and some equally refreshing seafood. We started with an assortment of crudi, 8 different types of raw fish, each one flavored differently. There was salmon with a swirl of creamy burrata cheese, tuna with mandarin, mackerel with strawberry; other flavors included vanilla, lime zest, fennel, mint and passionfruit. It was quite good, although we were imagining what it might have been like with judicious sprinklings of different sea salts...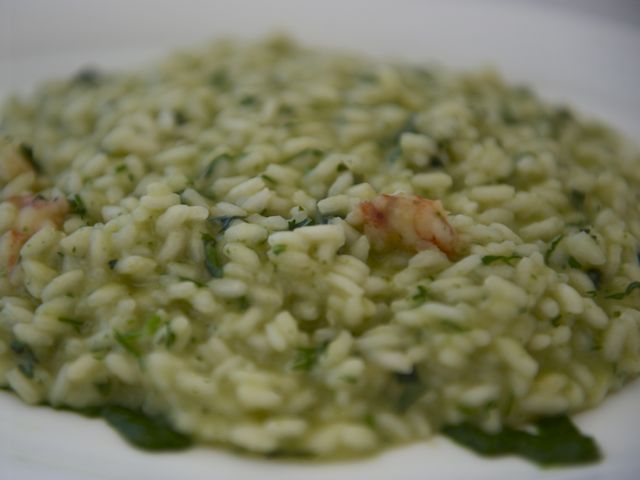 We shared a divine risotto with a deeply green puree of spring herbs and a few pieces of sweet shrimp. The rice in Venice is always cooked to a toothy, soupy perfection.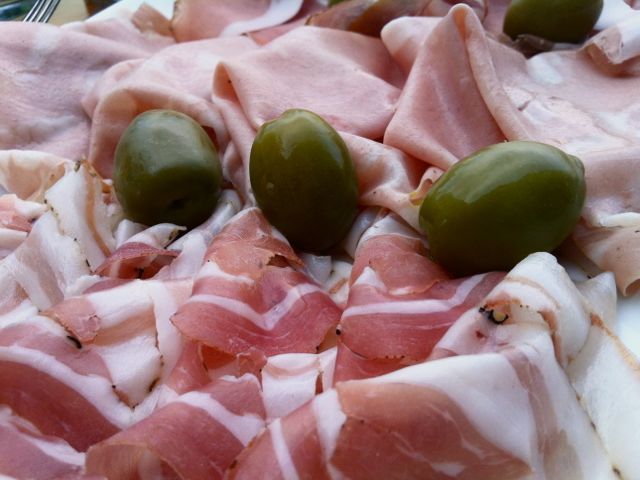 Despite the many well-researched restaurants we tried (the list and more highlights are below), some of my favorite food moments on the trip were the serendipitous ones, when you are simply wandering and chance upon a little café or gelatteria or sidewalk restaurant, and you plop down and point to something and suddenly your mouth is full of crunchy toast topped with a creamy fluff of whipped salt cod, or the best mortadella of your life, or the classic spritz ("spreetz"), an effervescent mix of Aperol and prosecco. Try your luck in Venice, at least some of the time.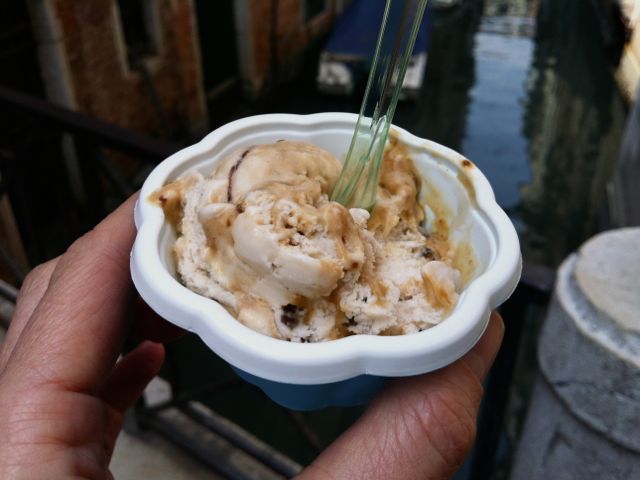 When all else fails, there is always gelato. The málaga (rum raisin) is sin incarnate. If you order the modest little coppette, you might even try three different flavors a day. Everybody's doing it.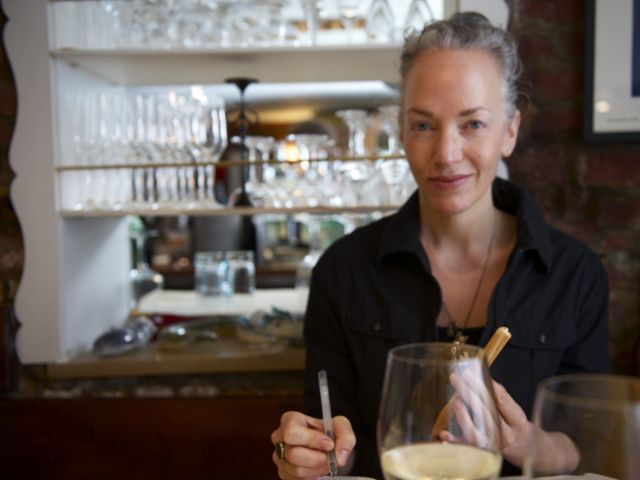 Recommended restaurants in Venice:

Osteria L'Orto dei Mori - Campo dei Mori, Cannaregio; www.osteriaortodeimori.com; closed Tuesday
We had a boozy dinner here with a big bunch of friends and, even though we got into a fight with the waiter (it was ultimately resolved with kisses all around, very high-drama Italian), this was my favorite Venetian find. It's a cozy place in a lovely, quiet neighborhood and it's almost entirely populated by locals. The young Sicilian chef makes exquisite and creative arrays of antipasti and traditional Italian favorites. The scampi en saor (sweet and sour shrimp) were divine. It's also a very good value.

Harry's Dolci - Giudecca; www.cipriani.comSit outside on the canal, sipping bellinis or a whiskey sour. Eat rich, simple classics. Dress up.

Al Covo - Campiello della Pescaria, Castello; www.ristorantealcovo.com; closed Wednesday and Thursday
Considered among Venice's finest; traditional and updated seafood classics; lovely service; see above for details. Not cheap.

Ristorante Riviera - Zattere, Dorsoduro; www.alpesador.it
Great location on the canal, wonderful service, sparkling fresh seafood. Pricey.

Avogaria - Dorsoduro; www.avogaria.com
This charming restaurant is attached to a little hotel. We had a nice, simple dinner here with good food, wine and service. Try the fritto misto, and don't miss the involtini—thin strips of zucchini rolled around milky cheese.

La Bitta - San Barnaba, Dorsoduro
Sick of seafood? We were actually with a friend who doesn't like fish, so we indulged her with a visit to this all-meat trattoria. It has a low-key, homey vibe and very friendly service. I had delicious slow-stewed pork cheeks. I also treated myself to a cheese plate that was a highlight of the trip, including grillo di monte major; monte veronese al durello; asiago stravecchio; formadj frant; and gorgonzola naturale. It came with an insanely good fragolaceto, a strawberry balsamic, and mostarda di pomodori, a tomato-based mustard. Still dreaming of this.