4.3.15
The Bergdorf Goodman Cookbook, a Perfect Celebratory Dessert & a Giveaway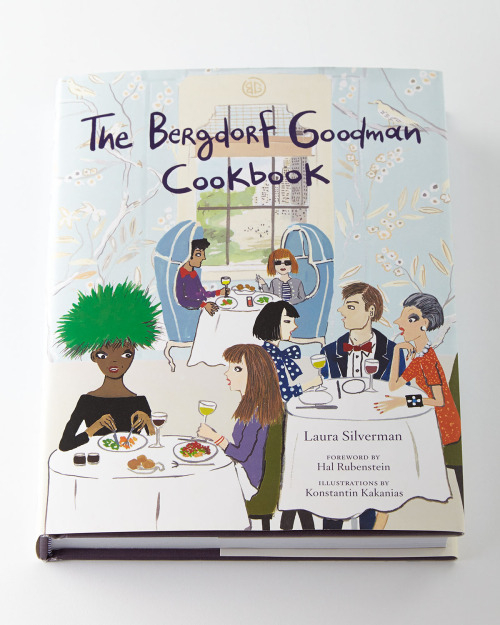 Last year, I had the pleasure of penning a little cookbook for Bergdorf Goodman. I was approached in my capacity as a freelance writer, but the offer had a special symmetry, given that I was the copy director in the store's advertising department more than 20 years ago. It was a wonderful immersion into the world of high fashion, the very epicenter of all that was chic at that time. (Some people even referred to the store as "church.") Perhaps my favorite achievement was creating a tagline that appeared for several years on all of BG's communications: The only city in the world. The only store in the city. It really seemed to sum it all up. Which is why I was surprised and delighted to discover, when I received my advance copy, that a version of this appears on the cookbook's back cover: One City. One Store. One Restaurant. Plus ça change, and all that...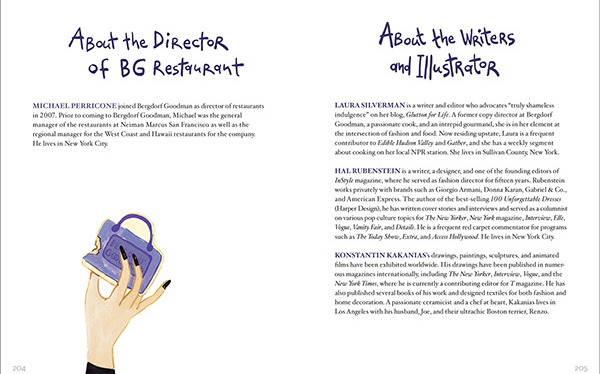 The charming and funny foreward to the book is written by style (and food) maven Hal Rubenstein—did you know he used to write restaurant reviews for Details magazine? The whimsical illustrations are by fashion-world favorite Konstantin Kakanias and they add a wonderful dose of frivolity and wit.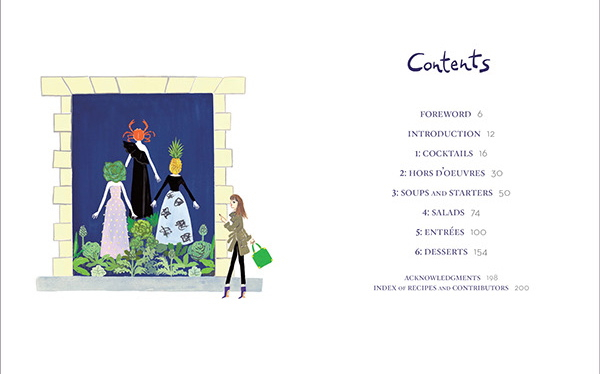 The recipes are a selection of favorites from BG, the store's glamorous and star-studded 7th-floor restaurant, plus contributions from fashion world luminaries, from Diane von Furstenberg to personal shopper Betty Halbreich. Though not necessarily known for their love of food (au contraire, in fact), some of these fashionistas have very good taste in the kitchen.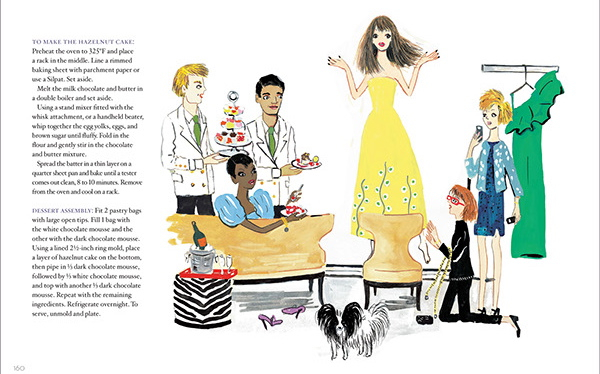 You can learn how to make the decadent chocolate-hazelnut confection that is BG's signature dessert or whip up Zac Posen's lavender cream-filled meringue puffs. There is an easy and delicious pasta with Meyer lemon and crème fraîche from T Magazine's Deborah Needleman, an excellent quinoa "risotto" from Andrea Lieberman and a sinfully good candied bacon from Yahoo Fashion's Joe Zee.

The recipes range from simple classics to extravagant creations, but all have passed the test of time and taste. Fun facts about the store and the people who both stock it and shop it are peppered throughout. Please buy it as a gift for yourself and others and spread a little glittery fairy dust around. It's my pleasure to offer 3 giveaway copies to my lovely readers; just leave a comment below by midnight on Tuesday, April 7th to be eligible to win.
And now for that perfect Easter/Passover dessert! There couldn't be anything simpler or more divine than the Pavlova (here's the recipe). I'm pleased to present a little film I made with my friend, the very talented photographer Evi Abeler. Please share it with friends, and stay tuned in the coming weeks for more...
Wishing you a wonderful weekend, full of daffodils, baby chicks, colorful eggs, lamb shanks, matzo balls and many glasses of wine! And here's hoping some spring sunshine pours down on us all. xo