4.13.12
Eastover 2012: Part 5, Sweet Finale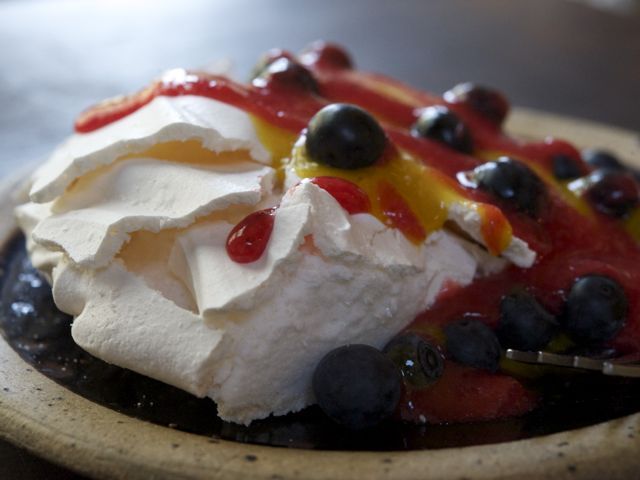 What a week. Couple of weeks, really. I am burnt. A lot of shopping and cooking, driving back and forth from the city, and a ton of work. You remember I actually have a business as a copywriter, right? Churning out loads of information-packed, pithy, witty little lines? Yep. What I do here is just for us chickens. But I loves it. One of the many rewards is getting to share with you recipes like this one, for a truly historic dessert: the Pavlova. I first posted about it way back in the Early Bloggian period,
here
; and it made another appearance at an Eastover celebration a couple of years ago,
here
. It's truly one of my very favorite desserts, so texturally complex, light yet satisfying. And I also adore its provenance: created in honor of the Russian ballet dancer, Anna Pavlova, during one of her tours to Australia and New Zealand in the 1920s. The nationality of its creator has been a source of argument between the two countries for many years, though formal research seems to indicate that New Zealand is the original source.
To make the meringue base, you can follow the recipe on either of my past posts I linked to above. I made one slight tweak this time, which was to lower the oven to 275º and leave it in slightly longer. What you want to achieve is a disc of featherweight meringue that is crisp on the outside and still soft, almost like a marshmallow within. Divine.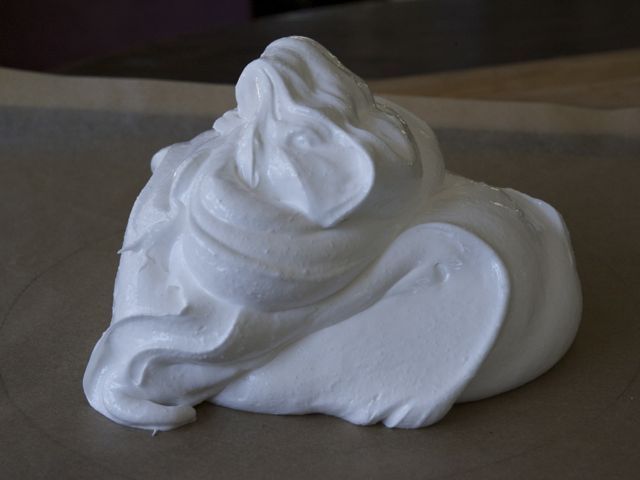 I am eternally in awe of the way air can transform a few lowly egg whites and bit of sugar and cornstarch into such a voluptuous, glossy and copious mass. If you are using hand-held beaters rather than a KitchenAid, do be sure you beat a bit longer, until your meringue is shiny and firm.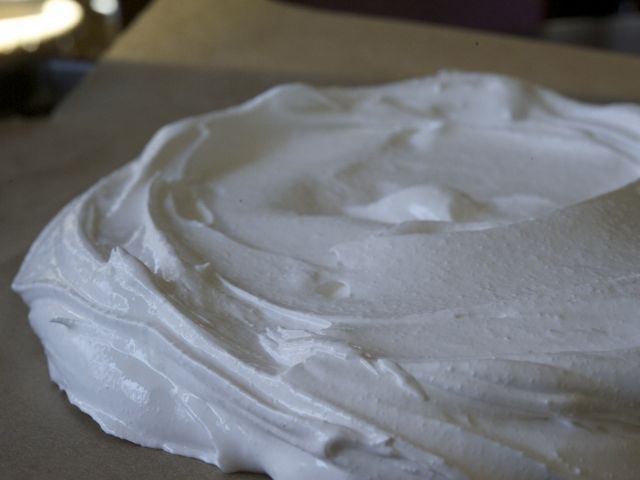 Use a rubber spatula to form your meringue into a circle atop a parchment-lined baking sheet. You want to make a crater with slightly raised sides, into which you will spoon your toppings later. Do not panic: the meringue will not "fall," so you can take your time to sculpt the right shape before this goes in the oven. Once in, don't open the door all the time "just to check on it." It's fine. Leave it alone. It needs the consistent temperature.
Pavlovas are most often topped with some kind of whipped cream (Chantilly, Devon, créme fraîche) and some combination of fresh fruit (kiwi, berries, mango, etc). I think the crisp-crusted meringue makes the perfect foil for a rich and creamy curd and, while lemon is lovely, my heart belongs to passionfruit. I would like to bathe in the stuff. I felt like a wealthy woman after making 8 cups of it for Eastover. I am hoarding my leftovers like a batty old woman. If you don't have fresh passionfruit puree, fear not. It's a lot of work, for one thing, and it's also available frozen, with no additives. Look for it in Latin or Asian markets, or order some online,
here
. (Expensive, but it's like liquid gold.)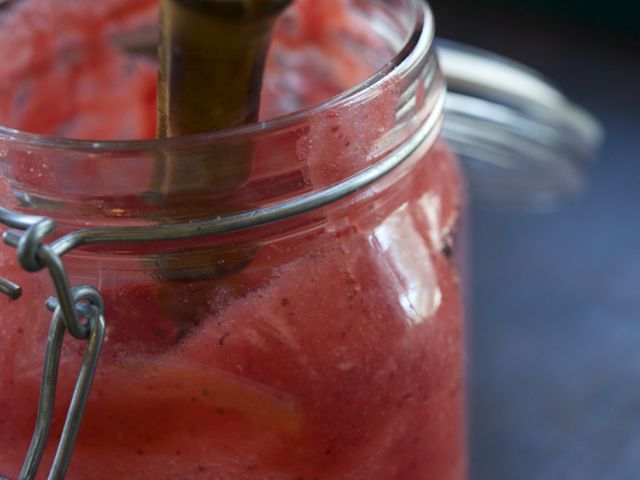 A Pavlova is a lily that can take a lot of gilding. The meringue is relatively benign, and it's built to have things piled on it, so why not? Over a slick of passionfruit curd, I layered strawberry sauce and fresh blueberries (for color and textural contrast). Do you know how to make a fresh fruit sauce? With summer on its way, you really should. I'll teach you the technique(s) for that soon.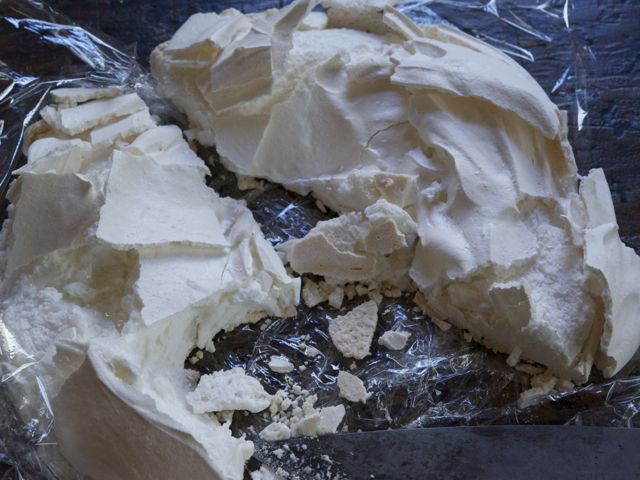 In anticipation of Eastover, I made three, count 'em, three meringue bases. We ended up only needing two. As you can see, they are not easy to transport. If you look closely, especially on the right side, you can see the way the top crust has lifted off the soft, creamy center. This is what you want. And believe me, you want it. The curd, by the way? Vivid yellow, buttery and sweet, with a velvet mouthfeel and the most gorgeous floral taste. As good straight from the spoon as it is eaten on toast, with yogurt, swirled into ice cream or slathered on shortbread.
Passionfruit Curd
from Martha Stewart
makes 8 cups (can be scaled down)
— 4 cups

organic cane sugar

— 2 cups

unsweetened passionfruit puree

— 24

large egg yolks

— 16 tablespoons (2 sticks)

unsalted butter, cold, cut into small pieces
Combine sugar, passionfruit puree, and egg yolks in a medium saucepan, and place over medium heat. Cook, whisking constantly, until thick enough to coat back of spoon, 12-15 minutes. Remove from heat; stir in butter, piece by piece, until melted. Cool, then cover with plastic wrap. Keep refrigerated and consume within a week.



Download Recipe