3.3.15
Running Hot & Cold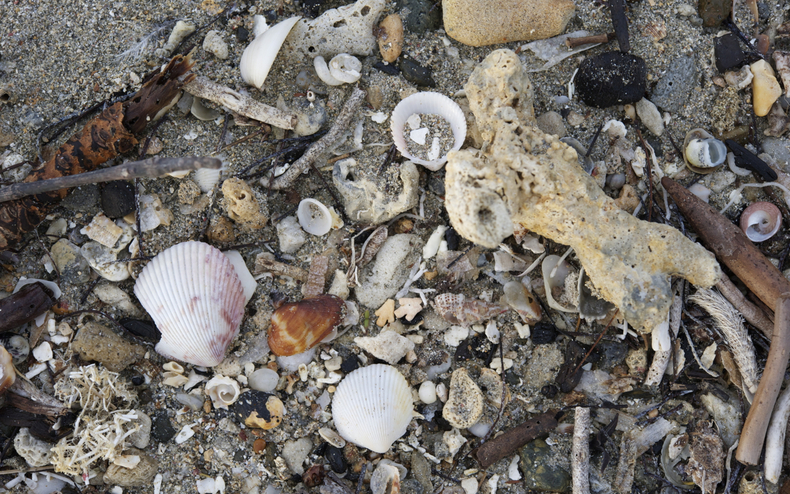 Sand between my toes is but a distant memory. The crunch of snow underfoot is what greeted me after my short vacation in Antigua. But I'm not complaining: I was lucky to get away and even luckier to return to my tiny cottage in the woods, my geriatric kitty, my cozy kitchen and everything I hold most dear and famliar. All the little routines—my meditation, watching birds in the yard while drinking my morning cup of tea, cooking dinner—these incremental steps in the journey of life bring me the most happiness. (Mary Oliver says it so much better.) I have some photos to illustrate the transition from island paradise to winter wonderland, and a few ideas for cold-weather cooking, and I've cobbled them together here into a long, image-studded meandering that ends in a recipe for duck confit that is so easy and so delicious you just have to make it.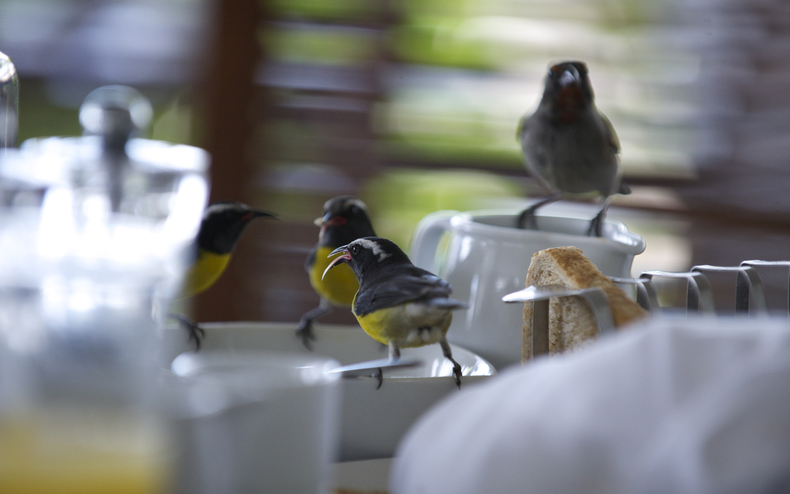 The bananaquit is everywhere on Antigua. This is such a great photo because it captures the long tongue extended. Their beaks are curved so they can dip down into flowers to retrieve nectar. They're always hanging around the open-air dining rooms and beach cabanas, drinking whatever they can find, including piña coladas!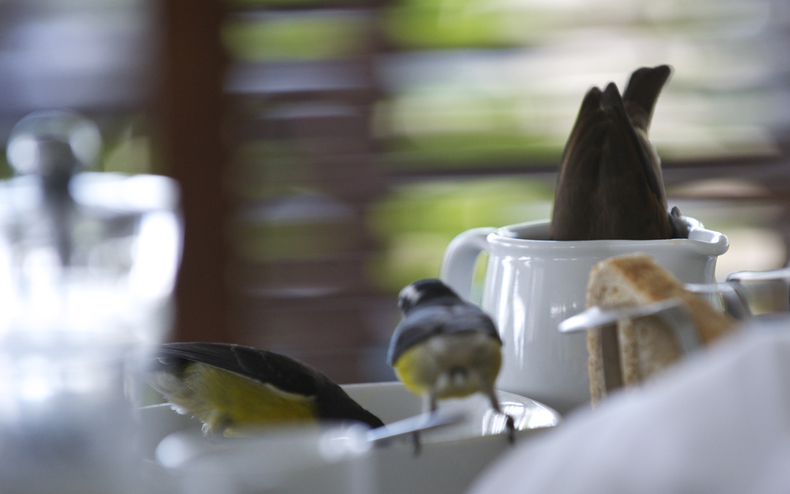 As you can see, this bird has completely submerged its head in a pitcher of maple syrup!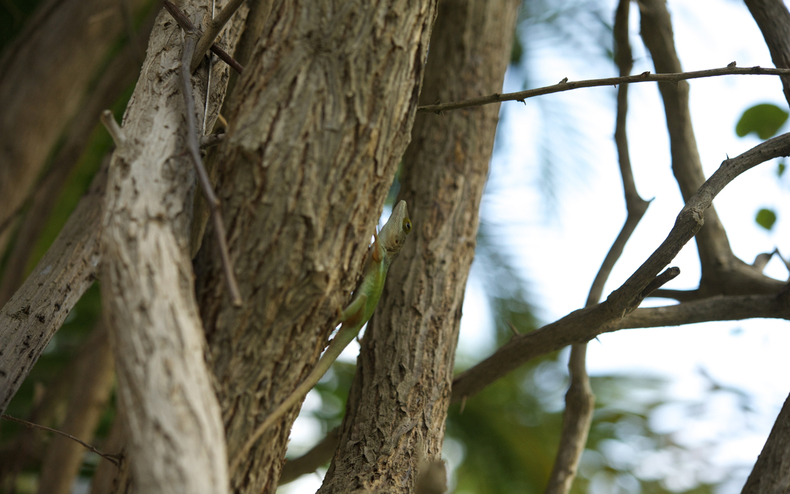 Other wildlife on the island includes plenty of lizards and geckoes, night-peeping tree frogs and the always elusive mongoose.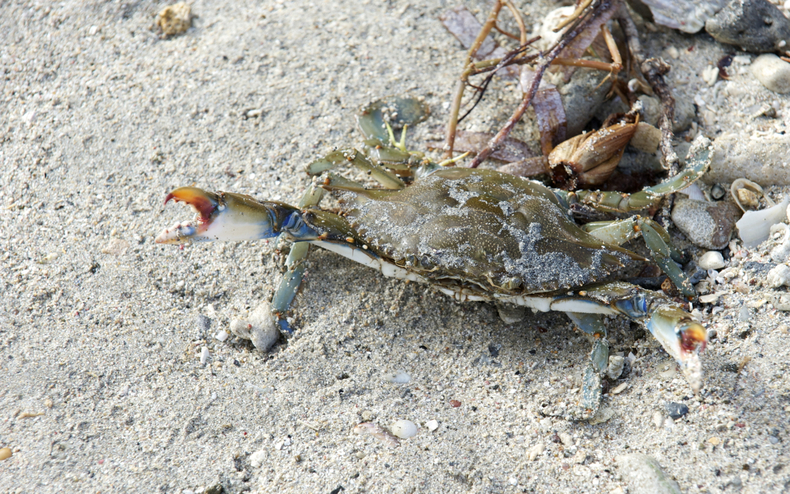 At the end of our beach, I discovered a little estuary where crabs skittled along in shallow waters.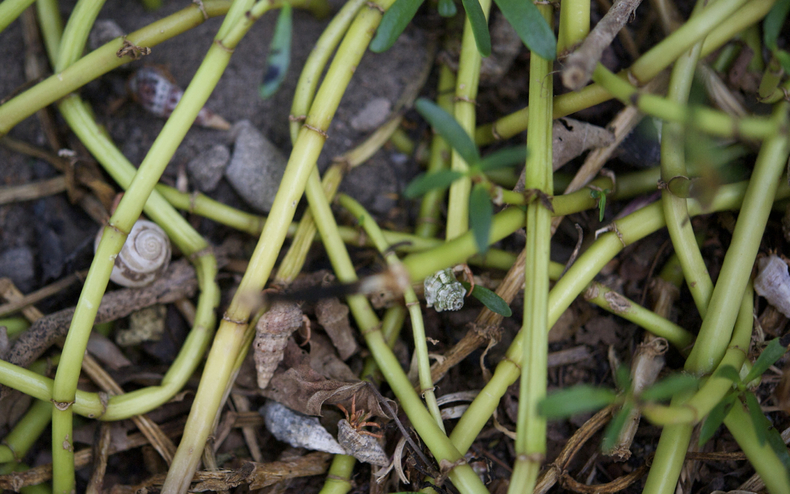 The beach falls off hard into jungle and in this tangle of reed grass I saw tons of hermit crabs making short work of a pile of decayed scat. They are like aquatic dung beetles!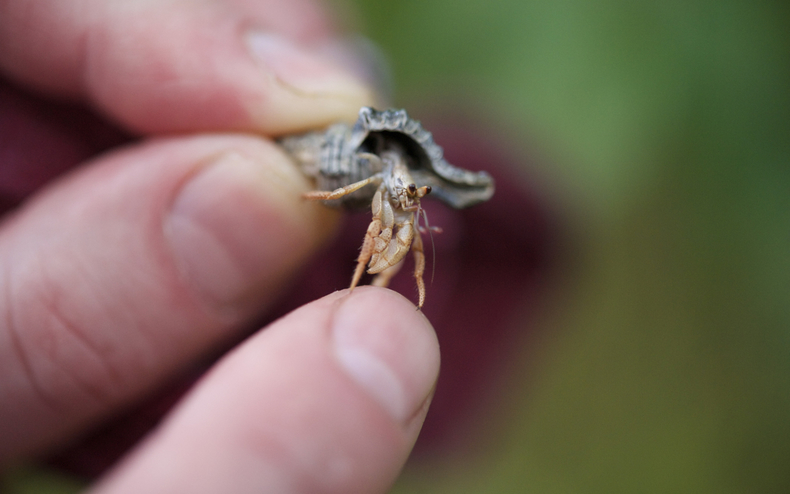 G managed to coax this guy out so I could get a good shot. Not sure I've ever been able to see one in such good detail before. Would make a good animated character, no?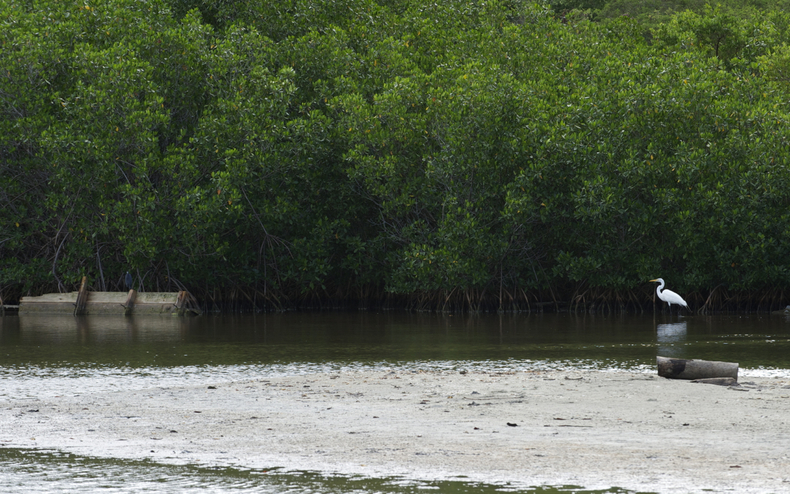 Of course wherever there are crabs, avian predators are not far behind.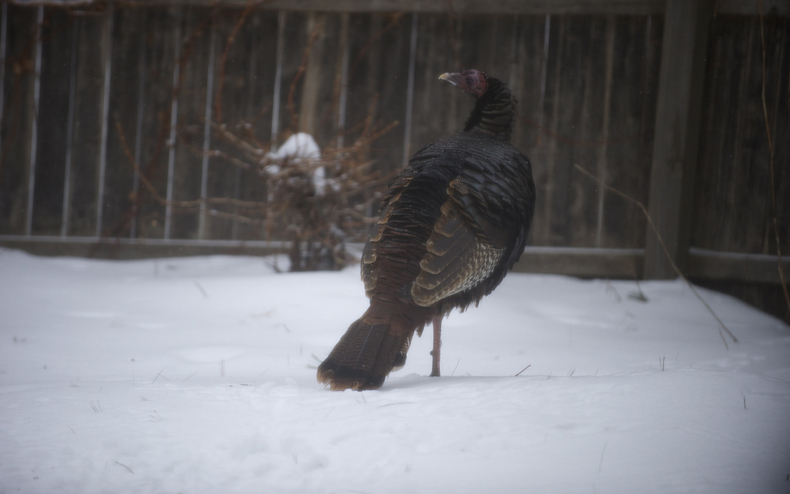 And then, in the blink of an eye, we were home, greeted by sub-zero temperatures, frozen pipes and birds of a different feather.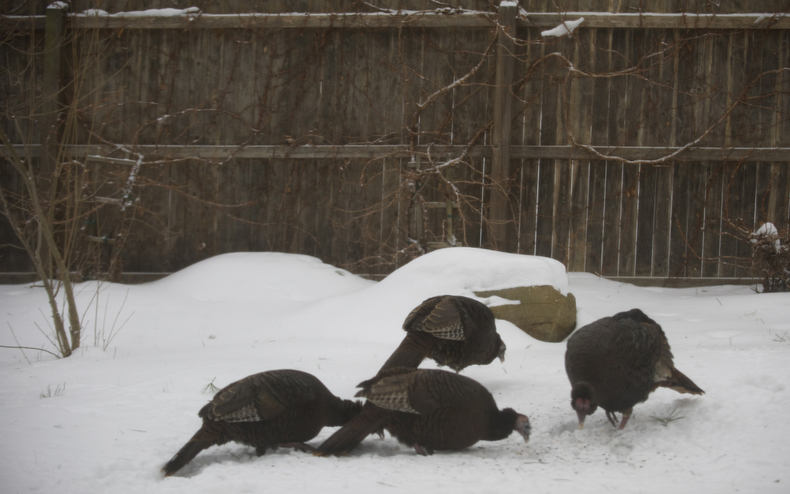 That tom in the previous photos brings his whole horde of hens over to scarf down birdseed in our yard. Their daily appearance never fails to entertain. They have such a prehistoric beauty and are as skittish as zebras at an African watering hole.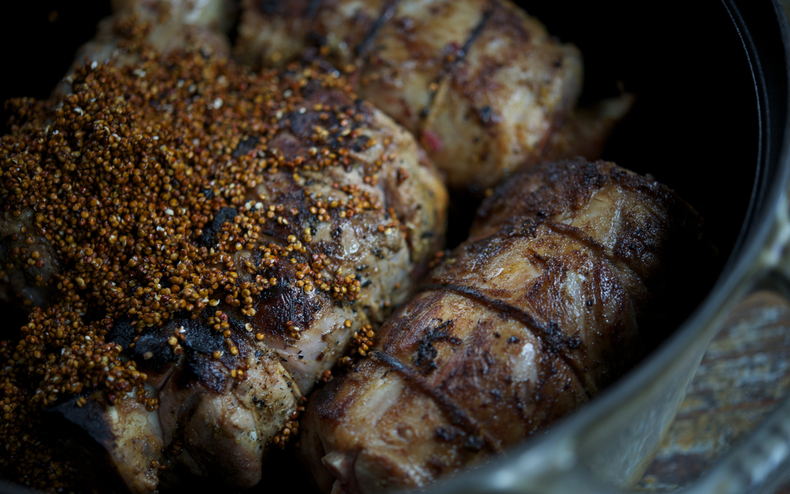 Because Antigua is in a continual state of drought, much of its food is shipped in. Overall, it's really nothing to write home about, though I did enjoy some delicious curried goat. (To be fair, we never left the resort, so there's probably a whole world out there of fabulous local cuisine.)
The first cookbook I pulled off the shelf upon my return home was Daniel Boulud's Braise: A Journey Through International Cuisine." The title should really be something more like Braise: How to Make Delicious Wintry One-Pot Meals. This is a great one to have in your arsenal because the recipes are quite varied, sophisticated but not difficult, and uniformly delicious. The beer-braised pork shanks with cumin and quinoa—seen above at an early stage—are quite wonderful. As are the short ribs with daikon and shiitakes. And the monkfish with savoy cabbage and juniper berries. The book came out in 2006 and was reprinted in 2013, which is a good indication of its timeless value. These are very personal recipes from a great chef and it's food that truly warms the soul.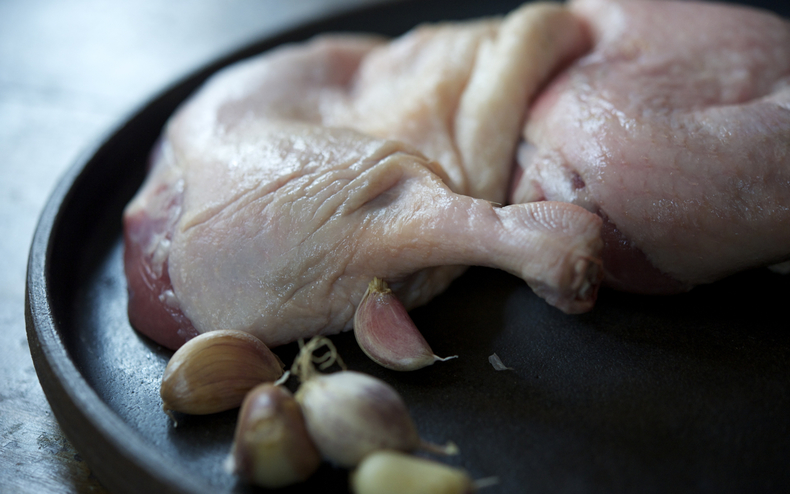 If you've never eaten duck confit, you've been missing something special. And if you've never made it, well, perhaps it's time. As convenient as store-bought duck confit is, making your own gives you greater control over the spicing and the cooking time. Traditionally, this ancient preservation method has three parts: curing the duck legs in salt; slowly cooking them in fat and then storing them fully covered in the cooking fat, which prevents the air from getting in and spoiling them. But a recent issue of Bon Appétit had a quicker, easier recipe that is all about making them for immediate consumption—and without the buckets of extra fat usually called for.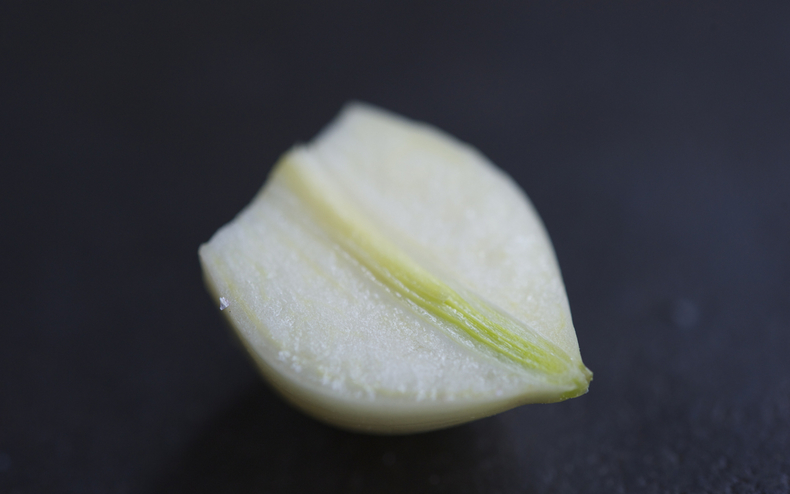 Have you noticed how garlic loves to sprout at this time of year? If you forget to squirrel it away somewhere dark, it seems to sense that spring is coming. I once heard Daniel Boulud say that this little green germ imparts a "vulgar" taste so, if you can, remove it before cooking.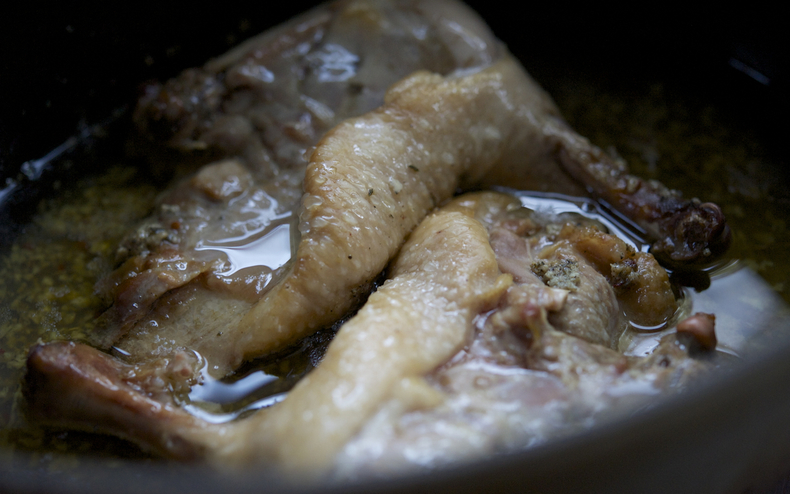 The duck legs are first aggressively seasoned with a paste of garlic, salt and thyme before being cooked skin side down in a low oven for a couple of hours. Their copious amount of fat renders out and they become submerged in it. You then turn them right side up and braise them for another couple of hours, until the meat becomes soft and velvety.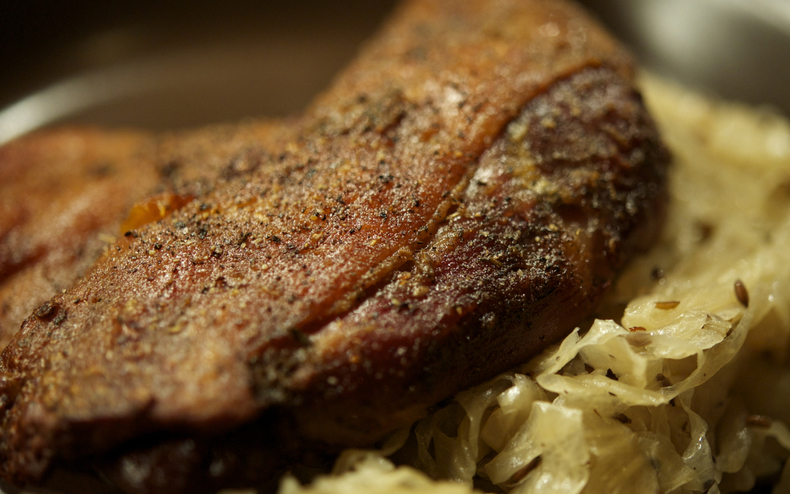 Then you remove them from the fat (strain and save for another use, like frying potatoes) and crisp them in a hot oven until the skin forms a golden, crackling layer on top. I like to serve mine with something assertively tart or bitter. Sauerkraut is a traditional accompaniment; a salad of watercress with a sharp vinaigrette would also cut through the richness.
In these last days of winter, as the march toward spring picks up its pace, treat yourself to one of these soft, slow dishes that gently coax flavors into submission. Braises are so forgiving; they let you walk away and forget all about them. Then, with seemingly no work at all, you've produced something remarkably rewarding.
Duck Confit, Simplified
adapted from Bon Appétit
serves 4
— 2

garlic cloves, peeled and smashed

— 1 tablespoon

coarse sea salt

— 1/2 teaspoon

freshly ground black pepper

— 1 teaspoon

dried thyme, divided

— 4

skin-on, bone-in duck legs (thighs & drumsticks)

— 1/2 teaspoon

crushed red pepper flakes
Preheat oven to 250°F. Line a baking sheet with aluminum foil.


With the tip of a paring knife, prick duck leg skin all over.


In a mortar and pestle, work garlic, salt, pepper and ½ teaspoon thyme into a paste. Massage paste all over duck legs.


Arrange legs, skin side down, in a roasting pan or large Dutch oven and remaining thyme red pepper flakes and 1/4 cup water. Cover pan with foil or lid and cook in the oven until the fat is rendered, 2 hours. Using tongs, gently turn the legs skin side up and submerge them in the rendered fat. Cover the pan again and return to the oven until meat is very tender and bones are loose, another 2½ hours or so. Pull pan from the oven and increase the heat to 400°F.


Remove duck from the fat and place, skin side up, on a rimmed baking sheet. Set fat aside to cool. Season duck with cracked pepper and roast until skin is brown and crisp, 30–35 minutes. When fat is cool, strain it into an airtight container and refrigerate for several weeks (or freeze for several months).


Serve duck confit on a bed of sauerkraut and/or alongside a salad of bitter greens with a sharp dressing.



Download Recipe