12.8.14
The Sun, the Moon & Thou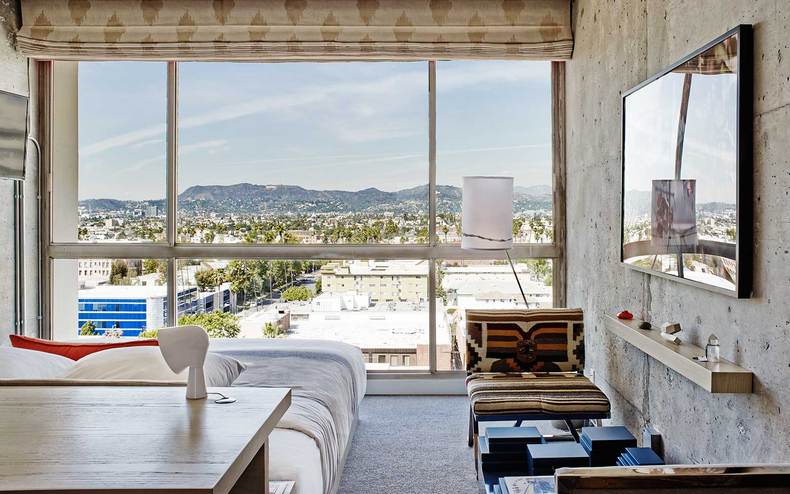 I was born in Los Angeles. In Van Nuys, to be precise, which is in the valley and not very glamorous. Flying towards LAX, you gaze out over the vast urban sprawl punctuated with gawky palms, framed by stately blue hills and filmed with a dull yellow haze and you realize just how unsustainable it all is. Between the fault lines, the fracking, the pollution and the drought, can this desert dream really be long for this world? And yet, once you're on the ground, you are blinded by the sunshine and beguiled by the balmy air and you want it to go on forever. I have a soft spot for the City of Angels, even though it was here that my husband died of cancer and grief invaded my bones. I don't return with the same frequency I once did, but my visits always include sweet reunions with dear friends and family, hikes in the canyons and hills, and as many new food experiences as I can cram in. This time, we started out with a few days at
The Line Hotel
, a new boutique hotel in Koreatown where we had a room with a view (above).
Before we get into that, though, I'm a bit late announcing the winner of my giveaway copy of
Mrs. Wheelbarrow's Practical Pantry: Recipes and Techniques for Year-Round Preserving
. It's Jonathan Epstein! Please email your address to me at gluttonforlife@gmail.com. I can't wait to send you this wonderful gift.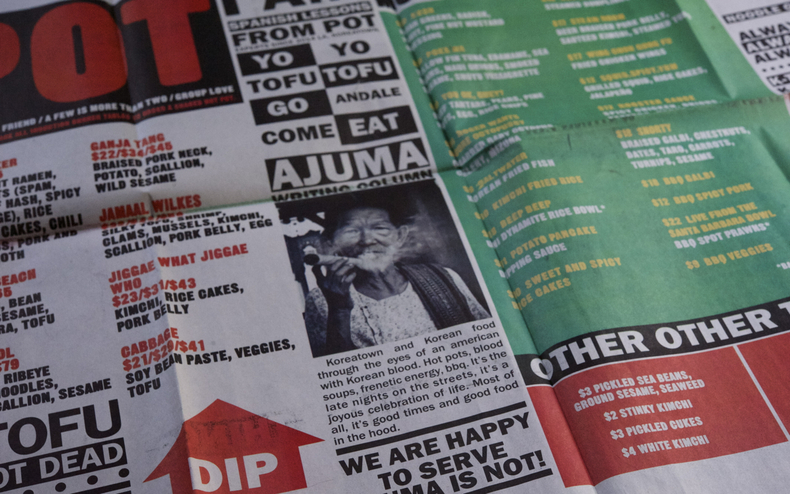 The Line is from the same people who brought us the elegant NoMad hotel in New York City. The vibe is completely different, but the service, attention to detail and focus on delicious food is the same. At The Line, every morsel is overseen by LA bad boy Roy Choi, whose recent
memoir
documents the Korean-American chef's escape from the fine dining world, his invention of the Korean taco and his triumphant empire of new restaurants. Our first meal at The Line was at Pot, Choi's ode to Korean cuisine as interpreted by a true stoner. The room is utilitarian, the servers laid-back and the food beautifully nuanced and addictive. The menu is a newsprint broadsheet covered with the splashy double-entendre names of the many hot pots and Asian-inflected dishes. We loved a salty-funky-spicy bar snack called Stash; the Ganja Tang (braised pork neck with wild sesame); Kush (fresh greens with radish and pine nut dressing); and Roger Wants More Octopussy (super-crispy charred baby octopus wth mizuna). Pot gives Momofuku a run for its money (though its rice cakes don't compare).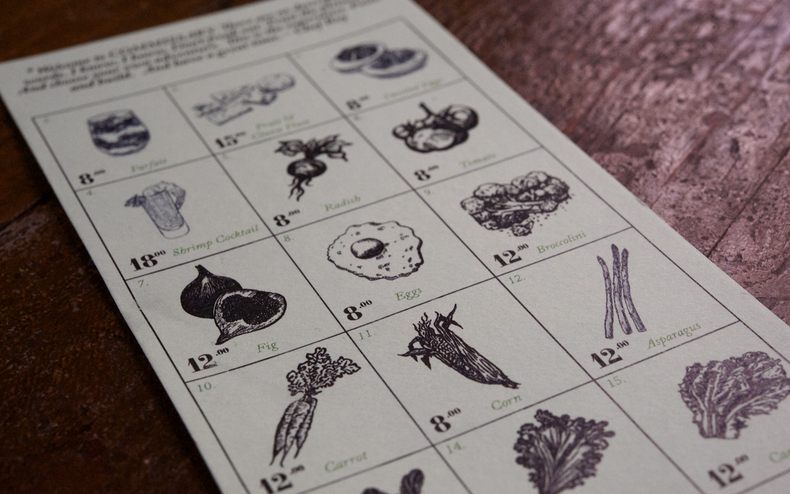 Commissary, the hotel's somewhat fancier restaurant, is in a fern-filled greenhouse on the rooftop deck. The alleged focus is on vegetables, and there are plenty of those, though there's really a bit of everything. The menu lets you know right off the bat that you're in for something different—it's just a grid of illustrations. Point to an egg, a fig or a leaf of cabbage and trust the chef to deliver something you'll actually want to eat. When pressed, the waiters will spill some details but it's really more fun to go along for the ride. I remember a fabulous coconut-milk eggplant curry; a deconstructed French dip sandwich; devilled eggs with kimchi; and a glorified (and glorious) Klondike bar with passionfruit ice cream.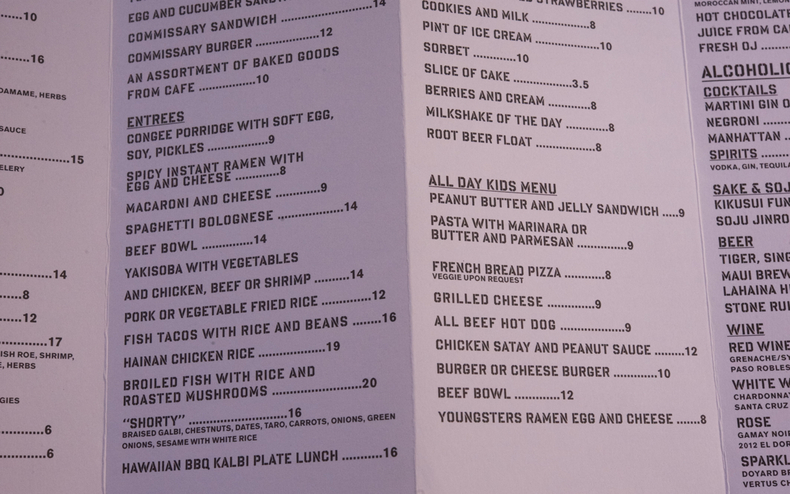 Few hotels have a room service menu worth taking a second look. The Line does it right. I was only able to enjoy one breakfast in bed (congee!) but I'd welcome the opportunity to hole up there and never leave the room. The spicy instant ramen with egg and cheese is a Korean latch-key kid's after-school snack...or the ultimate munchies fix.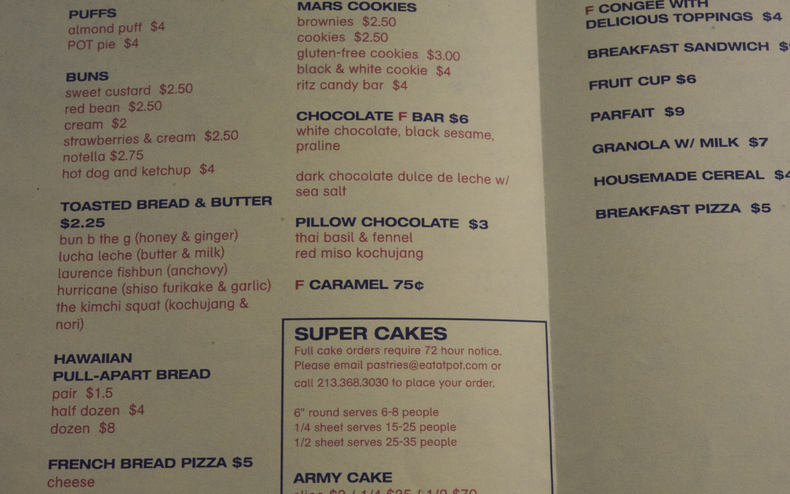 Even the little lobby cafe is something to write home about. The case of baked goods holds a mouthwatering selection of sugary options, including beautiful chocolate bars and some classic Asian bakery buns.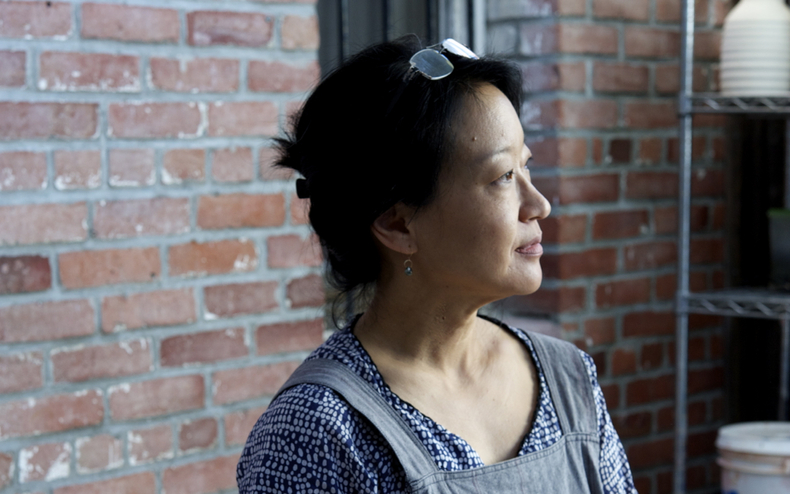 Speaking of beautiful Asians, my LA trip included a visit to the studio of my dear friend, the talented potter
Mirena Kim
. I loved seeing her at the wheel, boots caked with clay and a dreamy smile on her face. Her work is more beautiful than ever and getting the attention it deserves from the design world. Read more about her
here
.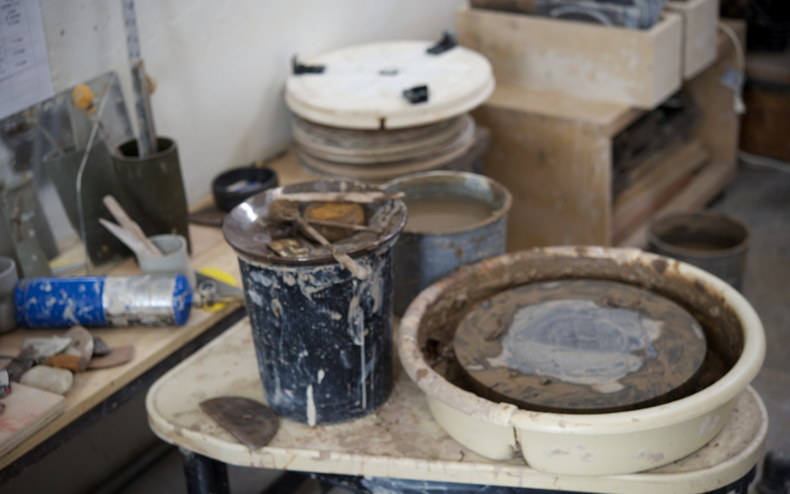 It's always interesting to see the trappings of someone's work—the tools and materials that are transformed through technique, skill, craft, artistry, sweat, perseverance, imagination, inspiration, trial and error, mystery, creativity...you get the idea. It takes a lot.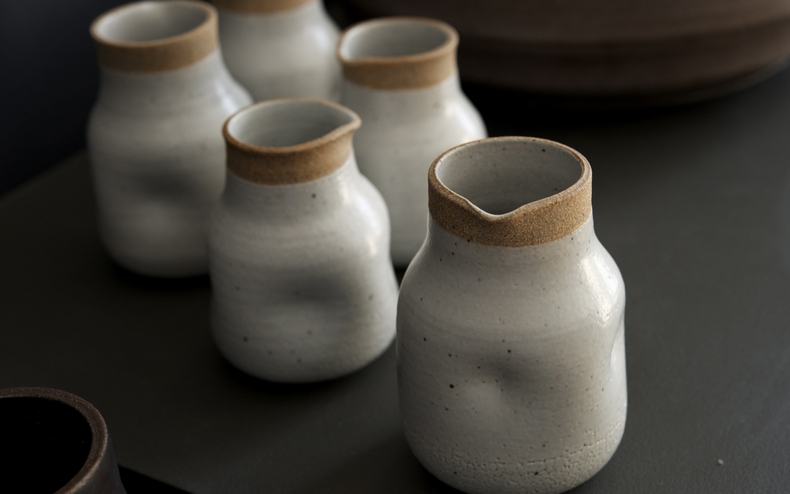 The perfect simplicity of the outcome often belies the intensity of the process. I covet everything Mirena makes because her pieces are quiet but never timid, functional but also beautiful to look at. And they always feel so good in the hand, just the right combination of chunky and refined, with sensuous curves.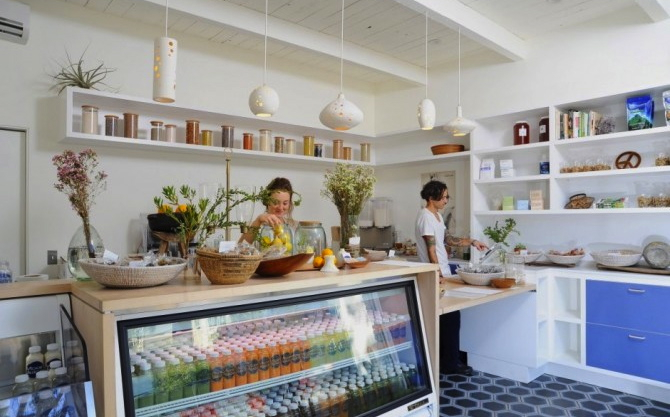 My favorite new discovery in LA is
Moon Juice
. I tried to get there every day, and was able to visit the Silverlake branch and the one in Venice. Oh Moon Juice, Moon Juice, how do I love thee? I heard that they have just entered into a partnership with the Ace Hotel, so I'm hoping this means a New York outpost is in our future. Created by Amanda Chantal Bacon, Moon Juice is "a
cosmic beacon for those seeking out beauty, wellness, and longevity." Yes, count me in. It's also "

a comprehensive resource for medicinal, cold pressed, certified organic juices, Moon Milks, raw and sprouted Cosmic Provisions, miraculous tonics and lifestyle tools." What? Yes, you want it all.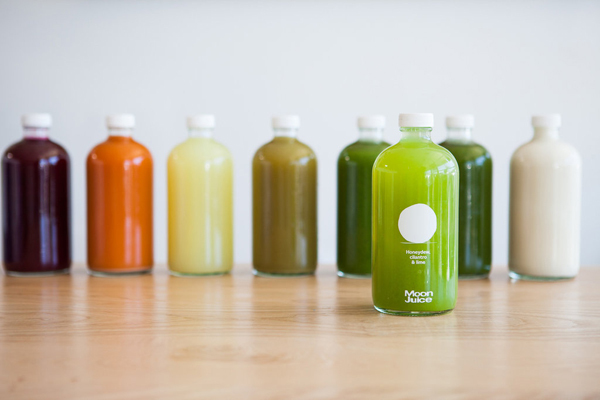 Just for fun and inspiration, check out their menu of
juices
and
Moon Milks
. The juices were intense, fresh and pure. The pumpkin seed milk with honey and pink salt inspired me to make a warm version of my own. (Recipe below. Don't know how to make pumpkin seed milk? Just soak a cup of hulled pumpkin seeds aka
pepitas
overnight in 4 cups water. The next day, blitz everything in a blender or Vitamix. Strain through a nut-milk bag or double layer of cheesecloth, or not. Refrigerate and enjoy within three days.) The
tonics and dust
s are wonderful.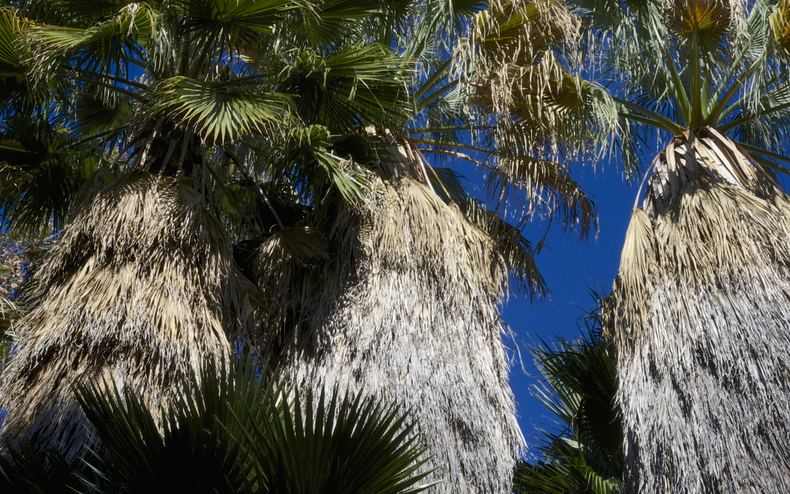 The latter part of our visit, including Thanksgiving, was spent at my sister's house in the Inland Empire, in the far reaches of LA county. It was hot, sunny and dry, which felt good to our already chilled Eastern bones. We took a long walk around the
local botanic garden
, where many of the plants were dessicated or in a holding pattern. These mighty palms stood tall in a small oasis.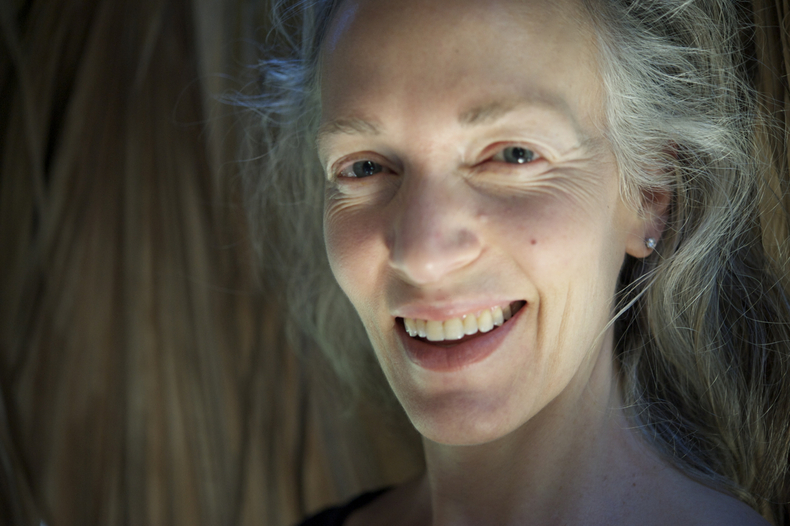 We ducked under their enormous skirts, the long shaggy waterfalls of dead fronds that hang over the trunks. Inside it was cool and shady. But outside, the sun blazed on, an enormous beacon luring the faithful to the City of Angels.
Warm Spiced Pumpkin Seed Milk
serves 1
— 1 cup

pumpkin seed milk

— 1/2 teaspoon

vanilla

— 1 tablespoon

brown rice syrup

— 1 teaspoon

ghee

— 1 teaspoon

Moon Juice Body Dust, or 1/2 teaspoon raw cacao and 1 teaspoon powdered maca

— 1/8 teaspoon

freshly grated nutmeg

— 1/8 teaspoon

ground cinnamon

— Pinch

sea salt
Place pumpkin seed milk in a small pot over medium-low heat. Stir in remaining ingredients and heat gently until thoroughly warmed through, whisking to combine everything and make it frothy. Pour into a mug and enjoy!



Download Recipe