11.20.14
Yes, I Can, Bacon Jam & a Giveaway
Cathy Barrow is a "can do" sort of person. I first crossed paths with her online in the early days of
Food52
, where she has lately been featured sharing recipes from her recently published cookbook,
Mrs. Wheelbarrow's Practical Pantry: Recipes and Techniques for Year-Round Preserving
. She's been a landscape designer, a retailer, a marketing consultant and the founder of
Charcutepalooza
—and I'm positive she's brought to each role the enthusiasm, creativity and competence that characterizes her every move. But I think she's going to be wearing this current hat—should I say toque?—from here on out, because if ever anyone had a calling for the kitchen, it's Cathy. We're all really lucky that she decided to create this preserving bible, because it's loaded with ancient ways and modern techniques for putting food up, plus wonderful ideas for using what's in your stocked pantry. Her recipes don't shy away from plenty of salt, fat and sugar, but she'll also teach you to can your own stock, make pickles of all kinds and even get started making cheese at home. Speaking of salt, fat and sugar, I made her bacon jam. Yes, I said "bacon jam."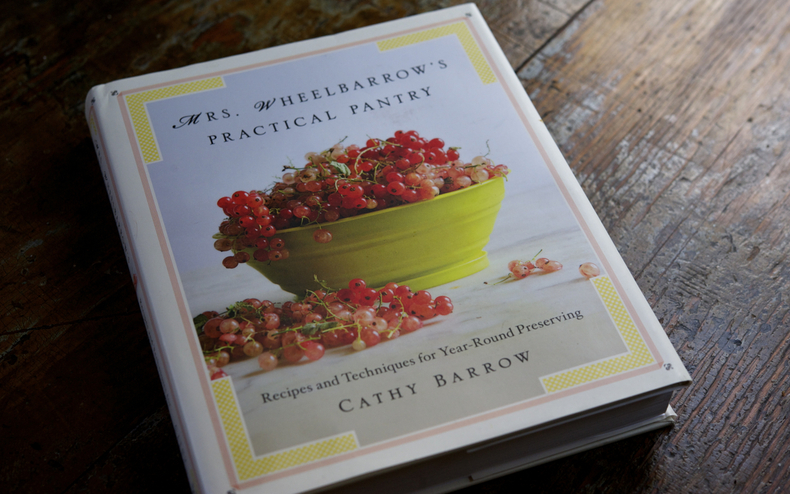 The book is a beauty, thick with lush color photographs by Christopher Hirsheimer and Melissa Hamilton, the fabulously talented women behind
Canal House
. And Cathy can write! Her recipes guide you seamlessly through sometimes complicated steps and her descriptions are evocative, heartwarming and funny. (She encourages you to pack that bacon jam into tiny jars to help avoid "overindulgence.")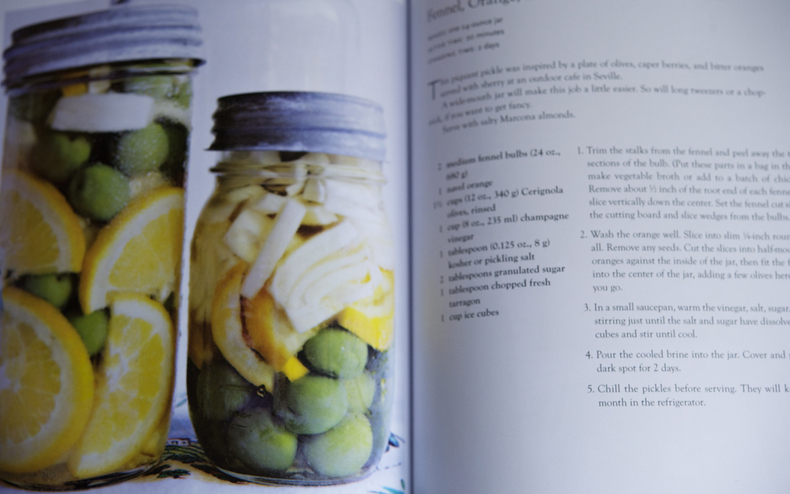 In clear, friendly language that is never overly concise, Cathy teaches you everything you need to know about water-bath canning (to make jams, preserves, chutneys, sauces, salsas, pickles, juice); pressure-canning (stock, beans, meat and fish); and curing with salt, water, smoke and air (meat and fish). She explains the equipment, just enough of the science and all her tips and tricks for avoiding common mistakes and pitfalls. Her confidence is contagious and, with Cathy as your guide, you wind up feeling bold enough to venture into new territory. This is a passing of the torch, one that will illuminate our kitchens for decades to come.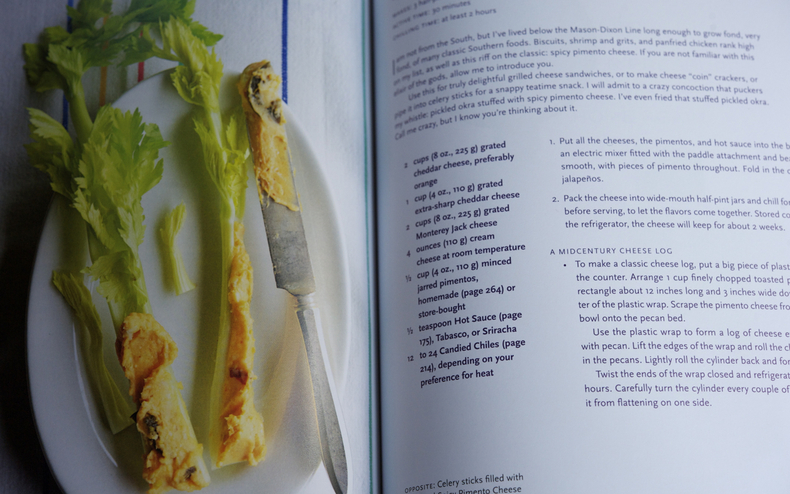 I was lucky enough to toast Cathy last week at a book party held in the Food52 offices. The glasses we raised were filled with a delicious bourbon cocktail enhanced by her canned peaches and among the hors d'oeuvres featured from the book was this divine pimento cheese spiked with her home-canned pimentos, hot sauce and candied chiles. It was rolled in chopped pecans for what she calls a "midcentury cheese log" and it was insanely good.

After reading this book, I think I may finally give in and buy a pressure canner. I want to can my own tuna. The idea of having ready-to-go beans in the pantry really excites me. Also, I've got to become better acquainted with our smoker because Cathy's recipes for hot-smoked salmon and smoked ham hocks have made me a believer.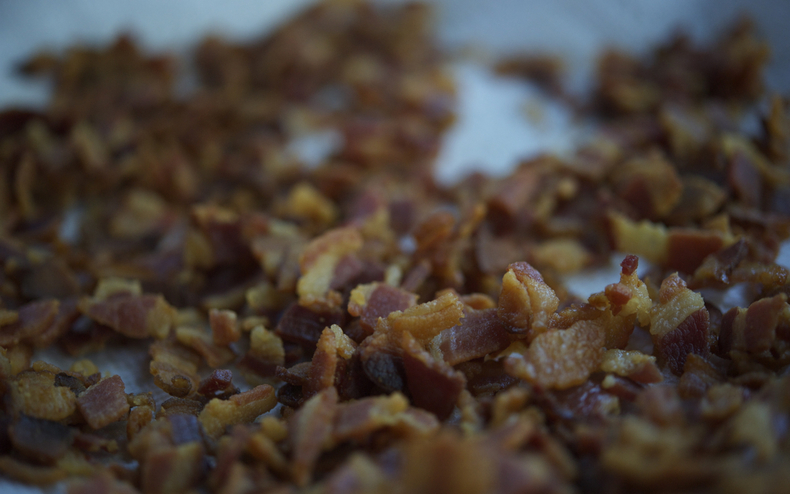 And now, to that bacon jam. It starts with a pound of bacon—hopefully the maple-bourbon version she instructs you to make but, if not, something quality you've bought from a reliable source. You chop this and cook it until it's crisp; a tantalizingly fragrant task.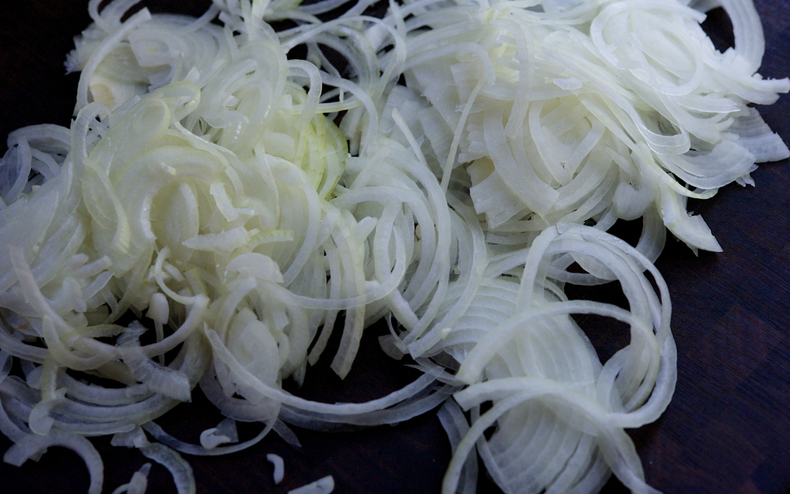 Then you thinly slice a pound of onions. This is what that looks like. A sharp knife is de rigueur.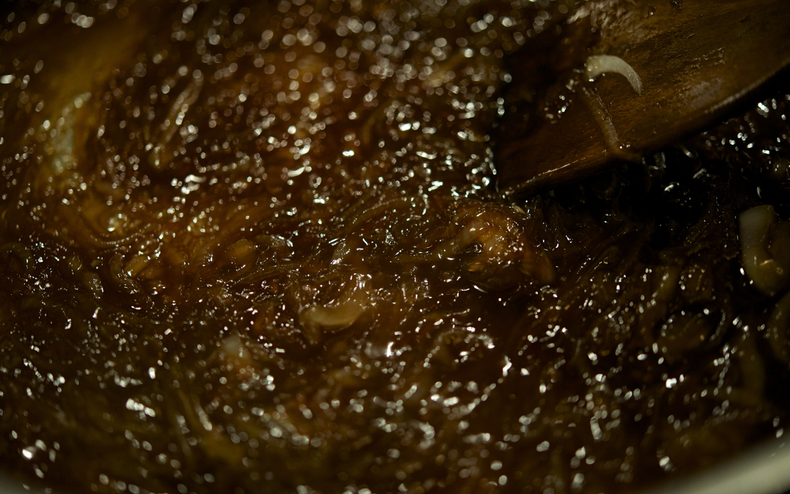 These you caramelize with brown sugar (a cheater's move, but a brilliant one). This alone looks like a terrific jam.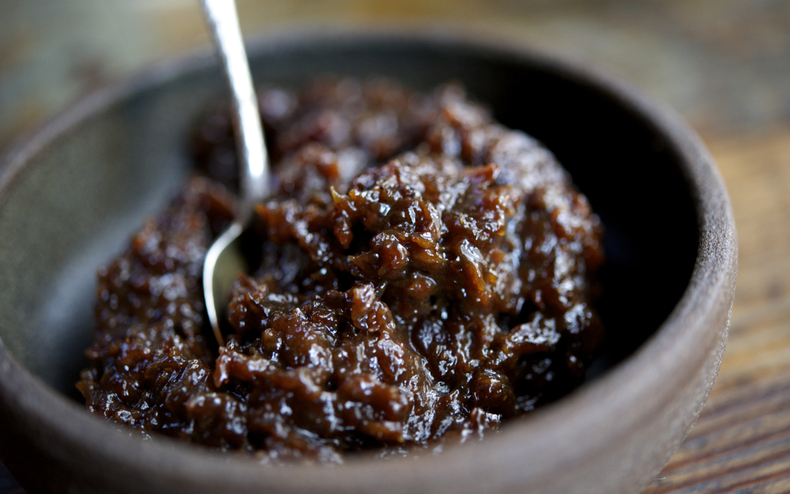 But then all kinds of goodness gets added: pomegranate molasses, bourbon, coffee... It's really an inspired combination, and it cooks down until the liquid is gone and what's left is deeply browned, succulent and sweet. Cathy suggests you spread this on a tomato sandwich, dollop it on roasted squash or use it in her popular recipe for rugelach. Whoever stumbles upon this on a cheese plate will be your friend forever.

This book contains so much of Cathy's warmth and wisdom and, of course, her joy of cooking. It's my great pleasure to offer my readers a giveaway copy. Just leave a comment here by midnight on Sunday, November 30th, telling me about your adventures in preserving (or your fear of canning), and you'll be eligible to win your very own Mrs. Wheelbarrow's Practical Pantry.

I'm going away next week—I'll be spending Thanksgiving with my sisters for the first time in many decades—so this my last post until after the holiday. Good luck with your cooking and feasting and fellowship! (Visit past years' Thanksgiving posts and my recipe archive if you need ideas and inspiration.) Remember to breathe deeply and to choose gratitude over resentment wherever possible (for your own sake!). Banish perfectionism and refuse to sweat the small stuff. My love and thanks to you, as always. xo
Bacon-Onion Jam
from Mrs Wheelbarrow's Practical Pantry
makes six 4-ounce jars
— 1 pound (450 g)

Maple-Bourbon Bacon, cut into small dice

— 1 pound (450 g)

yellow onions, halved lengthwise and thinly sliced into half-moons

— 1/2 cup (4 oz., 110 g)

firmly packed dark brown sugar

— 1/2 cup (6 oz., 170g)

pomegranate molasses

— 1 cup (8 oz., 240 ml)

strong coffee

— 1/2 cup (4 oz., 120 ml)

balsamic vinegar

— 1/4 cup (2 oz., 60ml)

bourbon

— 1 teaspoon

freshly ground black pepper

—

Kosher salt if needed
Cook the bacon in a large, heavy pot over medium-low heat, stirring from time to time, until well browned. Remove and drain on paper towels. Pour off all but i1/2 cup of the bacon fat from the pot.


Reheat the fat, add the onions, and cook over low heat until translucent and very soft, about 15-20 minutes. Stir in the brown sugar and caramelize the onions until very deeply brown, about 15 minutes; be careful with the heat as this wants to burn.


Add the bacon, molasses, coffee, vinegar, bourbon and pepper, stir well, and bring to a boil. Reduce the heat and simmer very slowly unit the mixture is as thick and glossy as apple butter and a deep rich brown, without much liquid, about 2 hours. Taste and correct for seasoning—salt and pepper—but be judicious, as the flavors will develop further as the mixture cools. Remove from the heat and let cool.


Transfer every bit of the mixture to a food processor. It's up to you how chunky you want this spread—I like it smooth and spreadable but you can leave it chunkier.


Pack into jars (just a little hint, 4-ounce jars might protect you from overindulgence). Refrigerate for up to 3 months or freeze for up to a year; if you will be freezing the jam, leave 1-inch headspace in the jars to allow for expansion.



Download Recipe