10.29.14
Kindred Kitchens & a Cookbook Giveaway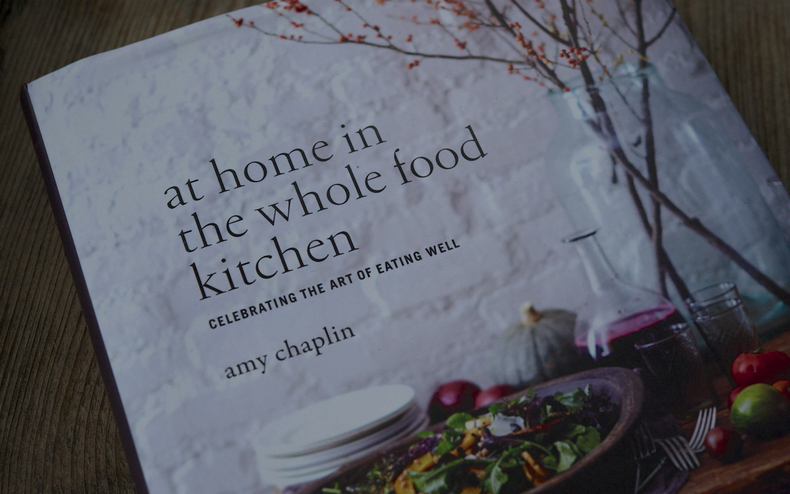 I cook a lot and I own a vast number of cookbooks but, paradoxically, I don't cook from them very often. Mostly, they serve as inspiration for new ingredients, new techniques, new flavor combinations. There are exceptions, of course. Anything to do with baking and I need a recipe. Everything I know about Southeast Asian cuisine, I learned from Hot, Sour, Salty, Sweet, and I have cooked my way through Suzanne Goin's entirely wonderful Sunday Suppers at Lucques. Come fall, Braise by Daniel Boulud is always at hand, as is Tadashi Ono's invaluable Japanese Hot Pots. Nourishing Traditions is a touchstone. These favorites are now dog-eared and annotated, their pages stained with drips and spatters. But it's not so often that a new cookbook becomes part of my weekly repertoire, much less captures my heart. And yet, less than a month after it arrived in the mail, Amy Chaplin's At Home in the Whole Food Kitchen: Celebrating the Art of Eating Well has managed to do both. Read on for the juicy details and a chance to win your very own copy.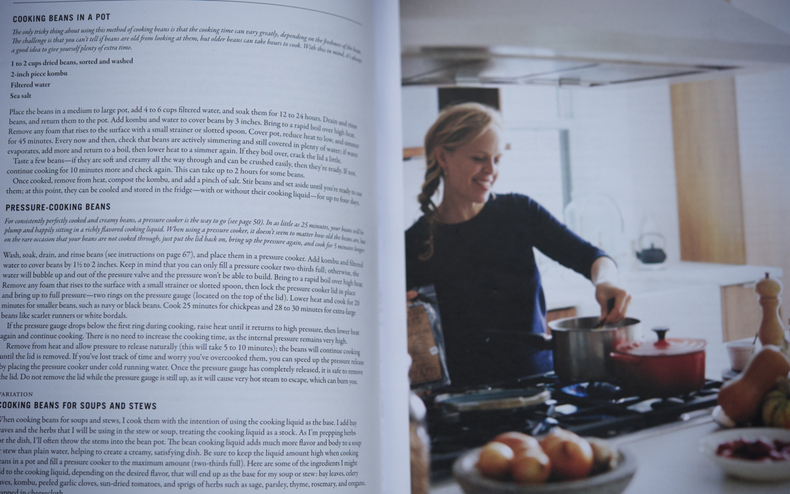 This is Amy's first cookbook. For more than 20 years, she has worked as a vegetarian and vegan chef, most notably at
Angelica Kitchen
, an acclaimed vegan restaurant in New York City. Now she teaches, develops recipes and cooks for private clients, including such radiant beauties as Natalie Portman and Liv Tyler. But she's definitely not about celebrity glitz. Amy was raised in a remote rural area of Australia, in a family that grew its own food, made its own tofu, brewed its own ginger beer and even formed the mud bricks from which the house was built.
"This cycle of growing, harvesting, cooking, eating, composting, and fertilizing was deeply rooted in us," she writes in the engaging introduction to this thoughtful book. The most inspiring part? She continues to live a version of this lifestyle in New York City. Amy shops at the farmers market, of course, but she also brings all her food scraps there to be composted by the
Lower East Side Ecology Center
.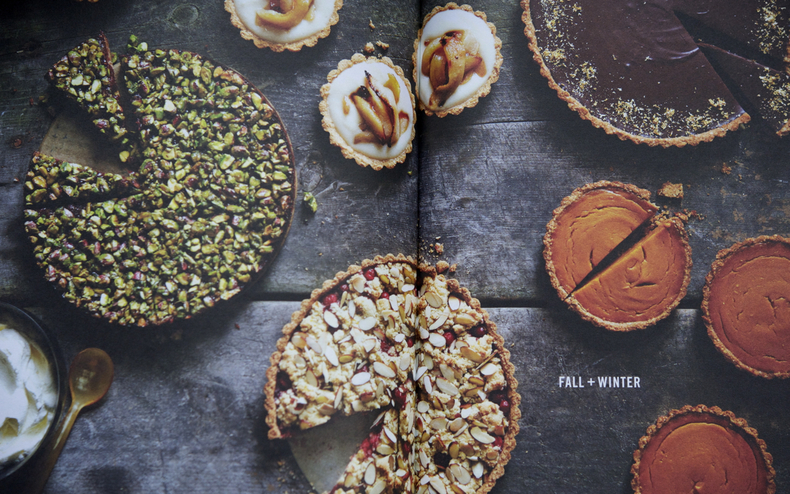 Despite her commitment to healthy living and eating (or because of it?), Amy is not pious or preachy about her views. Her food is lush, full of flavor, color and creativity. She makes fantastic suggestions for ways to think about cooking and eating that are potentially life-changing. The book opens with thorough directions for stocking your pantry so that this cuisine becomes accessible, convenient and very doable. Microwave simple? No way. You still need to think about soaking nuts, beans and grains ahead of time. But with just a modicum of planning, you can have a healthy, delicious dinner on the table in under an hour. If you've been wanting to give your kitchen—and the time you spend in it—a revamp, this book will be transformative.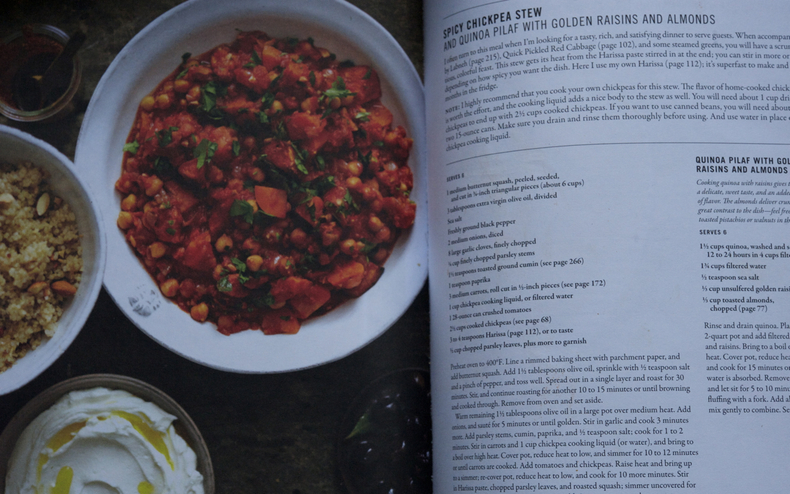 Amy cooks with loads of fresh seasonal vegetables and fruits, whole grains and nuts, rice and legumes, superfoods and spices. She uses only natural sweeteners (no refined sugar) and loves to sip herbal teas. Among the things I can't wait to make: Herbed Black Quinoa Muffins with Sweet Potato and Caramelized Onions; Soft Polenta with Nettles, Peas and Goat Cheese; Kabocha Chestnut Soup with Nori Leaves; Turmeric Lemonade; and Date Pistachio Praline Tart. What I made for dinner last night? Her Spicy Chickpea Stew, along with Quinoa Pilaf with Raisins and Almonds and Quick-Pickled Red Cabbage.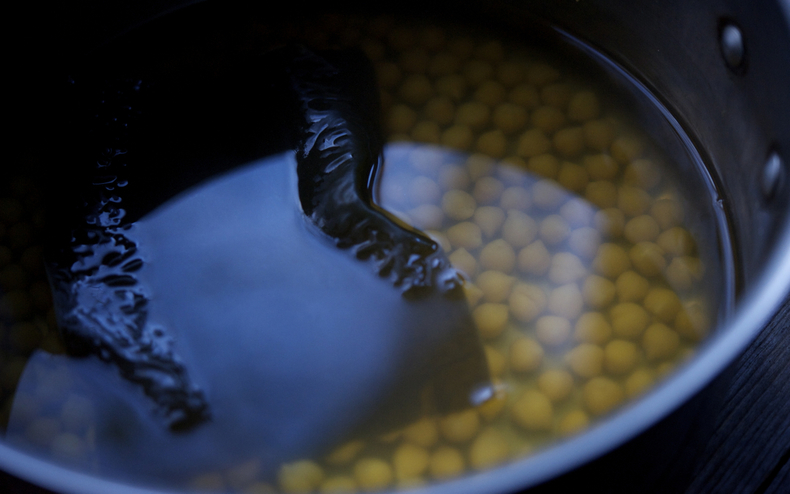 In her treatise on the best way to cook beans (I may be about to tip and buy a pressure cooker) there is a reminder to soak them in order to remove the phytic acid and increase the availability of minerals, and to always include a piece of kombu, the giant kelp that adds more minerals plus glutamic acid for rich umami flavor. Amy also tells you what to do if your plans change and you decide not to cook your soaked beans right away; and advises you not to discard the cooking liquid after your beans are done—"With a couple of drops of tamari, the liquid makes a nice amuse-bouche for yourself or anyone else in the kitchen." Talk about waste not, want not!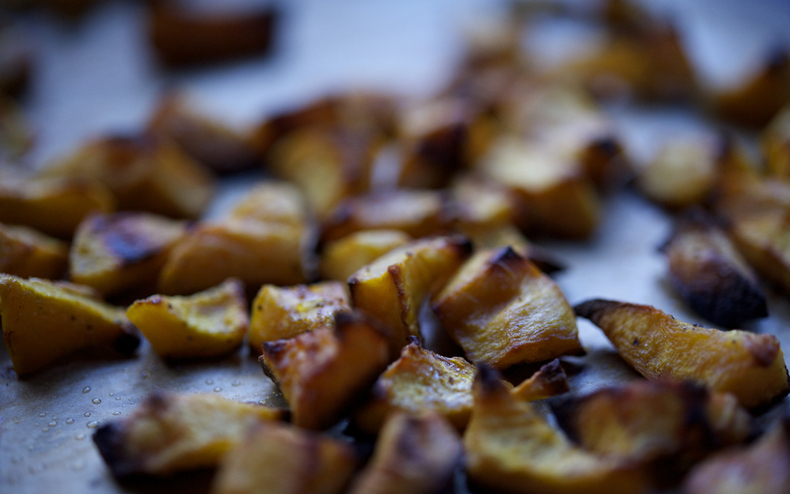 Counter to what the word "stew" might imply, the Spicy Chickpea Stew comes together rather quickly. While prepping the ingredients, you roast little chunks of butternut squash in a hot oven. (I used delicata, since that's what I had on hand.)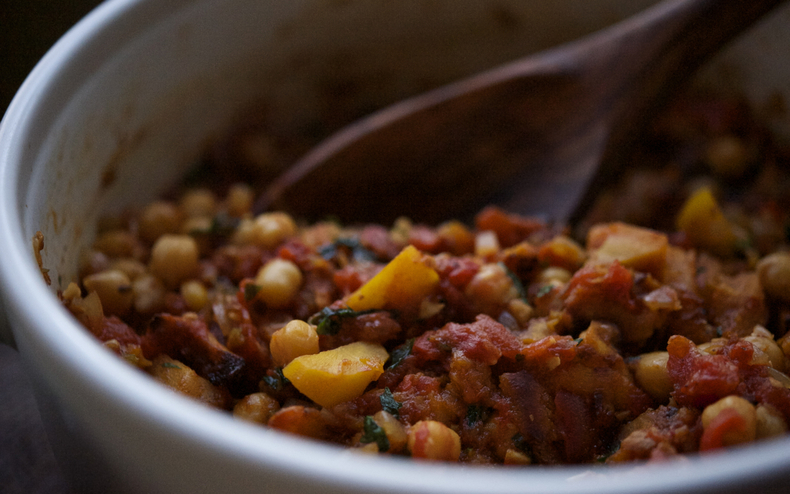 The squash gets stirred into a pot of cooked chickpeas, crushed tomatoes, onions, garlic and parsley stems. (Love this! You'll be using the leaves to finish the recipe.) The dish is spiced with cumin, black pepper and paprika, and gets an extra kick from a few teaspoons of harissa, a hot chile paste. I had a jar of my own homemade stuff in the fridge, but you can buy a tube at the market, or follow Amy's recipe to make your own. Or, sub in a little cayenne for heat. Always punt rather than panic!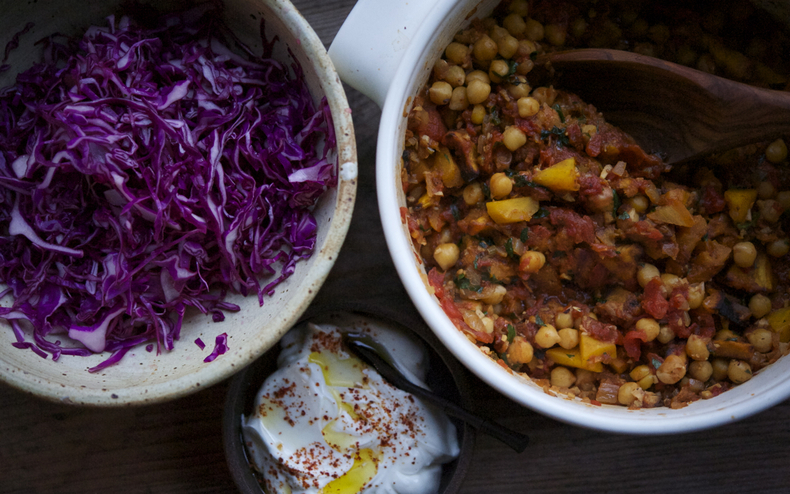 The pilaf (not pictured) was as simple as stirring in some dried fruit and nuts into cooked quinoa—I substituted apricots and pistachios for the raisins and almonds. Amy has a recipe for Labneh (strained yogurt) but I used the extra-thick sea salt yogurt from
Sohha
, with which I am currently obsessed. Her Quick-Pickled Red Cabbage involves a little salt, a little apple cider vinegar and a massage technique that renders it supple and ready for the table in a matter of minutes. Eaten together, these dishes are a gorgeous riot of colors, flavors and textures, nutritious and satisfying in equal measure. They are emblematic of the beauty and abundance in everything that Amy Chaplin offers us. I recognize in her a true glutton for life!
For a chance to win a copy of this hefty hardcover book, with more than 150 recipes and beautiful photographs by Johnny Miller, please leave a comment below BY MIDNIGHT ON MONDAY, NOVEMBER 3RD. I'll announce the randomly chosen winner early next week.
The recipes, below, are from
At Home in the Whole Food Kitchen
Amy Chaplin, © 2014 by Amy Chaplin, and are reprinted by arrangement with Roost Books, an imprint of Shambhala Publications Inc., Boston, MA, whom I also thank for the review and giveaway copies.
Spicy Chickpea Stew
from Amy Chaplin's At Home in the Whole Food Kitchen
serves 6

— 1

medium butternut squash, peeled, seeded, and cut in 3/4-inch triangular pieces (about 6 cups)

— 3 tablespoons

extra virgin olive oil, divided

—

Sea salt

—

Freshly ground black pepper

— 2

medium onions, diced

— 8

large garlic cloves, finely chopped

— 1/4 cup

finely chopped parsley stems

— 1 1/2 teaspoons

toasted ground cumin

— 1 teaspoon

paprika

— 3

medium carrots, roll cut in 1/2-inch pieces

— 1 cup

chickpea cooking liquid, or filtered water

— 1 28-ounce can

crushed tomatoes

— 2 1/2 cups

cooked chickpeas

— 3 to 4 teaspoons

Harissa

— 1/2 cup

chopped parsley leaves, plus more to garnish
Preheat oven to 400ºF. Line a rimmed baking sheet with parchment paper, and add butternut squash. Add 1 1/2 tablespoons olive oil, sprinkle with 1/2 teaspoon salt and a pinch of pepper, and toss well. Spread out in a single layer and roast for 30 minutes. Stir, and continue roasting for another 10 to 15 minutes or until browning and cooked through. Remove from oven and set aside.


Warm remaining 11/2 tablespoons olive oil in a large pot over medium heat. Add


onions, and sauté for 5 minutes or until golden. Stir in garlic and cook 3 minutes more. Add parsley stems, cumin, paprika, and 1/2 teaspoon salt; cook for 1 to 2 minutes. Stir in carrots and 1 cup chickpea cooking liquid (or water), and bring to a boil over high heat. Cover pot, reduce heat to low, and simmer for 10 to 12 minutes or until carrots are cooked. Add tomatoes and chickpeas. Raise heat and bring up to a simmer; re-cover pot, reduce heat to low, and cook for 10 more minutes. Stir in Harissa paste, chopped parsley leaves, and roasted squash; simmer uncovered for another few minutes to allow flavors to meld. Season to taste and serve warm.



Download Recipe
Quinoa Pilaf with Golden Raisins and Almonds
from Amy Chaplin's At Home in the Whole Food Kitchen
serves 6

— 1 1/2 cups

quinoa, washed and soaked 12 to 24 hours in 4 cups filtered water

— 1 3/4 cups

filtered water

— 1/2 teaspoon

sea salt

— 1/3 cup

unsulfered golden raisins

— 1/3 cup

toasted almonds, chopped
Rinse and drain quinoa. Place in a2-quart pot and add filtered water, salt, and raisins. Bring to a boil over high heat. Cover pot, reduce heat to low, and cook for 15 minutes or until all water is absorbed. Remove from heat, and let sit for 5 to 10 minutes before fluffing with a fork. Add almonds and mix gently to combine. Serve warm.



Download Recipe