10.27.14
Mood Indigo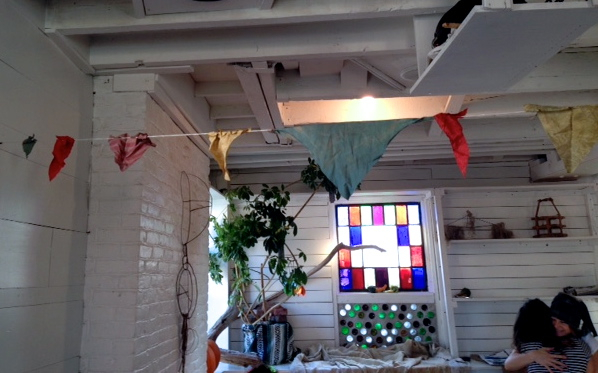 This weekend I attended a workshop to learn how to dye with indigo. It was put together by
L'Ecole des Beaux Arts
, an arist supply and housewares store founded by Brooklyn artist Sara Moffat, and held in a lovely, airy space upstairs at Isa restaurant on Wythe Avenue in Williamsburg. For a couple of years now, I have been very focused on the idea of learning to dye with natural dyes, and have gone so far as to acquire several books on the subject, and even grow a few relevant plants in my garden, but I never seemed to be able to find the time to launch myself into an actual project. So, when I found out about this opportunity (on Instagram!), I signed up right away. In just a couple of hours, I was able to learn a bit about this beautiful pigment, explore some shibori/tie-dye techniques and come away with a couple of transformed pieces of clothing.
Being in Brooklyn on a Saturday, also meant I was able to visit Marlow & Daughters, a favorite market; have oysters and salad sitting alone at the bar at Marlow & Sons; and visit Brooklyn chocolatier
Mast Brothers
, where I was dismayed to learn they are no longer selling their enormous
chocolate tablet
, but did inhale the unbelievably intense smell of cacao beans being roasted right there. In addition to their elegant factory (tours are available), they have also opened a new Brew Bar, where you can indulge in hot- or cold-brewed chocolate.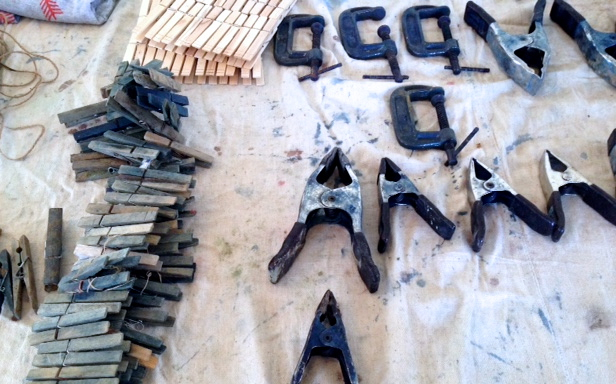 But it was really all about the indigo.
The color indigo was named after
the plant Indigofera tinctoria, one of the sources of the pigment used to make this rich blue dye. Originally, it was created through a lengthy (and smelly) process of fermentation. Later, chemical processes were used to speed things up. Fortunately, it was discovered that the same results could be achieved using fructose (fruit sugar) and pickling lime, two natural substances. These create a favorable environment for proper alkilinity and absorption of the indigo.


The Japanese often use indigo to create their intricate shibori patterns, essentially a sophisticated form of tie-dyeing.

The fabric is bound, stitched, folded, twisted or compressed, using a variety of threads, rubber bands and clamps to hold the shapes in place. The results are mysterious and wonderful.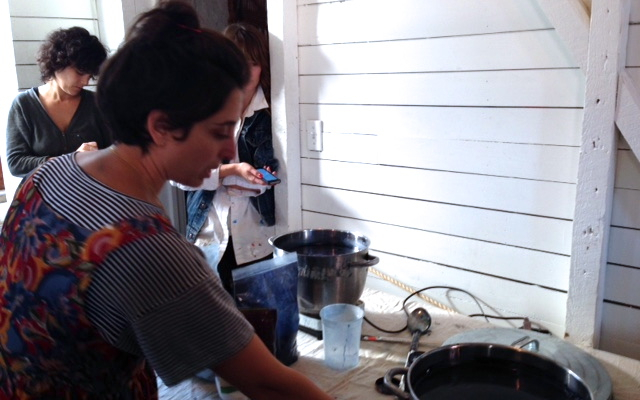 Our instructor was the lovely Isa Rodrigues, who also teaches at
Textile Arts Center
, which is an excellent resource for learning, with locations in Brooklyn and Manhattan. She made everything really clear and simple, showing us the basics and then letting us play. There were about a dozen of us, including two young girls. L'Ecole des Beaux Arts and Textile Arts Center both encourage kids to get involved.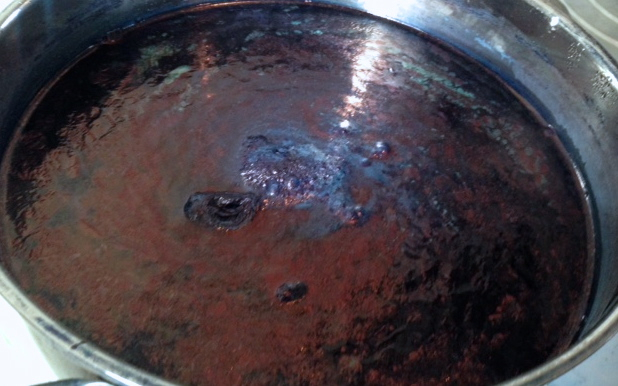 Making dye is a bit like cooking. There are a few basic rules but a lot of it is about developing your senses. Does it look right? Has the vat of indigo developed the desired "flower" on top, which looks like an iridescent coppery slick? Indigo penetrates the fibers of the fabric underwater in an oxygen-deprived environment. When the garment is submerged it turns the color of toxic green sludge but, as soon as it's removed from the vat and exposed to the air, it becomes a recognizable blue.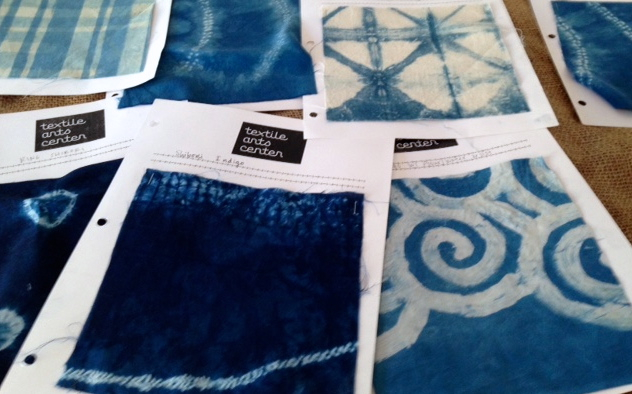 There were samples on hand for us to see some of the shibori techniques. You can even make a paste of flour and water and use this to paint patterns on the fabric. Once it dries and hardens it does a great job of resisting the dye (see swirls on bottom right). I tried a stitching technique—you can just barely make it out on the top right—and it was a bust. Apparently it works much better with a light fabric like silk than the heavier linen I was using. Nevertheless, the dress I dyed came out a gorgeous medium blue with a light mottling that is quite nice.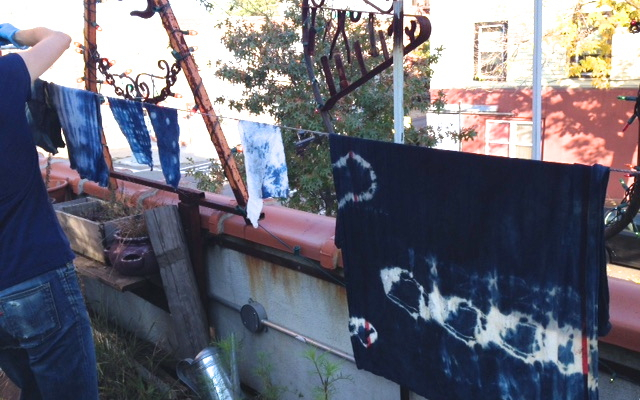 There was lots of experimenting and it was fun to see everyone's attempts. There was an outside space on the roof at Isa with a clothesline set up so we could drip-dry our pieces.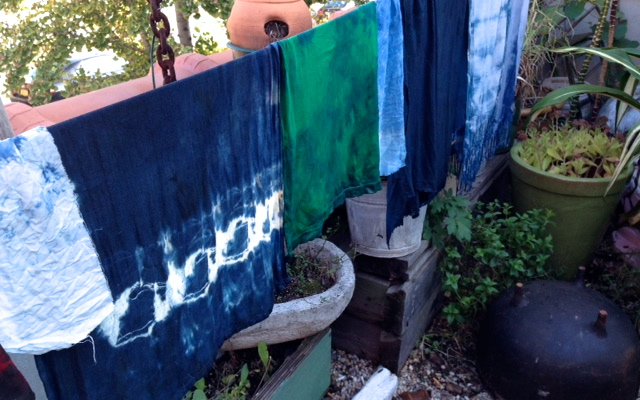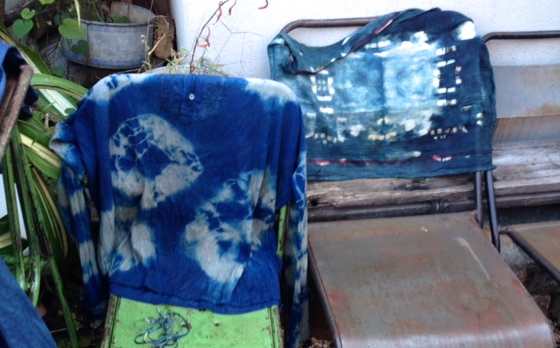 I was quite proud of effort, above left. It's an ancient Giorgio Armani tunic that I have been wearing to the beach for the last 20 years and it had gotten a few spots that just wouldn't come out. It was ideal for dyeing and now has a whole new life. I've got a basket of linen sheets and random clothes I've been saving to be reincarnated, so my work is cut out for me.

I think I'll do some reading over the winter about which plants make the best natural dyes. Come spring, I can devote a section of the garden, alongside my medicinal herbs, to growing a few of these. The journey has many twists and turns, my friends, and I'm so excited to be headed down this new path. Who's coming with me?