9.8.14
All Juiced Up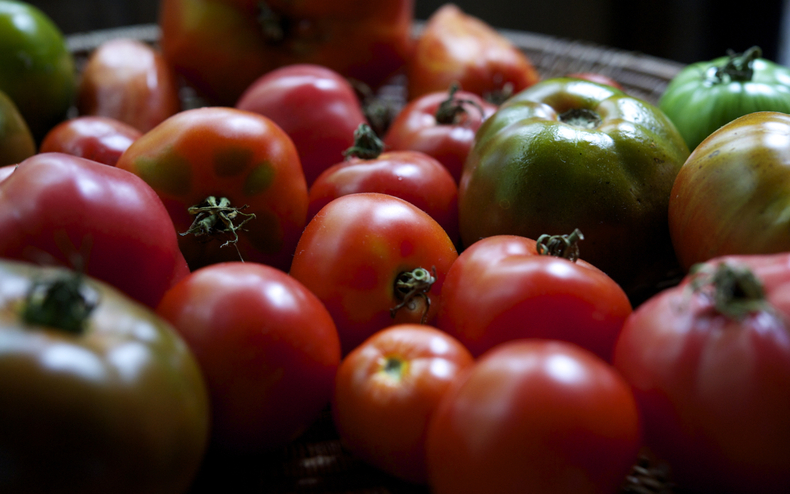 It's been a strange season in the garden. Unusually cool temperatures have resulted in a glut of cucumbers, thriving greens and herbs, and not a single summer squash. A year without an onslaught of zucchini just feels unnatural! The tomatoes have been a mixed bag: lots of Green Zebras and Brandywines, other varieties decimated by blight, and many falling off the vine green. I see
green tomato-lemon marmalade
in my future, not to mention
green tomato chutney
and plenty of
fried green tomatoes
. But with what's left of the ripe ones, I envision perhaps one more
gazpacho
, one last tomato sandwich and definitely some fresh tomato juice. Nothing else comes close to capturing the essence of the season. (Except perhaps a perfect peach. Or buttered corn. Or blackberries.) I make it with my Hurom juicer that has become a staple of my kitchen. It's a slow-masticating design that first crushes food and then presses it to extract maximum yield with minimum oxidation, meaning you get the most nutrition from juice produced this way. The smell and taste of fresh tomato juice is one of the great pleasures of late summer.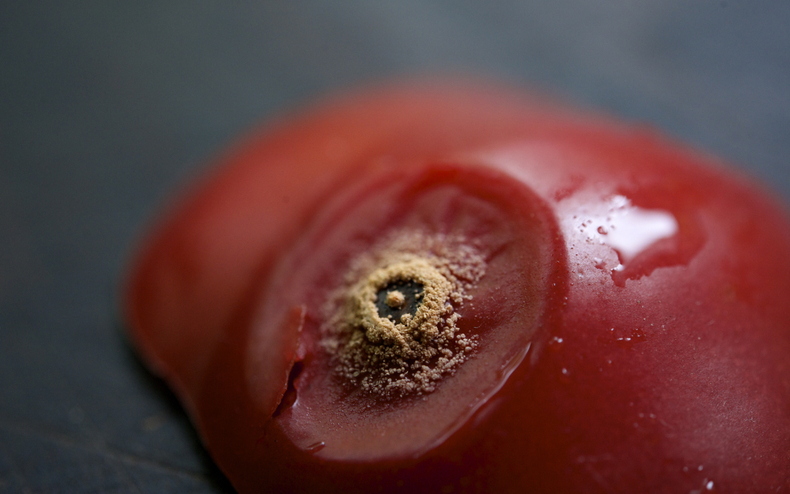 Because tomatoes do not fare well in the fridge—it slows the ripening process and robs them of flavor—it's best to store them on the counter. But this means that any nicks or bruises are vulnerable to encroaching molds, like the beautiful one you see above. This is incentive to process your tomatoes when they're at their peak. You can preserve them whole; make
jam
; whip up a big batch of
sauce
to freeze (and enjoy all winter long); or turn them into juice, which also freezes well.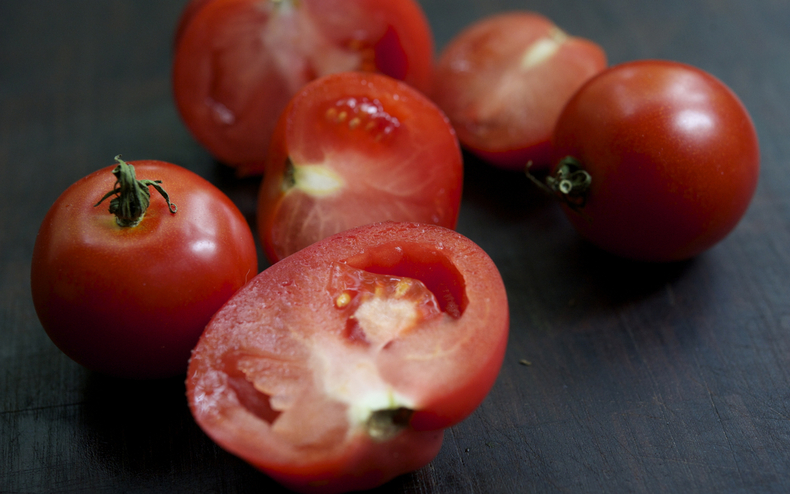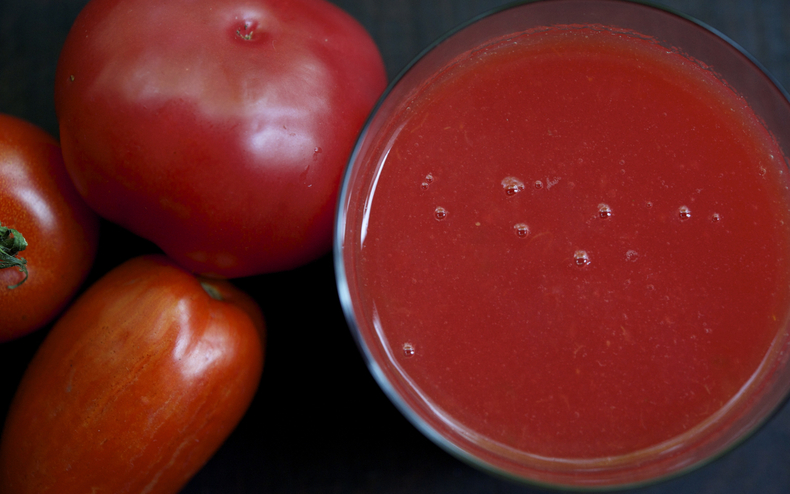 Fresh tomato juice becomes even more delicious with the addition of a bit of lemon and/or horseradish, and is nicely complemented by spices from coriander to black pepper. And of course it makes an incomparable Bloody Mary! What better way to take the sting out of an early fall?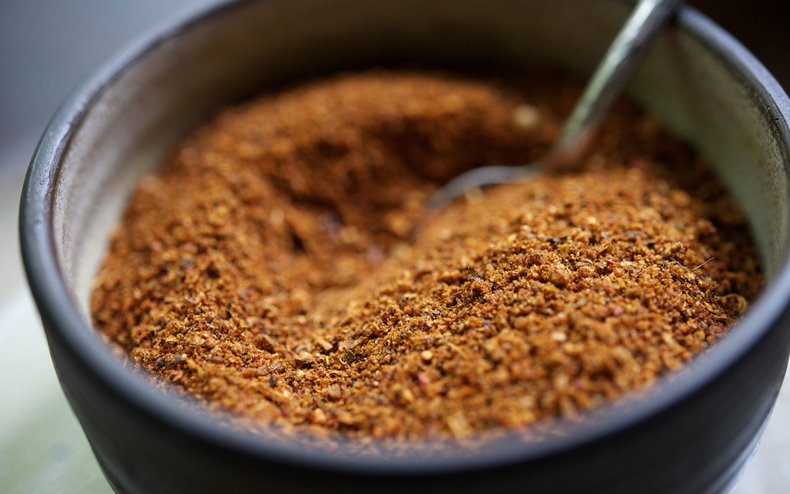 You may remember the
Bloody María
I made last year with one of a quartet of spice blends created by the genius duo of spicemaster
Lior Lev Sercarz
and über-barman Jim Meehan. Now let me introduce you to the
Bloody Marlene
(an ode to Ms. Dietrich?), a sophisticated take on the classic Bloody Mary that features gin and the blend shown above, with
juniper, coriander, cardamom and a host of other spices and aromatics.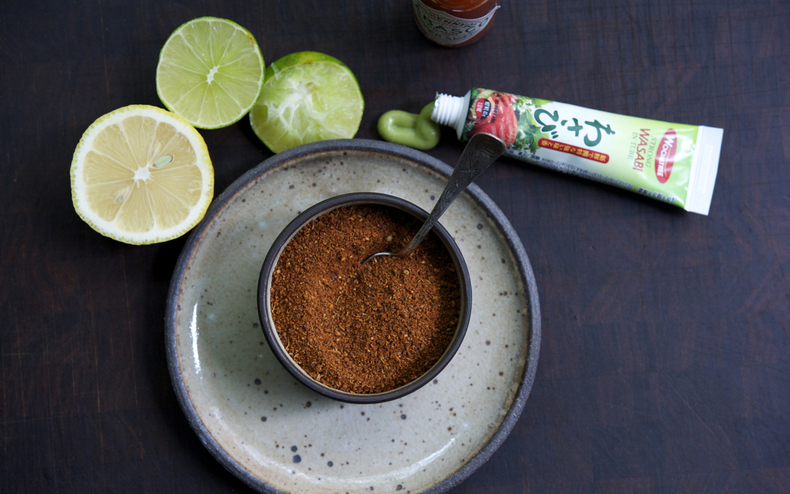 Jim Meehan's recipe also includes Worcestershire sauce, lemon and lime juices, pickled wasabi and hot sauce. The rich taste and slightly viscious quality of fresh tomato juice is the ideal counterpoint to all these bright, assertive flavors.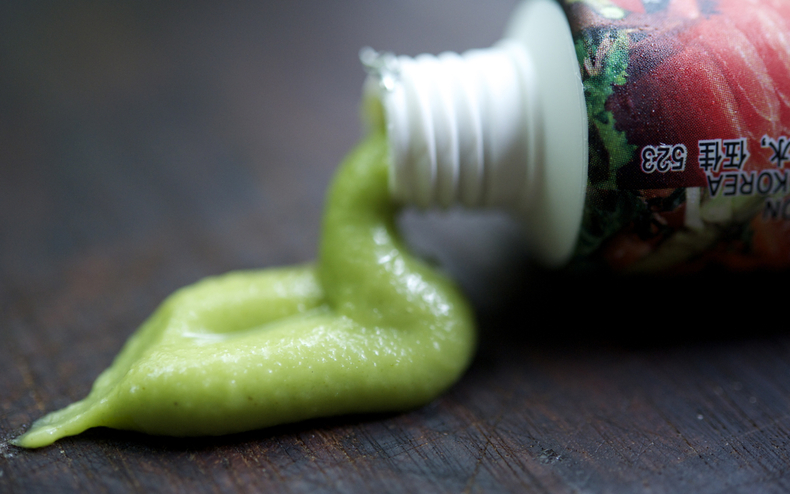 I didn't have all the ingredients on hand and had to ad lib a bit. For the Worcestershire, I substituted fish sauce and for the pickled wasabi, I used a bit of spicy wasabi paste. After mixing together all the ingredients, I did follow Meehan's instructions to "roll with ice," passing the liquid and plenty of ice back and forth between two tumblers in a technique that is gentler than shaking.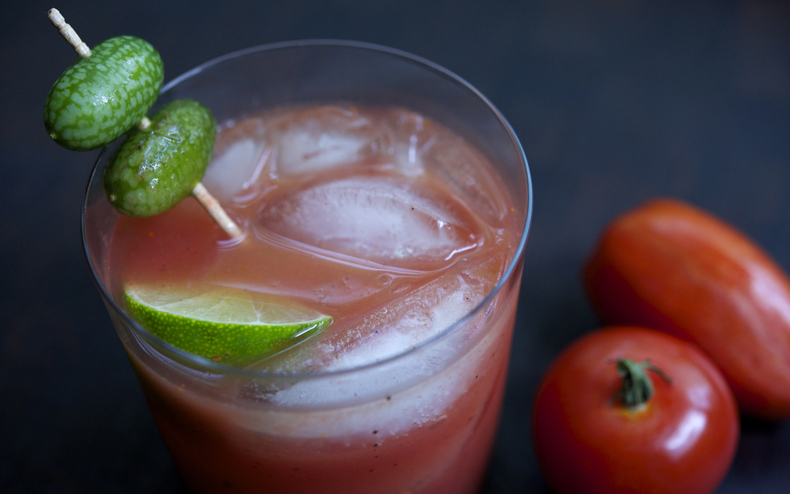 I also avoided loading the drink up with tons of garnishes, which Meehan objects to on the grounds that it turns a cocktail into a salad bar. But I did add a couple of my pickled Mexican sour gherkins and a wedge of lime. And I did drink mine on the rocks, because that's how I roll.
Bloody Marlene
from Jim Meehan
makes 1 cocktail

— 4 ounces

tomato juice

— 1 1/2 ounces

gin

— 1/4 ounce

Worcestershire sauce

— 1/4 ounce

fresh lemon juice

— 1/4 ounce

fresh lime juice

— 1/2 teaspoons

B-Marlene spice blend

— 1/2 teaspoon

pickled wasabi

— 1/4 teaspoon

hot sauce, such as Tabasco
Blend ingredients in a mixing glass then fill with ice. Roll with ice, passing back and forth between two tumblers, then fine-strain into a tall, chilled glass. Garnish with pickled Mexican gherkins and a lime wedge.



Download Recipe