5.27.14
Fork in the Road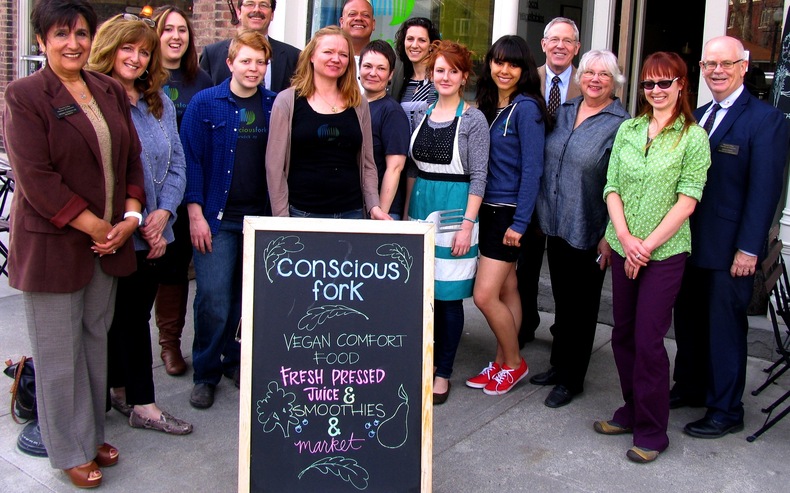 Last year I drove to Warwick, NY, (about an hour from me) to have lunch with Kim Gabelmann at her newly opened café and juice bar,
Conscious Fork
. Kim had graduated from selling juice at the local farmers market to a cozy place off the beaten track where she was serving lunch to health-conscious locals. I was impressed with what she was calling "vegan comfort food" and apparently her customers were, too, as this spring Conscious Fork has moved to a much bigger place in a more prominent location in downtown Warwick. Kim, seen above (black t-shirt, strawberry-blonde hair) with members of the Warwick Valley Chamber of Commerce Board of Directors, a self-confessed "enthusiastic member of the rat race," walked away from corporate life to follow her dream of what she calls "slow living." Now, a certified health counselor and graduate of the Institute of Integrative Nutrition, she is not only pursuing her own wellness and balance but helping others do the same by offering them the kind of nutritious and delicious food that supports radiant living and a healthy planet. Kim calls this "nourishing the mind, body and soil."
Conscious Fork's new location at 14 Railroad Avenue is airy and bright, with a long counter and open kitchen in the back, shelves stocked with organic staples and tables where diners can comfortably enjoy their meals from 10am to 8pm every day (Sunday it closes at 5pm). From juices and smoothies, to organic pour-over coffee made to order, to daily dessert specials, everything on offer is wholesome and made with care from the freshest ingredients. If I lived nearby, I would be there for lunch—or at least a juice—every day. (Incidentally, Conscious Fork also creates juice cleanses, with 3 juices, a smoothie and a hot soup every day for $46/day.)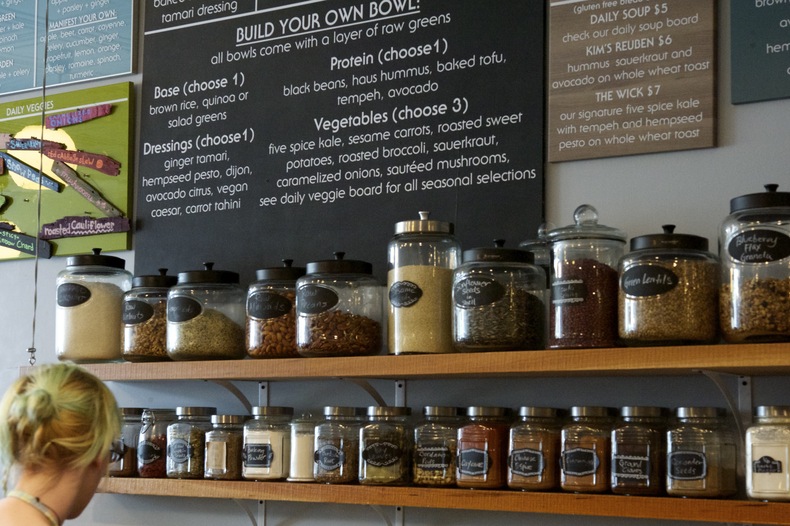 The centerpiece of Conscious Fork's menu are the signature "whole bowls," combinations of grains, proteins and vegetables customized by diners and topped with one of 6 delectable dressings. As you can see by the blackboard, above, the possibilities are myriad. Everything is beautifully cooked, with creative spices and enticing preparations that make the health angle seem secondary. No one is going to confuse "Kim's Reuben"—hummus, sauerkraut and avocado on whole wheat toast—with something you'd get at Carnegie deli, but that's a good thing.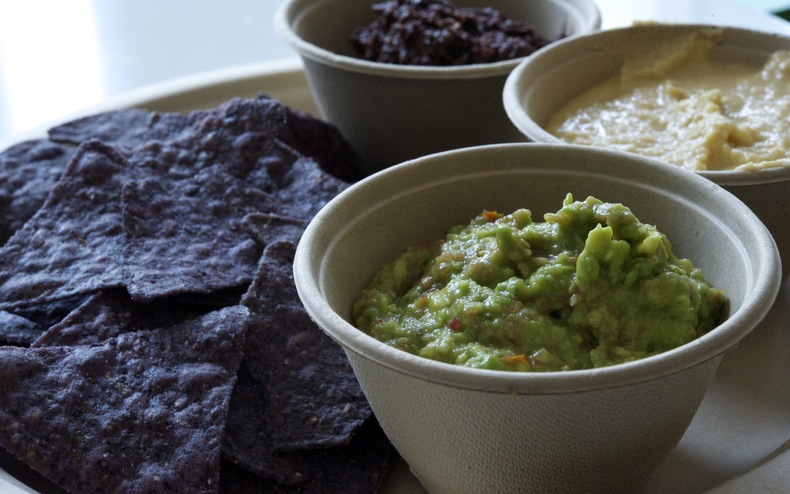 I met a friend for lunch at the new location a couple of weeks ago, and Kim set out an incredible spread. We started with a trio of housemade dips: guacamole, hummus and a black olive tapenade served with blue corn chips. They were simple but fresh and delicious. The café's legendary kale chips had already sold out for the day.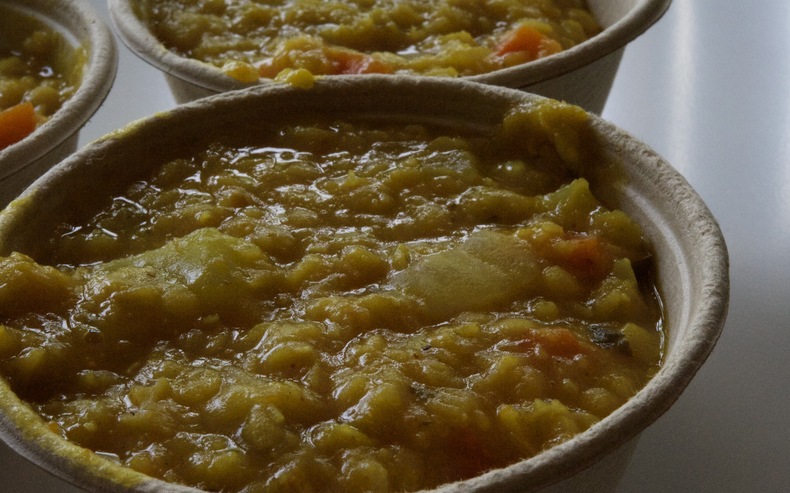 Soup selections change frequently and the day I was there we tasted a wonderfully chunky red lentil infused with Indian spices. It reminded me how much I had liked the food from my vegan cleanse and inspired me to keep incorporating more legumes into my daily cooking. Conscious Fork's approach to comfort food may not include mac & cheese, but it does have the sort of warming, satisfying dishes that leave you feeling nurtured and well-sated. (Watch this
video
to learn more about Conscious Fork.)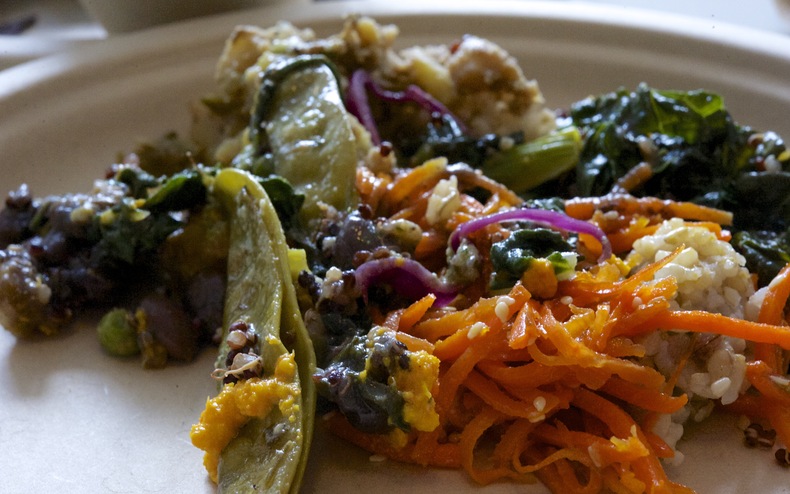 The whole bowls come in three set combinations—Far East, Tex Mex and Chef's Choice—or can be totally customized. Vegetable options reflect the seasons. I also tried the Tofu Caesar and was so impressed by the garlicky, "cheesy" dressing; methinks there may have been nutritional yeast in there.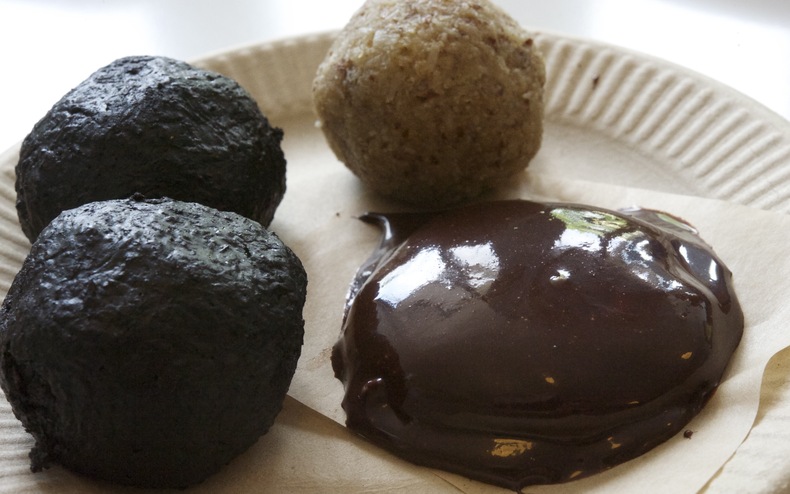 Conscious Fork is vegan but that's not a euphemism for diet food. There are (soy) ice cream sandwiches, seasonal fruit cobblers and delectable macaroon balls made with coconut and almonds. But what I can't stop thinking about is the vegan version of the peppermint patty—a moist and chewy dome of coconut and cashew spiked with peppermint oil and dipped in dark chocolate. Like everything at Conscious Fork, it embodies something near and dear to my heart: truly shameless indulgence. That's one form of higher consciousness we should all strive to attain.
Peppermint Patties (Vegan)
Recipe from Oh She Glows
makes 22-25 small patties
— 1/2 cup

raw cashews, soaked

— 1/2 cup

coconut oil, melted

— 4 tablespoons

agave nectar or organic tapioca syrup

— 2 tablespoons

almond milk

— 1 teaspoon

peppermint extract

— 3/4 cup

dark chocolate chips

— 1/2 tablespoon

coconut oil
Place cashews in a bowl and cover with water. Let soak overnight, or for at least 2-3 hours. If your blender isn't great at blending things smooth, I suggest soaking overnight for the best results.


Drain and rinse the cashews after soaking.


Add the cashews, melted coconut oil, agave, milk, and peppermint extract into a high-speed blender. Blend on the highest speed until completely smooth. This can take a couple minutes.


Line a baking sheet with parchment paper and grab mini cupcake/candy liners. Add a half tablespoon of filling into each liner. Place on the baking sheet. Repeat until you don't have any filling left (you should get about 22-25). Freeze, uncovered, for 20-35 minutes, or until firm to the touch.


After freezing, quickly pop the patties out of the cupcake liners and set each on top of their respective liner. Return to the freezer for 10 minutes to firm up even more.


Meanwhile, melt the chocolate and coconut oil in a small pot over the lowest heat. When half of the chips have melted, remove it from the heat and stir until all the chips are melted. Allow the chocolate to cool slightly for a few minutes before dunking the patties.


Remove the patties from the freezer and dunk them into the melted chocolate with a fork. Tap the side to shake off excess chocolate and place on parchment paper. Do this step as quickly as possible so the patties don't melt. Update: Some of you are having trouble with the chocolate thickening up as you do this step. If this happens, I suggest heating the chocolate again over low heat to thin it back out. The cold peppermint patties are probably causing it to thicken with time. Another option is to just drizzle the chocolate on top of the patties.


Return the patties to the freezer until set, for about 10 minutes, until the chocolate coating is firm. Store leftover patties in the freezer/fridge until ready to enjoy!



Download Recipe