3.6.14
A New Leaf
I have a culinary crush on Alison Roman. She's an editor at Bon Appétit and, lately, so many of the recipes I grativate toward there are created by her. The magazine has a one-page feature towards the front that always showcases a single ingredient—like grapefruit or peanut butter or pomegranate—and several interesting ways to cook with it. In the March issue, it's cabbage and, though all three recipes look great, it was Alison's that really jumped out at me. It's for cabbage chips, an unusual idea and especially timely now that kale chips are wearing a bit thin. (Blasphemy, I know.) Pieces of tender cabbage—you're instructed to use the inner leaves—are roasted in a low oven for a couple of hours. They pass through a slightly stinky phase, when the cabbage wafts a bit of sulphur, and wind up with a sweet, concentrated vegetal flavor and a nice crispy crunch. I devoured these and felt positively virtuous.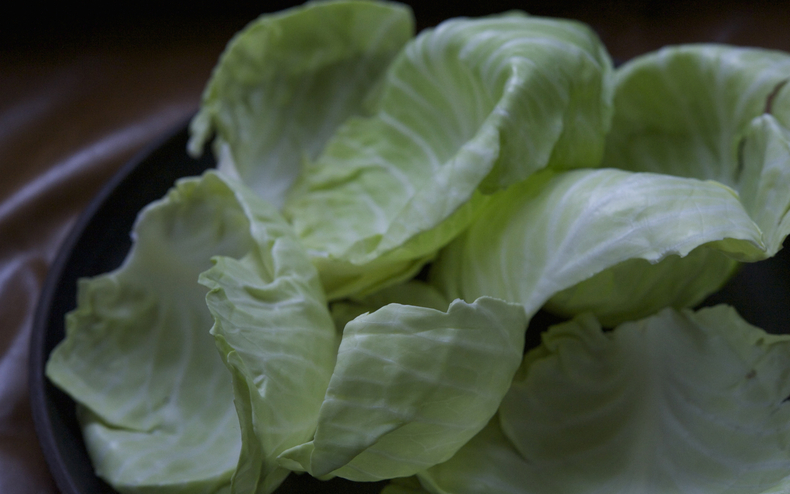 After all, cabbage is incredibly low in calories, not to mention rich in vitamins, minerals and fiber. If it's not something you keep around, maybe it's time for a re-think. You can stash a head in the back of your fridge for ages and it stays quite fresh. I love it raw and thinly sliced for slaws, sautéed with butter and chiles, chopped and added to soups and even pickled (delicious in quesadillas).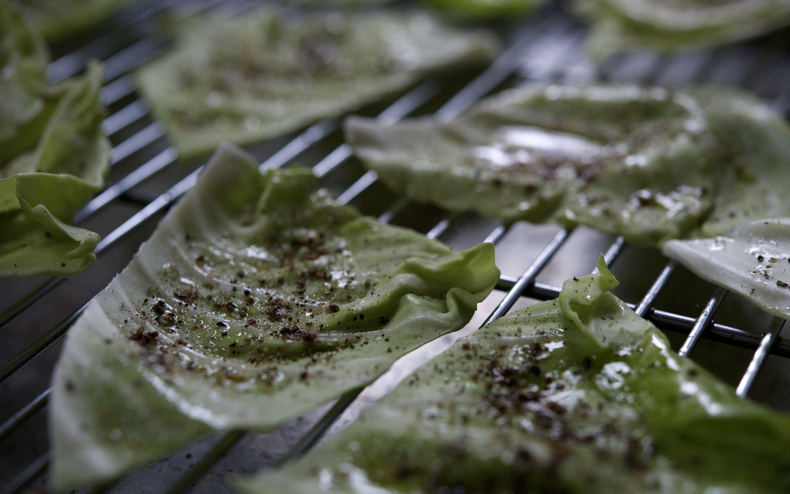 Do you have this type of wire cooling rack? They're pretty essential for baking, and I also use them for things like drying candied citrus peel and draining fried chicken. You could probably make these chips without one but at least line your baking sheet with parchment. To appy a thin layer of olive oil, I used a silicone basting brush like
this one
.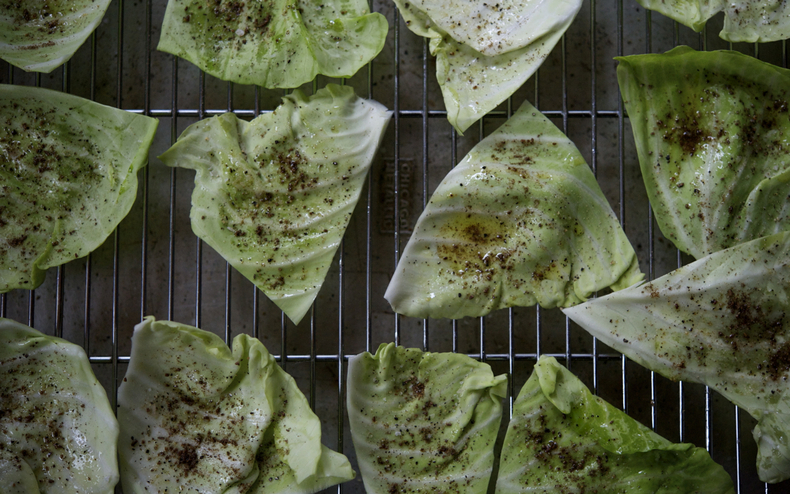 The recipe calls for a sprinkling of toasted caraway seeds, but I took it a step further and ground the seeds into a powder—an earthy, dark seasoning I've become addicted to since creating it for
these latkes
. Be sparing when you salt the chips, as all the flavors really intensify as they shrink.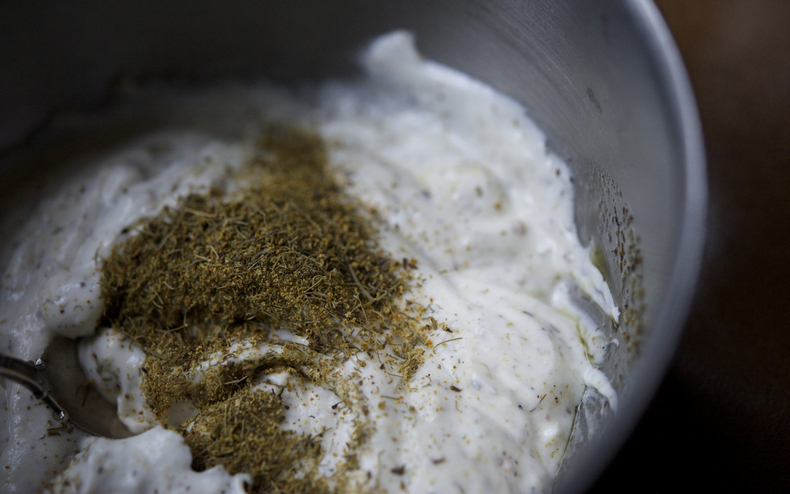 Alison recommends dipping these chips in a light sauce of yogurt flavored with fresh dill, garlic and lemon juice. I had only dill pollen and substituted garlic powder for the fresh. You could also stir in a bit more caraway, or really any spices you like, to create a simple dip. Any leftover sauce is excellent drizzled on some roasted eggplant or mixed with chopped cucumber.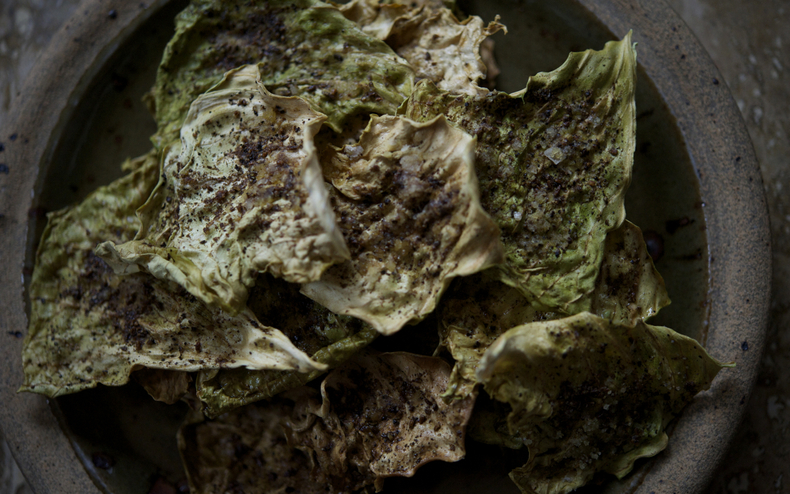 It's economical and fun to make snacks at home, especially when they are this healthy and delicious. I'm not sure how long these chips last, or how to best store them, because we ate ours up immediately. Alison, your aim is true.
Cabbage Chips
serves 2
lightly adapted from Alison Roman's recipe in Bon Appétit
— 8

tender inner leaves from a large green cabbage

— 3 tablespoons

olive oil

— 2 teaspoons

caraway seeds, lightly toasted and ground

—

sea salt & freshly ground pepper

— 1 cup

plain Greek yogurt

— 1 teaspoon

garlic powder

— 2 teaspoons

dill pollen

— 1 tablespoon

fresh lemon juice, or more to taste
Preheat oven to 200ºF.


Remove the ribs from the cabbage leaves. Cut each leaf into 4 pieces. Divide between 2 wire racks set inside rimmed baking sheets. Brush with olive oil. Sprinkle with ground caraway, a little salt and pepper. Roast in the oven for 2-2 1/2 hours.


Meanwhile, mix together yogurt, garlic powder, dill pollen and lemon juice. Season to taste with salt and pepper.


Remove chips from oven before they begin to darken. Cool and eat with the dip.



Download Recipe