2.24.14
Go Bananas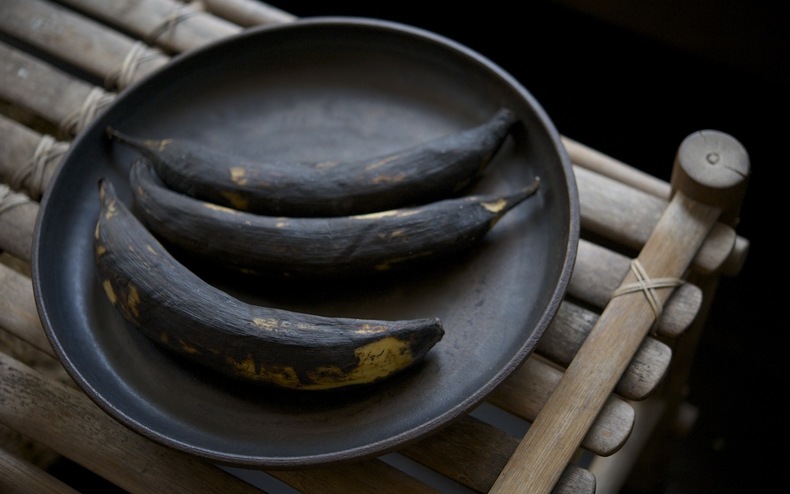 If there are any Puerto Rican, Dominican, Nigerian, Peruvian, Honduran or Jamaican people in your neighborhood, there are probably plantains in your local market. You've seen them in those dusty bins next to the waxy brown yucca tubers, hairy coconuts and ancient sweet potatoes, right? I'll bet you've never even given them the time of day. But if you've had Cuban food, you may have experienced the unforgettable pleasure of digging into a pile of soft, caramelized plantain slices, right next to your moros y cristianos (black beans and rice). It's hard to imagine that this delicious golden sweetness can emerge from such a black, wrinkly source, but plantains are sort of the culinary equivalent of pearls from swine. Read on for a gateway recipe to this ghettoized ingredient.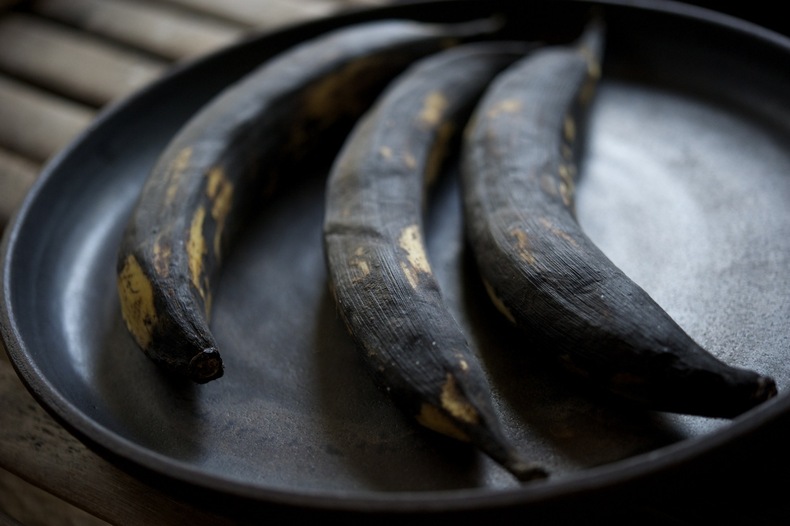 Plantains are the
fruit of one of the cultivated varieties
of the genus Musa, kin to the so-called "desert bananas" that we're more used to eating. They've got a lot more starch and less sugar, so are
generally consumed only after cooking, unless they're supe ripe, and even then they're not that sweet. They're bigger than bananas and a bit more angular, with a more leathery peel that goes almost entirely black when they're at their ripest. They can also be eaten when they're green, generally fried but also stewed and mashed. Grown year round and a steady source of calories, potassium, vitamin A and vitamin C, p

lantains are a major food staple all over

Africa, Central America, the Caribbean Islands and northern, coastal parts of South America.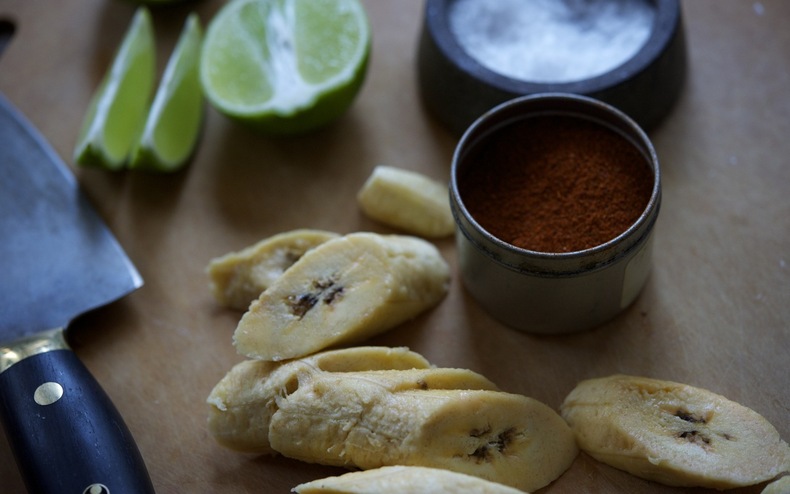 They're incredibly easy to cook and quite versatile, in the sense that you can eat them any time of day. I'll fry one up for breakfast and drizzle it with maple syrup and yogurt, but I like them even more served with salt, hot sauce and a squeeze of lime. They're great on their own for a quick bite any time, or as a side to accompany roasted fish, grilled chicken, or that rib-sticking plate of rice and beans. (Don't forget the greens!)

If you see plantains in the market that are still bright yellow, you can bring them home and let them ripen on the counter. They're edible at every stage, but be sure to try them when they're mostly black with just a few yellow streaks. They're still firm enough and their sweetness is at its peak.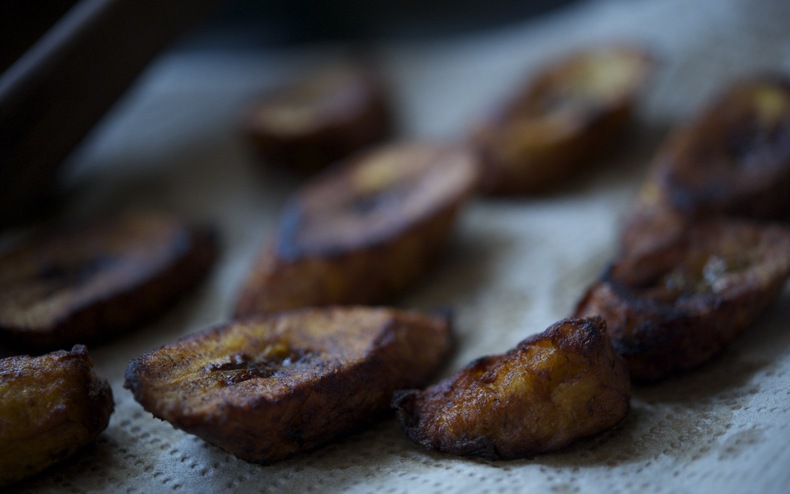 Plantains can be sliced very thinly and deep-fried to make crunchy chips but, unless I'm making a party snack, I usually slice them about a half-inch thick and pan-fry them in a little peanut oil. They turn a deep golden brown within just a few minutes and, as the sugars caramelize, acquire dark, crunchy edges.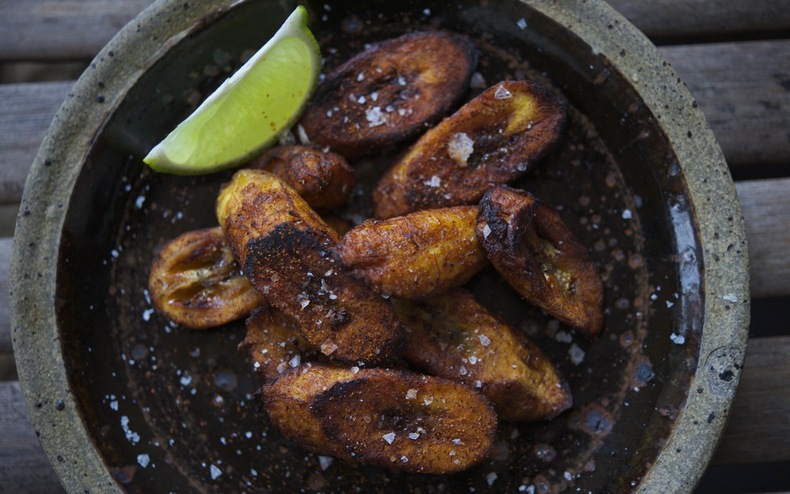 As I said, some coarse sea salt, maybe a pinch of cayenne, a squeeze of lime and hot sauce, too, if you like—that's all it takes to render this humble ingredient sublime. Try it, you'll like it.
Fried Plantains
Delicious for breakfast or as a snack, or alongside the classic combo of black beans and rice.
serves 2
— 2

very ripe plantains (skin will be mostly black)

—

peanut oil

— 1/4 teaspoon

ground cayenne

—

sea salt

—

lime wedges

—

hot sauce
Peel the plantains and slice on the diagonal into 1/2"-thick rounds.


Cover bottom of a large, heavy skillet with 1/4" peanut oil and, when hot, add plantain slices in a single layer. Do not crowd. Cook over medium-high heat until dark golden brown and caramelized, flipping once.


Use tongs to remove plantains to a paper towel-lined baking sheet. Sprinkle on cayenne and some sea salt. Serve with lime wedges and hot sauce.



Download Recipe