2.20.14
City Mouse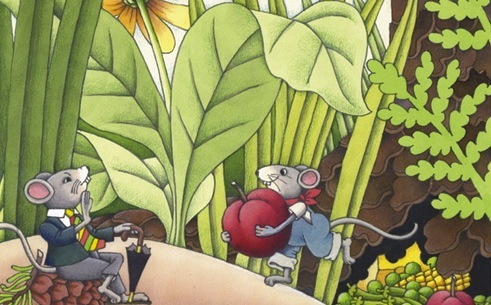 About once a week, the Glutton and consort abandon their coveralls and shit-kickers, their nature walks and woodpiles, for the hustle and bustle of the big city. How else can we keep up with all the important goings-on and connect with the clients who make this rural existence possible? A mere two-hour drive southeast and we enter another world, far removed from our daily existence and yet deeply familiar—after 25 years of living in Manhattan, it's in my blood. My life is utterly changed from when I used to inhabit those mean streets, and I truly do prefer our little country cottage, but I can still appreciate all the city has to offer. It's actually been hard for me to relinquish that sense of being so plugged in to the latest restaurants, the new boutiques, the exhibits and plays that are the cultutral currency of a true New Yorker. I can't help imagining myself as both country mouse and city mouse.

You remember that children's story, right? Beguiled by his sophisticated city cousin's amazing tales, the country mouse ventures into town. But his cousin has neglected to mention the deafening noise, the frighteningly tall buildings and those dangerous dogs! The city presents a spectacle at once gorgeous and disturbing. In the end, the reader comes to understand why the city mouse loves his exciting life and why the country mouse is content with his peaceful home. With a foot in each camp, I try to make the best of both worlds.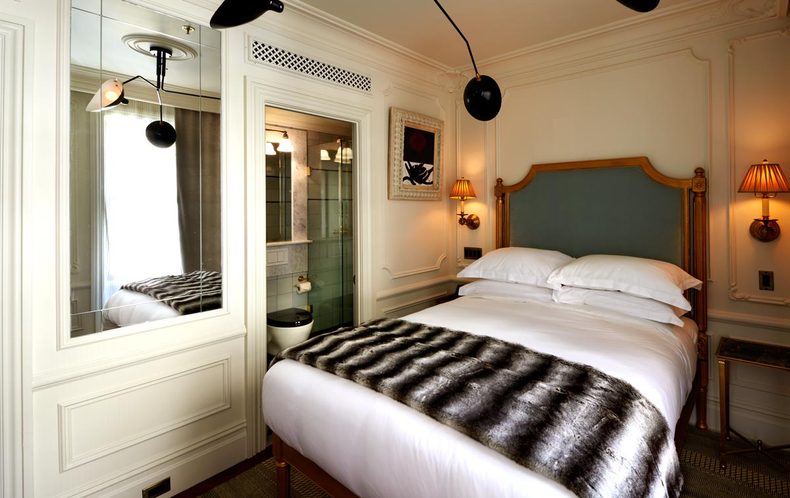 Once or twice a month, work or social commitments mean we need to stay overnight. For a long time, our go-to hotel was the
Ace
but now we're regulars at the
Marlton
. We've tried out just about every boutique hotel in the city (the Royalton, the Standard, the Thompson, Gild Hall, Morgans, the Jane, the Maritime, the Nomad, the Chambers, City Club, etc)—providing it hovers around $200. We find good deals on
Jetsetter
and on
Hotel Tonight
, an app that lets you make same-day reservations only. The truth is, I'm not willing to spend a big percentage of my hard-earned living on hotel rooms, though I do have certain standards to meet. I need a comfortable bed, forgiving lighting, good water pressure and a modicum of style. An excellent mini bar, a big bathtub and free wifi are always welcome. I don't mind a small room if it's elegantly appointed, like our room at the Marlton (it's a queen). The latest in a series of funky-cool hotels from hipster hotelier
Sean McPherson
(the Jane, the Maritime, the Bowery), the rather urbane Marlton is located on West 8th Street in a renovated former hotel
that was once a favorite haunt of beatnik writer Jack Kerouac.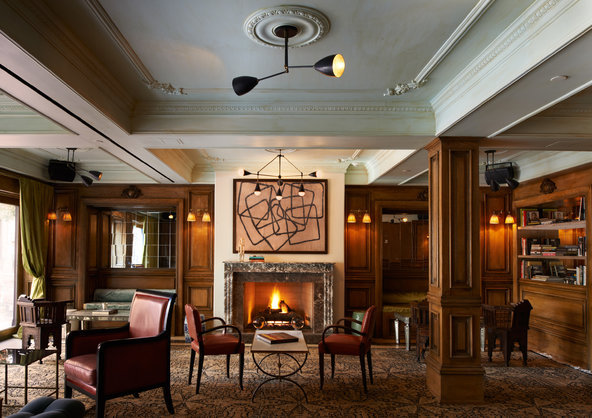 Last week, we were trapped in the city for three nights because of the snowstorm. I tried to think of it as a mini vacation, and it wasn't that hard since I got to sit in the Marlton's cozy lobby, ordering pots of Bellocq's
Gypsy Caravan
tea (my new obsession) and hunkering down with my laptop in a sheepskin armchair in front of the fire. The place feels comfortably lived-in, thanks to interesting books, lovely rugs and a long slate linen
couch
(another new obsession) from John Derian.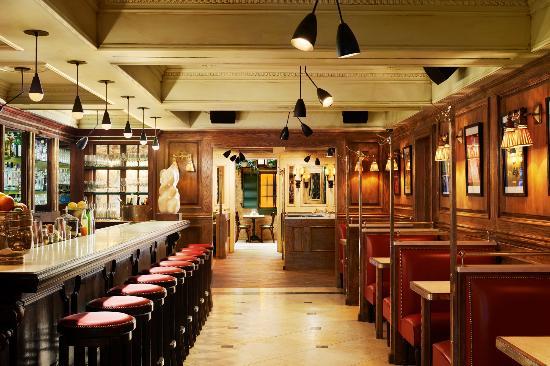 When we first began staying at the Marlton, they were still adding finishing touches—like the paint. But now it's becoming fully operational and in December they opened their restaurant, Margaux. Chefs
Michael Reardon and Jeremy Blutstein are creating delicious,
Mediterranean-influenced food that emphasizes vegetables in a creative way. I love their
Farmer's Board with red quinoa tabouli infused with kale harissa plus spicy smashed sweet potatoes, avocado hummus and beet tartare. The best part? The homemade buckwheat crisps, but they're only available with that dish. They need to change that.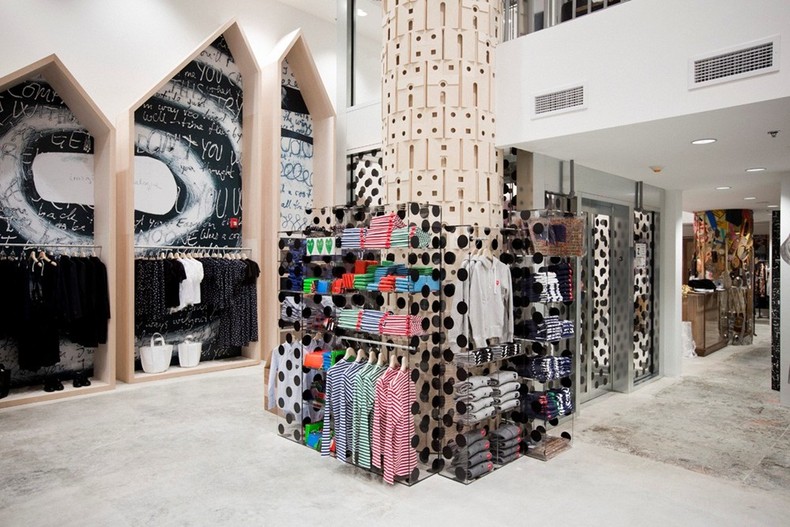 Although I no longer snap up designer duds like I used to, I'm still interested in design and textiles and the vagaries of retail, so I was among the many who hotly anticipated the December opening of Dover Street Market. This New York offshoot of Rei Kawakubo's legendary London shopping mecca occupies a stately Beaux-Arts building on Lexington Avenue and 30th Street, right in the middle of little India, where cabbies line up for curry in a hurry and I visit my beloved
Kalustyan's
.
As you near the building, you see easily identifiable members of the fashion tribe streaming in and out. Inside, an elevator that is
64 square feet of glass and polished steel has pride of place in the seven-story space that is filled with Kawakubo's many Comme des Garçons brands as well as an inspired mix of other collections (most of them wildly expensive), from Saint Laurent and Prada to Rick Owens, Supreme and the cult designer André Walker, who happened to sit down next to me at the store's café.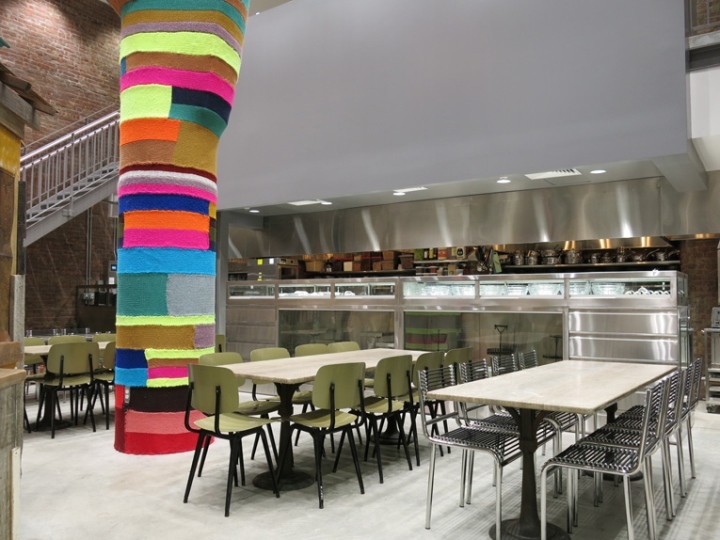 We dished a bit over delicious treats at Rose Bakery, reminiscing about the 80s, dancing at Area and the Patricia Field store on 8th Street, where I first saw André's designs. Reader, I did not go all dressed up and fashion-fabulous; it was 10 degrees out and icy and I didn't care. Neither did anyone else, so don't let that deter you from visiting this bastion of chic.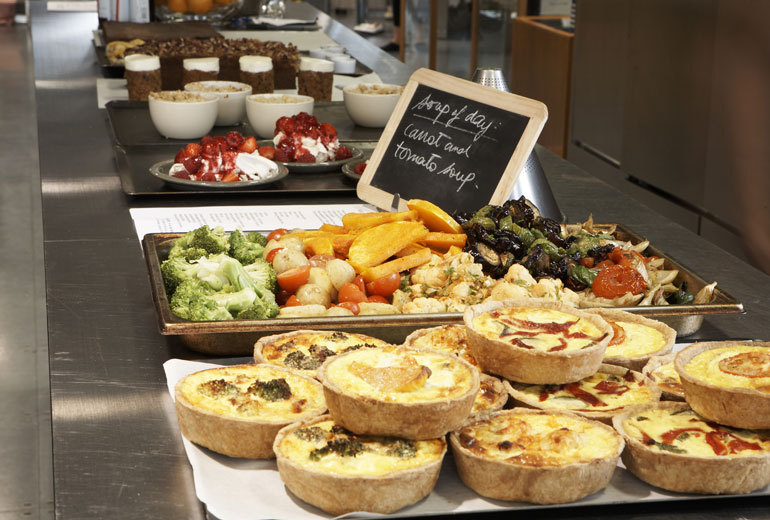 Try to time your visit so you can have lunch at Rose Bakery. The food seems to live up to everything I've heard about the original location in London, though they weren't offering the famous carrot cake the day I was there. I found a sun-drenched table at tea time and indulged in a modest slice of lemon-polenta cake with a pot of lapsang souchong tea. I could not have been happier.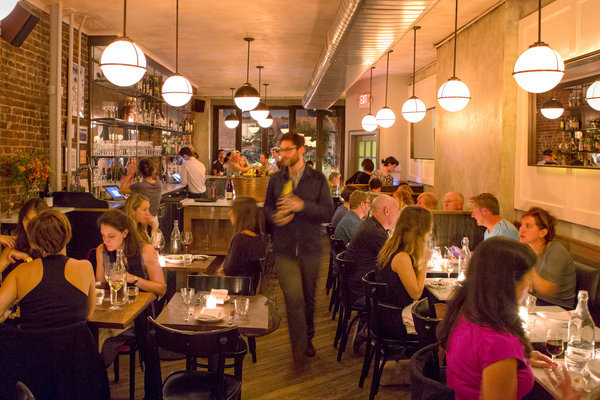 One of my favorite things about living in New York CIty was staying on top of the vibrant and always-changing restaurant scene. My friends always called me for recommendations on what to try next—and they still do, though, sadly, I just can't keep up any more. Lots of new restaurants don't serve lunch, and that's often the meal I eat out when I'm in town for the day. When we stay over, I do try to get to new places for dinner but often it's a challenge to procure a reservation other than at 5:30 or 10:30, and I just don't have the patience to cool my heels in the bar for an hour, as most walk-ins must. Nevertheless, I have had two incredible dinners at
Estela
in the last month, both at around 6:30pm. It's a tiny place and it's white-hot.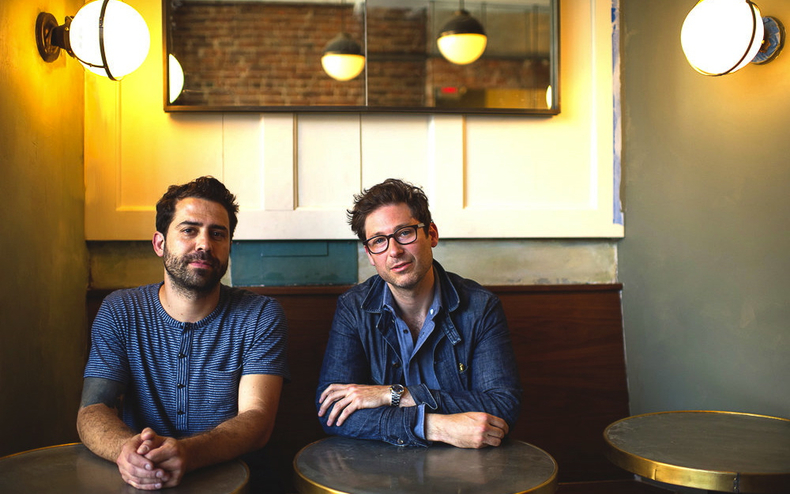 The co-owners of this dark and noisy little restaurant are chef Ignacio Mattos (Isa, Il Buco) and Thomas Carter, former sommelier at Stone Barns. I actually remember him from his time there, as he was responsible for more than one of the most sublime wine-pairings I've ever had with their tasting menus. And the cocktails and wines at Estela do not disappoint. A bottle of Cellier des Cray on a frigid winter's eve tasted of sunlight.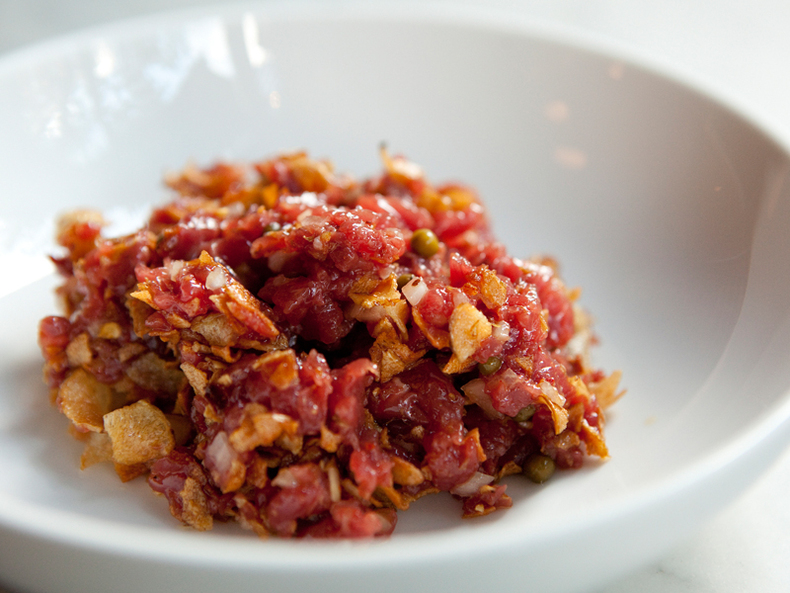 The food is fresh, uncomplicated, imaginative and wildly flavorful. The steak tartare includes the inspired addition of crispy slivers of sunchoke and pickled elderberries, and is folded together with egg yolk and fish sauce that give it a creamy hit of umami. Bite through the crisp shell of a salt cod croquette and discover not the puree you might expect but tender chunks of fish and potato. There is an unctuous pillow of burrata atop charred bread that sits in a pool of bright green vegetable juice. The garlicky razor clams feature an essential drift of freshly grated horseradish. In a salad of endive, unadorned leaves are piled atop a small hill of crunchy, salty, nutty relish. Writing this, I want to go back.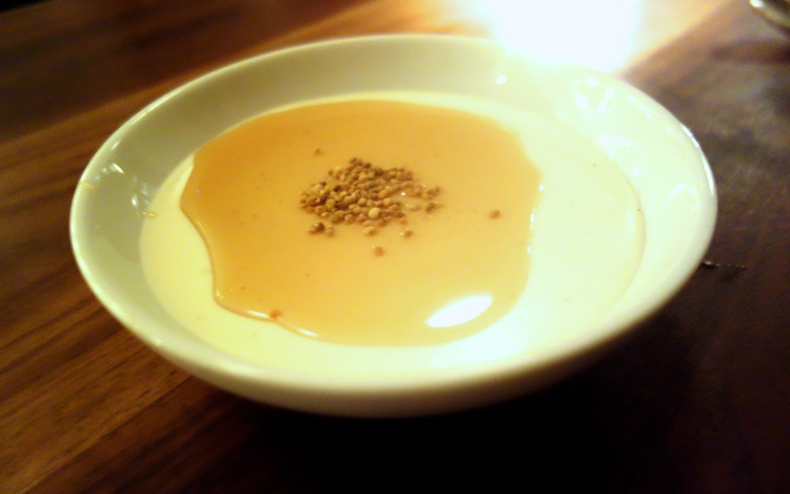 Although I would like to try everything on the menu, I'm not sure I'll ever be able to order any dessert other than the panna cotta with its sticky pool of honeyed vinegar topped with a sprinkling of bee pollen. It tastes of history and alchemy and seduction and rapture. Estela is a courtesan, a witch, a queen. We have yet to see her kind upstate.