2.17.14
Oh, Snap!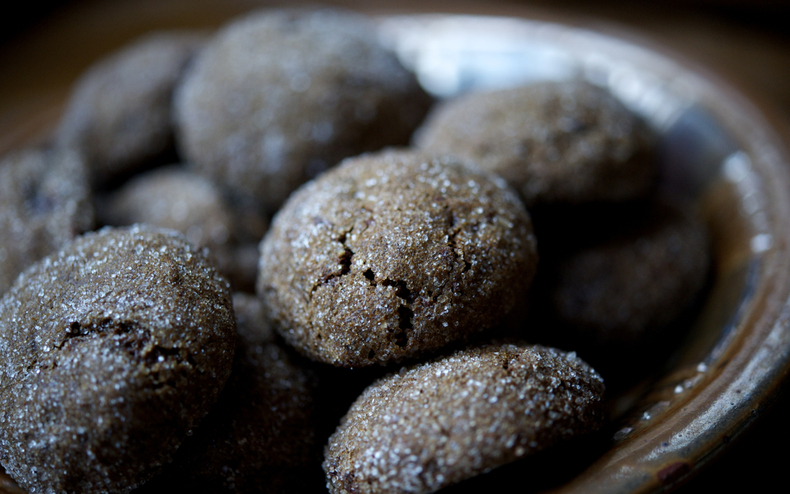 On Valentine's Day, I handed my husband my new copy of
Mast Brothers Chocolate: A Family Cookbook
and told him I would make him whatever treat he picked. He was hard pressed to decide. This gorgeous effort from Brooklyn's now legendary sibling duo is dedicated to the many uses of their artisanal craft chocolate. Its pages are packed with mouth-watering, full-page photographs in a hypnotically monotone palette of dark, mysterious browns. After gazing long and hard at various layer cakes, G chose the chocolate gingersnaps. I was thrilled because the recipe is simple and I love ginger. Little did I know how hard I would fall for these wickedly good confections.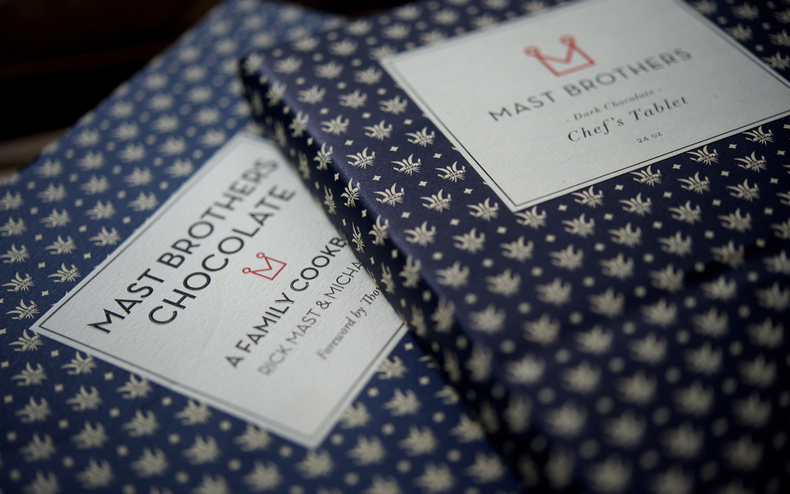 The cookbook was a birthday gift from a good friend, and he presented it to me along with a large chunky "Chef's Tablet" of Mast Brothers chocolate. How convenient. Like everything the company makes, both are encased in beautiful patterned paper. If you are new to the Mast Brothers world, I recommend you watch
this
or
this
and/or read
this
.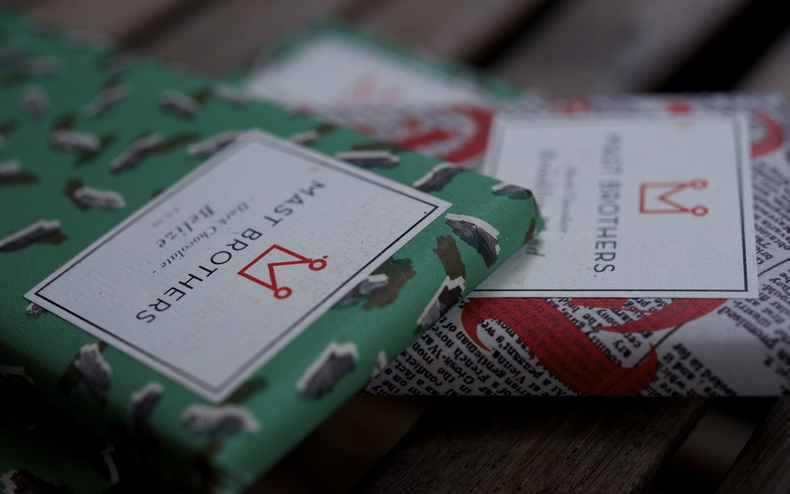 My friend also gave me an assortment of bars, all of them wrapped in chic paper and adorned with the brand's excellent typography and logo. Mast Brothers bean-to-bar production makes single estate and single origin dark chocolate from around the world, in addition to their own Brooklyn blend. Some of the bars include the judicious addition of almonds, coffee beans, sea salt or maple syrup. I'm not actually a huge fan of dark chocolate—I mean, I do enjoy it but I generally prefer milk chocolate. Specifically,
dark milk with sea salt
from Askinosie. That said, Mast Brothers' has a deeply complex and fruity flavor with an intense tang that is undeniably delicious.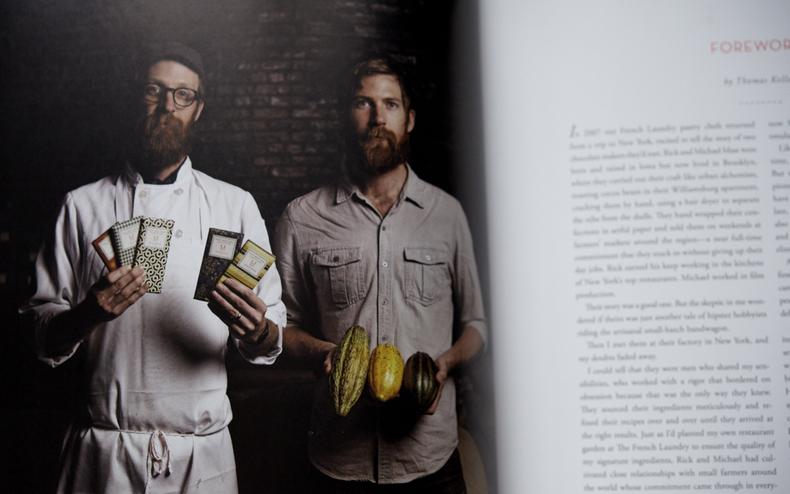 The brothers and their beards fall just short of total parody, even though they were at the forefront of the whole Brooklyn food movement. I mean, they even
retrofitted a 70-foot cargo ship into a shipping schooner so they could sail to the Dominican Republic and load it up with organic cacao beans. The book features a lot of fairly serious and well-written first-person narratives on everything from their production process to their (work) family meals.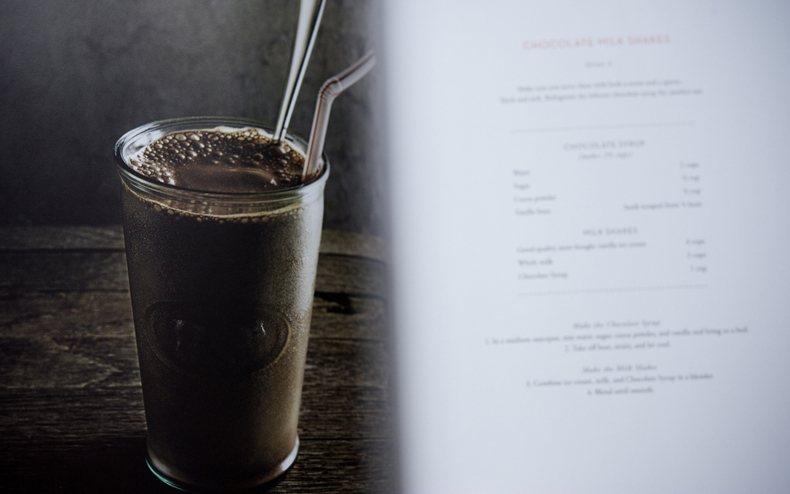 There are simple but precise recipes for such seminal classics as the chocolate milkshake, the chocolate brownie, the chocolate truffle and the chocolate layer cake.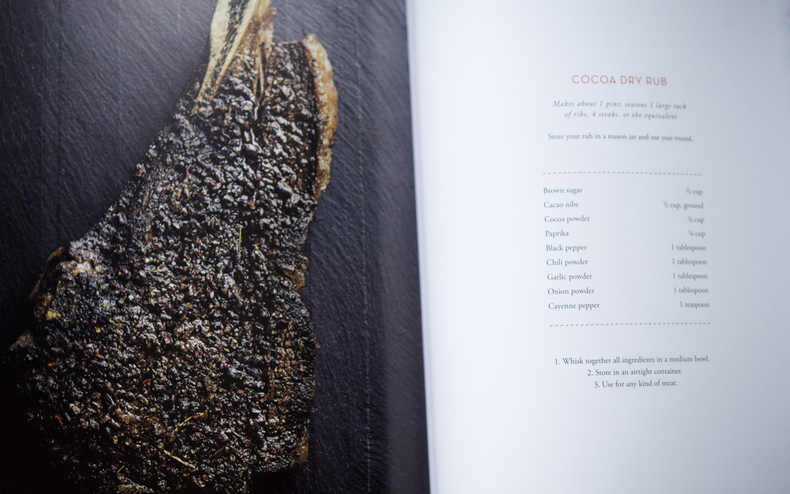 But there are other, more unexpected forays into the realm of the savory, like this cocoa dry rub for steak; chocolate-infused chili; and a cocoa balsamic vinaigrette that is ideal on salads, fruits and cheeses. This is not a gimmicky book but an inspiring one from which I will most certainly be cooking for a long time.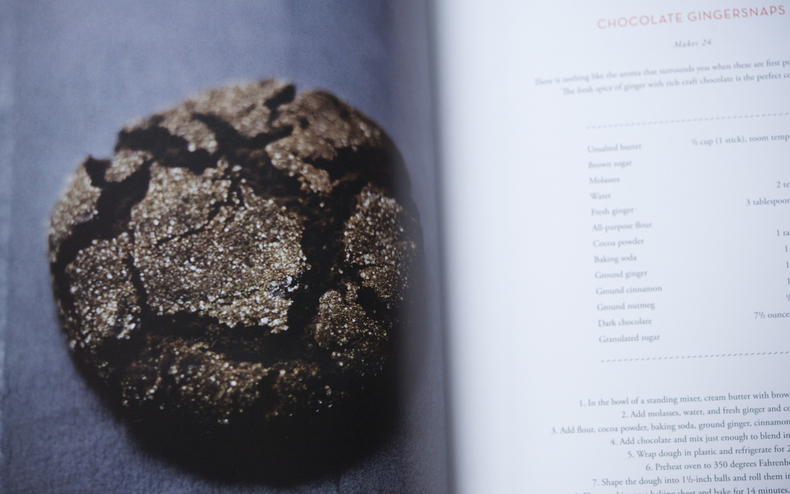 And so to the chocolate gingersnaps. Their allure begins with the photo.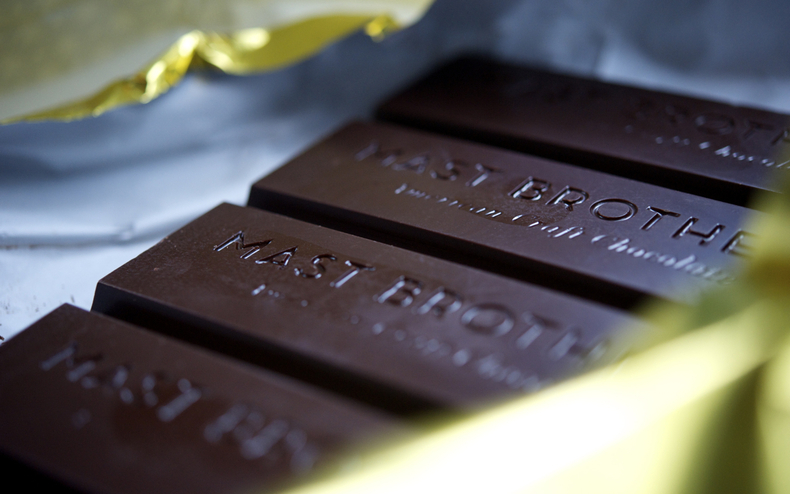 There's nothing quite like disrobing an enormous slab of chocolate, especially when it's encased in a Wonka-worthy sheet of crackling gold paper. Shiny and pristine, marred only by the debossed text reading Mast Brothers, American Craft Chocolate, it smells of winey ferment and sweet earth.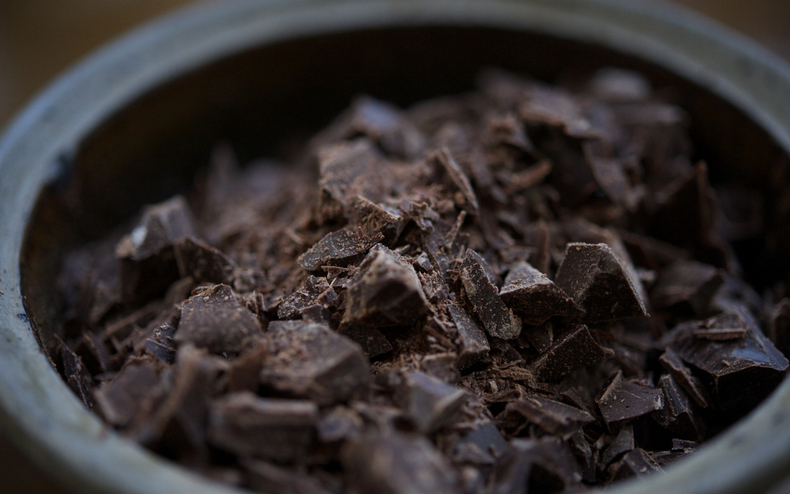 The recipe includes grated fresh ginger as well as cocoa powder, ground ginger, cinnamon and nutmeg. I added a bit of freshly ground black pepper and a little fine sea salt, both of which I think help bring the other flavors into focus. Chopped chocolate is called for but the size isn't specified. I recommend you go for something about the size of a chocolate chip, or a little larger. You don't want the pieces so small they disappear entirely.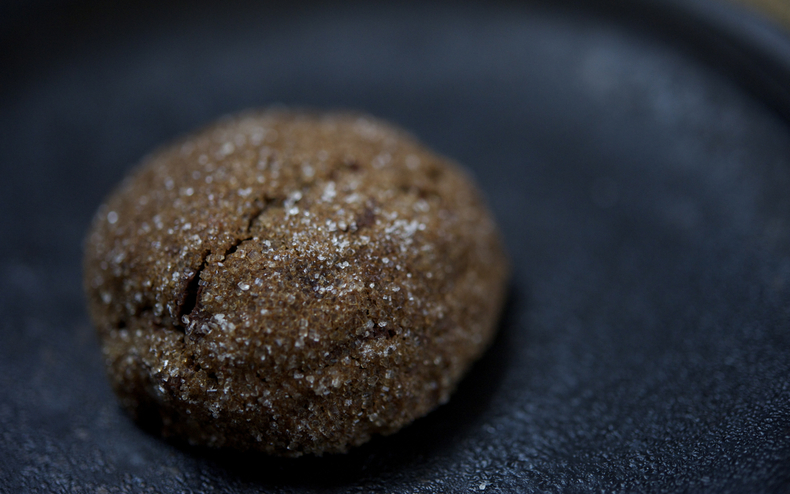 The dough comes together quickly in a stand mixer and then you chill it for a couple of hours. When it comes out of the fridge, use your hands to quickly shape it into 1 1/2" balls, and then roll these in granulated sugar. I got exactly 24. Mine required about 20 minutes in the oven, rather than 14, but this may have to do with the fact that I used
C4C
gluten-free flour. They also didn't crack quite as much on top, possibly for the same reason. But no matter, they are perfection.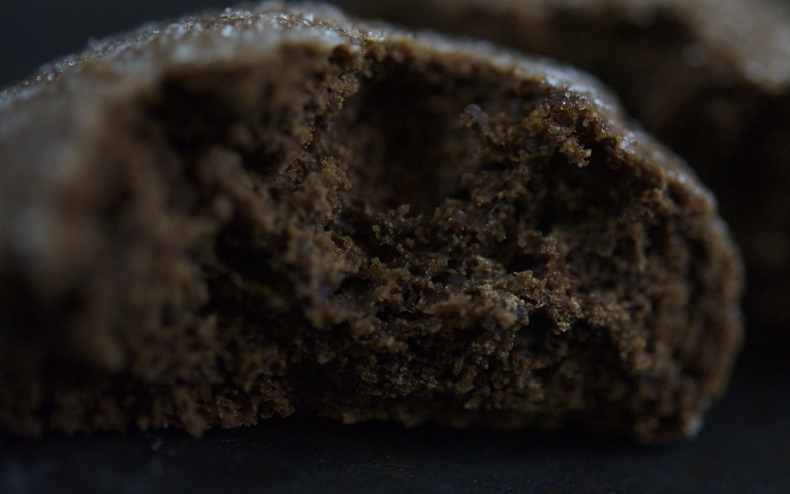 Crisp on the outside with a crackling crust from the granulated sugar, they are dense yet tender within, almost fudgy in texture with an intensity of flavor that is part gingerbread, part devil's food and altogether irresistible. Although I made these with the intention of winning my beloved's heart, they completely conquered mine.
Chocolate Gingersnaps
makes 24 cookies
very lightly adapted from Mast Brothers Chocolate: A Family Cookbok
— 1/2 cup (1 stick)

unsalted butter, at room temp

— 1/2 cup

dark muscovado sugar

— 1/4 cup

molasses

— 2 teaspoons

water

— 3 tablespoons

grated fresh ginger

— 1 1/2 cups

all- purpose flour (C4C gluten-free is fine)

— 1 tablespoon

cocoa powder

— 1 teaspoon

baking soda

— 1 teaspoon

ground ginger

— 1 teaspoon

ground cinnamon

— 1/2 teaspoon

ground nutmeg

— 1/2 teaspoon

ground black pepper

— 1/8 teaspoon

fine sea salt

— 7 1/2 ounces

dark chocolate, chopped

— 1 cup

granulated sugar
In the bowl of a standing mixer, cream butter with brown sugar until fluffy.


Add molasses, water and fresh ginger and combine.


Add flour, cocoa powder, baking soda, ground ginger, cinnamon, nutmeg, pepper and salt and combine.


Add chocolate and mix just enough to blend into a dough.


Wrap dough in plastic and refrigerate for 2 hours.


Preheat oven to 350 degrees.


Using your hands, roll the dough into 1 1/2" balls, then roll then in granulated sugar.


Place cookies on a baking sheet and bake for 14 minutes or more, until they develop small cracks on top. Remove from oven and bask in the aroma, but let cool before devouring.



Download Recipe