1.16.14
Valley of the Gods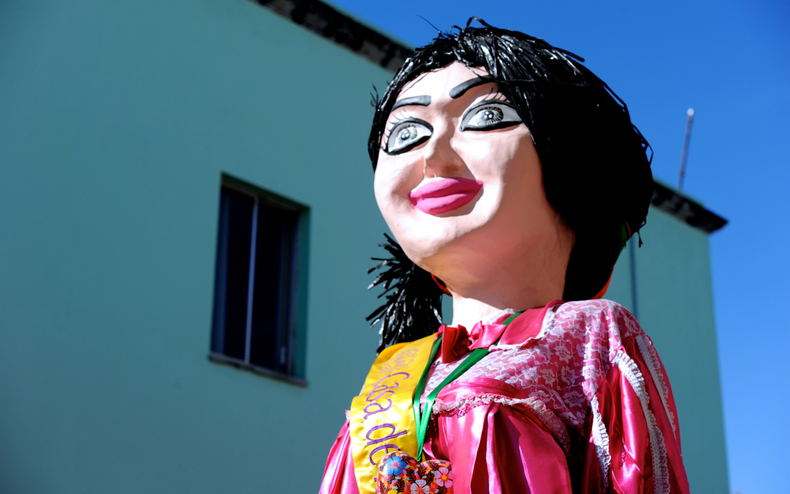 Happy New Year! I have been so wanting to share with you all that we experienced on our trip, but I'm sad to report that I was felled yet again by a horrible illness almost immediately upon our return, some sort of nasty chest infection accompanied by high fever that may even have been the flu. Let me not immediately launch into telling you about the rounds of self-flagellating that went on: Why is my immune system so weak? What is wrong with me? etc. Instead, just let me say that I am now well enough to thrust myself into the new year with the gusto and optimism it deserves.

During our glorious ten days in Mexico, we journeyed into the complex and mysterious heart of Oaxaca and discovered, with the help of knowledgeable and passionate local guides, amazingly colorful corners we would never have been able to see without this special access. It was such a rich and full vacation that I'll have to break it up into several posts so you can take it all in without feeling overwhelmed. I can't wait to go back and I'm excited to escort you there now.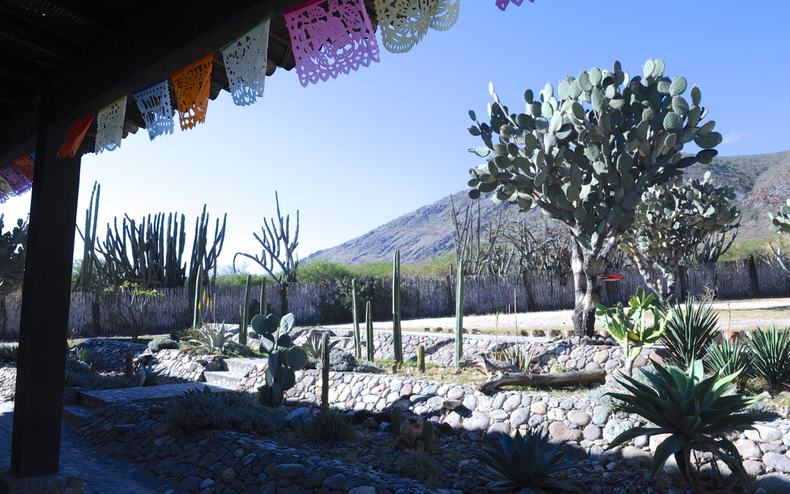 We were supposed to land in Oaxaca City late New Year's day, after flying from Newark to Houston and changing planes for a direct flight. Instead, our flight from Houston was cancelled at the last minute and we wound up spending the night in some drab airport hotel, without our luggage, and catching a very early morning flight to Mexico City, then changing planes again before arriving, at last, in Oaxaca—still without our luggage. It caught up to us two days later after many, many tedious phone calls. I refused to get stressed out about wearing the same baggy schamtta for three days in a row thanks to having read
this article
about a couple who traveled to 8 countries in 21 days without changing clothes.
After three days in Oaxaca City, staying at the posh and very beautiful
La Quinta Real
(more about that later), we traveled about 30km into the valley of Tlacolula to spend a few days on a ranch in the tiny village of Rojas de Cuacuhtémoc.
Rancho Pitaya
is a charmingly informal place with just three guest rooms run by Mary Jane Gagnier and her husband Bobby Ortiz. Each of them has a son, both of whom work on the ranch. They are all highly accomplished riders—Texas-born Bobby is a former jockey and Mary Jane and her son Gabriel Mendoza are both top endurance riders in Mexico.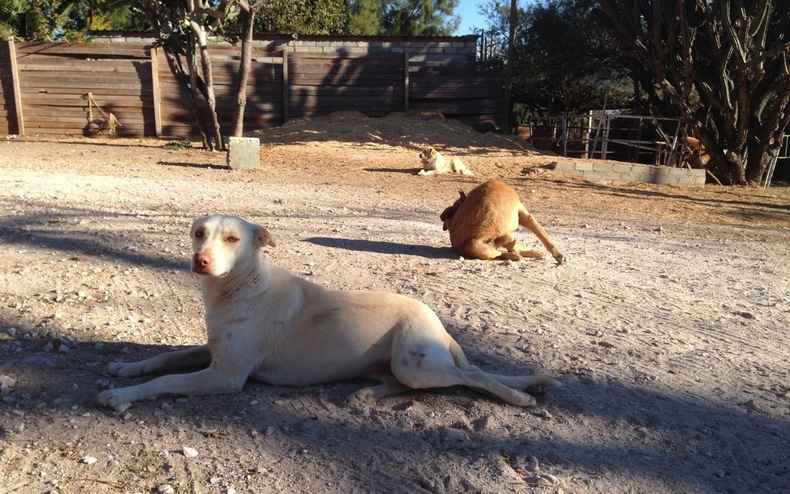 At Rancho Pitaya, you wake early to the sound of many cocks crowing, amble outside into the fresh air and spend a good while rolling about with all the wonderful dogs: Achilles, Tiva, Esperanza, Princesa, Sasha (my favorite, above) and Durango, a frequent visitor. Then Eloisa sets out breakfast for you—fresh papaya and melon; creamy white requesón (like ricotta), local honey and toasted rolls; yogurt and homemade granola. Or whatever else you want.

You can hike into the hills. Maybe Val from next door will take you on a plant walk and you'll discover, even in the driest season, beautiful little cactus blossoms and fragrant native herbs. But it's really all about the horseback riding and, even if you're a total novice, they can hook you up. I had not been on a horse in more than a dozen years and I felt quite comfortable as the horses are very well trained and the pace is as slow as you want.
Our first day of riding, we stayed close to home, winding our way through mesquite and cactus up into the hills and back down again. The next day, we drove with the horses to an old hacienda about half an hour away and saddled up. From there, Mary Jane and her stepson Jason accompanied me and G on a ride through some truly beautiful terrain, heading to the small village of San Miguel del Valle nestled in the foothills of the Sierra Juárez.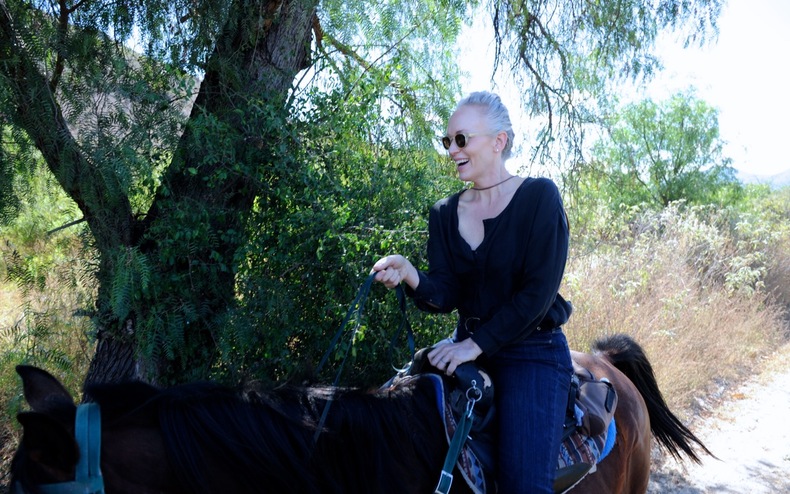 I rode Eli, whose registered name must surely be Where's the Buffet as he was constantly trying to snack on anything in sight. I learned why cowboys wear bandanas. They're great for covering your lower face during particularly dusty stretches and, tied around the neck, they prevent you from getting burned on the nape and chest, where your hat casts no shadow. Oops.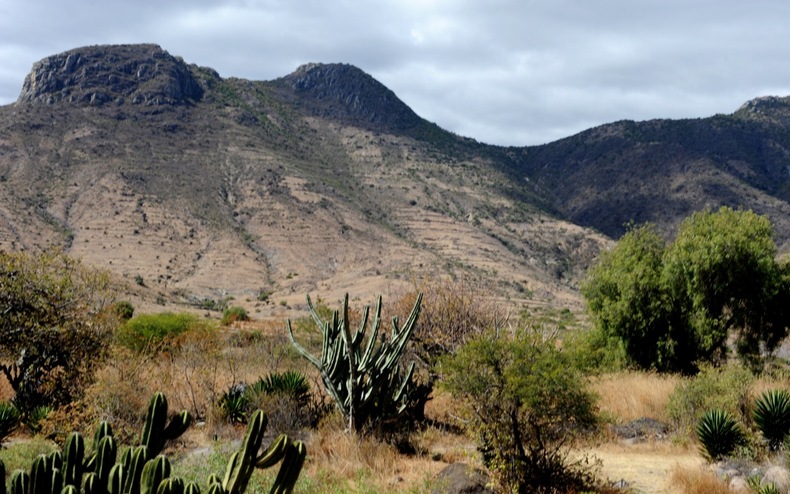 Oaxaca actually takes its name from a local tree called the guaje. Other common trees include cypress, mesquite and huisache (sweet acacia). The terrain reminded me quite a lot of what I saw in East Africa. Imposing black-&-white caracara birds swooped overhead and turkey vultures circled higher up. Aside from the occasional small herd of grazing goats, we saw no other animals.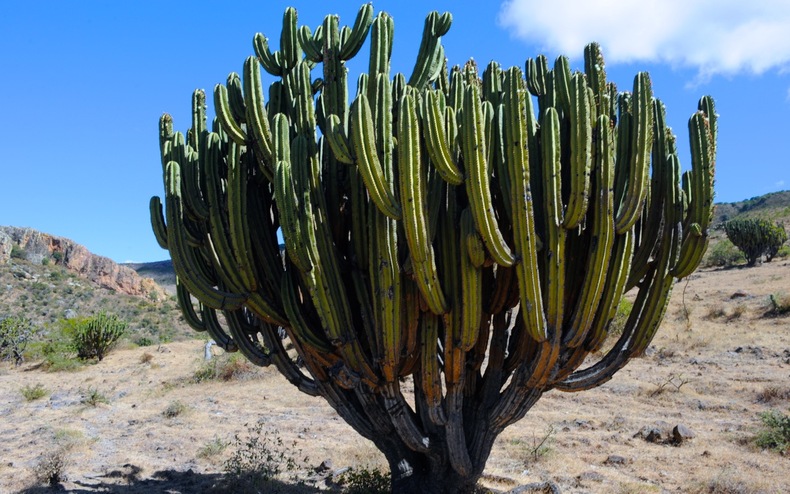 I did see a large green lizard, though, perched on a branch of one of these gorgeous candelabra cacti. There are many other types, including the round barrel biznagas and the many varieties of maguey (agave). You need to avoid them all (I made the rookie move of picking a red tuna with my bare hands) but most especially one called the mala mujer (evil woman) whose tiny, sharp needles cause terrible blisters.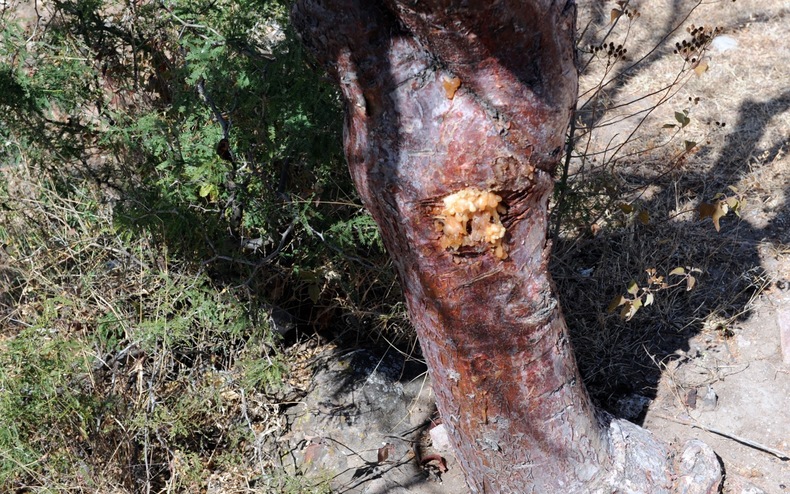 We came across this
copal
tree, whose gummy resin has been used as ceremonial incense since pre-Columbian times. You can see it oozing from a gash in the trunk. The
campesinos
dry it and sell it in the markets. I bought two little bags to bring home as I absolutely love that rich, frankincense type of smell. (See
this post
for a bit more.)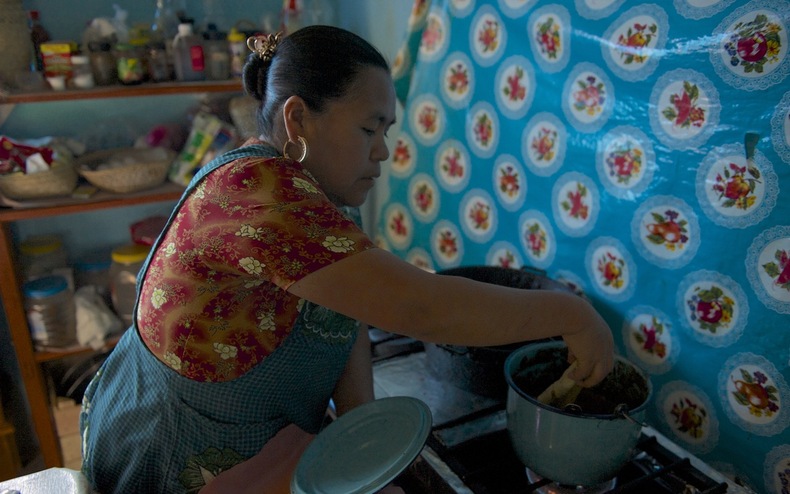 When we arrived at San Miguel del Valle, we were welcomed into a little makeshift cafe, where this lovely woman was whipping up lunch for us. Mary Jane poked around a bit in her kitchen and then ordered up a bunch of local specialties: enmoladas de pollo (like chicken enchiladas, but the tortillas are dipped in mole sauce rather than chile sauce); nachos that blew away the nachos with Velveeta we were served at the airport in Mexico City (true); and a tlayuda, the large crispy tortilla typical of Oaxaca, loaded up with bean paste, chorizo, avocado, radishes and crema. The pale, thin-skinned avocados had the most wonderful silken flesh ever, like vegetable butter.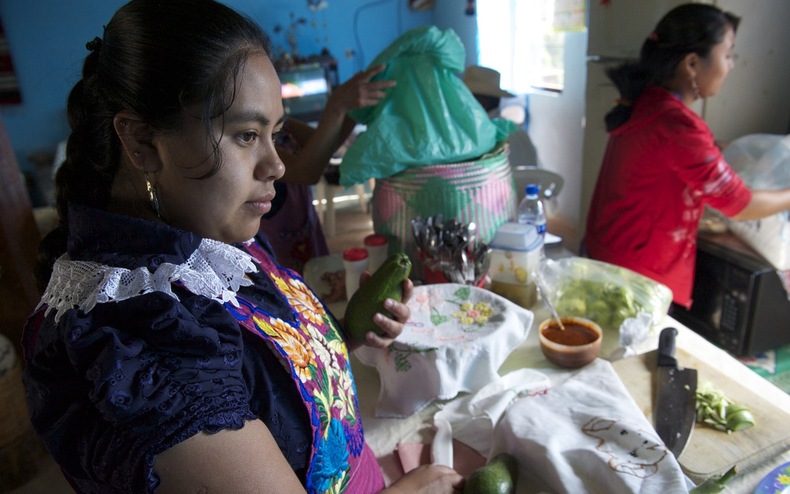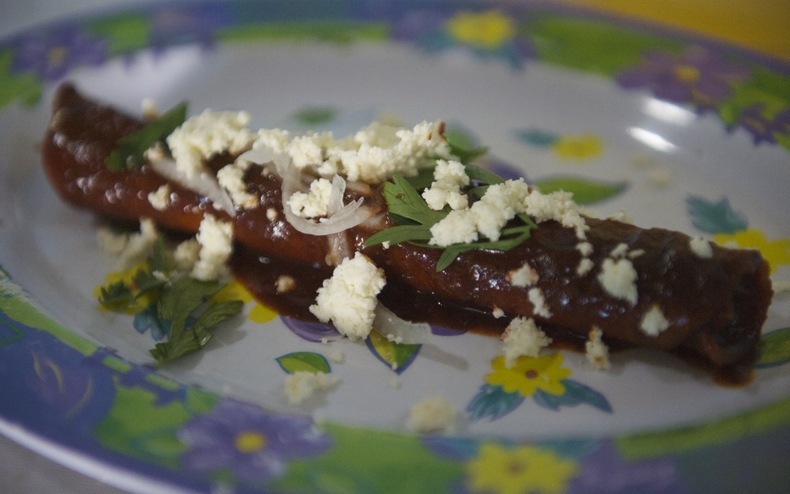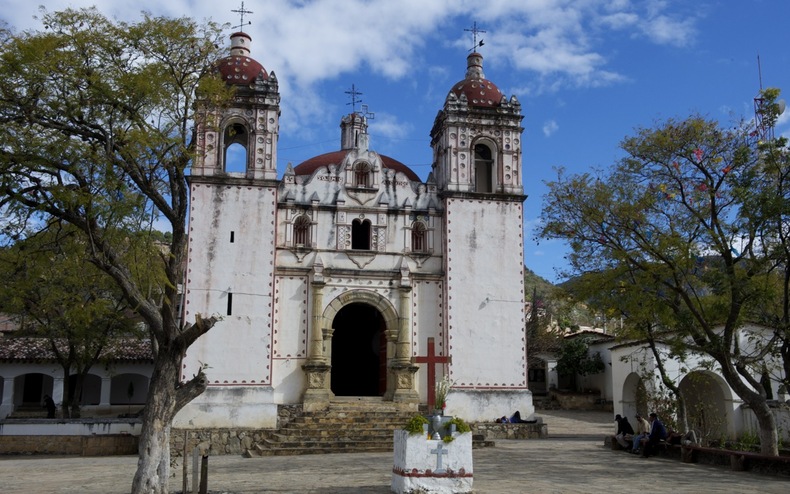 After lunch we visited the lovely nearby church, a classic example of the Colonial style.
Ensconced for hundreds of years in even the smallest of villages, these structures have endured earthquakes, wars and neglect, thanks to the skills of the mostly indigenous people who built them. We saw one in the town of Tlacochahuaya that houses an incredible old organ that is still in use.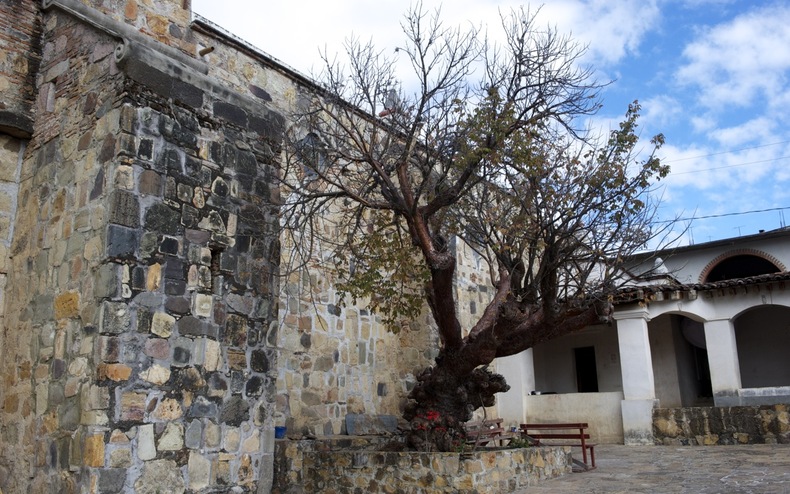 In back of the church was this ancient tree, which we were told was the hanging tree. Villagers claim this courtyard is haunted and that the cries of those who were hanged here for offenses against the church (adultery, etc) can still be heard. The trunk of the tree was unbelievably gnarly.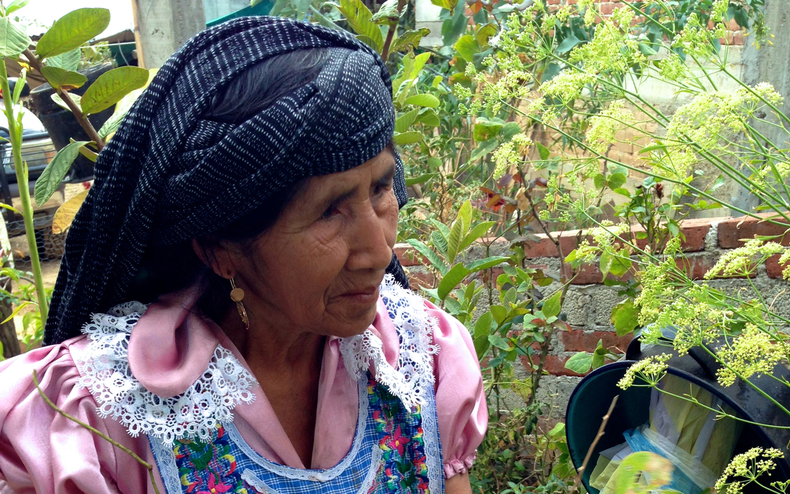 Our next stop was the home of this wizened indigenous woman, a ramshackle place jerry-rigged around a central courtyard where there grew a thriving jumble of citrus and avocado trees, medicinal herbs and wild beans she had transplanted from the nearby mountainside. It was a rare treat to be welcomed into such a place.

In cool rooms open to the fresh air, harvests of beans, indigenous corn and green winter squashes were drying.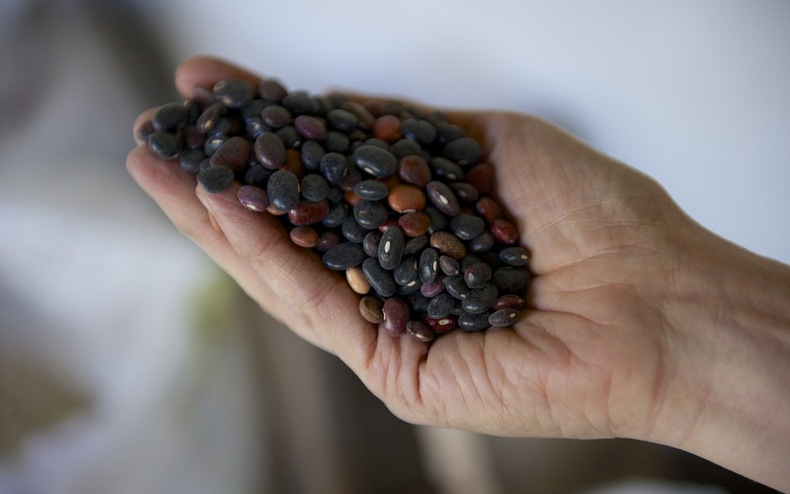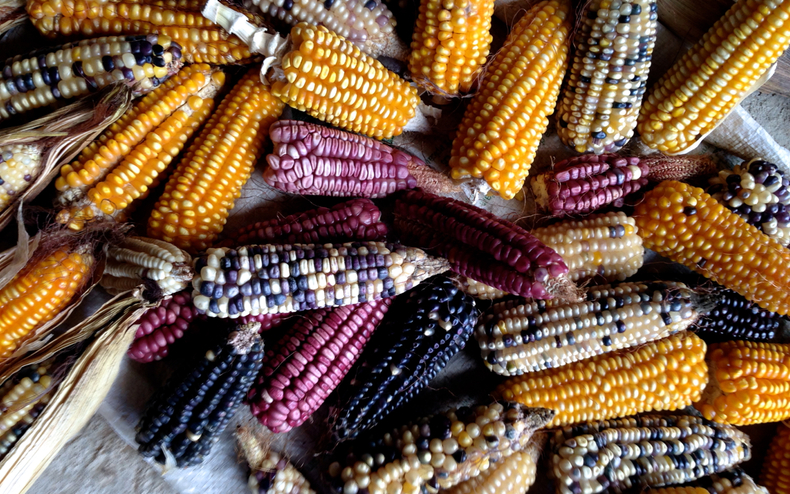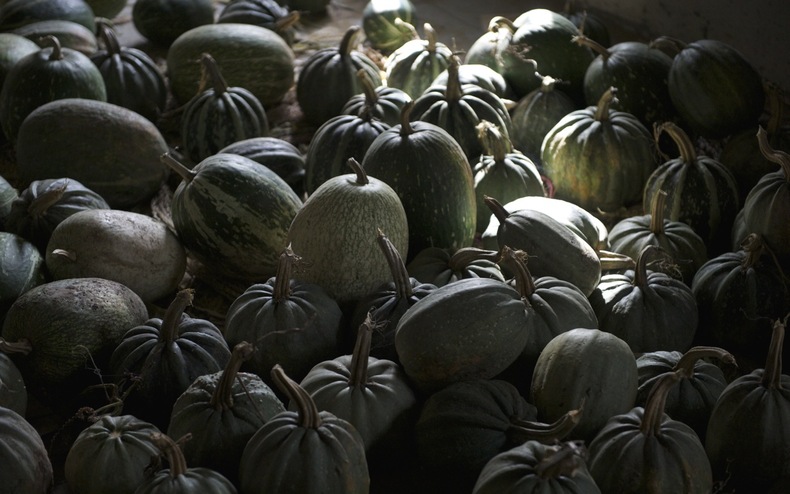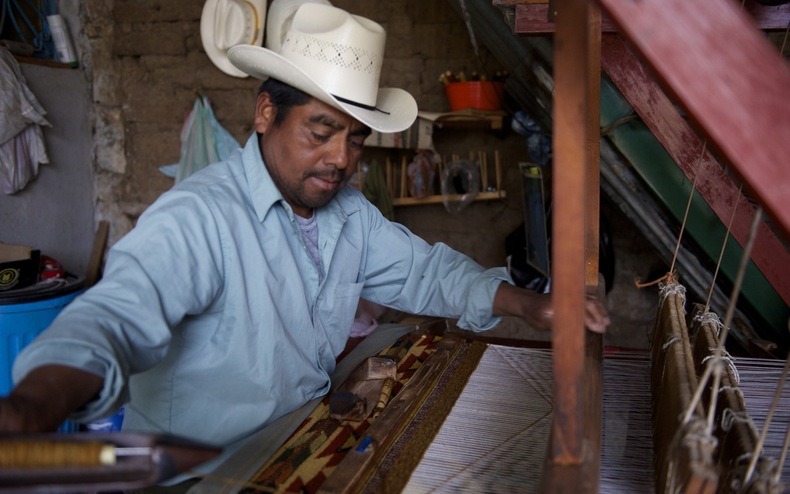 Our last stop was at the home and studio of this local weaver. The people of this valley of Tlacolula are renowned for their weaving and many of them still use traditional dyes made only from natural materials (more on that in another post). We were able to watch him working his loom and buy a few small carpets to take home.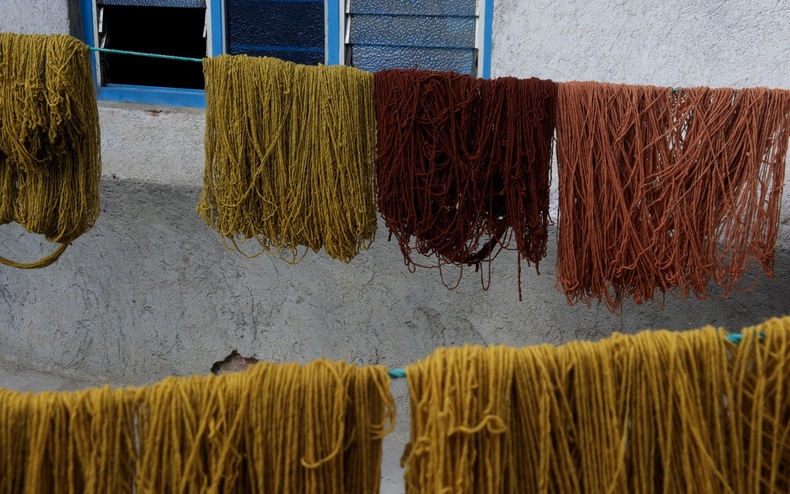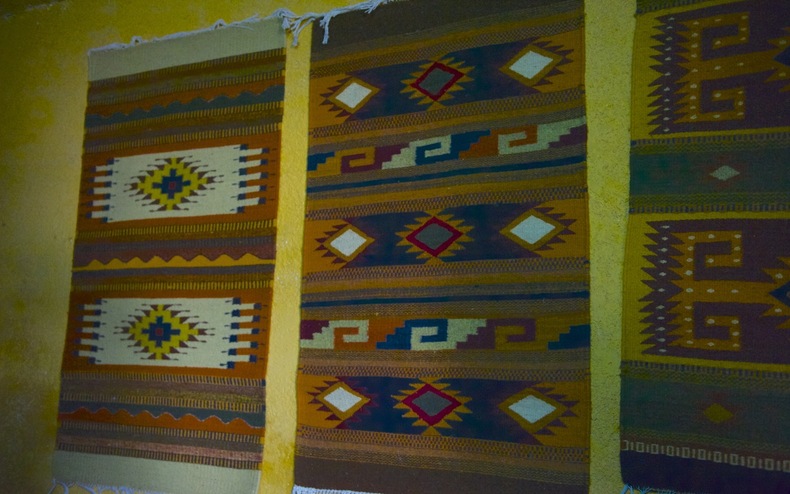 At the end of the day, Bobby drove out from the ranch with the horse trailer to meet us, so we did not have to ride the 4 hours back. We piled into the pickup and felt happy and sated as the cool breeze ruffled our dusty hair. At the end of our vacation, when I asked G which had been his favorite day, he said this one. So fitting, because it happened to be his birthday.