12.27.13
Auld Lang Syne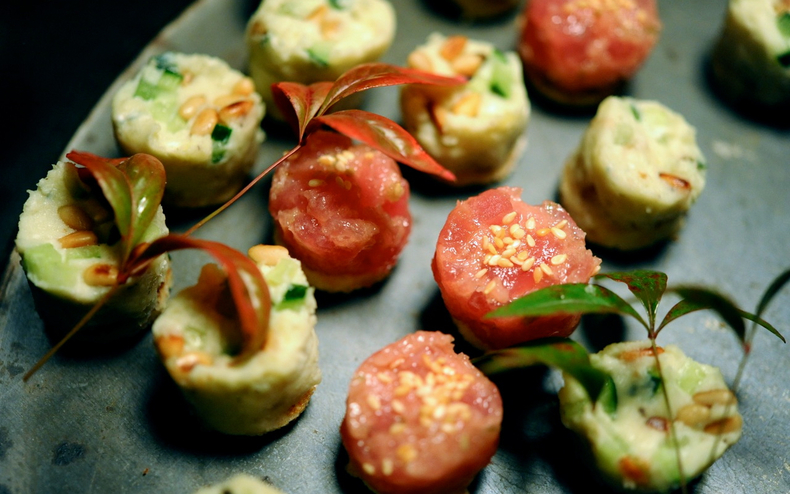 Oh, the feasting! There is nothing like gathering with friends over an elaborate meal to make spirits soar, especially as the years pass, the relationships deepen and the tradition solidifies. Christmas Eve at
Beaver Dam
is now something to look forward to every year. The house, with its incredibly high ceilings, skillfully composed lighting and ever-changing array of eclectic furnishings and artwork, is meant for parties and really adds to the festive mood. (Speaking of adding to the festive mood,
Susan K
, you are the winner of the beautiful caviar spoons! Please send your address to me at gluttonforlifegmail.com. The Grand Holiday Gift Extravaganza is now officially over for the season.) This year, we again created a
menu
of multiple small-plates courses,
a la minute
cooking that we enjoy eating standing together around the kitchen island, very informal and friendly. This time, we got inspired by the idea of the Feast of the Seven Fishes...except we had a ham. Tomo started things off with perfect little rounds of toast topped with tuna tartare.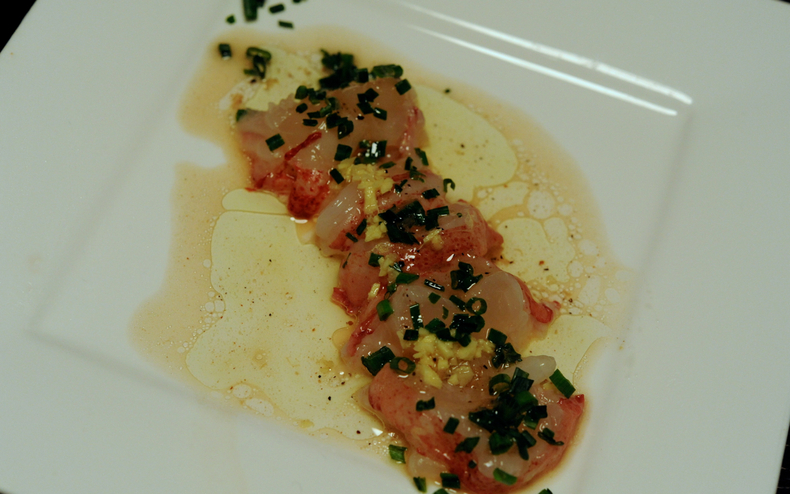 Then we moved on to lobster carpaccio, which was a revelation. Prepared like Nobu's "New Style" sashimi, the raw lobster was removed from the shell, dressed with a yuzu vinaigrette and then drizzled with a combination of smoking-hot olive and sesame oils. So easy and totally delicious.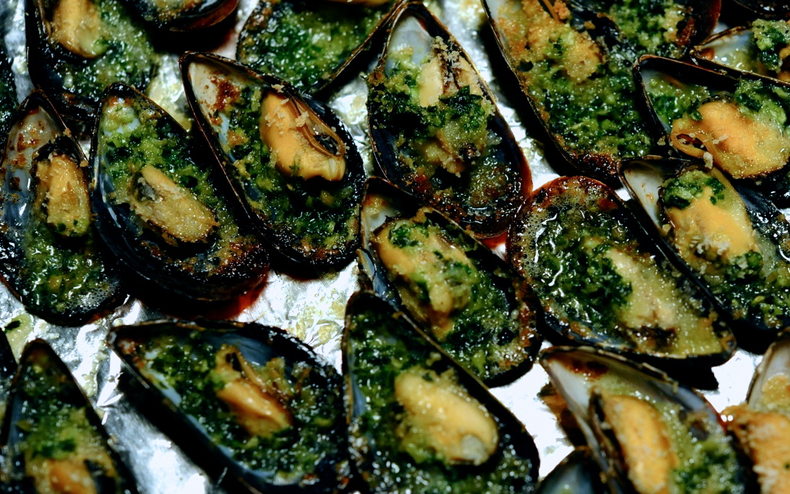 These
broiled mussels
with garlicky herb butter were a huge hit, even with those of us who tend to be a little wary of mussels. The Prince Edward Island variety are small and tender, and the combination of butter, Pernod and bread crumbs is irresistible. Highly recommended.
Next up was
this
fabulous Momofuku salad of kimchi, apples and bacon with labne and arugula. Fresh, crisp and umami-laden, it's both light and very satisfying. The bacon helped pave the way for the next course...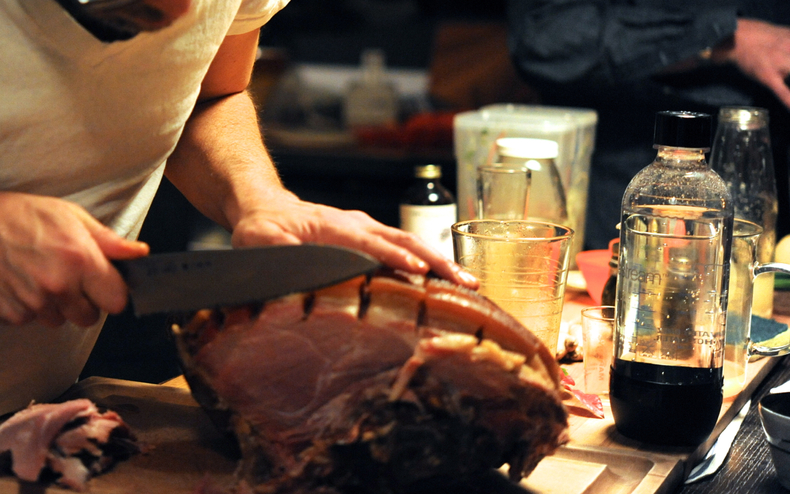 ...which featured this maginificent smoked ham from down South.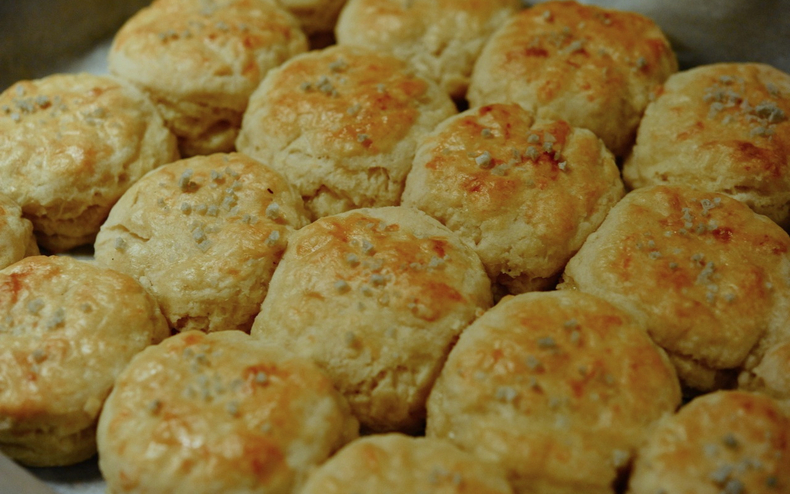 MiK made a batch of flaky, cheesy biscuits to go with the ham, and then had the inspired notion to also stuff them with some of the whole side of smoked salmon we receive every year as a gift. This course was called "Smoked in a Biscuit."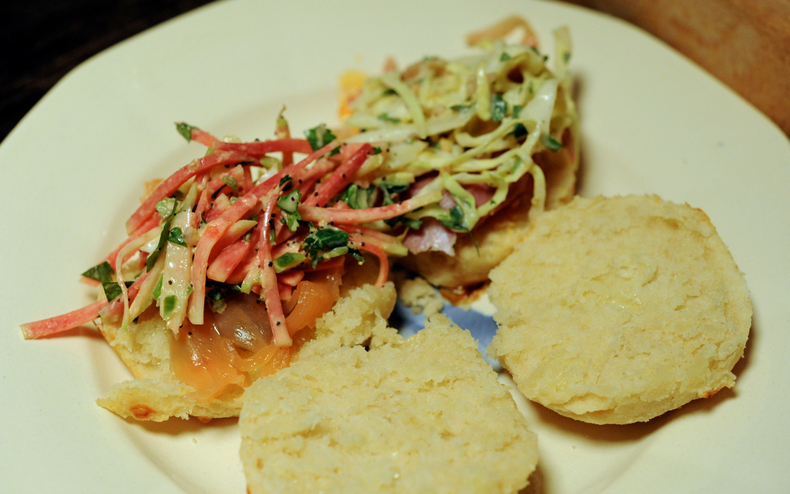 The smoked salmon was paired with a watermelon radish-&-horseradish slaw and my green-tomato-&-lemon
marmalade
; the smoked ham with a green cabbage slaw with jalapeño and scallions and a red tomato jam. Both combinations were excellent, and the two together were surprisingly complementary.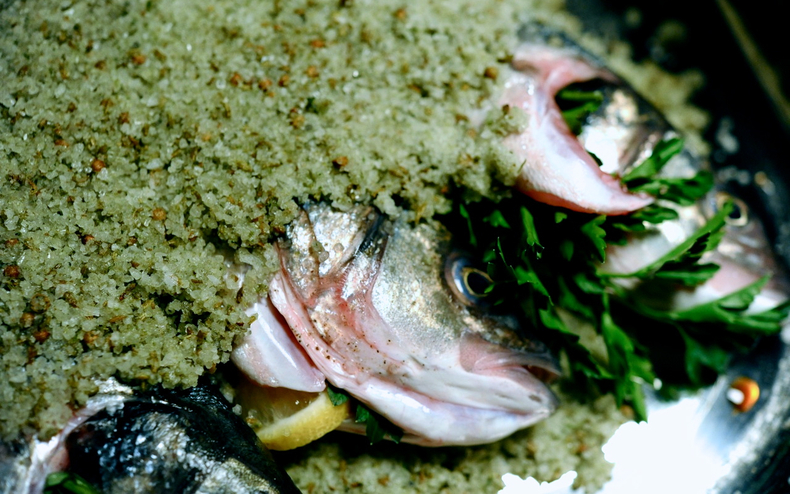 The final savory course was whole sea bass baked in an herbed salt crust, served with a sweet, creamy puree of parsnips and a bright, astringent celery salsa verde. Divine. There followed a wonderful
gingery bundt cake
with a crackling crust, a flourless chocolate torte and my traditional
black walnut ice cream
. It was a meal fit for kings, a righteous feast that comes just once a year.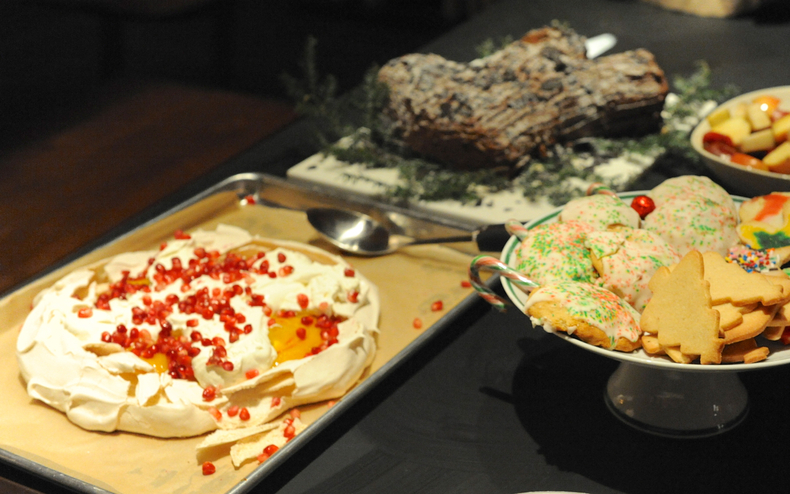 And then it happened again the next night!!! We went to Woodstock to be with friends for Christmas and there was another elaborate meal with more ham, more salmon, three kinds of lasagne, an incredible buche de Noël and my own pride and joy, a Pavlova with passionfruit curd, whipped cream and fresh pomegranate. The End. (Until New Year's Eve, I'm guessing...)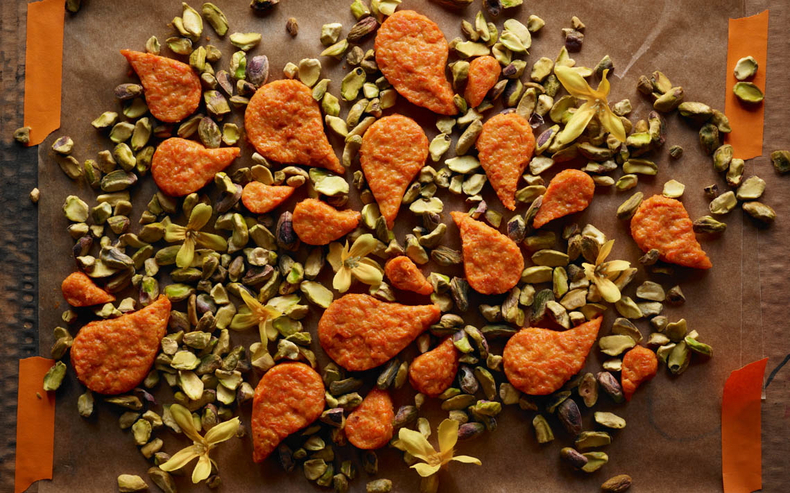 And, with that, I close out the year. G and I are headed to Oaxaca, Mexico, on the 1st and I will not be posting again until after our return on the 11th. I wish you great comfort and joy during these last days of 2013 and I look forward to sharing new adventures and ideas with you in 2014. I take my leave with one last recipe that is an apt expression of Glutton for Life—something good but also good for you. Love & kisses to all!
Carrot Fudge
from Maggie Ruggiero
— 2 tablespoons

unsalted butter

— 1 lb

carrots, finely grated

— 1 1/4 cups

half & half

— 5 oz

condensed milk (about 2/3 cup)

— 1/2 cup

turbinado sugar

— 1

cardamom pod, gently bruised

—

chopped pistachios or cashews for topping
Line an 8" or 9" cake pan, square or round, with parchment, leaving an inch or two up the sides for lifting the fudge out.


Melt the butter in a large, heavy skillet. Add the grated carrots and sauté, stirring frequently, until softened, about 15 minutes. Stir in half & half, condensed milk, sugar and cardamom, then gently simmer, stirring frequently, until the mixture is shiny and all the liquid has thickened, about 40 minutes. If you stroke through the fudge with your spoon or spatula, it should make a clean line without any ooze. Spread into the lined pan and chill several hours until set.


Sprinkle with nuts and cut into fanciful shapes.



Download Recipe