11.12.13
Side With Me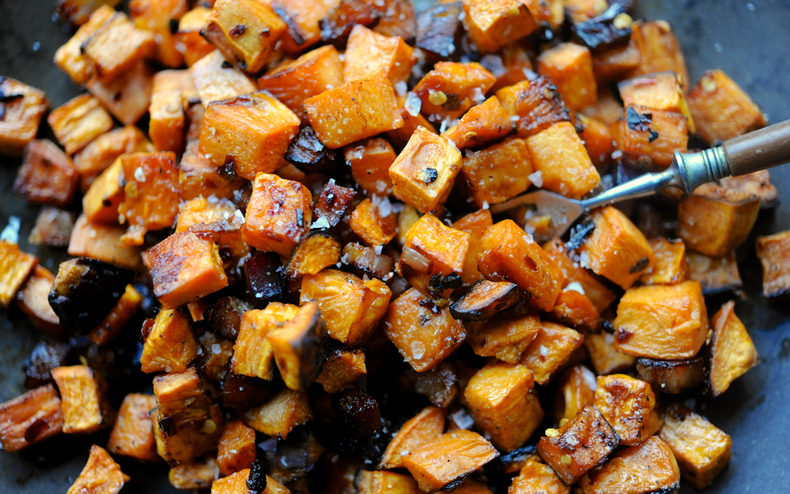 The concept of side dishes is sort of an outdated one, left over from a time when the meat took center stage and the satellite vegetables were only supporting players. And though Thanksgiving is allegedly all about the turkey, we know that the side dishes are what's most exciting about the over-hyped meal. Right? If your traditional sides are starting to seem lackluster, or still belong to the Dark Ages of marshmallow fluff and canned fried onions, perhaps you'll let me tempt you with these simple but rather spectacular yams. As I mentioned earlier, they have snuck into our Thanksgiving rotation the past few years and I've heard no complaints. For one thing, they contain crispy bits of pancetta. For another, they are glazed with good olive oil and dark maple syrup and goosed with a nice kick of chile. And, yes, you can make them ahead of time.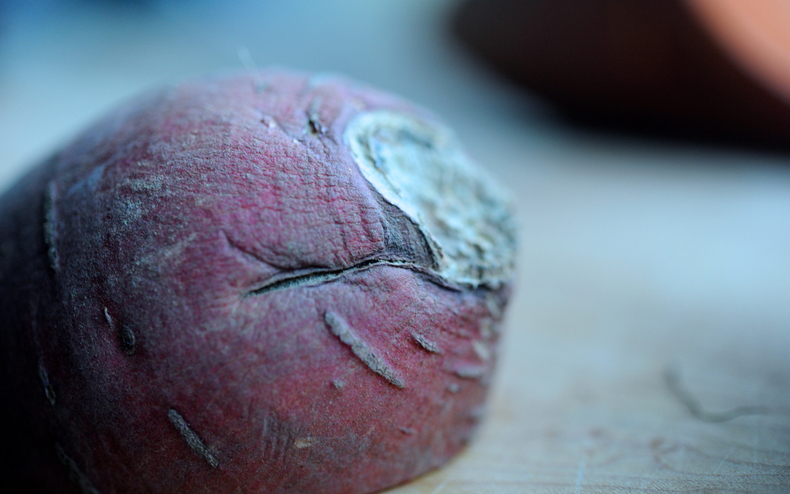 I like to use garnet yams for this dish, though most any sweet potato will do. These have a dusty burgundy skin with a sort of elephant quality that gives way to a tender, deeply orange flesh.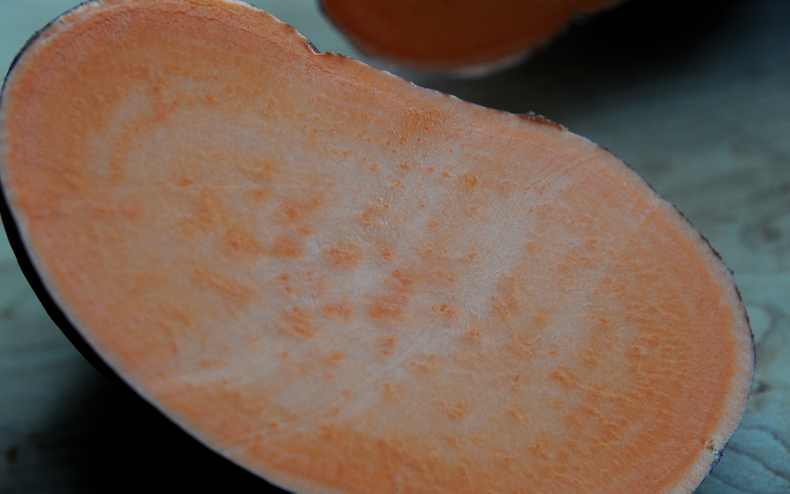 Garnet yams are plenty sweet, but also very nutritious—
a good source of vitamins A and C, niacin, riboflavin and potassium, with some protein and plenty of fiber.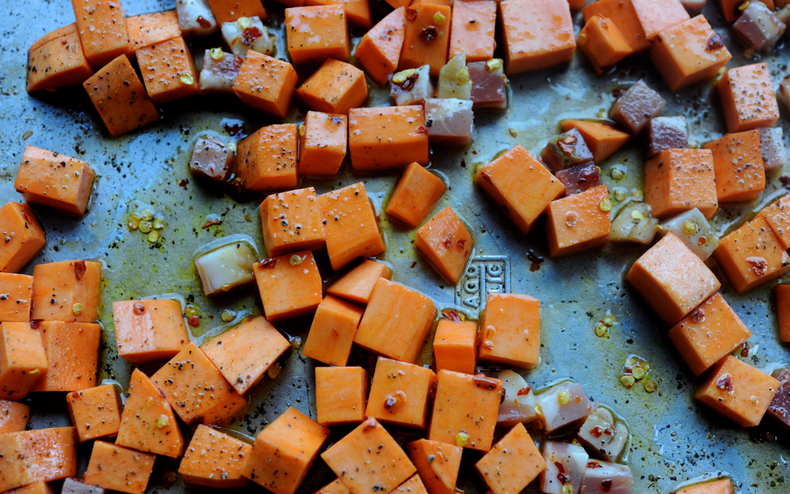 Feel free to fiddle with this recipe, adding less chile or different spices—cumin would be nice, or sage—or more maple syrup, if you like. If you want to make a vegetarian version, just leave out the pancetta, but I would recommend adding another layer of flavor with perhaps some small shallots or whole cloves of garlic.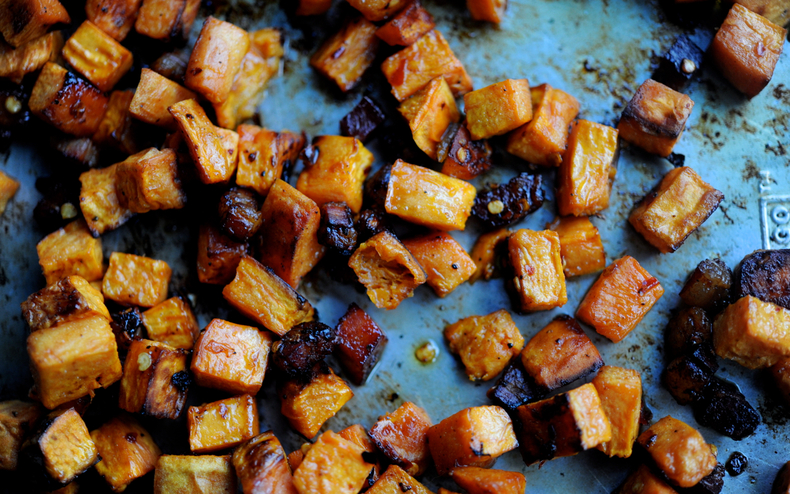 What's key here is to give everything some room so that the edges can get nicely caramelized and the cooking goes relatively quickly. If you crowd the pan too much, things tend to steam and you won't get the wonderful browning that really makes this dish sing.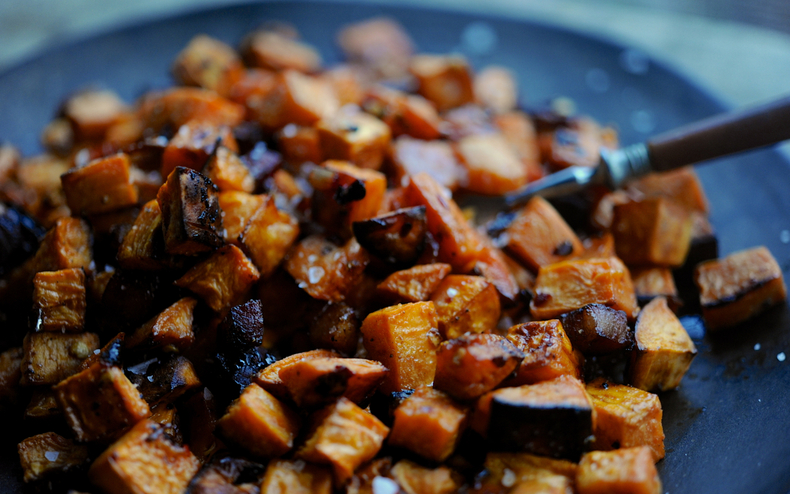 If you want to make this ahead of time, it will keep in the fridge for a few days. Before serving, you'll need to spread everything out on a tray or roasting pan and give it a blast of high heat to warm everything through quite thoroughly. If oven time is too valuable, you can do this on the stovetop in a large and roomy skillet. And while the dish is good piping hot, it also works at room temp, which is quite convenient.

I made this today so I could share it with you and I plan to toss it with some pasta and greens for tonight's dinner. So if you make this for Thankgiving and there are leftovers, you know what to do with them. How's your menu planning coming along?
Sweet & Spicy Yams
serves 8-10
— 4

large garnet yams, about 1 lb each

— 6 ounces

pancetta (in one chunk, not thin slices)

— 4 tablespoons

olive oil

— 3 tablespoons

maple syrup

— 3 teaspoons

red chile flakes

— 3 teaspoons

fine sea salt

—

flaky sea salt, for finishing
Preheat oven to 400 degrees.


Peel yams and cut in 1/2" cubes. Cut pancetta to the same size. Combine yams and pancetta in a large bowl and toss well with remaining ingredients.


Spread this out on a couple of cookie sheets or large roasting pans; it's important that it be in a single layers as this promotes faster cooking and better caramelization.


Roast in the oven for 30-40 minutes, until nicely browned and sizzling, rotating pans and stirring 2-3 times.


Serve hot or at room temperature, finished with a light sprinkling of flaky sea salt.



Download Recipe