10.15.13
Easy Bake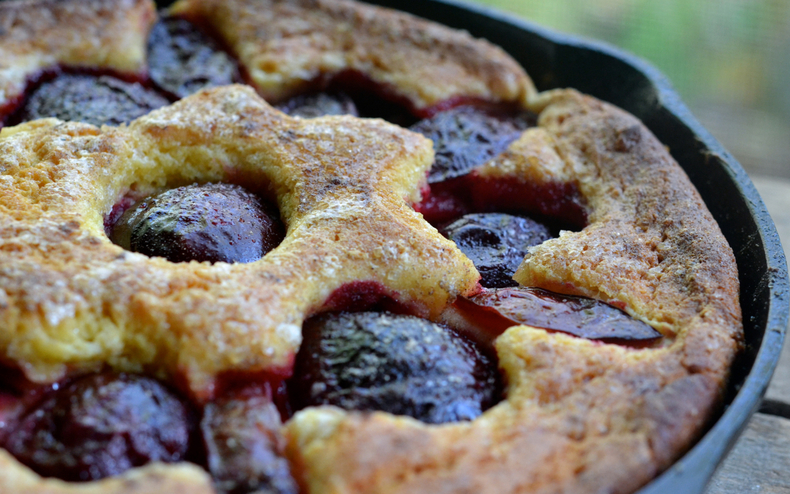 Today would have been my father's 89th birthday. He died when he was 64 and I was 26. A long time ago. Of stomach cancer. He collapsed on the tennis court, where he was known for the scrappy form he had acquired playing handball on the streets of Brooklyn. He had a leather jumprope that he used his whole life. It kept him fit. He could do this extraordinary trick of hoisting his body absolutely perpendicular to a lamppost and holding it there for an impressively long time. His hands were warm and tanned, with raised veins; they always reminded me of walnut shells. He had a beautiful singing voice and as a youth he earned money singing at weddings. His mother told him to stuff food in his pockets before he came home. They took in a border who was a page-turner for the Metropolitan Opera and he would give my father a nickel for every classical piece he could identify whenever they listened to the radio. Needless to say, my dad knew his Beethoven from his Borodin from his Bartok. He didn't go in for sweets so much, preferring to nibble on Spanish peanuts or salted almonds or cashews while he worked at his desk. Though he did have a weakness for chewy black licorice. And, paradoxically, sugary pecan pie. (I think it was the nuts.) He would have liked this simple cake. Not too sweet, not too fussy.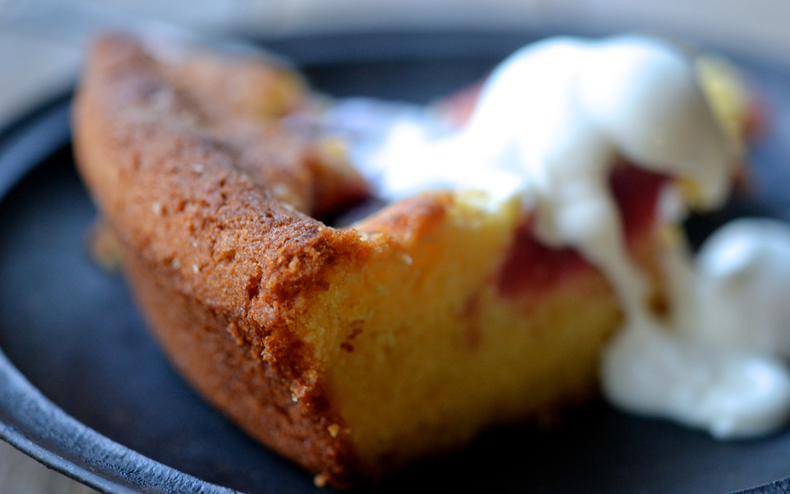 It's basically
this cake
from Marian Burros, originally published in the New York Times in the early 80s. It appears all over the blogosphere at this time every year, due to the seasonal availability of Italian plums, those dark purple and rather dusky fruits with a yellowish pulp that are better cooked (or turned into prunes) than eaten out of hand. It's an elemental cake, satisfyingly dense and studded with soft, sweet-tart fruit. Just sweet enough, with a hint of spice.
What's new here, as you may have noted above and in the top photo, is that I baked mine in a cast-iron skillet this time. It created a rustic golden crust that really complements the spongy batter. And now I don't feel like calling it a torte any more. Too Viennese. This feels more like an honest farmhouse cake.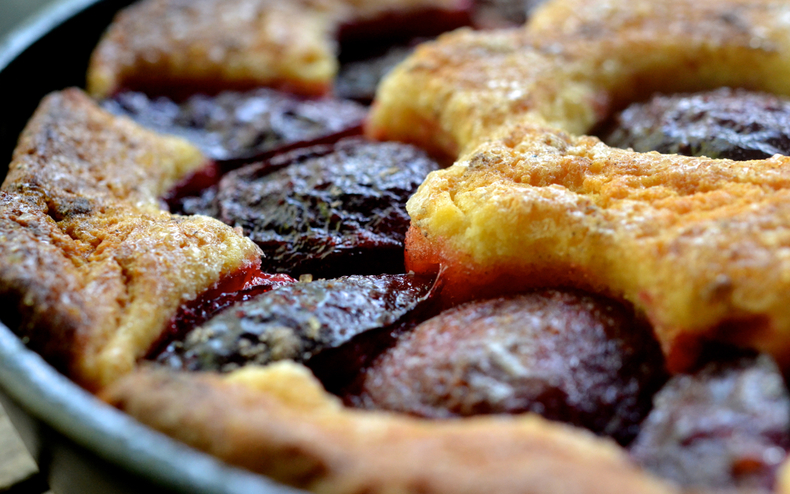 I love the way the plums—which you slice in half and plop onto the batter skin side up—sink down with a sigh as they bake and release their lovely juices. These seep into the cake most delightfully. I substitute cardamom for the cinnamon in the original recipe. Its floral spice is truly ideal with plums, but then I will put cardamom in almost anything. Don't feel you have to go along with me.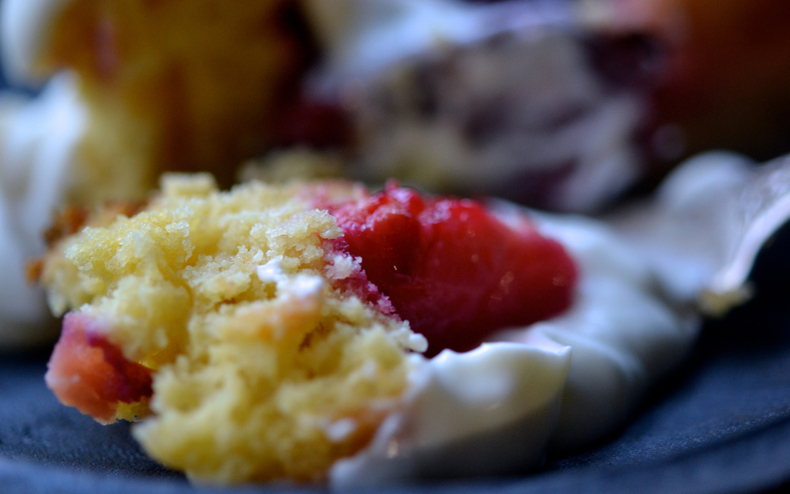 But do sprinkle some crunchy turbinado sugar over your cake before you pop it in the oven. And be sure to eat your slice with a dollop of Greek yogurt sweetened with a little maple syrup. Wrap any leftover cake in foil and store it on the counter, not in the fridge where it will suffer. Then eat another slice in the morning. Cake for breakfast doesn't make up for being an orphan, but it's better than a sharp stick in the eye. And that's all the wisdom I have for you today.


*This post is dedicated to a friend who recently had a major legal victory. Congratulations, Veen. If you were here, I would serve you a big slice.
Plum Skillet Cake
lightly adapted from Marian Burros
serves 6
— 1 stick plus one tablespoon (and a little extra for greasing the pan)

unsalted butter, softened

— 3/4 cup

sugar (I used light brown)

— 1 cup

unbleached flour (I used C4C)

— 1 teaspoon

baking powder

— pinch

salt

— 2

eggs

— 7-10

small Italian plums, halved and pitted

— 2 teaspoons

fresh lemon juice

— 1 teaspoon

ground cardamom

— 1 tablespoon

turbinado sugar
Preheat the oven to 350 degrees. Butter an 8" cast-iron skillet.


Cream the stick of butter and 3/4 cup sugar. Add the eggs, one at a time, and beat to combine after each addition.


Sift the flour, baking powder and salt together. Then beat into sugar and eggs.


Spoon the batter into the prepared skillet. Arrange the plums in a nice pattern on top, skin side up. Sprinkle with the lemon juice, then the cardamom and then the turbinado sugar. Dot with remaining tablespoon butter.


Bake for about 50 minutes, until the cake is golden brown and a cake tester inserted in the center comes out clean. Remove from the oven and cool.


Serve at room temperature from skillet or reheat at 300 degrees until warm. Delicious with yogurt, whipped cream or ice cream.



Download Recipe