10.21.13
Out of the Frying Pan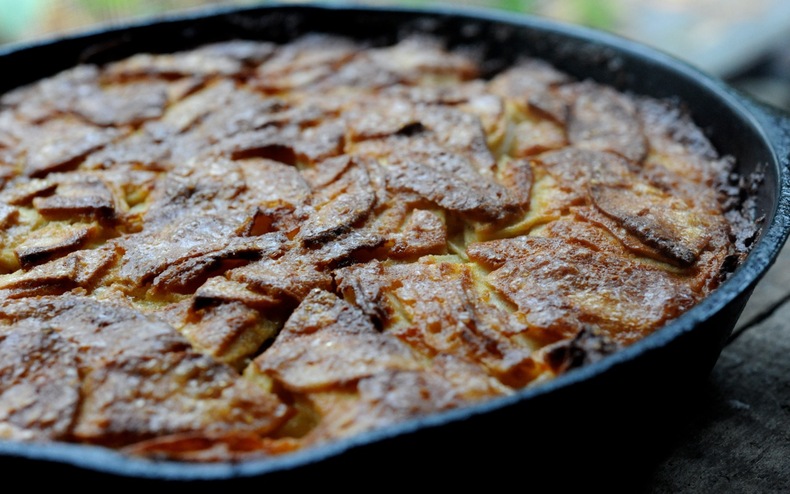 Another skillet cake. Because
this one
was so good. And because anything that helps dispense with a surplus of apples is welcome around here. The recipe was given to me by a kindred spirit I met at
Haven's Kitchen
, during a preserving class with Kevin West, a handsome Southern gentleman and the author of
Saving the Season
,
blog
and
book
. His demonstration included a simple applesauce, a very basic sauerkraut, a lovely cranberry jam and a golden-hued cauliflower pickle with raisins and Indian spices that I will definitely be making. I arrived armed with a very pressing question:
Why, regardless of cooking time, do my preserves rarely make it to the 220-degree temperature that is always specified as the desired setting point?
Kevin told me to pretend that the wooden spoon he was wielding was the candy thermometer I use at home. Then he set it on the ground and mimed stamping on it. In other words, forget the thermometer. He recommends the traditional
wrinkle test
. But back to the cake, which was a real windfall...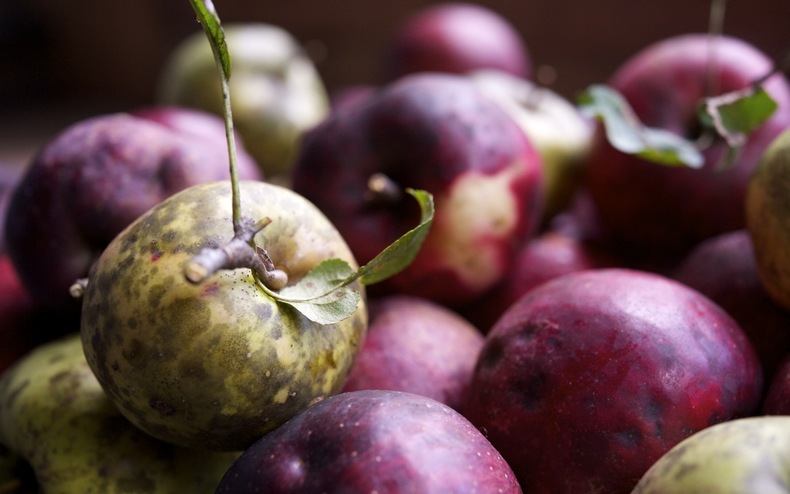 Up in these parts, the apples are still thick on the trees. We picked so many from our friend Julia's orchard that G decided to attempt his first batch of hard cider. The apples are not the pristine specimens you find in the supermarket, instead looking quite scrawny and mottled, but what they lack in classic good looks they make up for with sweet, complex taste. This recipe calls for Golden Delicious, but anything with a similar combination of sweet-tart flavor and crisp juiciness will work.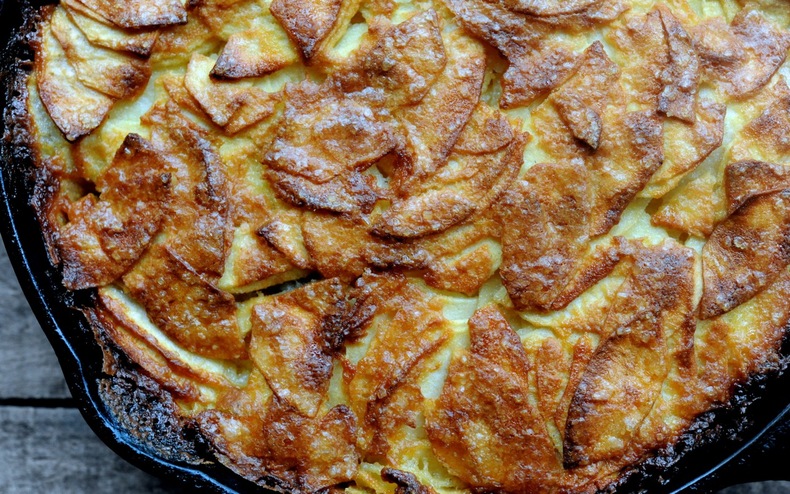 The recipe is from
The Four Seasons of Italian Cooking: Harvest Recipes from the Farms and Vineyards of the Italian Countryside
. It's an out-of-print compilation of rustic, regional specialties, of which this cake is a prime example. What's so intriguing about it is that it's mostly apples, with just melted butter, a couple of eggs and a scant amount of flour holding it together. I added a pinch each of freshly ground nutmeg and cardamom (this will surprise no one) and the idea to cook it in a skillet came from the friend who passed this on.
The only thing easier than making this cake is eating it. Serve it up with a scoop of vanilla ice cream or a dollop of crème fraîche and your praises will be sung across the land.
Apple Farmhouse Cake (Torta di Melle de Fattoria)
lightly adapted from The Four Seasons of Italian Cooking
serves 8

— 5

Golden Delicious apples

— 2

large eggs

— 8 ounces

organic cane sugar

— 2 ounces

flour (I used C4C)

— 1/8 teaspoon

ground cardamom

— 1/8 teaspoon

ground cinnamon

— pinch

sea salt

— 4 ounces

milk

— 3.5 ounces

unsalted butter, melted

— 1 teaspoon

vanilla extract

— 2 teaspoons

baking powder

—

turbinado sugar, for topping
Preheat the oven to 375 degrees. Lightly grease a 10" cast iron skillet.


Peel, core and quarter the apples. Slice the apple sections crosswise into very thin slivers, either by hand or with the slicing blade of a food processor.


Beat the eggs and sugar in a very large bowl with a wire whisk until sugar hasd dissolved. Stir in the flour, spices and salt, then add the milk, butter and vanilla. Blend thoroughly. Quickly stir in the baking powder, then fold in the sliced apples. Sprinkle a thin layer of turbinado sugar over the top.


Pour the mixture into the skillet and bake on the oven floor for 10 minutes. Then transfer the pan to the center rack and bake for 55 minutes more, or until the cake is golden brown and cooked through. It's done when a small pairing knife inserted into the center comes out clean. Cool on a rack and serve warm or at room temperature.



Download Recipe