9.23.13
Jam Session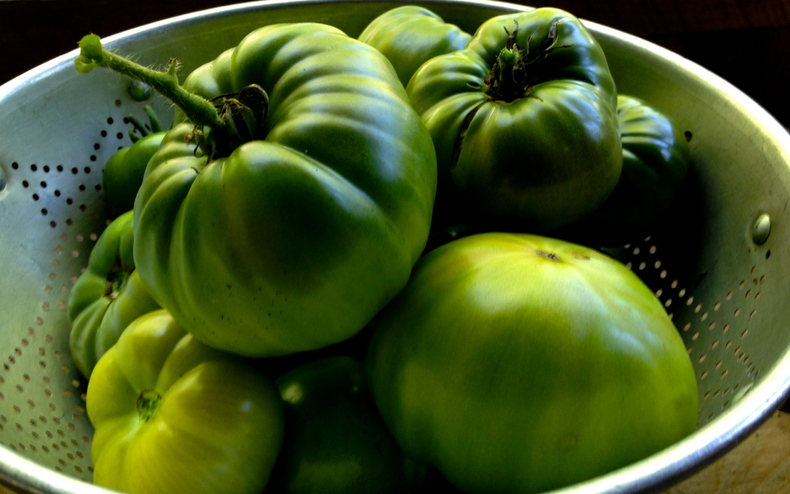 By the end of tomato season, I am so OVER tomatoes that I have to continually remind myself I won't feel the same come February. The green ones, rescued from the garden before the first frost hits, provide an acceptable respite from the red and the onslaught of tomato soup (both
hot
and
cold
),
tomato sauce
, tomato paste,
tomato jam
, tomato juice,
tomato water
,
tomato powder
and tomato fruit leather. Green tomatoes offer a crisp tartness that demands a totally different approach in the kitchen. I love them
fried
, their firm texture standing up to a deliciously crunchy coating of buttermilk and cornmeal. And
green tomato chutney
is a useful condiment, equally able to perk up a cheese sandwich or a plate of papadums and rice. But I'm fickle and always looking for something new—for me and for you, too. Got to stay frosty.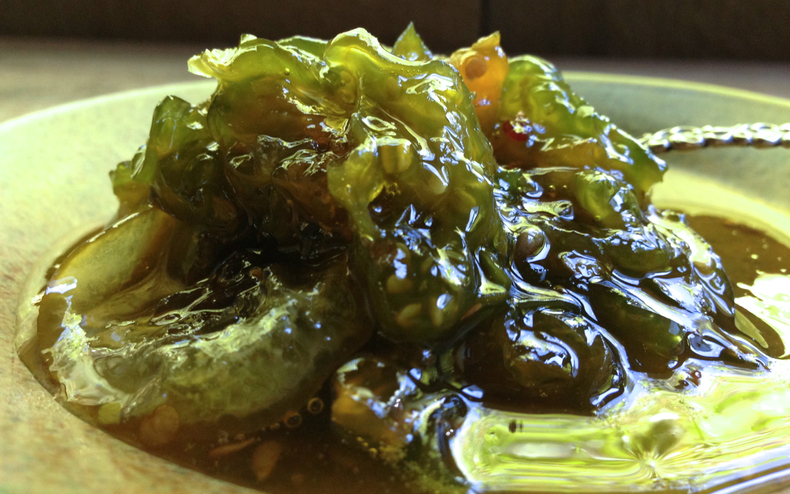 Before you freak out about canning (if you're that sort of creature), let me assure you that you can make a small batch of this outrageously delicious green tomato-lemon marmalade and it can go straight into your fridge where it will be perfectly fine for a few months. No special jars required. No hot water bath, none of that. In fact, pretty much any of the preserves I make can be scaled down if you just want to keep a single jar on hand. Sugar is a great preservative, and even if you get a little mold on some jam you're keeping in the fridge, you can just scrape it off and worry not.
But isn't sugar the enemy?
you ask. I think
this piece
by Kevin West, author of the newly released and very wonderful
Saving the Seasons
, makes a good case for eating sugar "the right way." See what you think.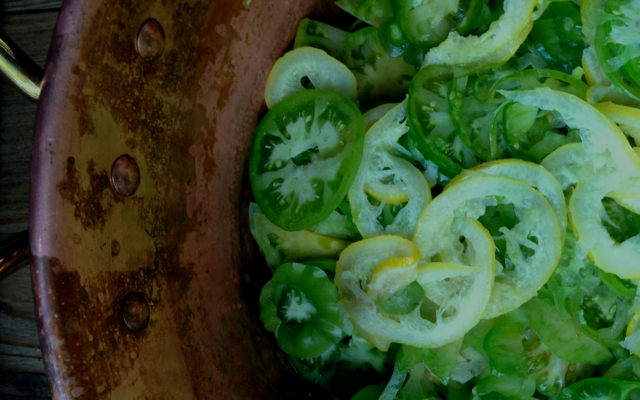 This spectacular-looking and -tasting marmalade has just a few ingredients: green tomatoes, lemons, sugar, coriander seeds, red pepper flakes and chile. By the time you're finished simmering it, the very thinly sliced fruit hangs suspended in a pale green syrup that thickens as it cools. It's sweet but also tart with a hint of bitterness, as a good marmalade must be; and the spices add a lovely floral note and a bit of heat.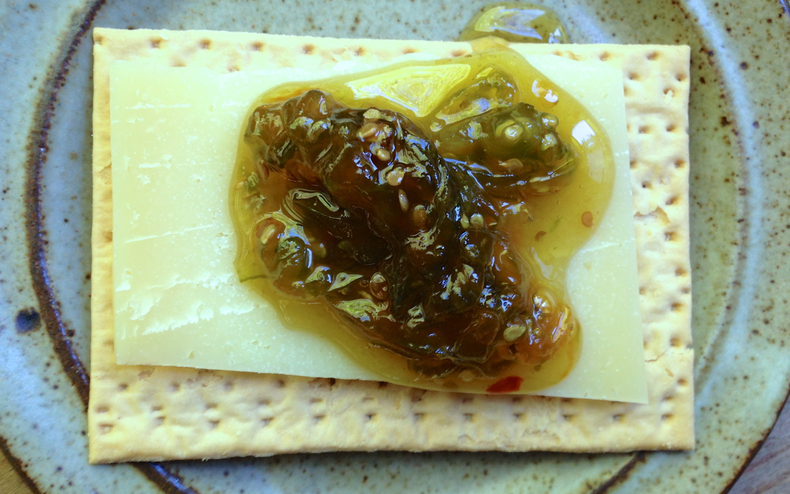 As with most things, it goes well with cheese and crackers. Here, I'm featuring the rare store-bought
gluten-free cracker
that doesn't taste like carpet backing (it has some dubious ingredients, so it doesn't appear in our house too often) along with a slice of aged Manchego. I can also see it alongside grilled meat, roast chicken, a lamb burger, whisked into mayo or salad dressing, or eaten on some toast, with or without butter.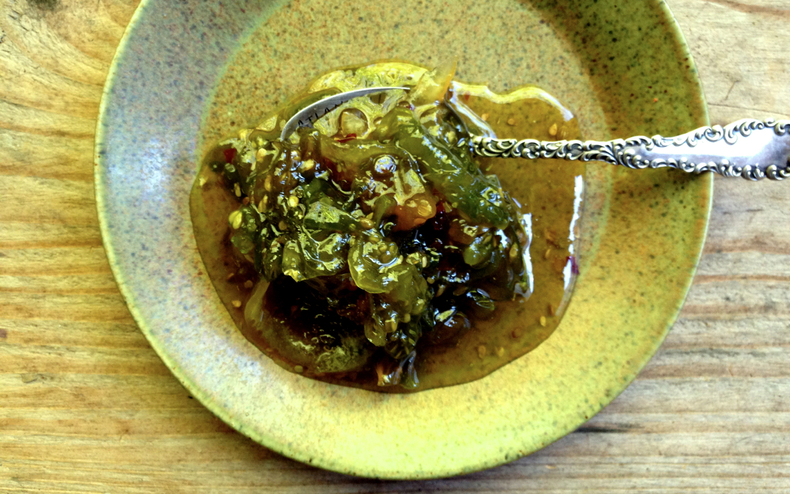 If you want to make a little just to keep on hand, try making half or a third of this recipe. Cook it until the sugar makes a very thick syrup that coats the spoon. Recipe books always tell you to use a candy thermometer and stop when the temperature reaches 220 degrees. I never get there. It's a mystery to me. About 210 seems to work, but if you keep it there for a really long time (trying to get it up to 220), chances are your jam becomes leathery. Anyone out there know what is going on? I plan to ask Kevin West myself when I attend his
workshop
at Haven's Kitchen.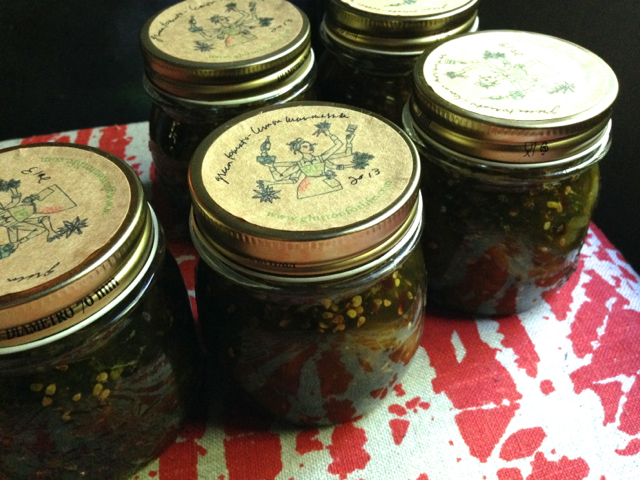 If you have some green tomatoes, I encourage you to give this a whirl. If you don't have some green tomatoes, I encourage you to get some. Try a farmers market right about now.
I'm adding these jars to my stash of Things to Hoard and Possibly Give Away to Very Deserving Friends. So stay tuned for
that giveaway I promised
to people who filled out my survey. Just because I couldn't get it together to send out the survey doesn't mean you should be deprived.
Green Tomato-Lemon Marmalade
makes 6 half-pints
— 2

lemons, thinly sliced

— 5 pounds

green tomatoes, cored and thinly sliced

— 6 1/2 cups

organic cane sugar

— 5 tablespoons

fresh lemon juice

— 2 tablespoons

whole coriander seeds, crushed

— 1 tablespoon

red chile flakes

— 1/2 teaspoon

sea salt
Bring lemon slices to a boil in a pot of water. Drain.


Combine all ingredients in a large heavy saucepan or jam pan along with 1/2 cup water, and bring to a simmer, stirring to dissolve sugar. Cook at a gentle simmer until tomatoes and lemon slices are translucent and syrup thickens, about an hour. Quickly spoon into sterilized jars, seal and boil in a hot water bath for 10 minutes. Use within one year.


Recipe can be easily halved, then jarred and stored in the refrigerator for several months.



Download Recipe