7.8.13
Organized Ferment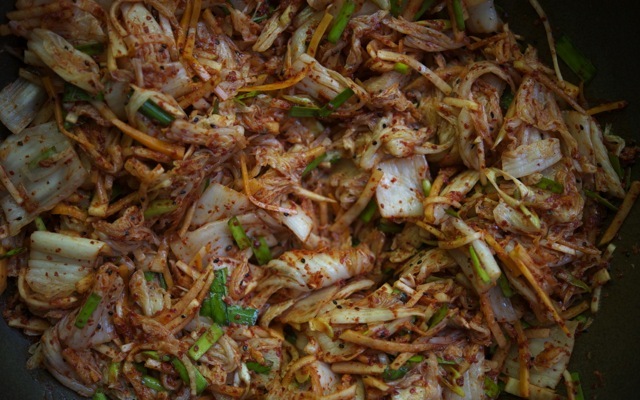 The home pickling, brewing, baking and preserving rage that has swept the country (or at least Brooklyn) in recent years has brought a new appreciation for kimchi,
a spicy tangle of fermented vegetables
that appears on the table at every meal in Korea, where kimchi is almost a religion. Its
complex pungency
comes from a colorful mix of garlic, chile, salted shrimp, fish sauce, ginger and scallions—and from an
aging process
that leaves the components tender yet crunchy. Brined and then fermented, the vegetables' sugars convert into lactic and acetic acids and carbon dioxide. The result is magical and, ultimately, can be as
stinky and rich
as a ripe cheese.
To learn more about the process of fermentation, I highly recommend one (or both) of Sandor Katz's books:
The Art of Fermentation
and
Wild Fermentation
. To learn more about the
age-old art
of making kimchi, read on.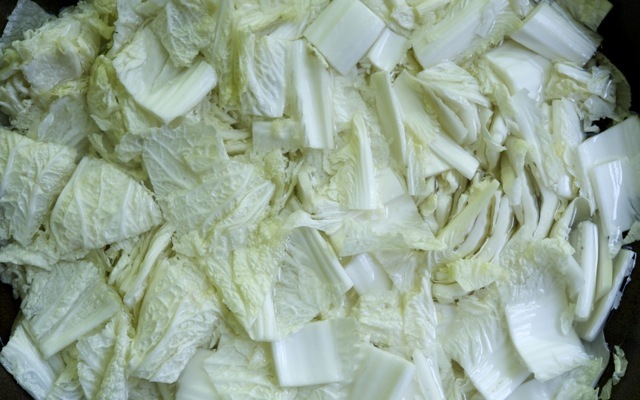 Kimchi—really just
a pickle by another name
—is most often treated like a small side salad and frequently used as an ingredient in other dishes: stirred into stews, grilled with meats, wrapped into nori rolls and dumplings, steamed with fish and
folded into pancakes
(recipe for that coming soon).
In
traditional preparation, kimchi is often allowed to ferment underground in jars for months at a time, but it can also be kept in the refrigerator after just a short period of room-temperature fermentation. Different types of kimchi are made around the year, based on what vegetables are in season; before the era of refrigeration, it was also about taking advantage of hot and cold weather. T
here are endless variations (including cucumber, oysters, mushrooms, burdock root, soybean sprouts, pumpkin and even octopus) but the napa cabbage and daikon version is arguably the most popular. Sometimes the cabbages are left whole, but this recipe calls for using slices.
Brining is the first step
.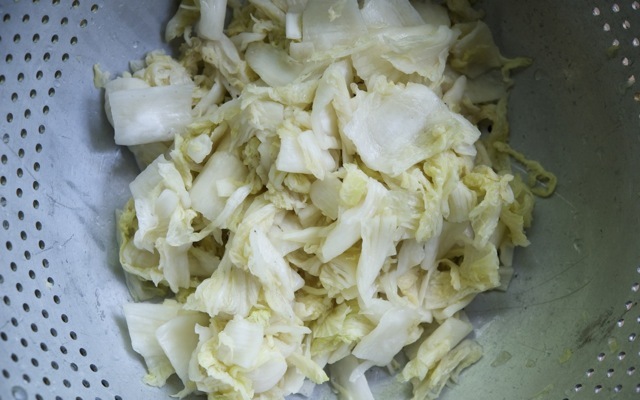 Once it's soaked for up to 24 hours, the cabbage becomes supple. You then rinse it in cool water and use your hands to squeeze out excess liquid.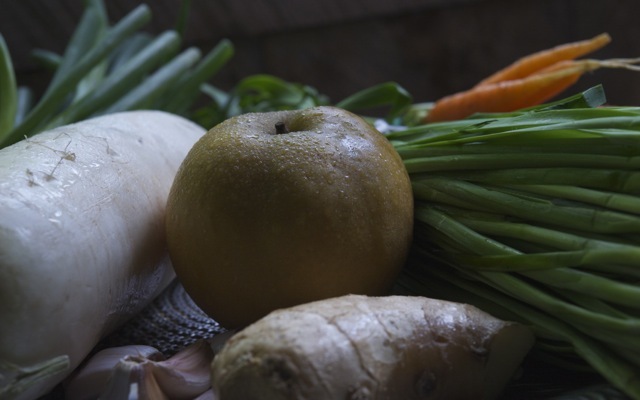 Next, you prepare the other vegetables and spices. Kimchi is all about a balance of flavors—spicy, aromatic, sweet, pungent, marine. Above, from left, are scallions, daikon, garlic, Asian pear, ginger, carrot and Korean chives.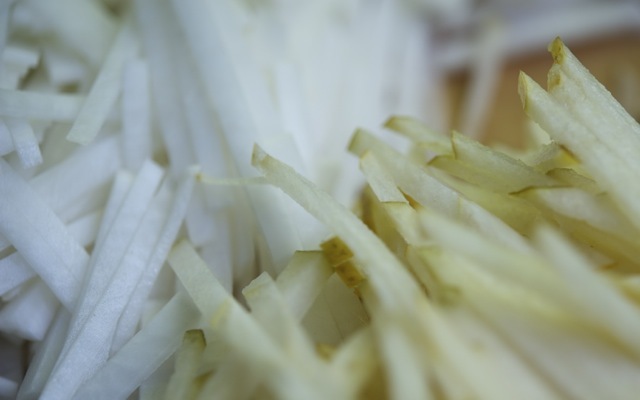 Texture is also key. Sometimes the vegetables are cubed, but here the daikon, Asian pear and carrot are julienned. The garlic and ginger are mashed into a paste, another place a mortar and pestle are useful.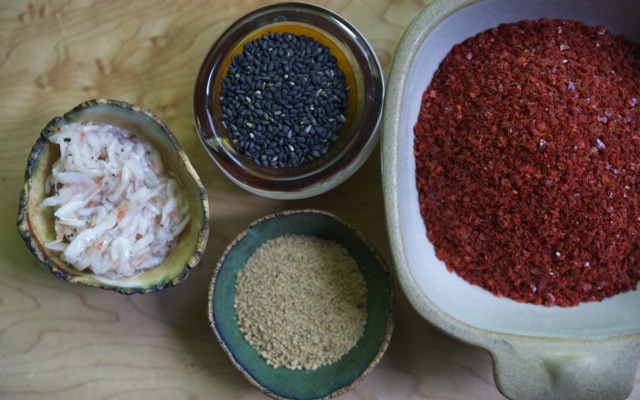 This recipe calls for the miniscule salted shrimp known as
saeu chot
, as well as fish or anchovy sauce (I used a granulated version I found at the Korean market), sesame seeds and the
essential hot chile powder
, called
gochu garu
.
You're probably not going to find the
necessary ingredients
at Whole Foods, so it will be incentive for you to seek out an Asian or Korean market. H-Mart has stores in New York, New Jersey, Pennsylvania, Virginia, Maryland, Georgia, Illinois, Texas, Colorado, Nevada, California and Washington, as well as this
online
presence.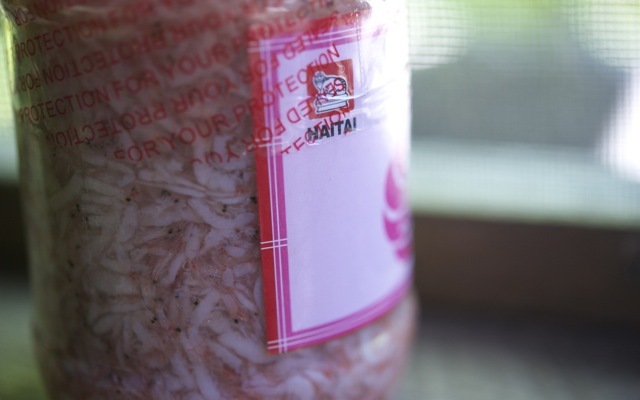 I was fascinated by these tiny brined shrimp that come in a jar. The ingredients are just shrimp, salt and water. You chop them finely and these, along with the anchovy or fish sauce, add a deep note of umami to the kimchi, which does not, however, taste even remotely fishy.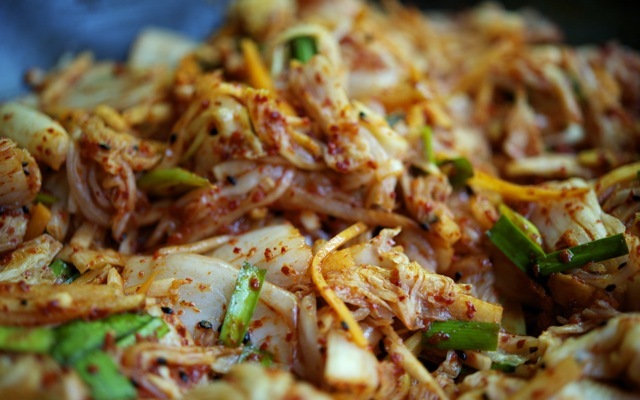 The mix is really beautiful, turning a deep red from the chile the longer it sits. The smell is admittedly pungent and I have often been put off by kimchi's everlasting wallop of garlic. Remember, you can tailor it to your liking, using less garlic or milder chile if you wish.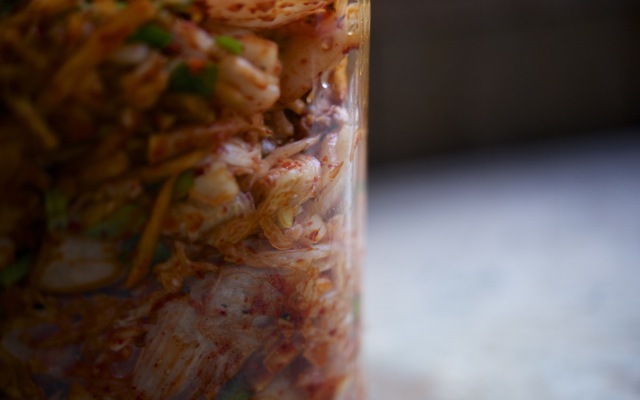 Once everything is mixed together, you pile it into a
big glass jar
. Still don't have a stash of these on hand? Mine work very hard in my kitchen, holding everything from pickles to iced tea to stock.
These
come in many sizes and last forever (though you may have to change out the rubber gaskets from time to time.)
After 4 days of fermenting at room temperature, the kimchi goes into the fridge where you should leave it untouched for a week or so to continue the flavor meld. Meanwhile, dream of ways to use it...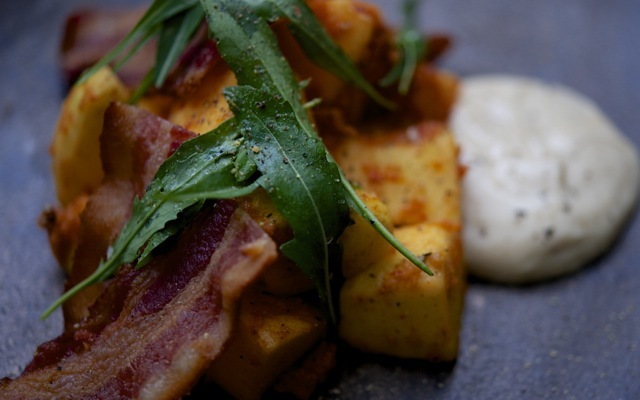 The minute my kimchi was ready, I used it for this divine dish created by David Chang at Momofuku (recipe below). It's very, very simple but has a brilliant juxtaposition of tastes you won't soon forget. Once you have kimchi on hand, you can replicate this very authentically at home.

You puree some kimchi and toss it with big chunks of sweet-tart apple. This goes on a plate with a few pieces of smoky bacon, some peppery arugula and a smear of labne sweetened with maple syrup. If that won't get your fermentation juices started, I don't know what will.

If you haven't already dived in, maybe kimchi will be your gateway pickle. Questions? I'm here to help.
Kimchi
makes about a gallon (recipe can be easily modified if you want to make less)
adapted from Saveur
— 1 cup + 1 teaspoon

fine sea salt

— 3 medium-sized

Napa cabbages

— 1 1/2 pounds

daikon radish, peeled & julienned

— 1 cup + 2 tablespoons

Korean chile powder (gochu garu)

— 3 tablespoons

Southeast Asian fish sauce or Korean anchovy sauce (aek jeot)

— 2 1/2 tablespoons

finely chopped Korean salted shrimp (saeu chot)

— 2 tablespoons

sesame seeds

— 30

Korean chives, or garlic chives, cut into 1" pieces

— 14

cloves garlic, mashed into a paste

— 10

scallions, white & light green only, thinly slices on the diagonal

— 2 two-inch pieces

ginger, peeled, minced and mashed into a paste

— 1

large carrot, peeled and julienned

— 1

Asian pear, cored and julienned
Remove and discard outer layer of leaves from the cabbages. Cut the cabbages in half lengthwise, then crosswise into 2" pieces. Discard the root end.


Place cabbage pieces in a large bowl, sprinkle with 1 cup salt and toss with your hands until the cabbage is coated. Add enough cold water to just cover (about a gallon), making sure the cabbage is almost entirely submerged.


Cover with plastic wrap or a baking sheet and let sit at room temperature for at least 12 hours and up to 24.


Drain the cabbage in a large colander in the sink, then rinse with cold water. Gently squeeze out the excess liquid and set aside.


In a large bowl, vigorously stir together the remaining ingredients to make the kimchi seasoning paste. Add the drained cabbage and toss with your hands to evenly and thoroughly coat with the mixture.


Transfer seasoned cabbage to a clean 6-quart glass jar, pressing down to compact. Cover jar with a double layer of plastic wrap that you secure with a piece of string or a rubber band. Let the kimchi sit in a cool, dark place for 4 days. Open jar to release any gases, then seal with a lid and refrigerate for at least 4 more days to let flavors meld.


The kimchi will keep, refrigerated, for at least 6 months (its flavor will sharpen over time).



Download Recipe
Kimchi Apple & Bacon Salad
serves 4
lightly adapted from Momofuku Cookbook
— 4

Fuji or Honeycrisp apples

— 1/2 cup

kimchi, pureed

— 1/2 cup

labne or thick Greek yogurt

— 1/4 cup

maple syrup

— 8-12 slices

thick-cut smoky bacon

— 1 cup

arugula, loosely packed

— 2 tablespoons

olive oil

—

sea salt and freshly ground black pepper
Peel the apples and cut into quarters. Remove the cores. Cut the apples into wedges or very large cubes, so the pieces are either one or two bites. Toss the apples in the kimchi puree. You can do this just before making the salad or up to 6 hours in advance—any longer and the apples will be sublimated by the kimchi.


Combine the labne and maple syrup in a small bowl and whisk together until smooth. It should be assertively sweet from the syrup and perceptibly tart from the labne. Adjust if necessary, but don't play down the sweetness too much.


Heat the oven to 350 degrees. Arrange the bacon on a rimmed baking sheet and pop it into the oven. Bake for 18 minutes, or until browned and crispy. Transfer the meat to a plate lined with paper towels to drain. It needn't be any more than lukewarm when you serve the salad, but it shouldn't be cold or greasy.


Just before serving, toss the arugula with the olive oil, a large pinch of salt and a few turns of black pepper.


To serve, plop a dollop —about 2 tablespoons—of the sweetened labne in the middle of each plate and top with one-quarter of the kimchi apples. Cut the slices of bacon in half and portion out over the apples, then drop a handful of the dressed arugula over and around. Hit each plate with a couple turns of black pepper, and serve at once.



Download Recipe