7.31.13
Garden of Eatin'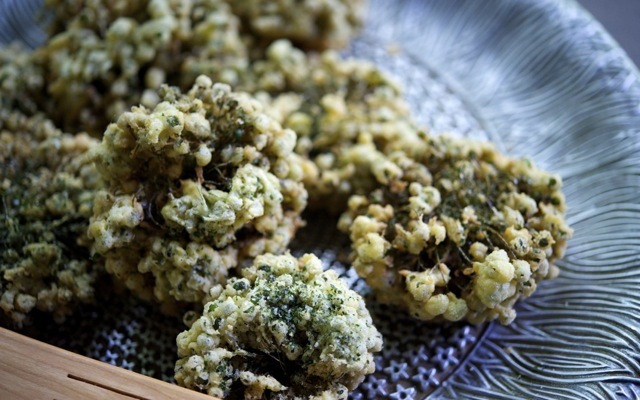 As I prepare to leave you for a month (my last post until after Labor Day will be on Friday), I realize I have shared very little of this summer's garden. I've spent so many back-breaking hours weeding it, and almost as much time picking off the great variety of insect predators that seem to be assigned to each tender vegetable and herb, that I haven't had much occasion to just wander through with my camera. It's bigger and more bodacious than ever. My favorite thing is to take friends on a smelling tour: lovage, anise hyssop, four kinds of mint, wild bergamot, sage, lavender, roses, chamomile, lemon verbena...it massages the senses. But wait. That might be my second favorite. Because what I like best is eating our bounty straight from the ground, still cool from the earth and vibrating with sunshine. And doing things to it first in my kitchen.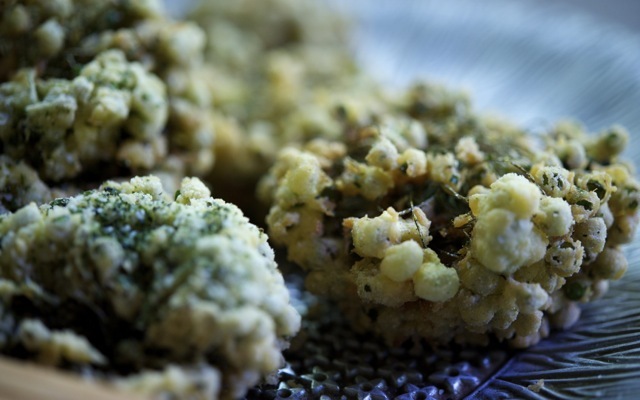 These big puffy pom-poms are the flowers from our shallot crop. They had an alluringly oniony fragrance so, pretty far along in the season, just as stalks were beginning to topple over from their weight, I harvested all of them. Then I dipped them in egg, dredged them in masa harina and fried them to a golden crisp. A spritz of lemon and another of fresh shiso salt was all they needed to complement their subtle flavor. A revelation: you can fry almost anything fresh from the garden and it tastes great.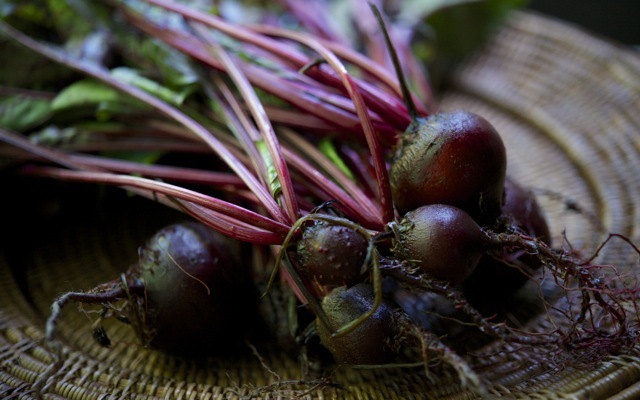 Next up: baby beets. My husband hates beets but he loves me so he grew these this year. He thinks they taste like dirt and to me they are the essence of sweet earth. I ate so many I pooped purple. (TMI?)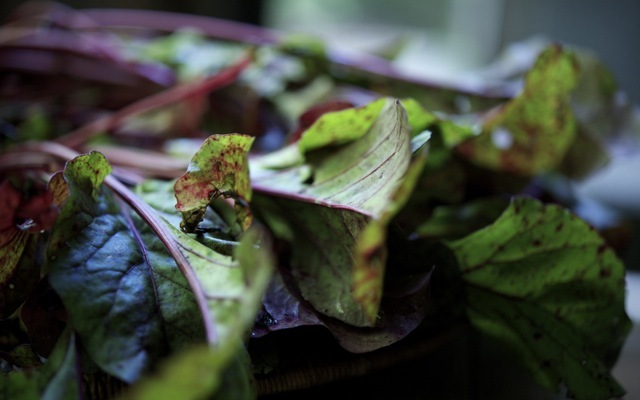 Garden-fresh beets come with perky greens attached and they are too nutritious and delicious to be tossed. As the beets were steaming, I blanched the greens, then gave them a quick sauté in bacon grease. (Save it in a jar in the fridge next time you fry bacon.) A splash of vinegar and some tiny cubes of goat gouda made this a perfect lunch.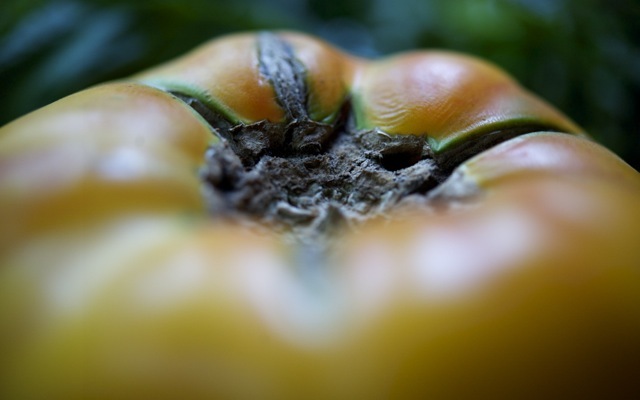 Technically, this tomato did not come from our garden—ours are not yet ready—but it's from a local farm. I wanted to share with you how massive was the stem required to support this impressive specimen that weighed in at almost a pound and a half. The yellow heirlooms are some of my favorites for their excellent balance of sweetness and acidity.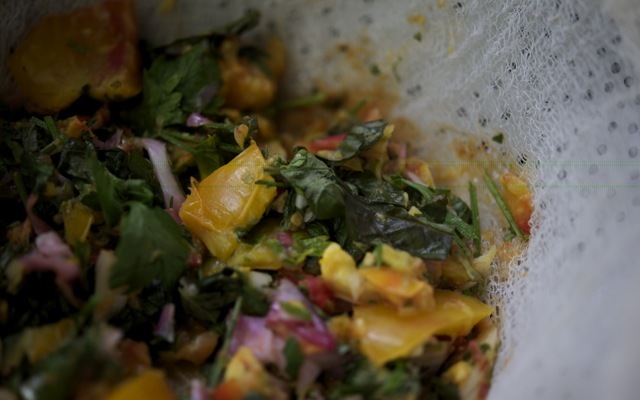 If you're not already, soon you'll be inundated with tomatoes and this is a great trick, especially when you see super-ripe tomatoes at a discount. Snap them up and make tomato water by draining cut tomatoes in a cheesecloth-lined colander overnight in the fridge. You can also add some aromatic herbs to enhance the flavor, which will be intensely tomatoey, beyond your wildest dreams.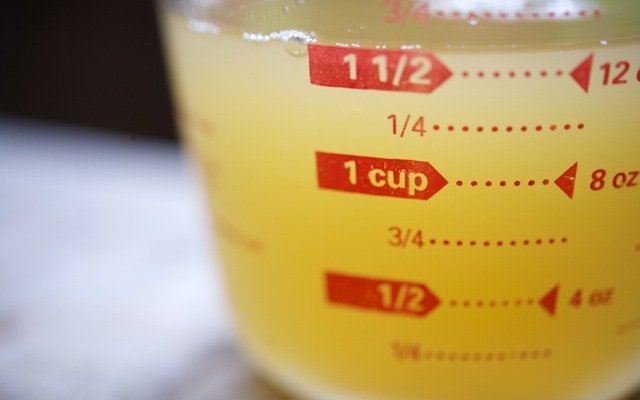 A favorite ingredient in the late 90s of chefs like Jean Georges Vongerichten and Grey Kunz, this clear, vibrant liquid is very versatile. Use it to make risotto, in cocktails, as a sauce—or just drink it as is for a mind-blowing taste experience. I had to add fresh lemon juice and some water to dilute and balance mine (which also had garlic, shallots and herbs), then mixed it with tequila and agave and enjoyed it over plenty of ice. It was complex and refreshing, like nothing I've ever tasted. I dubbed it the Garden Path. Let me lead you down...
Tomato Water
makes about 3 cups
— 2 pounds

very ripe or slightly overripe tomatoes

— 1 medium

shallot

— 1/2 cup

fresh basil leaves

— 1/4 cup

fresh cilantro leaves

— 1/4 cup

fresh parsley

— 1 tablespoon + 1 teaspoon

white wine vinegar

— 1 tablespoon

coarse sea salt or kosher salt
Line a sieve or colander with a double layer of cheesecloth; set over a large bowl.


Pulse vegetables and herbs in a food processor just until coarsely chopped.


Transfer mixture to prepared sieve. Cover with foil or a dish cloth and chill for 24 hours. Avoid stirring or pressing on solids so tomato water will drain clear.


When done draining, discard solids and seal tomato water into a non-reactive jar or container.


Keep refrigerated and use within 2 days for best flavor.


Best uses include as a light sauce or part of a sauce; with gin, tequila or cucumber vodka in cocktails; in risottos; or as the base for a clear soup.



Download Recipe
The Garden Path
makes 2 cocktails
— 4 ounces

pure agave tequila reposado

— 1 1/2 ounces

raw blue agave nectar

— 2 ounces

fresh lemon juice

— 6 ounces

tomato water (see recipe)

—

club soda, to finish

— 2

cilantro sprigs, for garnish
Shake tequila, agave nectar, lemon juice and tomato water with plenty of ice and divide between 2 glasses. Add a splash of soda to each and stir. Garnish with a sprig of cilantro.



Download Recipe