7.29.13
Quite a Handful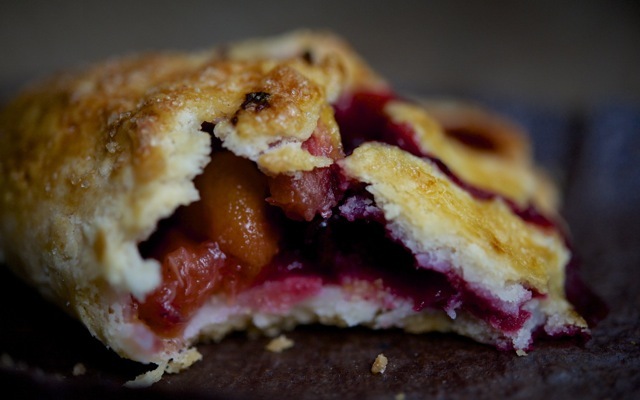 Who says you can't take it with you? The
hand pie
is eminently portable and designed to accompany you to the beach, on picnics, in your lunch bag... It's the perfect combination of
food porn and wanderlust
—a crisp and golden crust that gives way to a
glistening jumble of seasonal fruit
, and the whole thing fits perfectly in your hand. Now
that's
a hot pocket.
You know I don't do much baking, and when I do it's gluten-free, so I'm always a bit nervous about my skills with pastry dough. But I really have to hand it to Lena Kwak, who was the R&D chef at the French Laundry when she came up with the winning formula for the Thomas Keller-produced
C4C
gluten-free flour mix. It can be subbed directly into recipes for baked goods and makes
a tender, credible crumb
. Whether or not you are gluten-free, and even if you have a fear of dough, these hand pies are for you. Let me lead you into temptation...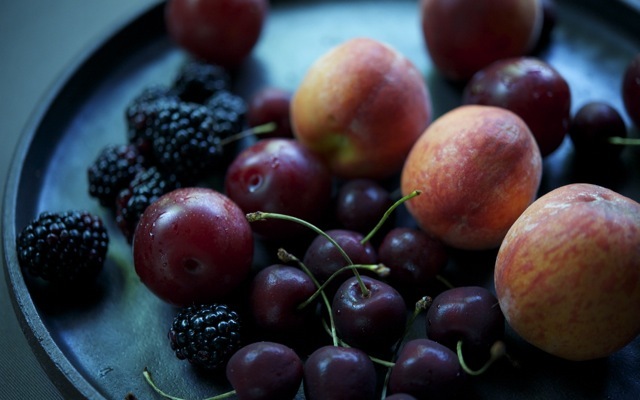 It was the abundance of summer fruits I had on hand that put me in a pie frame of mind, and we had a picnic planned with friends so I needed something that could travel. In the end we got rained out, but the hand pies were just as fun to eat indoors. I made mine with blackberries and peaches, though cherries, plums and any other berries would also be delicious.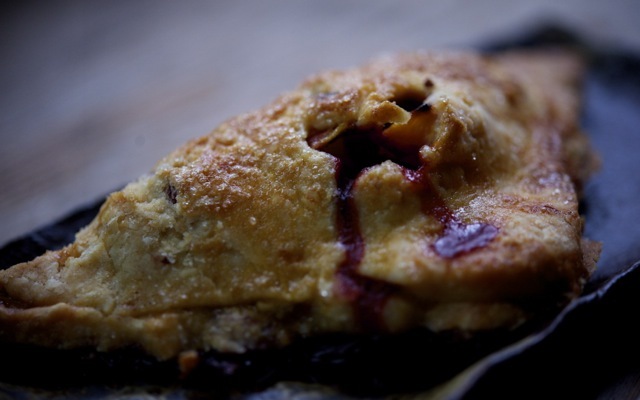 There are no photos of making the dough—a classic pâte brisée of just flour, butter and water with a little sugar and salt added—but the recipe has pretty explicit instructions. Be sure to have a measuring tape on hand as getting the proportions right makes it go much smoother. The hand pies are squares that you fold over into neat little triangles. What makes it easier is not having to roll the dough into a perfect circle—always an instant fail for me. Here, you just create a rectangle, then trim the edges to make them even.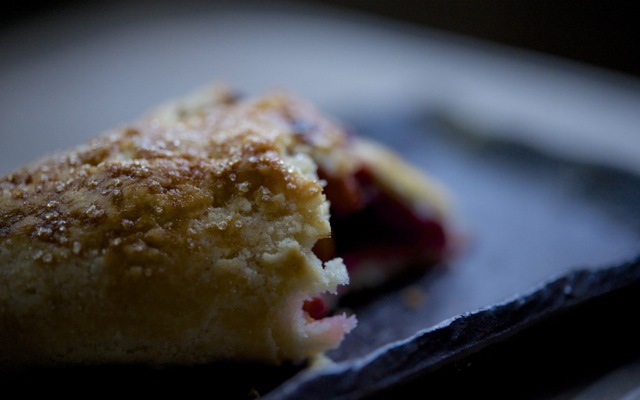 Once you've made the dough, you divide it in half and chill it (at least one hour or overnight) before rolling it out. The recipe makes 12 hand pies so, if you like, you can make just 6 and keep the remaining dough on hand in the fridge or freezer for another time.

After plopping a bit of fruit on the square of dough, you fold it over and seal the edges with an egg wash, then brush the tops with more egg wash and add a final sprinkling of coarse sugar. I baked mine longer than what most recipes require because I like a dark, crisp crust. Don't you?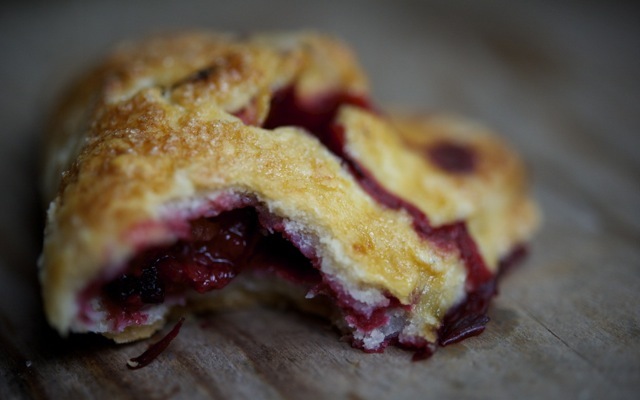 A small cross cut into the crust lets air escape and also allows a little fruit to ooze out for that wonderfully rustic look. You are not after store-bought perfection here, more like artisanal country bakery. These are best eaten the same day you make them, when they are fresh and flaky. But nobody said a leftover one isn't perfect for breakfast the next day. As if there would be any left over...
Blackberry-Peach Hand Pies (gluten-free)
makes 12
— 3 3/4 cups

all-purpose flour (for gluten-free, I recommend C4C)

— 1 1/2 teaspoons

sugar

— 2 1/4 teaspoons

sea salt

— 12 ounces

unsalted butter (3 sticks)

— 1/2 cup

ice water, or more as needed

— 1 1/2 cups

blackberries

— 1 1/2 cups

fresh peaches, peeled, pitted and cut into 1/4" chunks

— 3 tablespoons

organic cane sugar

—

zest of 1 lemon

— 2 tablespoons

lemon juice

— 1 1/2 tablespoons

cornstarch

— 1/2 teaspoon

ground cardamom

— 1/2 teaspoon

ground nutmeg

— pinch

sea salt

— 1

egg, lightly beaten

—

coarse sugar for sprinkling (organic cane sugar, turbinado or sanding sugar)
In the bowl of a food processor, combine flour, sugar and salt, then pulse briefly to combine. Add butter, and pulse until mixture resembles coarse crumbs with some larger pieces remaining, about 10 seconds.


With the machine running, add ice water through the feed tube in a slow, steady stream, just until dough holds together, no longer than 30 seconds. Pinch a little dough together; if it's still too crumbly, add a bit more water, 1 tablespoon at a time.


Turn dough onto a clean work surface. Divide in half, and place each on a piece of plastic wrap. Flatten each half into a rectangle, then wrap in plastic and refrigerate at least 1 hour or overnight.


Meanwhile, mix together fruit, sugar, zest, juice, cornstarch, spices and salt until well combined. Set aside.


When you are ready to roll out the dough, preheat oven to 375 degrees. Line two baking sheets with parchment paper or nonstick baking mats.


On a lightly floured work surface, roll out one piece of dough to a 16"-by-11" rectangle. Trim to 15"-by-10". Cut into six 5" squares. Working with one square at a time, place 2 generous tablespoons of fruit mixture in the center. Brush two connecting edges with beaten egg and fold on the diagonal over the filling, pressing to seal. Repeat process with remaining squares.


Then repeat entire process with remaining dough.


Place hand pies on prepared baking sheets, brush with egg wash and sprinkle with coarse sugar. Using a sharp knife, cut a small X into the center of each hand pie so steam can escape.


Transfer baking sheets to oven and bake until crusts are golden brown and filling is bubbling, 30-40 minutes. Cool slightly on a wire rack. Serve warm or at room temperature.



Download Recipe