7.26.13
Muddling Along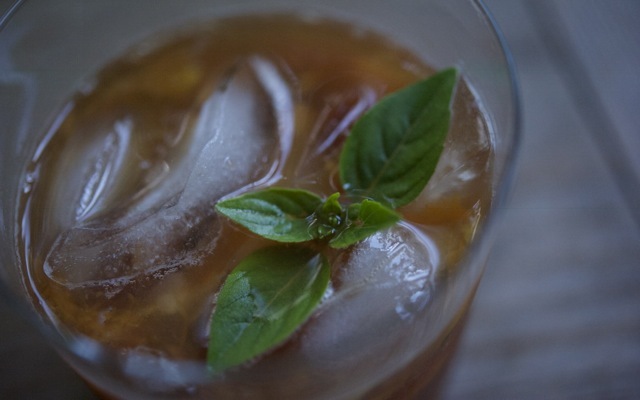 In the midst of all the glories of summer—the deliciously cool mornings, the lingering evening light, the sound of the crickets, the smell of crushed tomato leaves, the feel of bare toes in prickly grass—life continues to have its challenges. For me, that means too much work tethering me to my desk and a wrenching sense of always feeling caught between what I want to do and what I have to do. Sometimes, those two things overlap but I often feel like there are simply not enough hours in the day. August is just around the corner though and that means a break from my blog. (I'll miss you!!) This year, I'm going to experiment with going dark on Facebook for the month as well.

I'm also trying something else that's new: when I wake up, instead of immediately obsessing about everything I have to get done that day, I take a little time to just lie there and review everything for which I can be grateful. Yes, I count my blessings. Inevitably, it begins with the man asleep a few inches away, whose love and support never fail me. Sometimes, I let my mind roam into the scary places and, even there, if I stay anchored, I can tap into the strength and the resolve to push through. I am no Pollyanna, believe me, but this little ritual really helps me start the day with optimism and joy in my heart. As for how I reward myself at the end of the day, the photo above should give you a clue.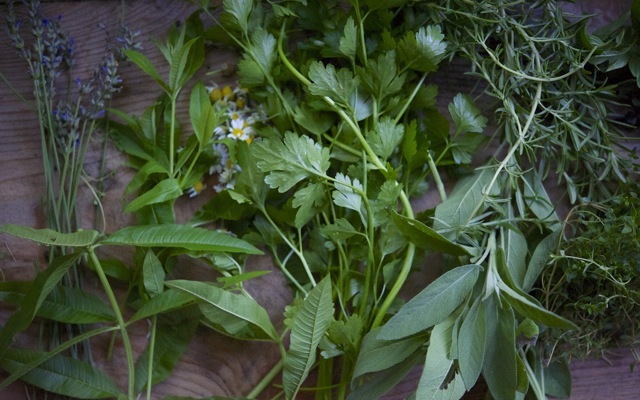 A ton of rain and a dose of punishing heat have been a good combination in the garden and I am especially grateful for the
explosion of herbs
. Good thing I am going to be doing a
workshop
on flavored salts at
Best Made
in September—some of these will be in my arsenal. Above, from left, are lavender, lemon verbena, chamomile flowers, parsley, sage, rosemary and thyme.
Here are rosemary, English thyme, purple basil, two kinds of Thai basil, cilantro flowers, more sage, pistou basil and dill.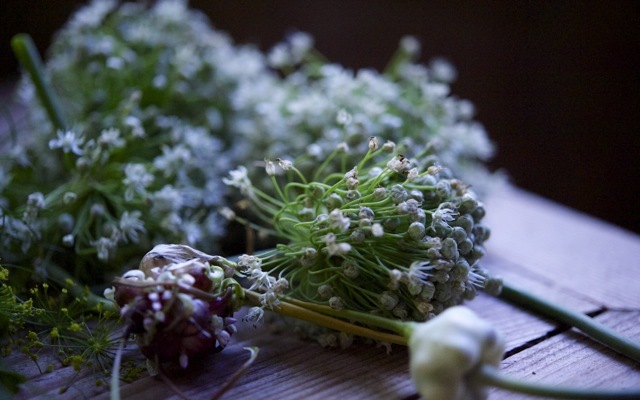 There are also loads of big puffy shallot flowers, which I plan to dunk in tempura batter and fry until crisp. The
vinegar infused with young garlic
turned out to be delicious, by the way...
Bunches of herbs are laid out on trays in the screened-in porch. Most will be cleaned, picked from the stems and set to dry in the dehydrator. But there's plenty more to be used fresh. I adore
salsa verde
made with any
improvised combination
of minced herbs—chervil, mint, basil, tarragon—plus capers, garlic, a little shallot, hot chile, red wine vinegar and plenty of olive oil.
Drizzle that
on grilled fish or on grilled cheese sandwiches, it improves everything.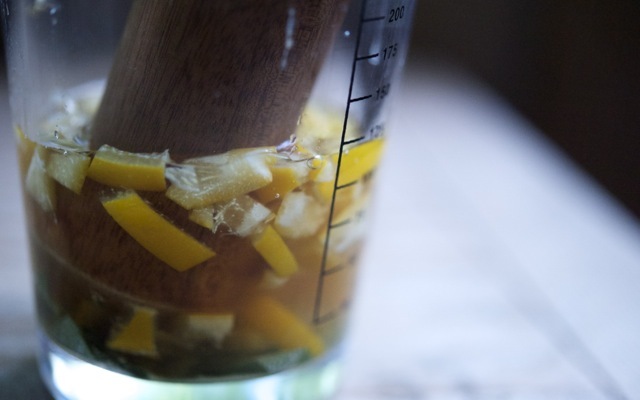 I also like
herbs infused in water
—hot or cold—especially mint, basil, lemon balm, anise hyssop and lemon verbena. These verdant and floral flavors, both sharp and subtle, are amazing in drinks of all kinds. If you aren't already doing this, try adding them to your
afternoon refreshers and evening tipples
.
The August issue of
Bon Appétit
has a short feature called "Virgin Territory," with a bunch of recipes for non-alcoholic beverages that have the complexity of the best cocktails, including
this one
for a salted Meyer lemon and sage pressé. It inspired me to create my own version, using some of the preserved lemons that are always lurking in the back of my fridge. Just be sure to remove the pulp and lightly rinse the rind before muddling with sage and simple syrup. Oh, and leave out the extra salt as the preserved lemons already have some.
Muddling
, you say? Oh yes. Bruising herbs is essential for
bringing out the oils
that carry the most flavor, and this classic cocktail technique using a long tool like a pestle does the trick.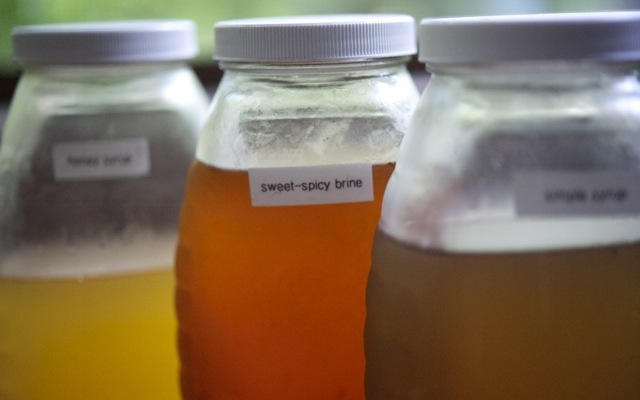 I always keep various kinds of
syrups and brines
on hand, mostly for drinks but they're also great for
quickles and salad dressings
. Here, from back to front are honey syrup made with equal parts honey and water, gently heated; sweet-spicy brine made with vinegar, brown sugar, spices and chiles; and a
classic simple syrup
of equal parts organic cane sugar and water (this can also by infused with herbs and spices).
I also like to put equal parts sugar and lemon and/or lime juice in a glass bottle and shake until the sugar is completely dissolved. Heating citrus tends to remove some of the
fresh subtleties of the flavor
and this preserves them. Try this over ice with club soda, in a
Ruby Sipper
or in any sort of margarita.
Once you understand the concept of muddling—a mojito, for instance, start with fresh mint muddled with sugar and limes—you begin to see the possibilities. It's a great way to break down summer fruits to use in drinks. I quickly blanch stone fruit first so I can easily slip off their skins. Muddle small plums with purple basil and stir in simple syrup infused with star anise and cardamom. Add a splash of lime juice and top it off with club soda, without or without gin, or try a healthy splash of
lambrusco
with it.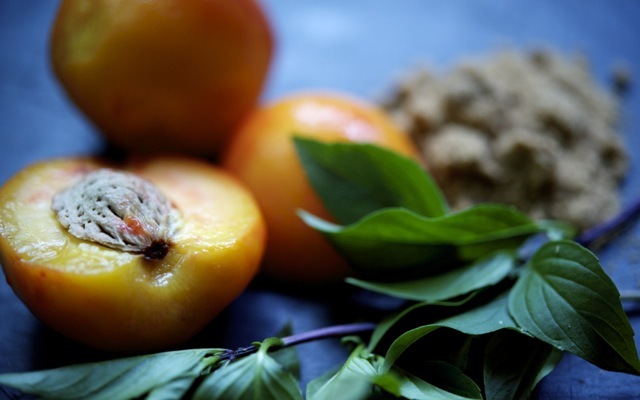 Peaches have an affinity with Thai basil, so I muddled those together with some brown sugar and lemon juice, then added a teaspoon of this decadent
vinegar
and some aged white rum and shook it all with ice until the shaker was frosty. Substitute club soda or even tonic for the booze and you've got something just as delicious.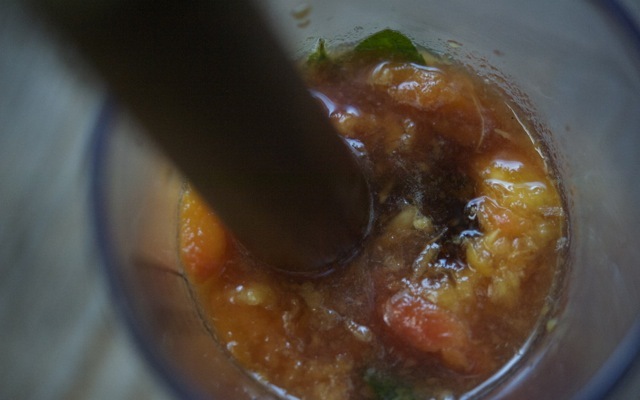 Give everything a good pounding so the fruit really breaks down and the herbs release all their flavor.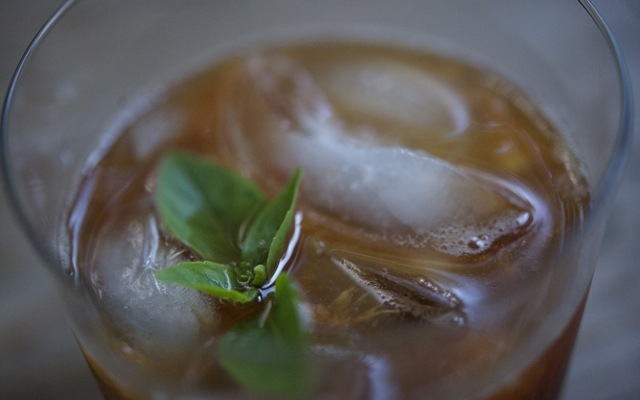 Some other good combinations? Lemon and rosemary. Celery, parsley and gin. Melon and tarragon. Balsamic vinegar, berries and red wine. Mint and lime. Blackberries and geranium. That should get your juices flowing...
Ma Pêche (Muddled Peach Cooler)
serves 2
— 2

small peaches

— 8

medium leaves Thai basil, roughly torn

— 2 tablespoons

light brown sugar

—

juice from 1 large lemon (about 4 tablespoons)

— 1 teaspoon

aged balsamic or sherry vinegar

— 4 ounces

rum, optional

—

club soda, optional

— 2 small sprigs

Thai basil, for garnish
Place a small pot of water over high heat and bring to the boil.


Meanwhile, in a cocktail shaker or small pitcher, muddle together basil, brown sugar and lemon juice.


When water is boiling, drop in peaches and cover. After two minutes, turn off heat, remove lid and transfer peaches to a small bowl using a slotted spoon. When cool enough to handle, slip off and discard skins. Pull peach flesh away from stone in chunks and drop into muddled mixture.


Continue to muddle together until peaches form a puree.


Stir in vinegar and rum, then add two large handfuls of ice and shake or stir vigorously.


Divide between two rocks glasses and top off with a splash of club soda.*


*To make virgin, simply omit the rum and stir in enough club soda to fill glasses to the top.



Download Recipe