6.25.13
A Good Pounding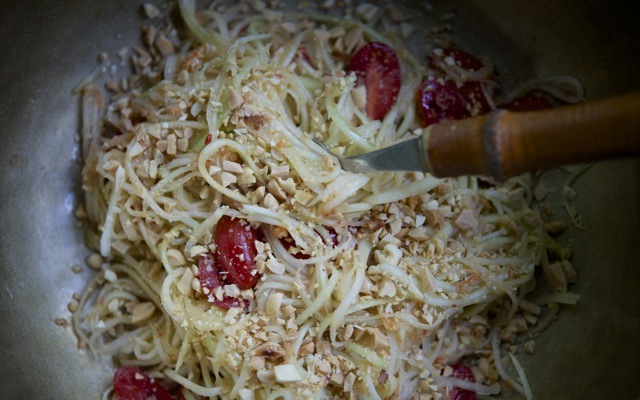 Eight years ago, I went to visit a good friend who was living in Singapore and we traveled together to Thailand and Laos. We ogled temples, wandered through markets, rode in boats and rickshaws and on an elephant, and ate like nobody's business. At the Conrad in Bangkok, there was a mind-boggling breakfast buffet that lured us on a tour of global gluttony first thing in the morning—from delicate Chinese dim sum and Japanese tofu to Italian gelato in brioche and Indonesian waffles to buttery French croissants and cream-laden Bircher muesli (masquerading as a healthy option), not to mention every fruit imaginable and some heretofore unknown. It was the sort of start to the day that automatically predicted a nap in our future. But we also stayed in some modest little places, including along the river in Luang Prabang, where said boat trip led us into a lush forest with a waterfall and turquoise swimming hole that was a playground for local kids. Nearby, a couple of women pounded green papaya in big stone mortars to make a traditional Laotian salad, tam som, which they sold in small plastic to-go bags.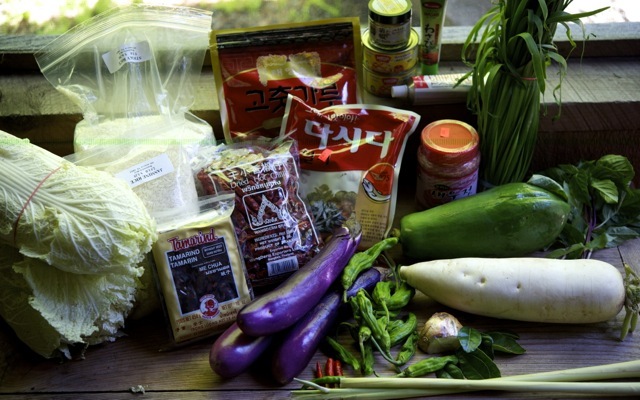 Oh, I'd had green papaya salad before—in Thai restaurants in New York where it's known as
som tam—
and always enjoyed the cool, tangy crispness, laced with peanuts and a little funky sweetness. But this was on another level entirely. Was it the ingredients? The place? The technique? I'm sure it was all these things that made it the holy grail of green papaya salads. I feared I would never taste another like it.
But then I discovered
Bangkok Center Grocery
on Mosco Street in New York City, where the lovely owners greet you in Thai and guide you through the traditional ingredients. (Above is a recent haul from a trip there and another to
this Korean grocery
.) They even stock produce, like galangal and wild lime leaves and fresh green papayas. And, wonder of all wonders, they often have batches of prepared
som tam
for sale in their little fridge of takeout foods. It's absolutely delicious, incredibly spicy but impossible to stop eating. Just how I like it.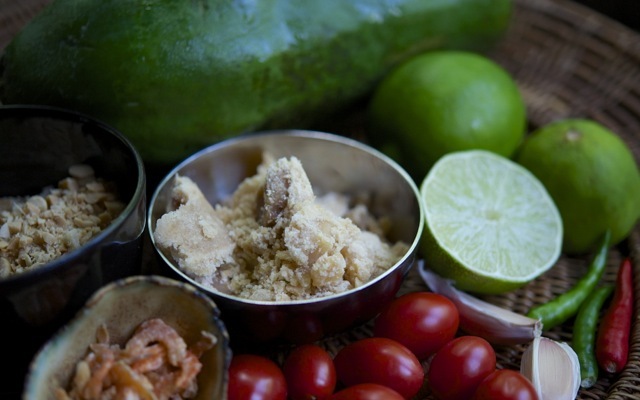 This salad contains all the bold and brilliant flavors of Southeast Asian cuisine:
hot
chiles,
sour
lime,
salty
fish sauce and
sweet
palm sugar. Beyond the usual tiny dried shrimp, long beans, cherry tomatoes and roasted peanuts, certain regional variations might include brined crabs (like they do at
Pok Pok
), raw Thai eggplant or hog plums.
The salad
originates from Isaan, the northeastern part of Thailand near
Laos, where pounded salads are a bit of a thing. They
can be eaten on their own for a light meal or snack, or as part of a typical meal with
grilled chicken
and
sticky rice
. Few things are better.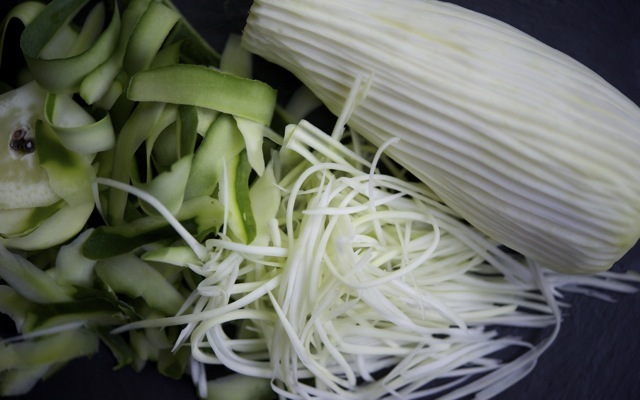 When I've made it before, I have painstakingly sliced and julienned the green papaya—a true labor of love. This time, the kind store proprietor recommended I pick up a
julienne shredder
, which makes short work of this time-consuming process. (Who knew?) A little online research revealed
this traditional technique
—the one those Laotian ladies were using but which I will not be attempting any time soon.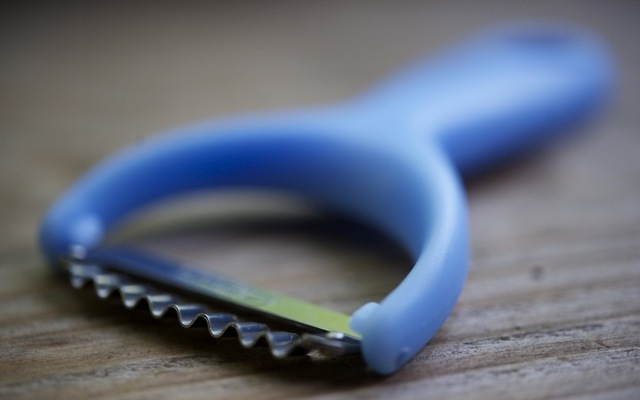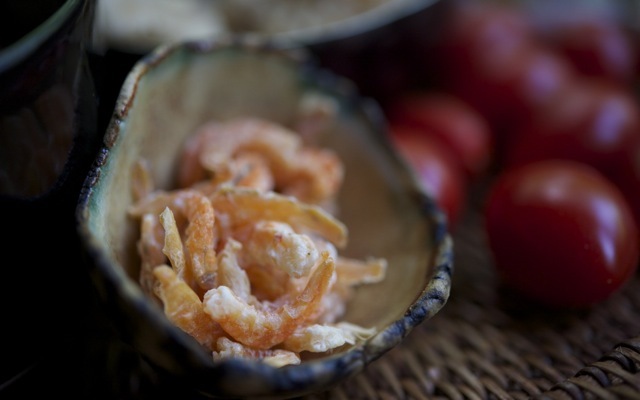 Remember those tiny dried shrimp I picked up in Chinatown? They feature in this dish, adding a kind of rich yet indistinct savoriness similar to that of anchovies. They are often left whole in green papaya salad, but I prefer them more integrated, so I pulse them a few times in my spice grinder to make a chunky powder. A good trick for cleaning the grinder after? Process a handful of rice, which is great for absorbing any residual odors.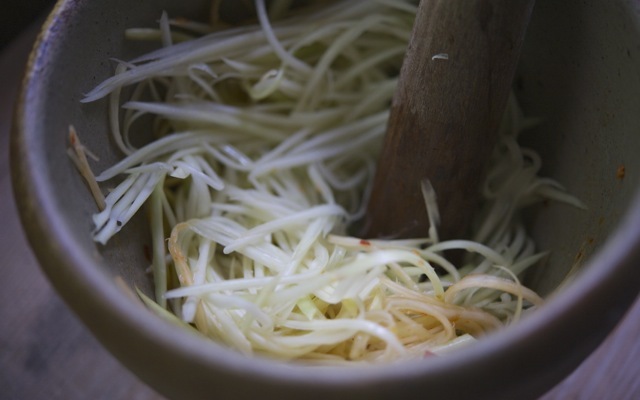 A large mortar and pestle are essential components in making authentic green papaya salad.
This
is what I have—inexpensive, heavy and very serviceable. (The same place also carries
steamers
for sticky rice.) You could probably get a similar effect using a sturdy bowl and a muddler, but a mortar and pestle come in handy for many cooking tasks, like making garlic paste and pestos.
You start by pounding garlic and spicy bird chiles into a paste. If you're not adept with a mortar and pestle, remember that it's an acquired skill. Don't despair if bits come flying out, just focus on your task. One tip is to think about using the pestle to sort of scrape the ingredients down the side of the mortar, so there is less air time between pestle and the mortar.
Then you add the julienned papaya which gets a bit loosened up and tenderized with the addition of some fish sauce and a syrup you make by combining fresh lime juice and palm sugar. Pound it with medium force for a couple of minutes. Finally, you gently pound in some halved cherry tomatoes and stir in the shrimp powder and some chopped roasted peanuts.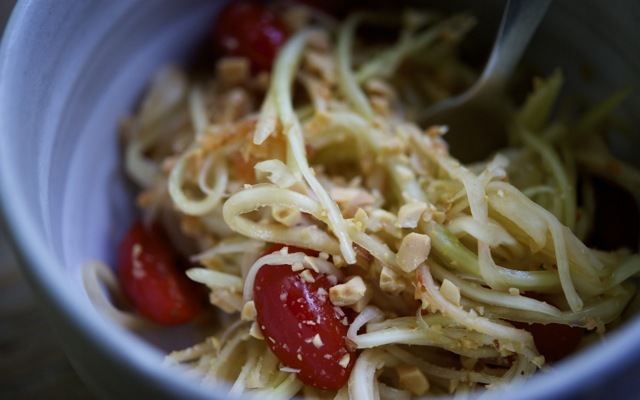 Of course you can customize this salad to your liking. I forgot to get long beans, so I didn't include them—but you can. Don't use too many chiles; you can always add another if need be. Adjust the sweet-sour-salty balance to suit your palate. Pound it up and serve it right away. Room temp is best, though I've had it cold and I didn't complain. When my eyes start to water from the fiery heat and my lips begin to tingle, it's the kind of painful pleasure that makes me keep coming back for more.
Green Papaya Salad
serves 2
— 2

small cloves garlic

— 2

Thai bird chiles

— 8-10

cherry tomatoes, halved

— 3 cups

shredded green papaya, tightly packed

— 4 tablespoons

fresh lime juice

— 4 tablespoons

palm sugar (can substitute light brown sugar)

— 2 tablespoons

fish sauce

— 2 teaspoons

dried shrimp

— 2 tablespoons

roasted peanuts
Peel the green papaya and discard the outer skin. Using a mandoline, special peeler or chef's knife, shred into long, fine strips.


Pulse the dried shrimp in a spice grinder or small food processor to form a coarse powder. Set aside.


In a small bowl, mix the lime juice and sugar, stirring to combine well. Set aside.


Finely chop peanuts. Set aside.


In a large mortar and pestle, pound the garlic and chiles together to break down into a uniform paste.


Add the shredded papaya and pound to mix well with chile-garlic paste.


Add half the lime syrup and fish sauce and pound to mix.


Add dried shrimp and tomatoes and pound lightly, just to release juices and combine well.


Taste and adjust seasoning, adding more lime syrup and/or fish sauce as needed.


Divide between two plates and garnish with chopped peanuts.



Download Recipe