6.28.13
Burnt Offering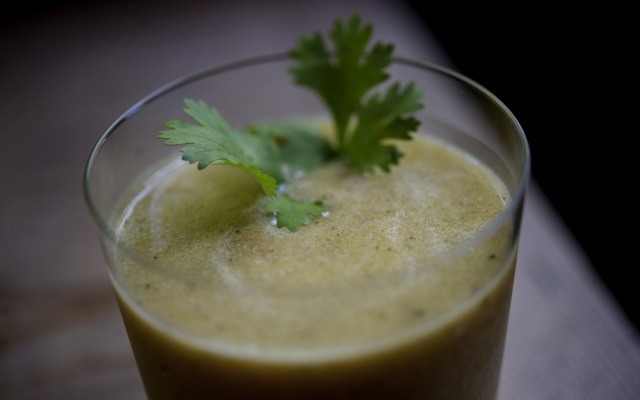 I promised you a recipe for kimchi this week but I'm saving that for another time and offering you this cocktail recipe instead. Because you need it for the weekend! In fact, I'm going to see if I can come up with a new cocktail recipe for you every Friday. Not a drinker? Since most of my cocktails are based on seasonal fruits, vegetables and herbs, you can make them virgin with just a few tweaks here and there. With or without booze, they are a great way to celebrate the season's bounty, and a signal to kick back and relax, alone or with friends.

Refreshing rains have moved through here again, bashing the delicate ferns and denuding the last downy petals from the peonies. The enormous jasmine bush that leans over the neighbor's fence has bloomed, filling the air with a sultry sweet fragrance that wafts through our cottage and makes me swoon. There is no hissing of summer lawns here, just the chirps, caws and warbles of our avian choir.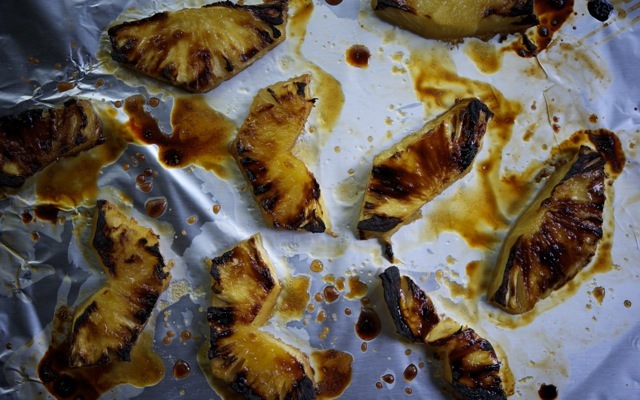 Hot weather makes me yearn for pineapple—a choice neither seasonal nor local but what the hell. I love to grill it, then combine it with
lime juice, cilantro, scallions and jalapeño
for a delicious salsa. (It's also wonderful in the dessert parfait described
here
.) If it's heading toward a sweet destination, I sprinkle it with sugar first—usually jaggery or muscovado, though almost any will do—which creates an even more pronounced caramelization.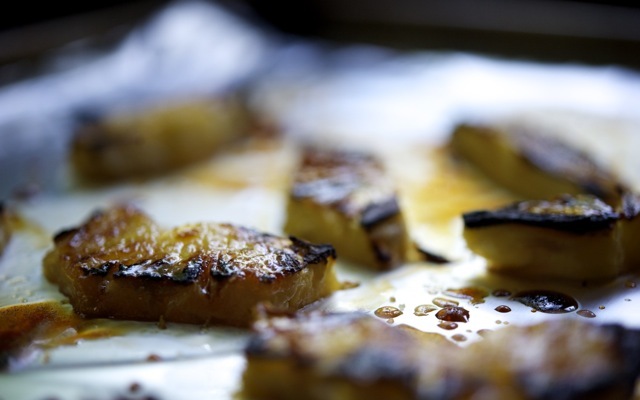 This technique works perfectly well under the broiler, too. You're just looking for that deep bronze color and wonderful smoky char. Hence the name of this drink—
Piña Quemada
, which tranlates literally as "Burnt Pineapple." Let the fruit cool while you round up the remaining ingredients:
tequila, mezcal, lime juice, sugar, cilantro and mole bitters
.
I've often heard it said that good tequila is wasted in a mixed drink. Don't believe it. I'm not using an añejo sipping tequila here, but I do like a nice smooth reposado like
this one
, named after Pancho Villas' famous horse. It's a bit of an acquired taste but I am now smitten with mezcal (currently enjoying
this reposado
) and love how its
herbal smokiness
complements anything grilled. Unfamiliar with these terms?
Joven
, meaning youth, is an unaged spirit.
Reposado
means "rested" or lightly aged.
Añejo
means aged.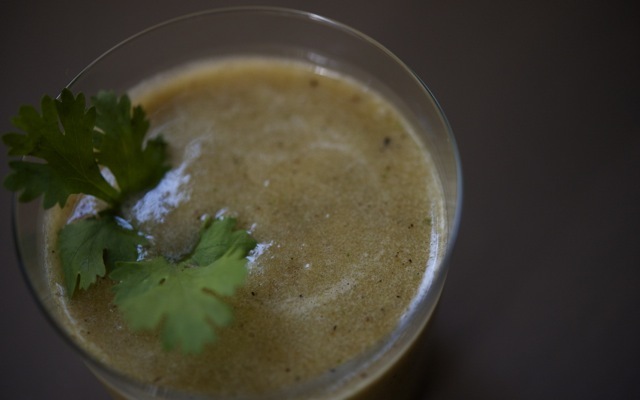 Everything comes together in your blender or Vitamix with a couple of handfuls of ice to create a smooth, slushy texture. The mole bitters are optional, though they add a note of mystery, and I think would help if you're making this without booze.

The cilantro and the smokiness take this far, far away from piña colada territory and deep into Mexico, the land of enchantment. And who wouldn't want to spend the weekend there? ¡Salud!
Piña Quemada (Smoky Pineapple Cocktail)
makes 2 cocktails
— 1 cup

pineapple in 1"-thick slices

— 3 tablespoons

palm sugar, divided (can substitute light brown or coconut sugar)

— 3 tablespoons

fresh lime juice

— 2 ounces

mezcal reposado

— 3 ounces

tequila reposado

— 1 tablespoon

cilantro leaves

— 2 dashes

Mexican mole bitters

— 2 cups

ice

— 2 sprigs

cilantro, for garnish
Preheat broiler on high.


Line a baking sheet with foil and lay pineapple on top. Sprinkle with 1 tablespoon palm sugar and broil until nicely bronzed with a little char, about 10 minutes or more depending on your oven. Remove and set aside to cool.


Meanwhile, place remaining 2 tablespoons sugar with lime juice in a small bowl and stir to dissolve sugar completely.


In a blender or Vitamix, place ice, pineapple, mezcal, tequila, sugar-lime syrup, bitters and cilantro leaves and process to a slushy consistency.


Pour into two glasses and garnish each with a sprig of cilantro before serving.



Download Recipe