4.24.13
Pale Fire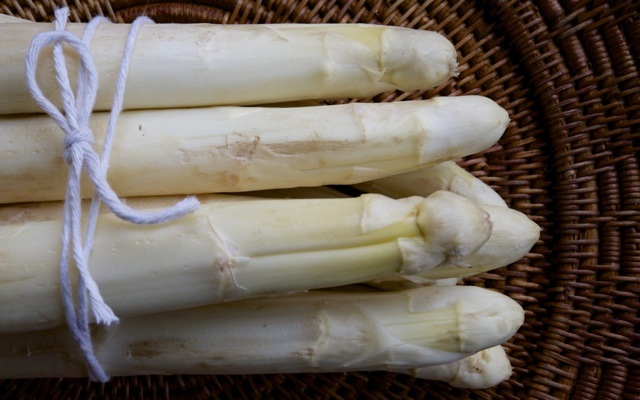 My love of white asparagus started early in life. I was 8 years old and living with my family in Madrid during my father's sabbatical year. We traveled around the country quite a bit, often staying at wonderful
paradores
. These are state-owned hotels in historic castles and monasteries, many in spectacular locations, and generally decked in musty brocade with full suits of armor lurking in corners.
It was quite standard for us to order three courses whenever we ate out—which was a lot—and my choice of appetizer was often a vegetable. I loved
judías blancas
, meaty white beans in a chorizo-flecked tomato sauce; and
judías verdes
, green beans cooked to within an inch of their lives in plenty of garlic and olive oil. But my very favorite was white asparagus: three or four jumbo spears, as silky and tender as can be, cloaked with a rich veil of yellow mayonnaise. (In Spain, the best white asparagus come from Navarra, and a great many of them are preserved for sale in
tins
and jars, which does not diminish their flavor at all.) It's a taste of childhood that has haunted me over the years, cropping up with reassuring consistency.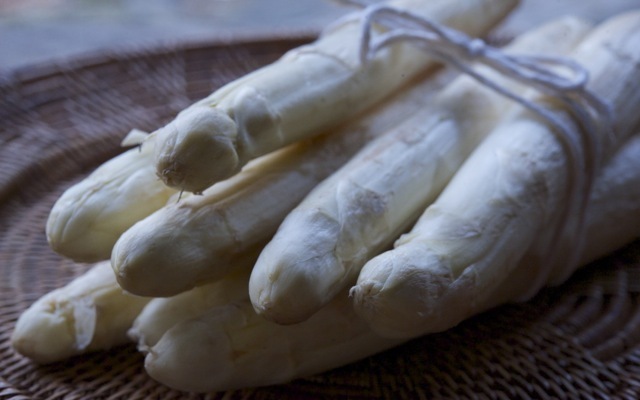 Let's just acknowledge upfront the phallic resemblance. And let's move on.

Asparagus is a member of the lily family, as are onions and garlic. The spears are actually shoots that sprout up from the crown of the plant. All asparagus start out white, before they emerge from the earth and are exposed to the chlorophyll-producing sunlight that turns them green. The technique of keeping them sheltered by continually molding soil around the spears as they push up out of the ground was developed in France in the 17th century.

This requires backbreaking labor, which explains white asparagus' high prices of up to $14 per pound, depending on its origin and what remains of the season, which starts in early April and ends at the summer solstice. I spent $27 for two pounds at Eataly, but it's a once-a-year splurge that still costs less than a good rib-eye.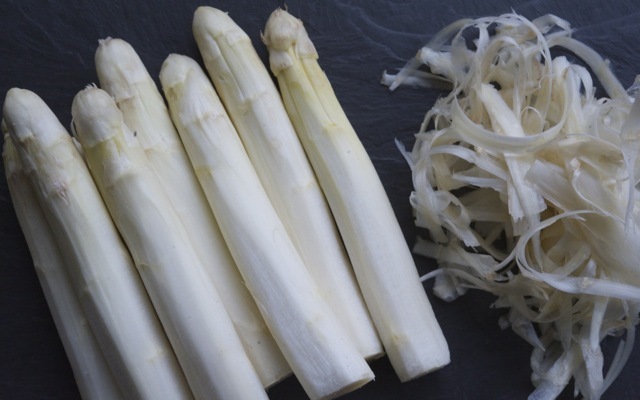 Asparagus are a great favorite of the Germans, and when I was living in Los Angeles a decade ago I was thrilled to rediscover this childhood passion. The bounty of spring asparagus—both green and white—at the Santa Monica Farmer's market, especially the spears as big around as a baby's wrist, will make you swoon. Hans Röckenwagner an L.A.-based German expat chef offers an annual spargelkarte, a multi-course all-asparagus menu. However creative he gets (candied white asparagus with blood orange mousse?), he is always sure to feature the classic German presentation: a single serving of a whole pound of perfectly steamed white asparagus spears surrounded by delicate new potatoes, thin slices of smoky black forest ham and dollops of homemade mayonnaise.


"When it comes to the white variety, you need to block out everything you think you know about asparagus," says Röckenwagner. "It's a completely different vegetable.''
This is so true. It's important that you don't simply replace white asparagus for green in your recipes. The taste of white asparagus is quite different—subtle but arresting, its earthy sweetness has a pleasing hint of bitter the Germans call edelbitter. They require a longer cooking time and are generally served meltingly soft as opposed to the al dente texture that is often recommended for the green ones.

As with the green, you'll need to snap off the ends of the white asaparagus, but also shave off the tough outer layer. Save these trimming as they make a flavorful soup!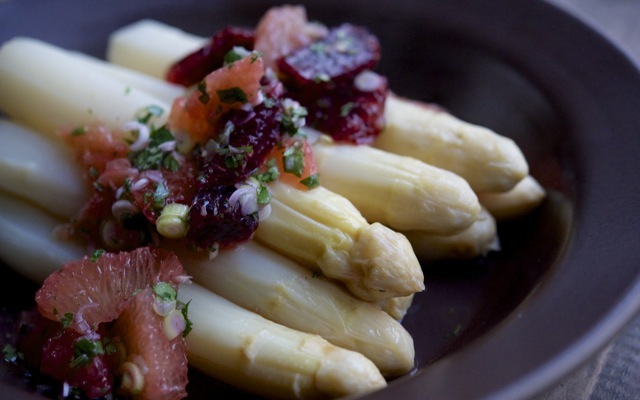 After gently braising my white asparagus in water and butter with a bit of salt and sugar, I served some with a seasonal relish made from blood oranges, scallions and parsley tossed with a little olive oil. The flavors were very complementary and it certainly made for a beautiful dish.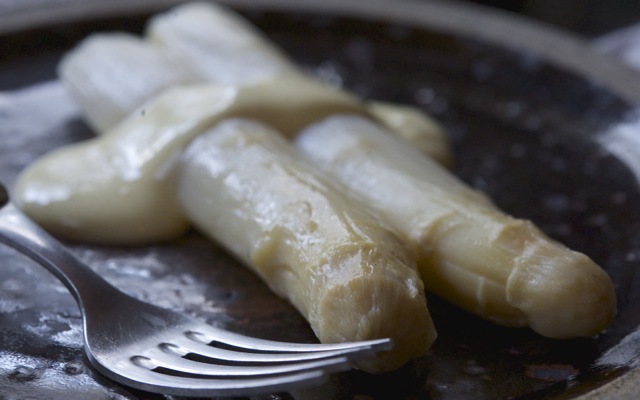 I'll play around but I remain true to the original version, the simple Spanish preparation that first won my heart. You can doctor up any store-bought mayonnaise by whisking in lemon juice and a little olive oil, but homemade is best.
Here's
a recipe; if you've never tried it before, you will be astonished at how satisfying making your own mayonnaise can be. But not as satisfying as eating an entire pound of buttery white asparagus...
White Asparagus
lightly adapted from Hans Röckenwagner
serves 1-2

— 1-2 pounds

fresh white asparagus

— 4 quarts (16 cups)

water

— 2 tablespoons

sea salt

— 4 tablespoons

fresh lemon juice

— 3 tablespoons

butter

— 3 tablespoons

sugar, optional
Bring the water to a simmer in a large pot with the salt, lemon juice, butter and sugar, if using.


Meanwhile, trim about ½" from the ends of the asparagus, more if they are very woody and dry. Lay the spears on a work surface and peel them with a sharp vegetable peeler, starting about 1 ½" from the top and running evenly down the length of each spear. (Spears are brittle and can snap when peeled in midair.)


Gather the spears into 2-4 bundles and tie them loosely with kitchen string, then lower them into the simmering water. Cook, increasing the heat to maintain a simmer if necessary, until the asparagus is tender when pierced with the tip of a knife, 8-30 minutes, depending on the thickness of the spears. Lift the bundles from the water with kitchen tongs and drain them on paper towels.



Download Recipe
White Asparagus Soup
serves 4
—

Trimming from 2-3 pounds white asparagus

— 6 cups

water

— 1/4 cup (1/2 stick)

butter

— 1/2 cup

minced white or yellow onion

— 3 tablespoons

all-purpose flour (gluten-free is fine)

— 1/2 cup

heavy cream or real buttermilk

— 1 tablespoon

fresh lemon juice

—

sea salt

— 4

cooked white asparagus spears, optional
Bring the asparagus trimmings and water to a boil in a 4-quart saucepan. Reduce the heat to a simmer and cook about 20 minutes, then strain, reserving the broth.


Melt the butter in a medium saucepan, then add onion and cook until tender, but not browned, about 2 minutes. Stir in the flour until blended and smooth, about 1 minute.


Add 5 cups of the asparagus broth and bring to a boil. Reduce the heat and simmer 5 minutes. Stir in the cream. Simmer 1 minute. Stir in lemon juice, then taste and add salt as needed.


If using the asparagus spears, cut into 1" slices and put a few in the bottom of each bowl before serving.



Download Recipe