4.22.13
High Noon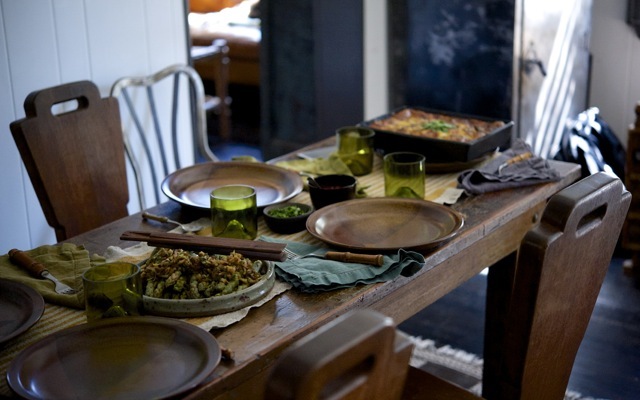 I watched a wonderful film this weekend,
Which Way Is The Front Line From Here?
It's an HBO documentary made by Sebastian Junger about photojournalist Tim Hetherington who was killed on the job in Libya a couple of years ago. Junger and Hetherington collaborated on an another stunning film,
Restrepo
, about a group of American soldiers in Afghanistan. Hetherington was clearly an extraordinary human being. The compelling photographs he took and humanitarian work he did in war-torn countries reveal the soul of a poet and the heart of a lion. Cut down by mortar shrapnel in Libya, he bled out from a wound to his femoral artery. Junger made the film as a tribute to his friend and colleague, and also started
RISC
(Reporters Instructed in Saving Colleagues), a free intensive training in basic combat medicine for freelance journalists headed for the front line. Listen to Terry Gross' moving interview with Sebastian Junger
here
. In it he refers to the way in which we continually "re-traumatize" ourselves by watching the same distressing news footage over and over. It reminded me of the coverage of the tragedy in Boston this past week and the relentless replaying of the same gruesome images. I question the value of this.
And now, on to brunch. Somehow trivial in light of these terrible events, and yet necessary to celebrate any given Sunday.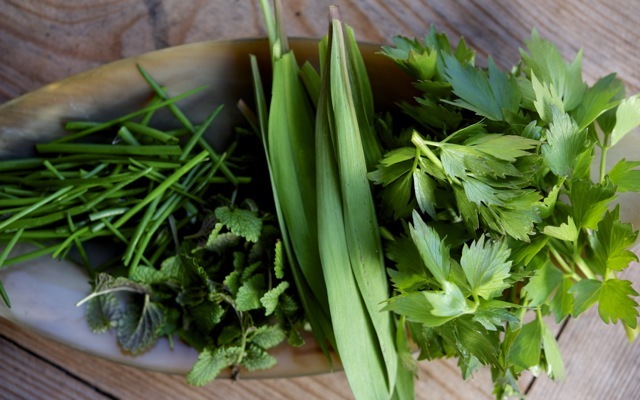 I rose early yesterday and, despite the frosty temperatures, took my harvesting basket and clippers out to the garden. I wanted to sample all of the tender green shoots and use them as accents in the meal I would prepare for our guests. It's very exciting to see the perennials return each year. I never tire of it.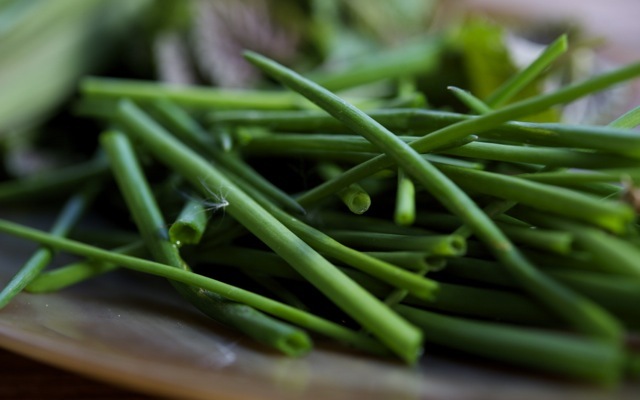 The chives are among the first to appear, their hollow green stalks emerging from the dry papery remnants of last year's growth. I adore their sharp, oniony flavor which goes so well with cheese and fish.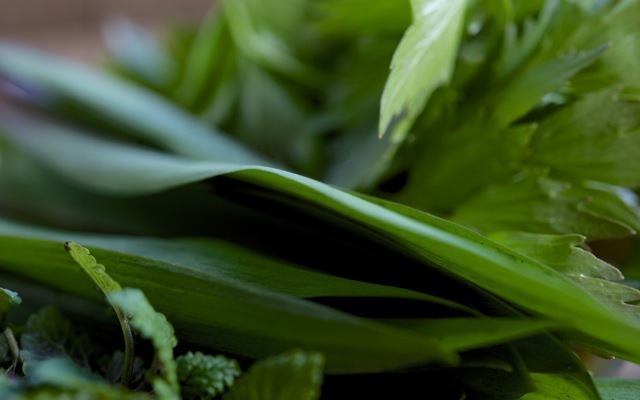 Have I already bragged to you about our ramps? Forgive me if I repeat myself. You see, I grew so frustrated at being unable to find ramps in the wild—despite have searched in all the right sandy, shady, damp conditions—that my darling husband ordered some from Virginia and planted them in a corner of the yard last year. Sure enough, I have my very own ramp patch growing "wild" in the garden! I don't think I'm going to harvest any bulbs this year so they can multiply and get well established, but I have cut some of the
green leaves
which hold much of the intense flavor.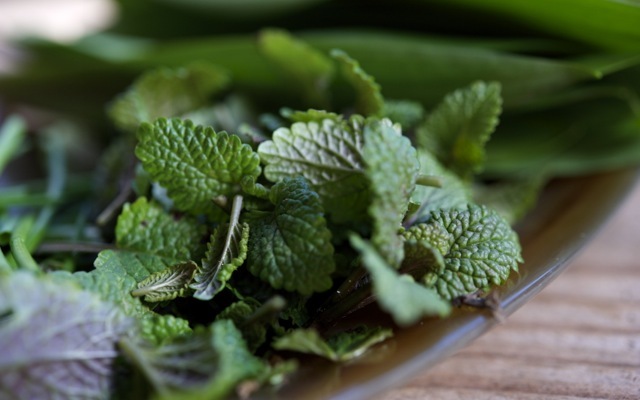 My enormous patch of lemon balm came with the house and provides fodder for tea and panna cotta and syrups all summer long. Even these tiniest of leaves, just born, are full of bright citrusy perfume.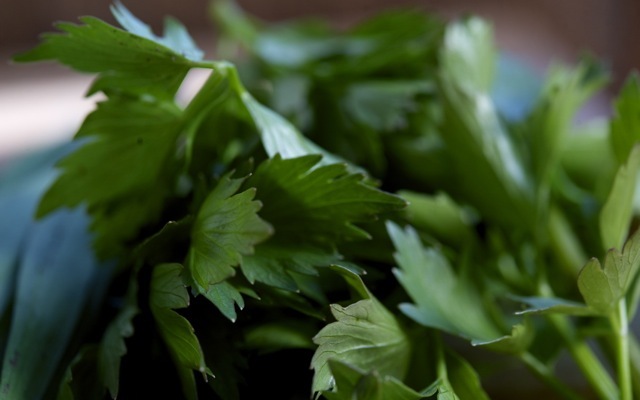 The new lovage shoots have a slightly more refined celery flavor, though it's still quite strong. They are wonderful tossed into salads and soups and make a fantastic garnish for eggs of any sort.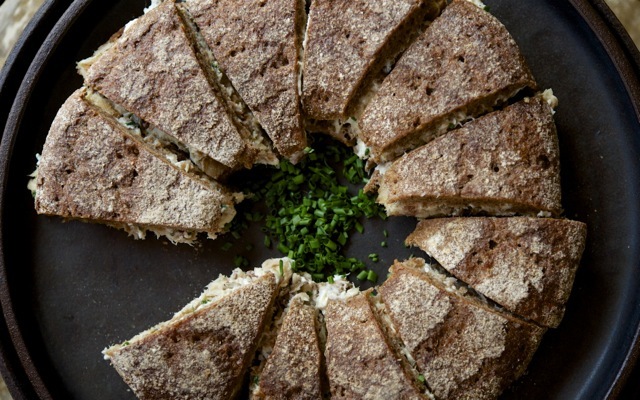 I prepared these little sandwiches for guests to nibble on right when they arrived. I sliced in half a whole round of
this
chewy Finnish rye bread that I find at the Union Square farmers market. It's made of earthy whole rye flour and freezes quite well. I spread it with a thick layer of cream cheese into which I had stirred copious amounts of freshly grated horseradish. Then I layered on pieces of smoked mackerel, lemon juice, a few capers and a thick sprinkling of my chives.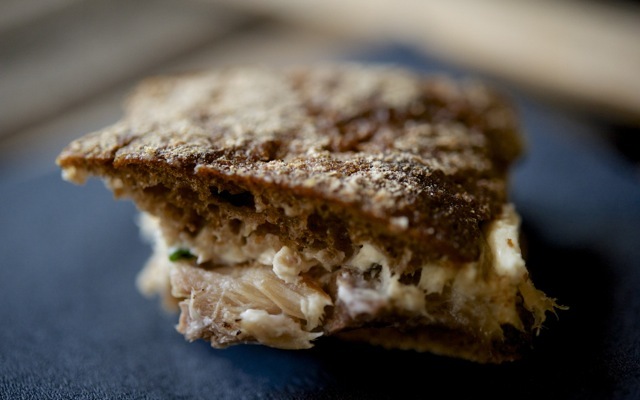 I cut the loaf into small wedges which went nicely with hot coffee or fresh apple-celery-cucumber-parsley-ginger juice.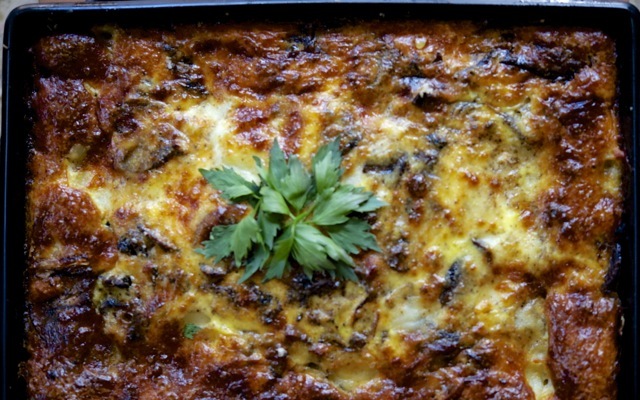 We sat down to a mushroom-and-leek frittata that I baked in a casserole in the oven. I whisked a bit of milk into the eggs and topped it with a sprinkling of Parmesan which created a nice bronzed top. I served it at room temperature so it would have a chance to firm up a bit, but it remained nicely creamy. (
Here
is a similar recipe, though this one starts on the stovetop.)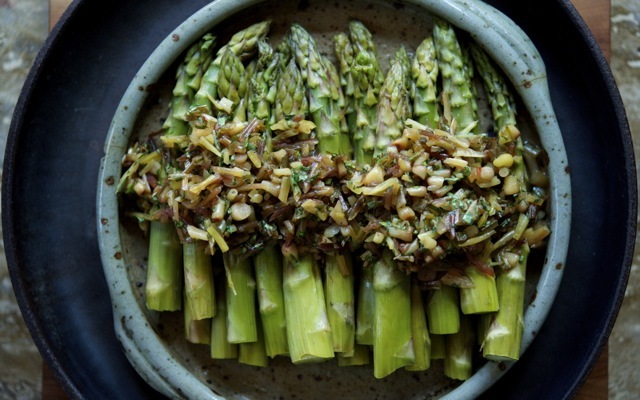 On the side were steamed asparagus spritzed with lemon juice and topped with a relish made from last year's
pickled ramps
and this year's ramp greens.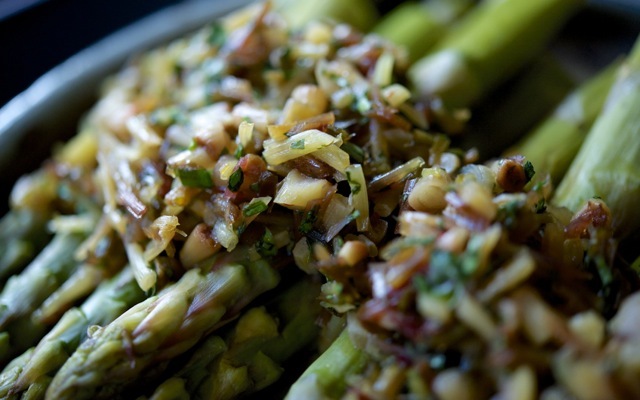 Deborah Madison's new book,
Vegetable Literacy
, has a lovely and simple recipe for asparagus and ramps braised together in a combination of butter and water. These two vegetables emerge from the earth together and are so compatible.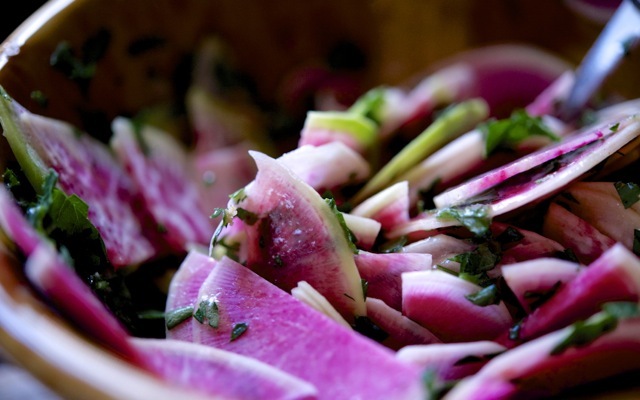 I also made a light salad of thinly sliced watermelon radishes dressed with a tangy anchovy vingaigrette (rather like
this one
). Its bright crunch was a welcome addition to the table.
Dessert was passionfruit frozen yogurt made from
Jeni's
recipe, garnished with a few tiny leaves of lemon balm. After we ate, we ambled out into the sunshine and took a tour of the garden. We climbed onto the roof and peered into the new bee hive, where a perfectly formed brilliant white honeycomb is already well underway. There is something very heartening about all this new life, all this optimistic activity. It's a reminder that we must continue to put one foot in front of the other, come what may.