4.15.13
Sweet, Salty, Spicy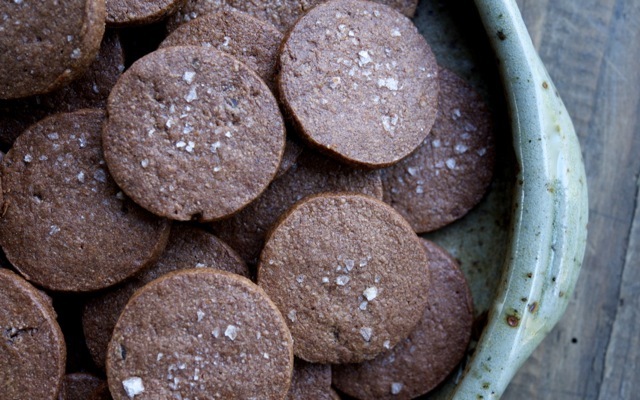 It's a holy trinity. A tempting trifecta. To me there's nothing better than an exquisite balance of sweet and salty with a stealthy infusion of heat to kick it up just enough. It's why I love fresh summer fruit—mango, melon, pineapple, strawberries—macerated with jalapeño or sprinkled with chile salt. And it's the magic behind my all-time favorite
caramels
, made with chocolate, chile and Maldon salt. That same combination infuses a stellar treat dreamed up by baking maven
Dorie Greenspan
. Her new business,
Beurre & Sel
, run by son Josh and
staffed
in part by my very own sister-in-law (a talented baker in her own right), has been tantalizing tastebuds with cookies both classic and creative. My favorite are the ones that play savory elements (sesame, parmesan, rosemary, cayenne) off sweet ones. Dorie has dubbed these "cocktail cookies" because of how well they complement a drink. I've tweaked her recipe for the cocoa-cayenne cocktail cookies slightly, using gluten-free flour and incoporating the earthy crunch of cocoa nibs, but I think it still it does justice to the original.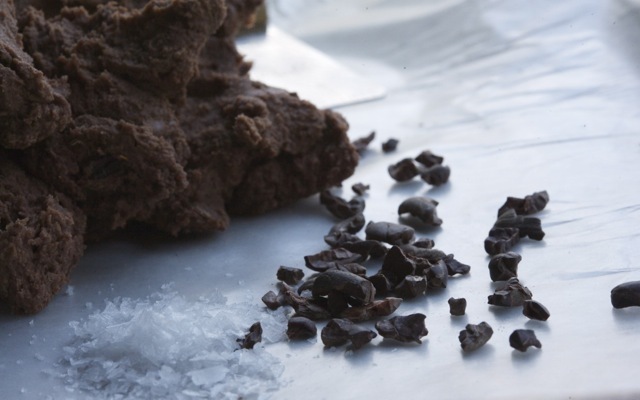 Dorie recommends Valrhona cocoa powder, which is very sultry and dark. I used
Askinosie
which has a somewhat brighter lushness. The dough comes together quite easily, even when using the very light,
C4C
gluten-free flour. It bakes up rich and flaky, thanks to plenty of butter and an egg yolk. A judicious half-teaspoon of cayenne contributes a gentle heat. I added the cocoa nibs to enhance the earthy flavor and for a little extra crunch.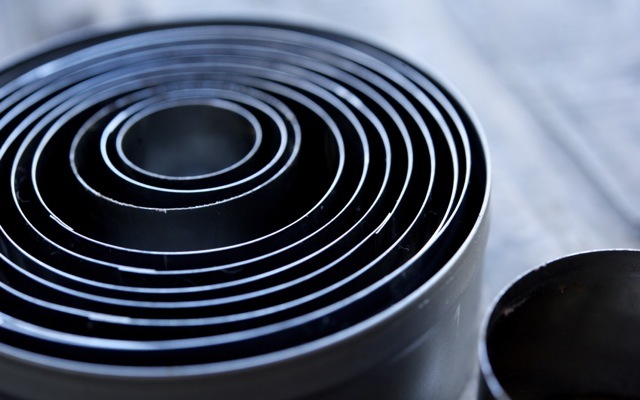 You can make these slice-&-bake but I like the small button size that is the Beurre & Sel signature. I happen to have received a set of round metal cutters as a Christmas gift from that same sister-in-law and the 1 1/2" size is just right for stamping out these cookies. You pat the dough into a flat disk between two sheets of wax paper, roll it out, then freeze it until firm.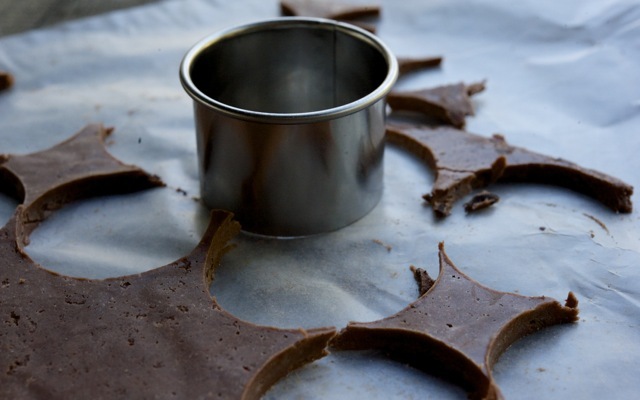 It's reminscent of Play-Doh. You can roll the scraps out for a second go-round so you don't waste any.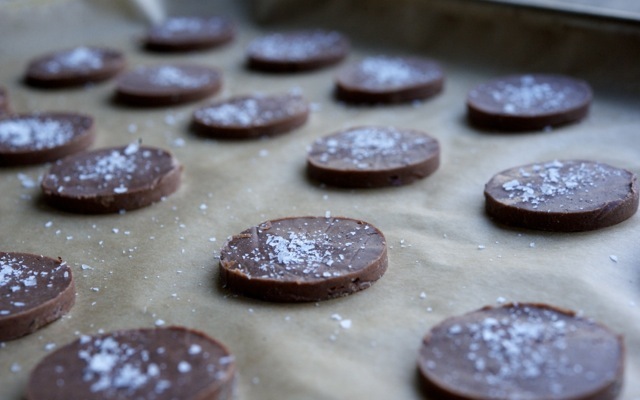 Arrange the cookies an inch apart on a parchment-lined baking sheet and sprinkle them with sea salt, crushing any large crystals between your fingers.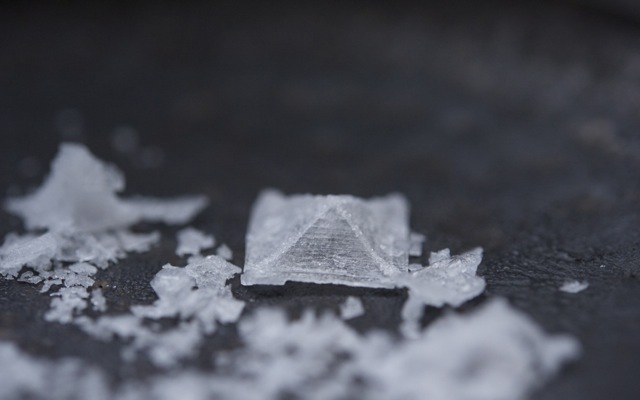 I can't resist showing you this enormous crystal that was in my latest box of Maldon salt. It was a perfect pyramid, about the size of my thumbnail. Maldon is a great favorite of many chefs and it's my preferred finishing salt. Its large brittle flakes are harvested by hand on the coast of England.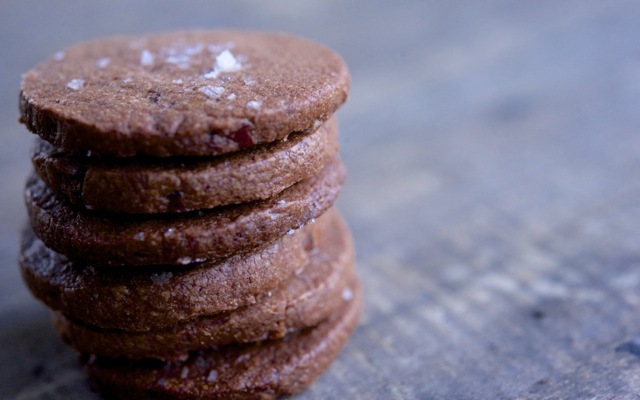 In a log or rolled out, the dough can be kept frozen, wrapped in saran, for up to 2 weeks. Try these snappy cocktail cookies with a cold glass of fruity Lambrusco. On a recent cheese plate, I paired them with my latest obsession—
Delice de Bourgogne
—as well as some tart tangerines and a few squares of fresh honeycomb. The chocolate lulls you into submission, but the spice keeps you on your toes.
Cocoa-Cayenne Cocktail Cookies
lightly adapted from Dorie Greenspan
— 1 1/2 cups

all-purpose flour (I use C4C gluten-free)

— 1/2 cup

best quality unsweetened cocoa powder

— 1/2 teaspoon

cayenne powder

— 1/2 teaspoon

fine sea salt

— 2 sticks

unsalted butter, softened

— 1/3 cup

confectioners' sugar

— 2 tablespoons

granulated sugar

— 1

large egg yolk

— 2 tablespoons

cocoa nibs

—

Maldon salt, for sprinkling
Sift the flour, cocoa powder, cayenne and sea salt into a bowl and whisk to combine. In a standing mixer fitted with the paddle, beat the butter with both sugars at low speed until creamy. Add the egg yolk and beat until smooth, then add the dry ingredients and beat until incorporated. Stir in the cocoa nibs.


Turn the dough out onto a work surface and knead gently until it comes together. Divide the dough in half and press each half into a disk. Roll out each disk between 2 sheets of wax paper to about 1/4 inch thick. Slide the wax paper–covered disks onto a baking sheet and freeze for at least 1 hour, until very firm.


Preheat the oven to 350° and line 2 large baking sheets with parchment paper. Working with one piece of dough at a time, peel off the top sheet of wax paper. Using a 1 1/2" round cookie cutter, stamp out the cookies as close together as possible. Arrange the cookies about 1" apart on the parchment paper–lined baking sheets and sprinkle with some Maldon salt.


Bake the cookies for about 15 minutes, until they are just firm; halfway through, shift the baking sheets from top to bottom and front to back. Let the cookies cool on the baking sheets for 3 minutes, then transfer them to a wire rack to cool completely.


MAKE AHEAD The rolled-out frozen cookie dough can be wrapped in plastic wrap and kept frozen for up to 2 weeks. The baked cookies can be kept in an airtight container at room temperature for 2-3 days.



Download Recipe