4.12.13
In Memoriam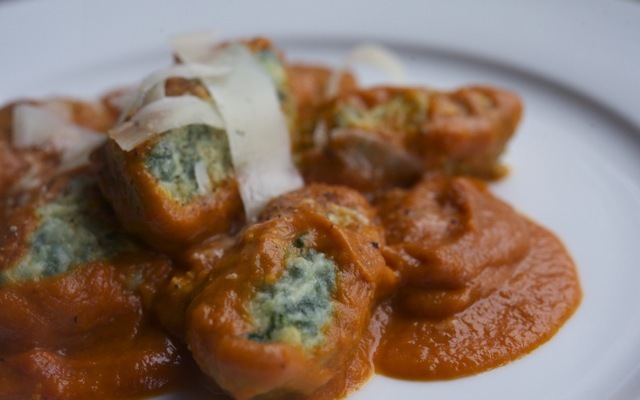 Ten years ago today, the man I was married to died of cancer. Adenoid cystic carcinoma. Diagnosed when he was 19, it had spread over a period of many years from his parotid gland to bones and organs throughout his body. Ultimately it went to his brain, causing a stroke from which he never recovered. I can't forget how he was in death, but I prefer to conjure him up in all his vital glory. He was a man of great appetites that ranged toward the high-brow: foie gras, foreign travel, fine cashmere. When I met him, I had left my glamorous life as a freelance writer in New York for what I imagined would be an even more glittering Hollywood phase, but things hadn't really turned out that way and I was a little lost. My thirties were rapidly running out, my second divorce was nearly three years behind me and I had a sneaking suspicion I was wasting valuable time on a number of fronts. But then I fell in love and the world turned. There were trips to China and Africa, pilgrimages to the French Laundry and Babbo, and a wedding—followed less than two years later by a funeral.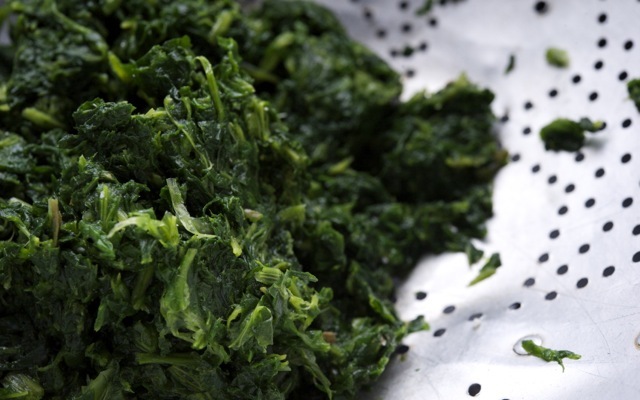 A few months after he died, on what would have been his 42nd birthday, I hosted a dinner in his honor for a group of his friends. I made all his favorite foods and we drank some of the best bottles of wine from his collection. I still have the menu:
Seared Foie Gras on Brioche with Rhubarb Compote
Chateau d'Yquem Lur-Saluces 1989

Green Gnocchi with Gorgonzola Cream
Rocche del Manzoni Barolo 1993

Grilled Squab with Onion Timbale & Pomegranate Molasses
Gaja Sperss Barolo 1991

Herb Salad with Walnut Vinaigrette

Assorted Cheeses:
Chambertin
Cabrales
Clarines
Époisses
Trentadue Port 1986

Fresh Lychees
Queen Anne Cherries
Champagne Truffles
Veuve Cliquot Rosé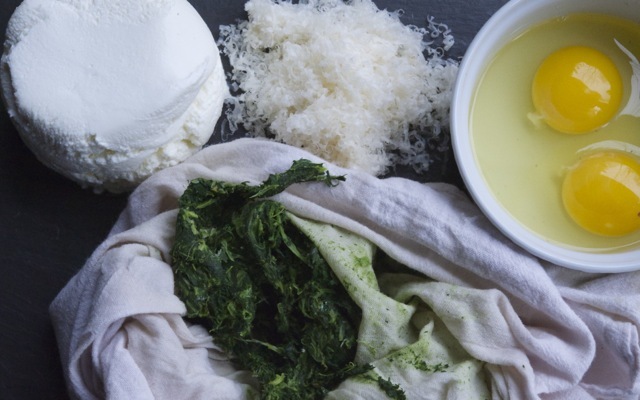 He loved all things Italian, most especially the food. So, in his honor, I share with you a recipe for a classic Florentine dish of spinach and ricotta gnudi. These are similar to the gnocchi I made for his dinner, but where those generally contain a fair amount of flour and/or potato, gnudi—or the very similar malfatti—use only ricotta and greens with a light dusting of flour. In their ideal form, they are light and fluffy, often cloaked just with butter or, as I've shown them here, with a simple tomato sauce.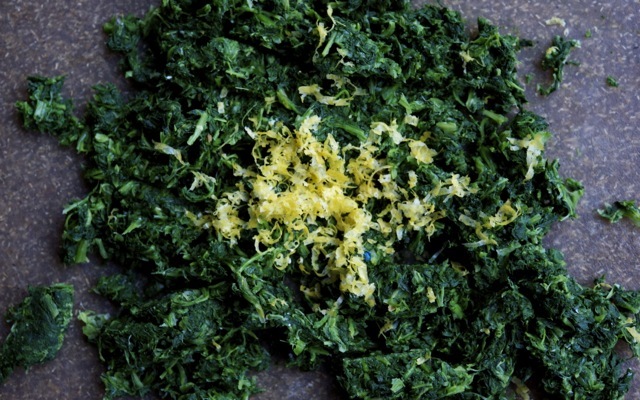 The recipe may look long and involved but that's just because I've really walked you through every step. It's actually quite simple. A quick shortcut is to use frozen spinach. Defrost it in a colander to drain away as much water as possible. Liquid is the enemy when making gnudi, since they have very little to bind them aside from egg and cheese. For this reason, you will need to drain your ricotta if it is at all watery, and squeeze as much water as possible from your spinach.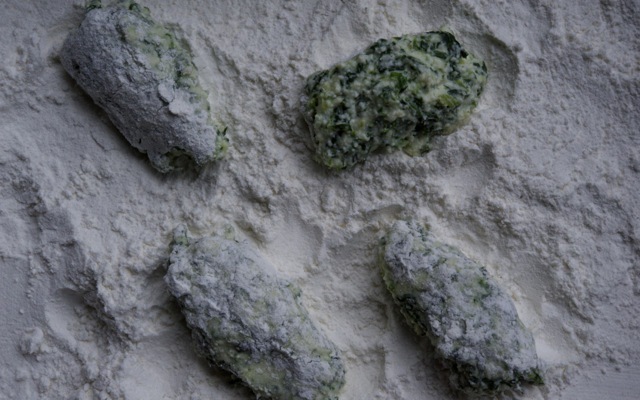 This recipe is very simple, but I have added in some recommendations on technique from Judy Rodgers of San Francisco's seminal Zuni Café, who actually borrowed them from Elizabeth David's recipe for gnocchi in her now-classic
Italian Food
. The main trick is to jiggle them in your hand to form the right shape and then drop them in a pan of flour to give them a light coating.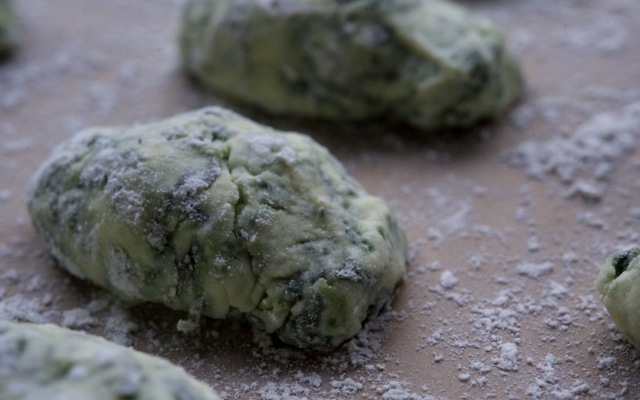 Don't worry about making perfect specimens! This is yet another place that bumps and wrinkles should be disregarded.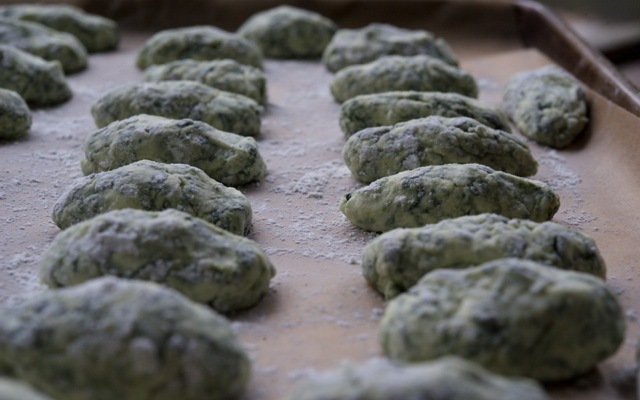 Line your gnudi up on a flour-dusted parchment-lined baking sheet and pop them in the fridge to chill for an hour or so before poaching. This allows them to firm up a bit and helps them hold their shape in the simmering water. You don't have to do this, but that time is also useful for making a sauce and preparing a salad to go with your meal.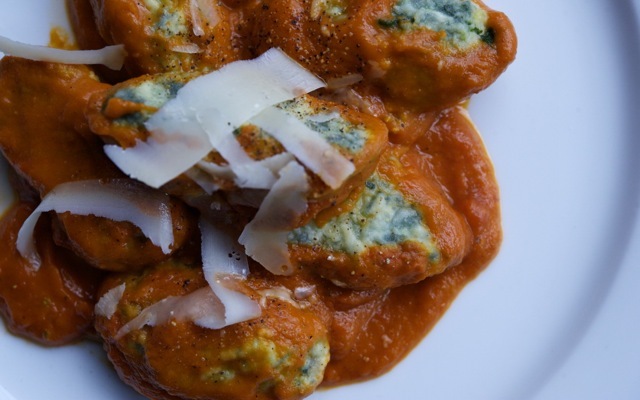 Try serving your gnudi with a few leaves of sage, arugula or spinach wilted in butter, or roll them in melted butter with slivers of lightly cooked carrot and fresh chervil. Pair them with barely cooked peas, tiny favas and finely slivered asparagus. In summer, try them with fresh corn kernels cooked in butter and a scattering of chopped basil or nasturtium blossoms.

Most importantly, with every bite rejoice at being alive! Ply your loved ones with these delicious morsels and celebrate the day.
Spinach & Ricotta Gnudi
serves 4
— 2 cups

best quality whole milk ricotta

— 10 oz

cooked chopped spinach (frozen is fine)

— 2

large cold eggs, lightly beaten

— 1 tablespoon

melted butter

—

zest of 1 lemon

— 2/3 cup

finely grated Parmesan

— 1/4 teaspoon

sea salt

—

all-purpose flour (GF is fine)

— 8 tablespoons

butter - for butter sauce

— or 3-4 cups

simple tomato sauce
The day before you make your gnudi, assess your ricotta. Place about 2 teaspoons on a dry paper towel and wait for a minute. It will always make a little wet spot under the cheese, but if it has thrown a wide ring of moisture, it is too wet to use as is. (This will generally be the case with any sheep's milk or more artisanal ricotta.) You'll need to strain/drain it by placing it in a fine mesh strainer or, even better, in a fine cotton kitchen towel or double layer of cheesecloth; suspend this over a deeper receptacle to drain for 8-24 hours in the refrigerator. You can speed up the draining operation by cinching the cheesecloth tight and squeezing some of the moisture from the ball of cheese.


You're actually going to squeeze any excess moisture from your spinach in this same way. Take the cooked, cooled (or defrosted and drained) spinach, wrap it in a clean kitchen towel and squeeze the bejesus out of it, draining off as much excess liquid as possible. Discard liquid and chop spinach fairly finely, but don't mince it into oblivion.


Place the ricotta in a large bowl and beat it vigorously with a spatula or wooden spoon. Stir in the eggs, the melted butter and the lemon zest. Add the Parmesan and the salt and beat again to create a light, fluffy mixture.


Now make a bed of flour about 1/2" deep in a shallow baking dish or on a sheet pan.


Using a shallow soup spoon, scoop out about a tablespoon of batter. Use your fingertip to push the almond-shaped scoop of batter cleanly from the bowl of the spoon onto the bed of flour. Flip it with your fingertip to coat lightly all over. Lift from the flour and gently rock it in your palm to shake off excess flour and help form an oval shape. Don't squeeze it. And don't worry about a few wrinkles, dimples and bumps.


Poach this first gnudo in a small pot of simmering well-salted water. It will sink, then swell, roll and bob to the surface. Maintaining a quiet simmer, cook until the gnudo is just firm, about 4 minutes from the time it floats. Don't boil hard or the gnocchi may explode. If, even at a gentle simmer, it spreads or starts to decompose, the cheese was probably too wet. This can usually be corrected by beating a teaspoon or so of egg white into the remaining batter. Then poach another sample to make sure the fix is successful. Taste the sample for salt, and adjust the batter if needed.


Using the same spoon-and-finger technique, form the rest of the gnudi, removing them from the flour and placing on a sheet pan lined with flour-dusted parchment. Keep smoothing the surface of the batter to permit smooth scoops. Be sure that the individual gnudi are not touching one another.


You can poach them right away, but if you refrigerate them uncovered for about an hour, they will firm up, making them easier to cook and handle. (They will keep for up to 8 hours that way.)


To cook the gnudi, bring 2-3 quarts of water to a simmer in a wide pot, 10 or more inches in diameter, so the gnudi aren't so crowded they will crush each other as they push to the surface. Salt the water liberally—about 1 teaspoon per quart.


Add the gnudi one by one, adjusting the heat to maintain the simmer. Dip your fingertips in water if you find they are sticking to the gnocchi, but don't worry if the gnocchi stick a little to the paper. Do avoid holding the tray of gnocchi in the steam. Cook the gnocchi as you did the sample, until just firm, about 4 minutes from the time they float. Cook in batches if needed.


Meanwhile, in a large skillet, heat a simple tomato sauce, or swirl together 8 tablespoons of butter and 2 teaspoons of water over medium heat to form an opaque butter sauce.


Lift the gnocchi out with a slotted spoon or skimmer and slide into the waiting skillet of warm tomato or butter sauce. Serve right away, topped with a grind of black pepper and a few curls of Parmesan.



Download Recipe