3.4.13
The Other White Meat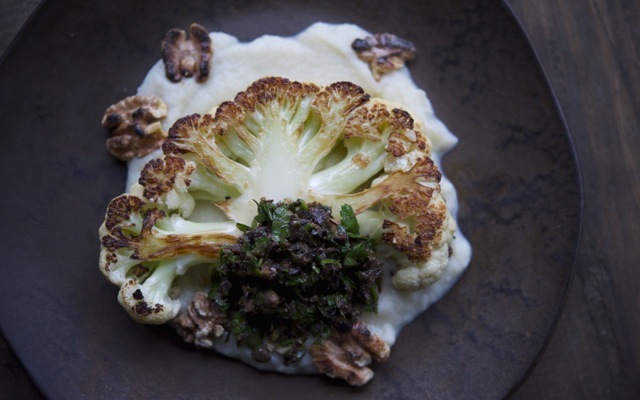 Are you eating your vegetables? It's becoming quite trendy to eschew meat at the center of your plate. This style of eating has long been embraced in Asia and out of necessity in many poorer countries. In fact, it's not so dissimilar from the Mediterranean diet, which was endorsed yet again in a
study
released last week. It's really no big news that a vegecentric diet is the way to go, as evinced by this 1819 quote from Thomas Jefferson:
I have lived temperately, eating little animal food, and that not as an aliment, so much as a condiment for the vegetables which constitute my principal diet.
I love the notion of animal products as a condiment and often use them this way in my cooking. Small amounts of highly flavored meat or fish—smoky pork, spicy sausage, salty fish roe, pungent anchovies—add just the right hit of umami to salads, pastas and vegetables, raw or cooked. Look to what some of the more ingenious chefs are doing for ideas on vegetables dishes with heft. Consider the oven-roasted slab of
broccoli
I had at The NoMad. Daniel Humm made it the star, with a little bacon to keep things interesting. This cauliflower dish is from
Dan Barber
, who never met a vegetable he didn't like.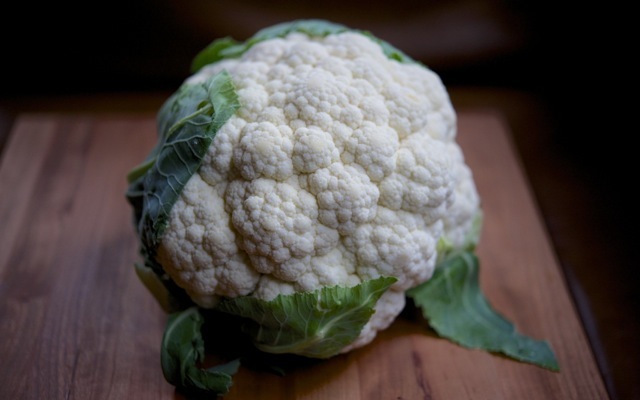 Cauliflower is low in fat and carbohydrates but high in nutritional density, with plenty of fiber, folate and vitamin C. Look for unblemished, tight heads, ideally with fresh green leaves still attached. Every part of the cauliflower is edible. Try it raw in salads; lightly blanched with dips; covered in spices and roasted whole (or
this
version); fried to a crunch; pureed for soup; steamed with cheese sauce...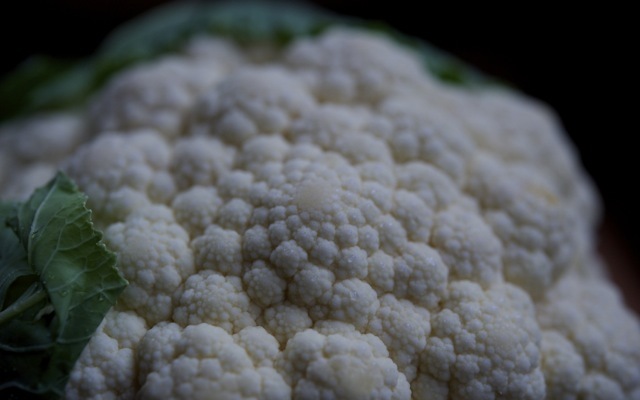 Cauliflower is also incredibly beautiful. It has a distinct fractal pattern that is quite mesmerizing when studied up close.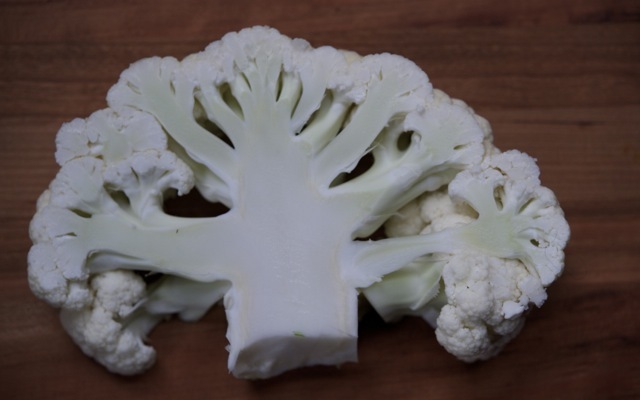 A thick cross-section reveals its lovely branching silhouette, not unlike that of a mighty oak. Dan Barber treats these like chops, giving them a good sear and then finishing them in the oven. The remaining florets are simmered in milk, then blended into an ethereal puree. I guess it's his riff on steak and potatoes. The nice thing about cauliflower is how creamy it becomes, even without any dairy. So you can easily make this dish vegan by substituting vegetable stock or even water for the milk. I actually used a combination of chicken stock and whey.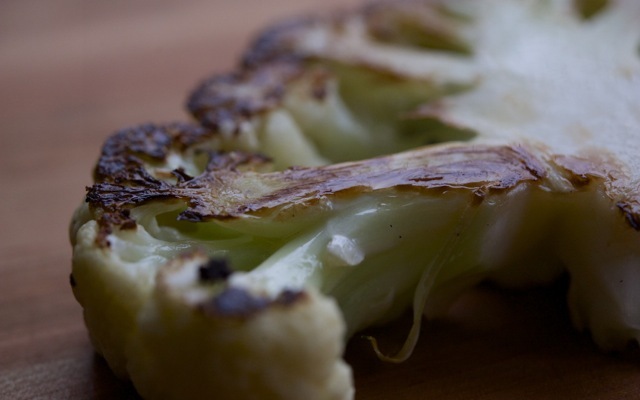 Getting a good sear on the "steaks" is critical, as this caramelization adds a good bit of flavor and texture to this dish. Make sure you use a heavy skillet and let it heat up, just as you would when cooking a rib-eye. I even placed a small cast-iron skillet on top of the cauliflower to weight it down in the pan. This isn't essential, though you may want to press down on it with a spatula to help it brown evenly all over.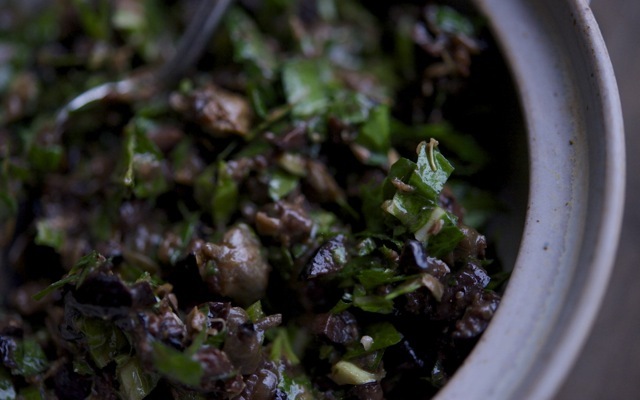 Dan's recipe calls for nothing more than salt and pepper to season this mild, all-white dish, but I found I wanted something to brighten it up. For starters, I seared the steaks in
shallot oil
. You might also think about adding some grated parmesan and a generous pinch of nutmeg and/or cayenne to the puree. (I used a bit of walnut oil.) Or coat the steaks with ground cumin, vadouvan or some other blend of spices before searing. I decided to make a salty, zesty relish and toast up a few walnuts as a garnish. Other ingredients that go well with cauliflower: leeks (and
crispy shallots
!), almonds, tomato, raisins and dates, garlic, saffron, truffle, lemon...
In addition to salty capers and oil-cured black olives, I chopped up some parsley and the green leaves of the cauliflower. I stirred in the zest and juice of a lemon, a blob of anchovy paste and a teaspoon each of chile oil and walnut oil. Similar to a
salsa verde
or a
gremolata
, this relish can be assembled according to what you have on hand—though, aside from the cauliflower leaves, the rest should be staples. (You can sub olive oil for the others.)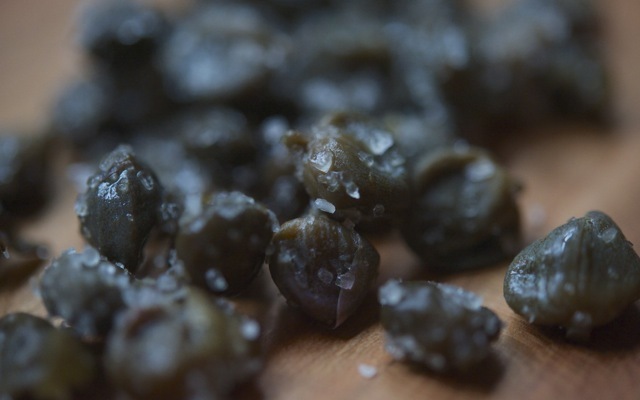 I like to keep salt-preserved capers on hand. I buy them by the large bag, transfer them to a glass jar and store them in the cupboard. The best come from Pantelleria, a volcanic island south of Sicily. Buy some
here
. Rinse well or let them soak in a bowl of water for a few minutes before using.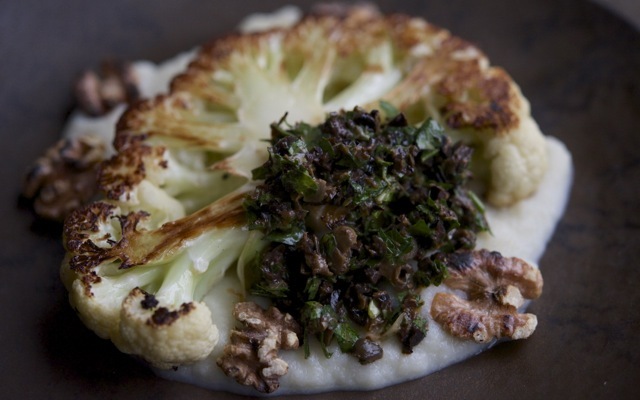 This made quite a satisfying dinner for two. If you have not eaten any protein earlier in the day—or are training for a triathlon—you may want to add some quinoa or a few ounces of actual steak to this meal. But don't underestimate the power of cauliflower to fill you up, body and soul.
Cauliflower Steaks
adapted from Dan Barber
serves 2
— One 1 1/2-pound

head of cauliflower

— 2 1/2 cups

water, milk, whey, stock or any combination of these

— 1 tablespoon

walnut oil

— 2 tablespoons

shallot oil, or high-heat sunflower oil, plus more for brushing

—

sea salt

— handful

walnuts, well-toasted

— 3/4 cup

olive relish
Heat oven to 250°F. Using a sharp heavy knife, and starting at top center of cauliflower head, cut two 1"-thick slices of cauliflower, cutting through stem end. Set cauliflower steaks aside.


Cut enough florets from remaining cauliflower head to measure 3 cups. Combine florets and liquid in a medium saucepan, and sprinkle generously with salt. Bring to a boil and cook until cauliflower florets are very tender, about 10 minutes. Drain, reserving 1 cup cooking liquid. Spread florets on a large rimmed baking sheet and bake 10 minutes until slightly dry. Transfer florets to blender. Add ¾ cup of reserved cooking liquid and walnut oil and puree until smooth. Add more liquid as needed to achieve desired consistency, then return puree to saucepan. Increase oven temperature to 350 degrees.


Heat 2 tablespoons oil in a large, heavy ovenproof skillet over medium-high heat. Brush cauliflower steaks with additional oil and sprinkle with salt. Add cauliflower steaks to skillet and cook until golden brown, several minutes per side, pressing down to get a good sear. Transfer skillet to oven and bake cauliflower steaks until tender, about 20 minutes.


Rewarm cauliflower puree over medium heat. Divide puree between 2 plates; top each with cauliflower steak and garnish with toasted walnuts and olive relish.



Download Recipe
Olive Relish
makes about 1 cup
— 2 tablespoons

capers, chopped

— 1/3 cup

oil-cured black olives, chopped

— 1 teaspoon

lemon zest

— 2 tablespoons

lemon juice

— 1 teaspoon

anchovy paste

— 1 teaspoon

chile oil

— 1 teaspoon

walnut oil

— 2 tablespoons

minced cauliflower leaves

— 2 tablespoons

minced parsley

—

freshly ground black pepper, to taste
Combine all ingredients in a small bowl and mix well.



Download Recipe