2.20.13
Home Rooms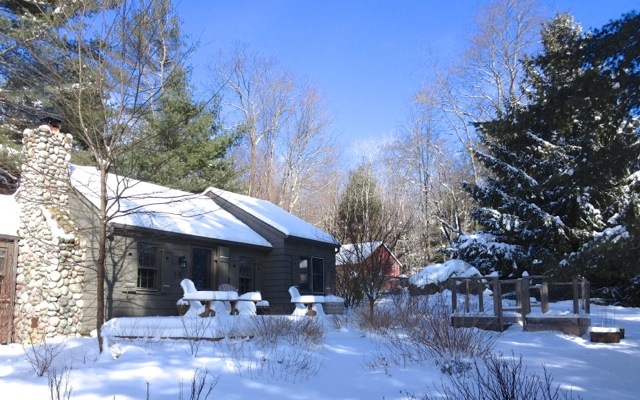 A bit more about our little homestead. We've put in a lot of work over the last 7 years, transforming a place that was decidedly ramshackle, with questionable bones, into our own private paradise. I found this cottage just at the time I met G, so a major undertaking I had thought would be a solo project turned out to be a challenge built for two. (Still thanking my lucky stars!)
Why not buy something new and pristine
, you ask? Well, money, for one thing. Plus I was looking for something in this area in order to be close to a good friend (who wound up selling
his place
, but that's another story) and this was well-situated and truly the best of the bunch I saw. And I just envisioned the possibilities, I guess. Remember, at the time I was single and it was intended to be a weekend place, so I didn't think I needed lots of space. But when Prince Charming entered, he immediately financed the construction of our pride and joy: the screened-in porch.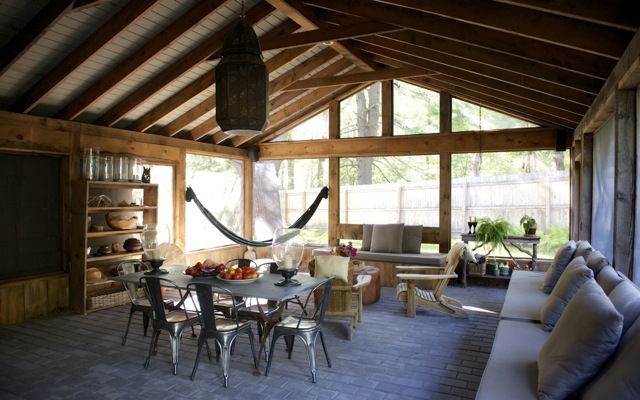 At 800-square-feet, it practically doubles the size of our home and makes entertaining on a larger scale possible for about half the year. A local guy built it to our specifications with reclaimed barn wood, cement brick floors and built-in banquettes (
Economy Foam
made the weatherproof cushions). The green tie-dyed cashmere hammock that hangs in the corner was bought at a deep discount from Saks Fifth Avenue. The metal chairs—now rusting to rather pleasing effect—are from the Sundance catalogue. The bronze hurricane lamps are from
Aero
. We found the overhead perforated metal lantern on a trip to Morocco and shipped it back. At night it casts magical patterns on the screens and ceiling.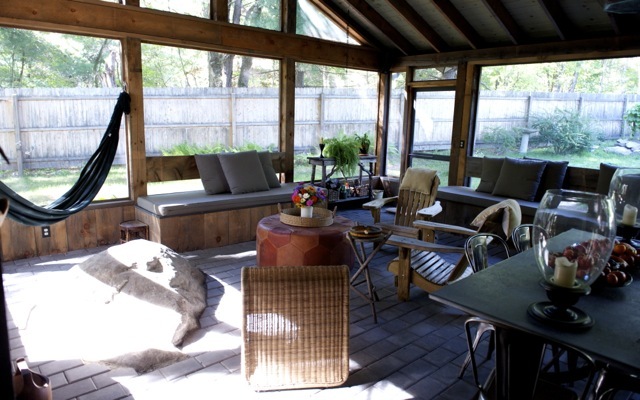 One exceptional feature of the screened-in porch is the rock—washed out a bit in this photo because of the direct sunlight. Our local terrain was formed by glaciers which left incredible rock formations and very, very rocky soil. Planting anything is a real workout and digging this monster up would have been prohibitive, so we decided to just work around it. Visitors love it; especially kids. The Adirondack chairs were made locally and the big round leather ottoman is also from our trip to Morocco.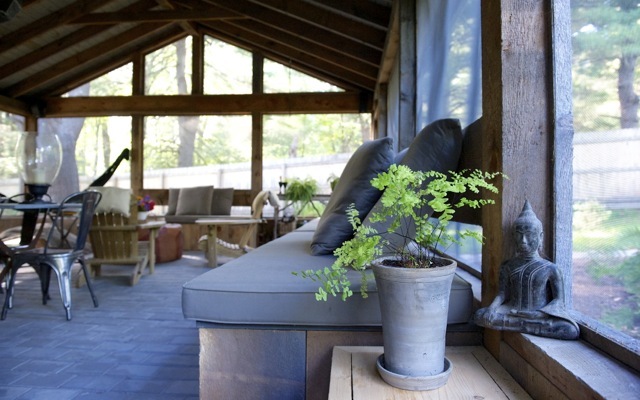 No matter how hot it gets, the porch stays cool. There is storage under the banquettes where we keep bottled drinks all summer long. I also had two tall pantries added out here where I store jars, secondary kitchen accessories and some bulk food items. Doors open to the patio where the grill lives and into the back garden. In winter, the porch is where we leave our muddy boots and suit up for snowshoeing.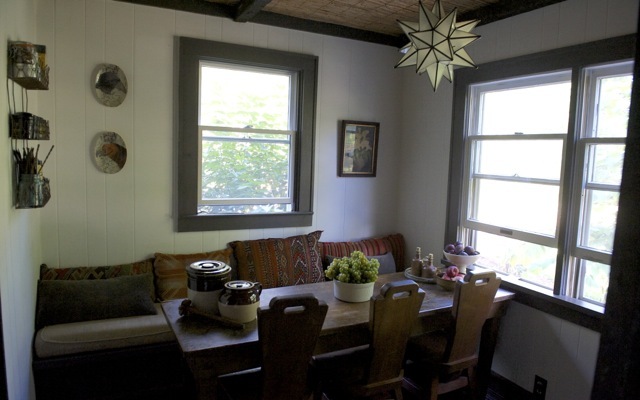 I don't have a good photo of the actual kitchen (will try to get that together for a separate post), but this is the little nook right off it where we frequently eat and hang out. Because the house is so small, I often rearrange the furniture, which is quite enjoyable for me. Right now, the dining table (which seats 8 but is very narrow) is in the main room and a little brown leather sofa is against the big window here. I really adore this arrangement, and I often sit and work here instead of in my office.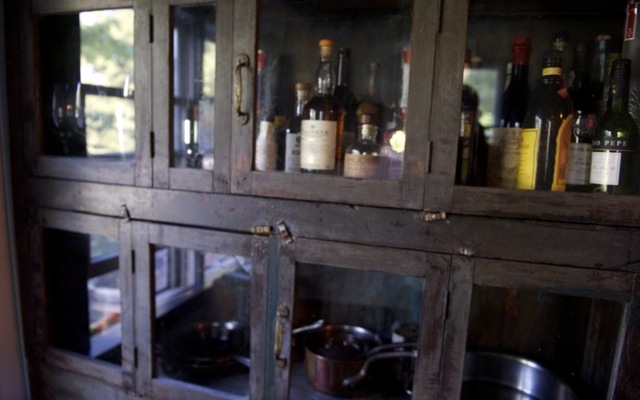 Against the other wall that you can't see in this nook is a beautiful glassfront cabinet, an antique from India that holds the bar as well as my beloved collection of copper cookware.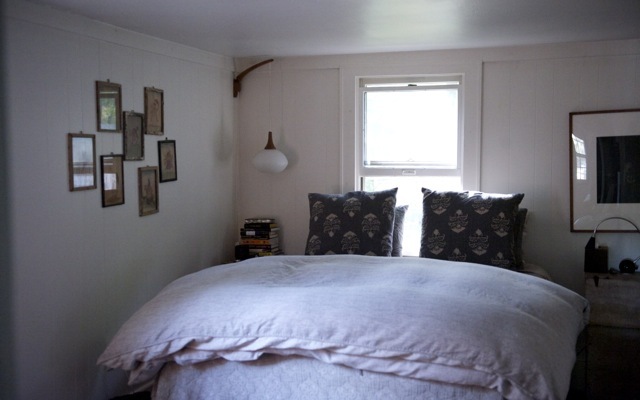 The bedroom is just the bed (linen sheets, of course) and a couple of bureaus. And a huge flat-screen TV that I finally broke down and allowed. I keep it covered with a beautiful textile when not in use. (I pretend to hate it, but it's actually fabulous—almost like being at the drive-in!) The hanging lamp in the corner is a 60s piece from my childhood home.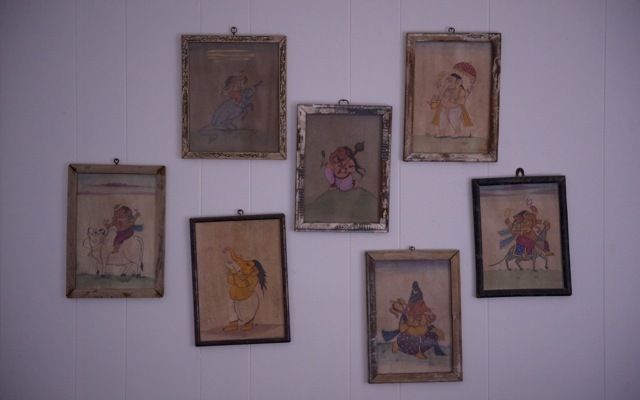 We also hung a quirky arrangement of this series of whimsical Ganesh paintings we found on our honeymoon in India. The elephant-headed deity is widely revered as the Remover of All Obstacles and the Lord of Beginnings.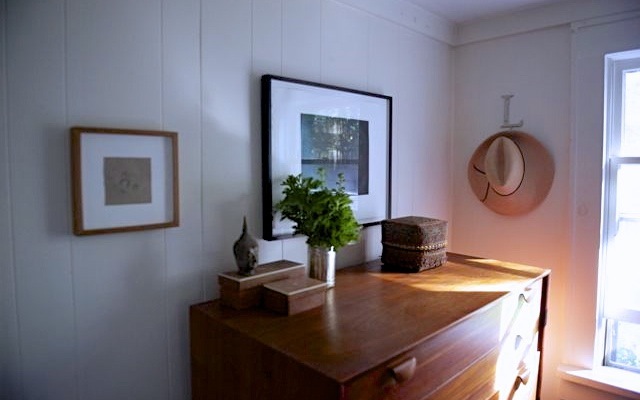 As I believe I have mentioned, I don't like clutter, yet my home is filled with beautiful objects that are both functional and imbued with meaning. The two shagreen boxes and beaded Indonesian one on my mid-century dresser hold jewelry. The work of art on the left is a drawing by
Michael Capotosto
. The straw hat is Japanese, purchased at Barneys. The L hook is from Anthropologie.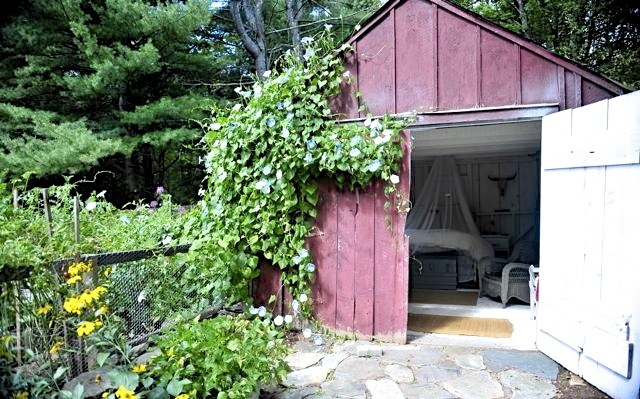 Another way our world expands a bit in the warm weather is with the little barn we converted into summer sleeping quarters. It's very inviting and always gets cool enough at night to need a duvet along with a mosquito net!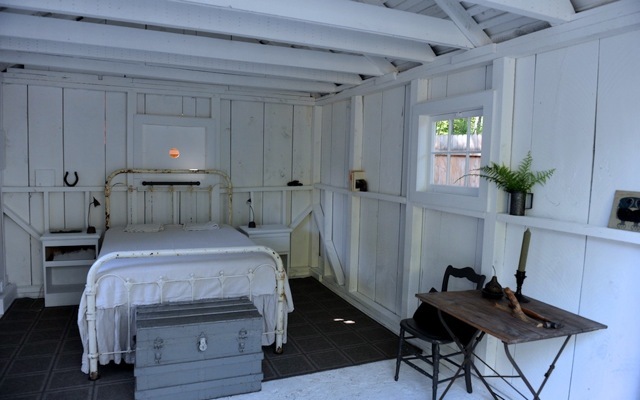 It looks quite pristine here, but now it's gotten a bit cluttered up with free weights and a pull-up contraption. Can't say the gym idea has really caught on, especially in 10-degree weather. I also envisioned that I would be coming out here to write, but that hasn't happened much either. It's great for sleeping though!

I will take some pictures of my little office, as well as the actual kitchen, and finish the home tour soon...