1.31.13
Souped Up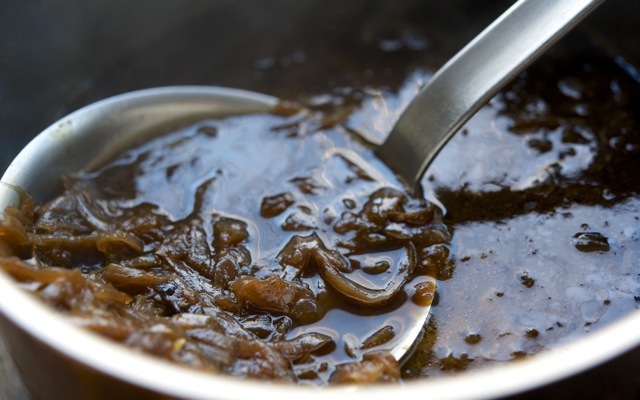 Almost as elemental as fire is the warming soup we make from it. A big pot, a few gnarled vegetables, a rind of cheese, a crust of bread. From these humble ingredients we can coax something truly sublime and nourishing. The tender green vegetables of spring soften with just a kiss of heat, but winter's sturdy bounty must be stewed into submission. A heap of sliced onions—that mainstay of the cold-weather kitchen—collapses, then caramelizes, turning the rich, burnished brown of aged leather. Once crisp and biting, they develop a sweet and savory intensity that gives a plain broth spectacular depth. The ultimate peasant food, French onion soup is topped with well-toasted slices of rustic bread beneath a bubbling blanket of melted cheese. Time and tender care are all you need to make this simple yet soul-satisfying dish.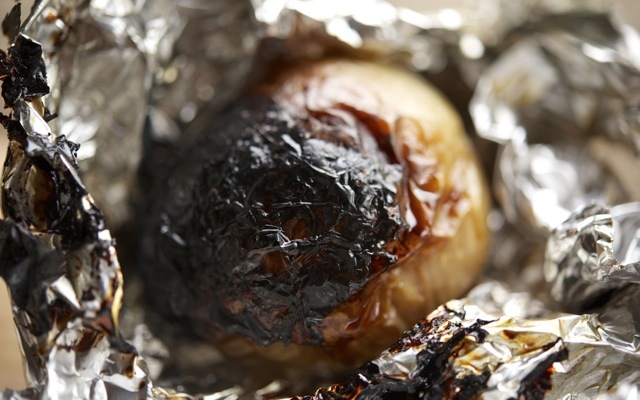 Onions have always held things together in the kitchen, being the basis of virtually any sauce or sauté, but of late they have come out of the shadows thanks to their star turns in food inspired by the new Nordic cuisine (like these cooked in whey). Last year I began experimenting with rubbing peeled onions with good olive oil, wrapping them in several layers of foil and burying them in the ashes of the dying fire to roast overnight. They would generally emerge deeply caramelized, occasionally charred in spots, and meltingly soft. I call them "ember onions" and enjoy them smeared on bread, mixed into noodles or whisked into any kind of sauce or gravy for a hauntingly smoky-sweet flavor.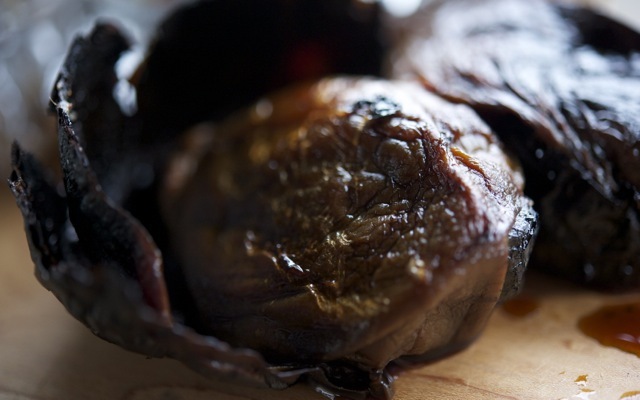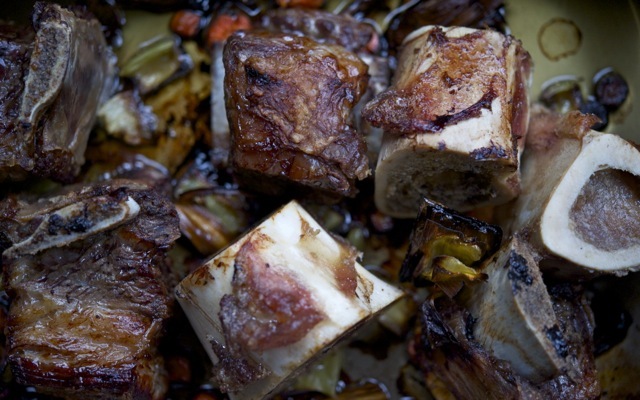 In researching French onion soup, I was surprised to see that many recipes call for a combination of chicken and beef stock (rather than just beef) and I was frankly shocked to learn from Michael Ruhlman that the classic rendition calls for no stock at all. So if you're vegetarian or don't have any homemade stock on hand, you may want to try this recipe that uses just onions, water and wine. I have faith that the slow caramelization of a great quantity of onions yields something quite magnificent, but I make no bones about my use of beef stock.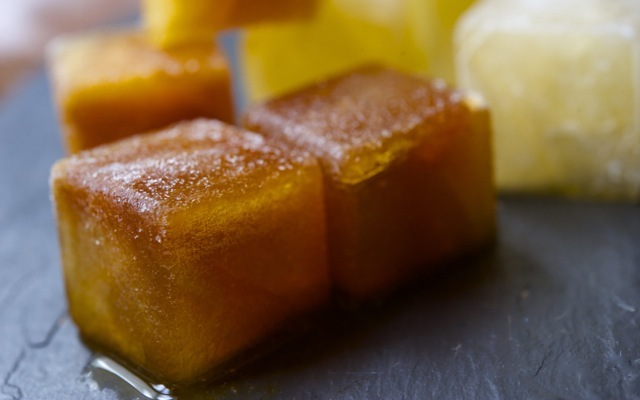 If you are truly an industrious cook, you undoubtedly have beef stock and/or chicken stock on hand and, while they may not be the most authentic addition to this soup, it definitely tastes fantastic with either or both. My recipe calls for beef stock alone, but you could combine it with chicken stock or stick to the onion-only version. Cook's choice.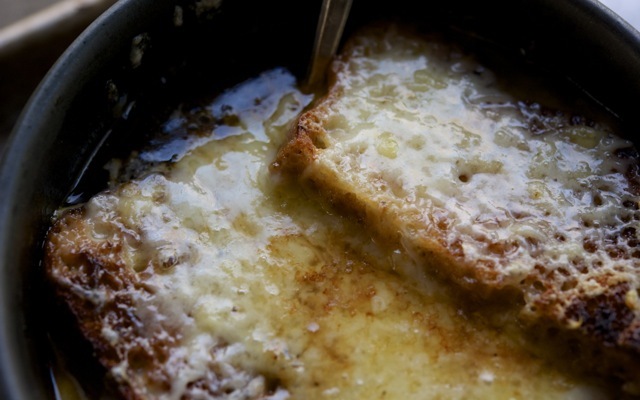 Since, to my knowledge, there is no such thing as a decent store-bought, gluten-free baguette, I toasted up what we had in the freezer. Would it have been better with a rusk of ciabbata or country bread? Certainly. Was is still delicious? It was. Don't throw on just any cheese, please. Have a little pride. Gruyère, Emmenthaler or Raclette are all contenders. I used Raclette, and I wasn't stingy with it. A peasant dish, yes, but fit for a queen.
French Onion Soup
serves 4-6
— 3 tablespoons

butter

— 4 pounds

yellow onions, about 6 large

— 2 cups

water

— 1/2 cup

dry sherry

— 6 cups

beef stock, preferably homemade

— 1 teaspoon

dried thyme

— 1

bay leaf

— 6-12 slices

country bread, well-toasted

— 8 ounces

Gruyère or Raclette cheese, shredded
Heat oven to 400 degrees. Peel onions, slice in half from pole to pole, then in 1/4"-thick slices, also from pole to pole. Place butter in heavy-bottomed, large (at least 7-quart) Dutch oven. Add onions and 1 teaspoon sea salt. Cook, covered, for 1 hour (onions will be watery and slightly reduced in volume). Remove pot from oven and stir onions, scraping bottom and sides of pot. Return pot to oven with lid slightly ajar and continue to cook until onions are very soft and a rich golden brown, 1 1/2 to 1 3/4 hours longer, stirring onions and scraping bottom and sides of pot after 1 hour.


Remove pot from oven and place over medium-high heat. Cook onions, stirring frequently and scraping bottom and sides of pot, until liquid evaporates and onions gradually turn deep brown, 15 to 20 minutes, reducing heat if onions brown too quickly. Continue to cook, stirring frequently, until pot bottom is coated with a dark crust, 6 to 8 minutes, adjusting heat as necessary. Be sure to scrape any dark bits that collect on spoon back into onions. Stir in 1/4 cup water, scraping pot bottom to loosen crust, and cook until water evaporates and pot bottom has formed a dark crust again, another 6-8 minutes. Repeat process of deglazing 2 or 3 more times, until onions are very dark brown. Stir in sherry and cook, stirring frequently, until it evaporates, about 5 minutes.


Stir in stock, 1 cup water, thyme, bay leaf and 1/2 teaspoon sea salt, scraping up any final bits of browned crust on bottom and sides of pot. Increase heat to high and bring to a boil. Immediately reduce heat to low, cover and simmer gently for 30 minutes. Remove and discard bay leaf, then taste for seasoning, adjusting salt and adding freshly ground black.


Adjust oven rack 6 inches from broiler element and heat broiler. Set ovenproof bowls or small casseroles on a baking sheet and fill each with about 1 3/4-2 cups soup. Top each bowl with 1 or 2 slices of bread (do not overlap) and sprinkle evenly and generously with cheese. Broil until melted and bubbly, 3-5 minutes. Cool slightly before serving.



Download Recipe